Great artists have a way of distilling things down to their essential elements to focus on perfection, and the Sinatra 3-2-1 is a great example of that principle. Frank knew that nothing should get in the way of the taste of a great whiskey!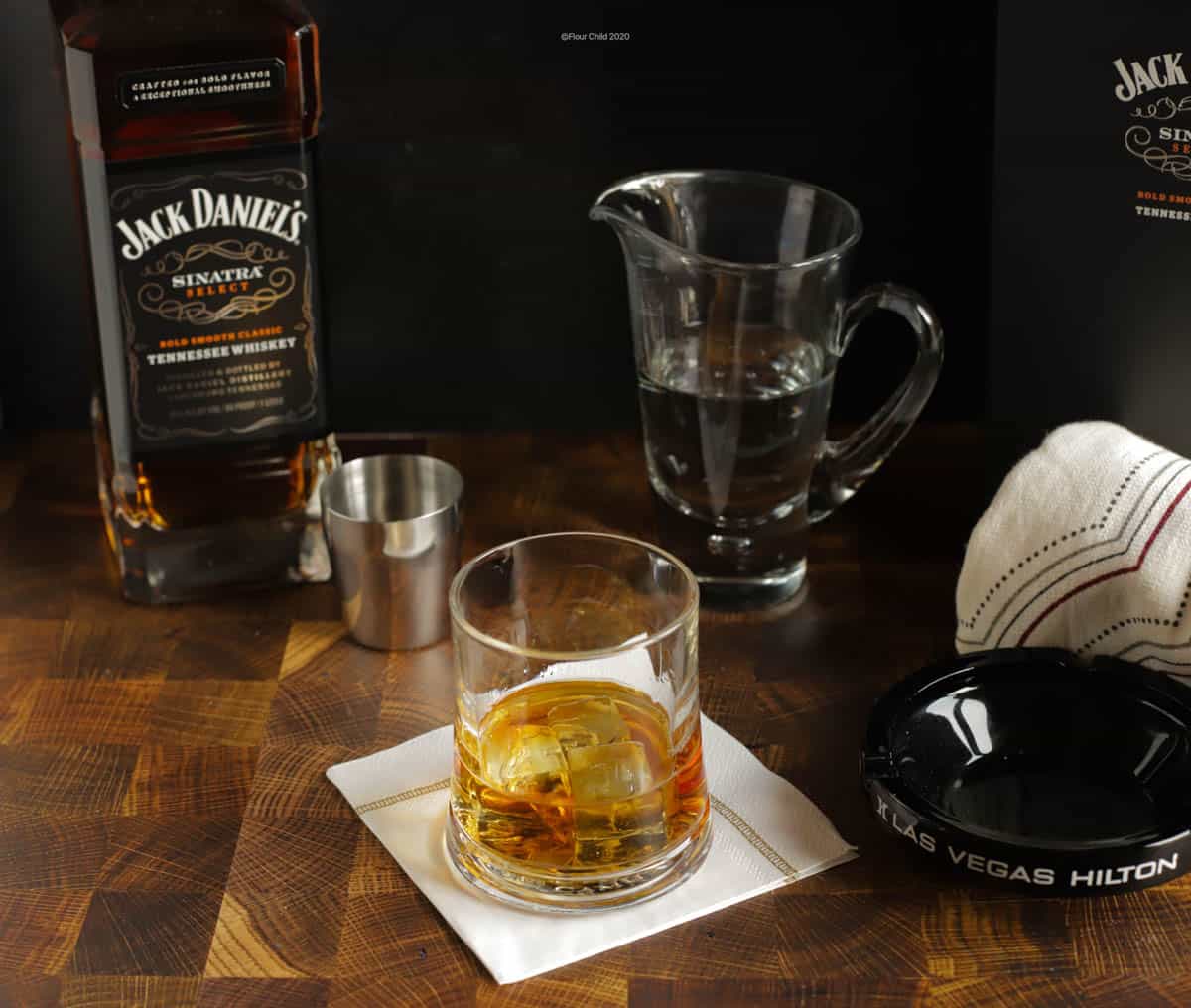 The Original 'Influencer'
Back in the mid century era, there were just a select few celebrities that transcended their fields. In 1955 no one was a bigger celebrity than Frank Sinatra. Born on December 12, 1915 in Hoboken, New Jersey, Frank was a hit singer and an Academy Award winner for his performance in From Here to Eternity. He was one of the first true global superstars, and people loved the cool lifestyle that he and his rat pack pals lived. So when he walked onto a concert stage with a rocks glass filled with an amber liquid and announced "This is Jack Daniels, and it's the nectar of the gods," it caused a mad buying rush.
Introduced to Jack Daniels by his buddy Humphrey Bogart, Frank's recommendation caused a problem for the company. At the time Jack Daniels was just a small, regional whiskey maker and not the global brand we know today. Frank's endorsement caused a run on their whiskey, and they nearly ran out of it. He was not a paid spokesman, he just liked the whiskey. Being smart business people, the good folks at Jack Daniels always made sure to ship a case to wherever Frank was appearing. Upon his death in 1998, Frank Sinatra was buried with a bottle of Jack Daniels by his side.
Is the Sinatra Select Really Different From Regular Jack Daniels?
Commemorating what would have been Ol' Blue Eyes 100th birthday, the makers of Jack Daniels issued a special batch of whiskey limited to only 100 bottles. A few years later they reissued it in larger quantities. What makes this whiskey different than regular Jack? Special barrels that have extra grooves cut into them so that the mash comes into more contact with the wood. This gives the extra dark whiskey a more oaky, woody flavor. This is what Jack Daniels tasted like back when it was a favorite of the Rat Pack.
Ingredients for the Sinatra 3-2-1
There really are only a few things needed for a Sinatra 3-2-1. Frank always said that to keep it simple you just put 3 ice cubes in a rocks glass, poured in two 'fingers' of Jack and added a splash of water.
There are many old bartending terms that are no longer commonly used. A 'finger' of whiskey is one of them. It refers to a time when you would hold a finger horizontally around the bottom of the glass and pour to the top of your finger. Was it consistent and repeatable? Not at all, which is probably why it eventually fell out of common use. To be more precise, one finger is approximately ¾ of an inch of whiskey in a standard old fashion glass, or about one ounce, thus making Frank's "two finger" serving roughly two ounces.
Tips for Success
There's no way to mess this one up!
Regular Jack Daniels is fine to use, but if you can, find a bottle of Sinatra Select. It really does make a difference in taste, although it can be hard to find these days.
Rather than regular tap water, use a splash of Kentucky Mixing water for a clean, clear taste that really brings out the flavor of the whiskey.
Do you have a favorite Frank Sinatra song to sip a little whiskey while listening along? Mine is Summer Wind.