Boneless apple cider pork chops is a comforting meal for a chilly autumn night. The savory taste of seared pork chops combined with tangy cider and sweet caramelized apples make this dinner a fall favorite!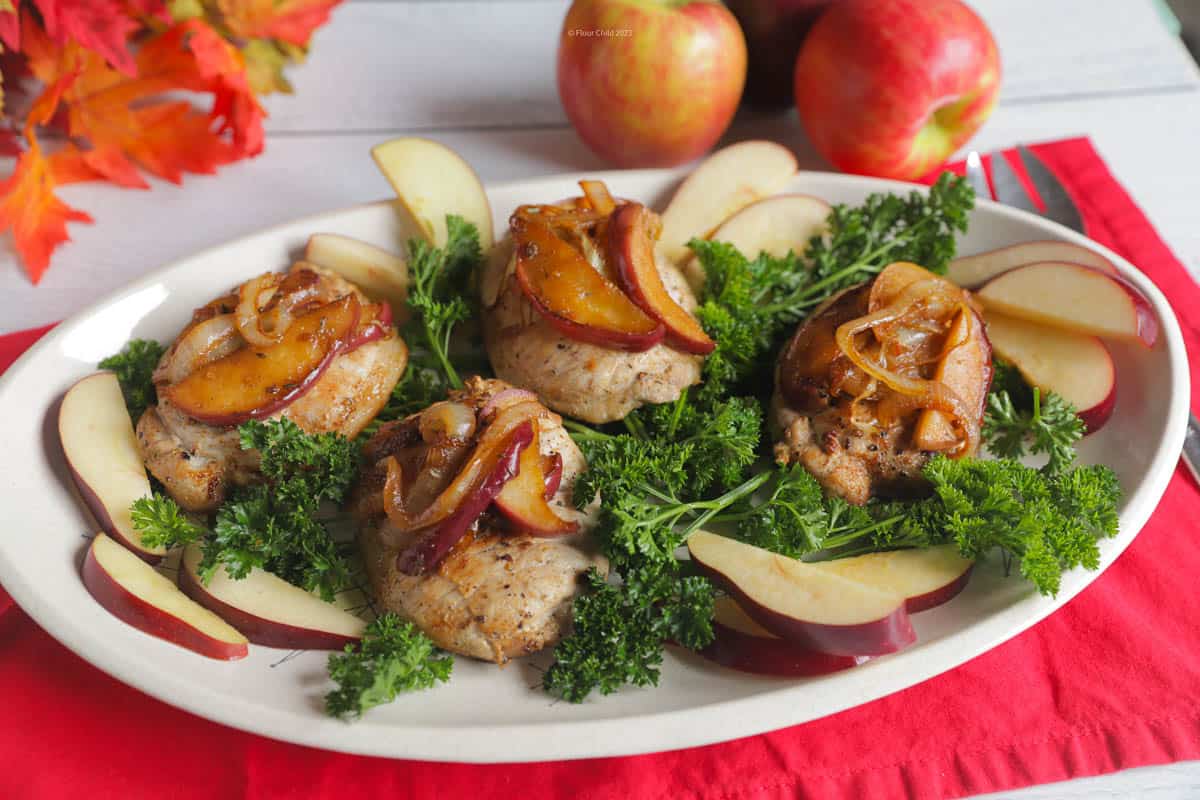 This is one of those easy pork chop recipes that looks and tastes like you went to a lot of trouble, when you didn't. The seasoned pork chops cook up in minutes in a skillet, followed by a few minutes more for the apple cider reduction sauce.
This dish has its roots in 17th century Denmark, but it was also a very popular mid century meal in the U.S. And who from this era can forget Peter Brady famously impersonating Humphrey Bogart as he walked around repeating "pork chops and applesauce" in a memorable 1971 episode of The Brady Bunch?
Ingredients for Boneless Apple Cider Pork Chops
Here's what you'll need to make these fall inspired pork chops: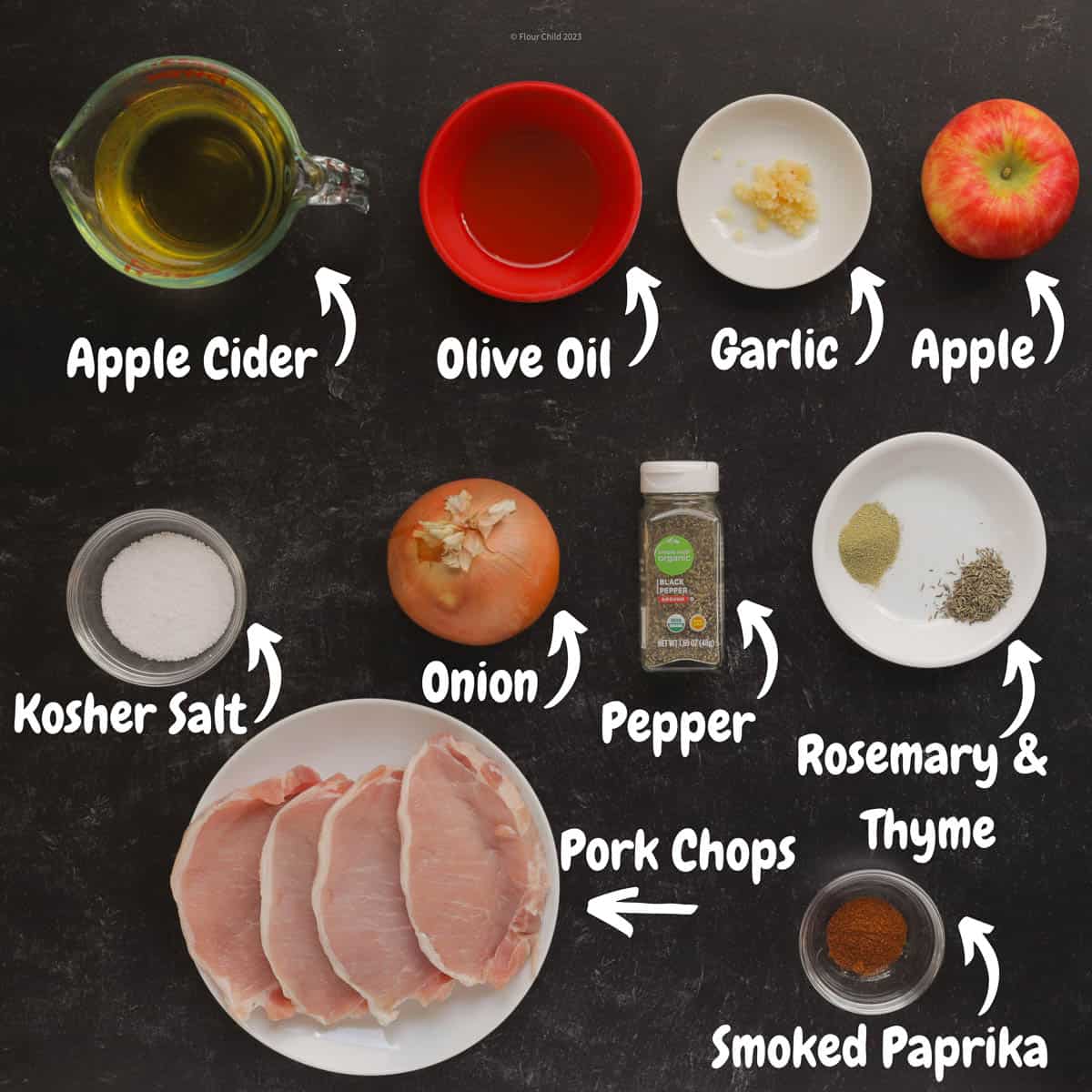 Pork chops
Smoked paprika
Kosher salt
Black pepper
Olive oil
Apple
Yellow onion
Garlic
Dried rosemary
Dried thyme
Apple cider
Pork Chops Cooking Tips
Many people complain about eating dry, tough pork chops when they were growing up. That's because the food industry had everyone scared half to death after cases of trichinosis, a food borne illness caused by eating undercooked pork, were occurring by the hundreds throughout the U.S. The solution was to overcook pork, which made many baby boomers dislike it.
Thanks to changes in hog feeding practices and public awareness, the U.S. now averages only about 16 cases per year. We now know that it is safe to eat pork cooked to 145 degrees. At that temperature, it won't be dry and tough.
I recommend searing pork over a medium-high heat to get it to sizzle without burning. It should just be lightly caramelized on each side. This can take 2-4 minutes depending on how high your heat is, so watch carefully. At this point, pork chops should not be fully cooked. Remove from heat.
Once your apples and onions have been cooked and softened in the skillet, add the apple cider. When it comes to a simmer, add the pork chops back to the pan, and using the meat thermometer to check, cook just until the thickest park of the pork chop reaches 145 degrees.
What Kind of Apples Go With Pork?
Sweet apple varieties pair well with the saltiness of pork. My favorites for this dish are Braeburn, Gala, Fuji and Honeycrisp. They are sweet, yet keep their shape without breaking down too much from cooking.
We hope you enjoy this family friendly pork recipe. It makes a great weeknight dinner full of fall flavors!
Have a comment or a vintage recipe you'd like to share? We'd love to hear from you! Please rate, comment, or send me an email at [email protected]!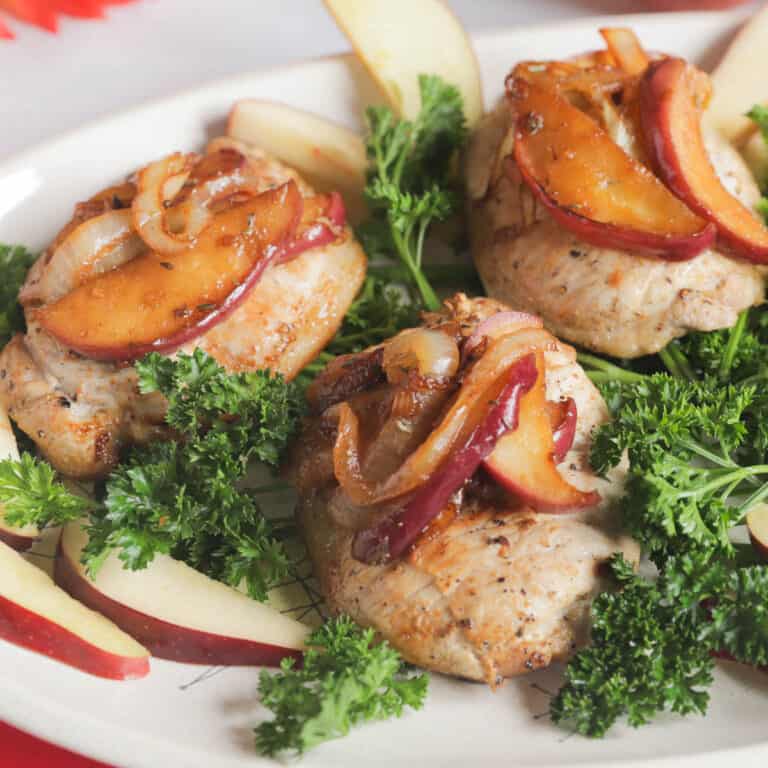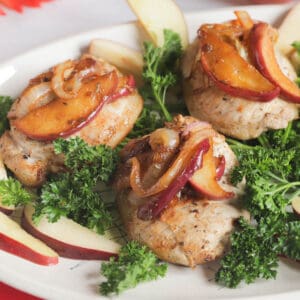 Boneless Apple Cider Pork Chops
Boneless apple cider pork chops combine the savory taste of seared seasoned pork chops with tangy fall cider and sweet caramelized apples. A perfect family friendly autumn meal!
Ingredients
4

pork chops

Boneless, ½ inch thick

1

teaspoon

smoked paprika

1

teaspoon

kosher salt

1

teaspoon

black pepper

2

tablespoons

olive oil

1

apple

cored and thinly sliced

1

small yellow onion

cut in half and thinly sliced

2

cloves

minced garlic

¾

teaspoon

dried rosemary

¾

teaspoon

dried thyme

1

cup

apple cider
Instructions
Mix paprika, salt and pepper in a small bowl, then season pork chops on both sides.

Heat olive oil over medium high heat in a large skillet. Add pork chops and sear for 2-4 minutes on each side, until golden brown. Remove, transfer to a plate and cover.

Add the apple,onion, and garlic to the skillet and cook until onion is caramelized and apples are softened, 6-8 minutes. Add rosemary, thyme and apple cider. Bring mixture to a simmer, then return pork chops to the pan and cook until apple cider is reduced by half and the pork chops register 145 degrees on a meat thermometer, approximately another 6-8 minutes. Do not overcook.

Remove pork chops to a clean platter and top with apples and onions for serving. Garnish with parsley or fresh rosemary if desired.
Notes
Use a sweet apple such as Braeburn, Fuji, Gala or Honeycrisp to complement the salty pork.
Heat the olive oil in the skillet for a couple of minutes before adding the pork chops for searing. This will bring it to the correct temperature to turn it golden brown and seal in the juices.
Nutrition
Calories:
337
kcal
Carbohydrates:
17
g
Protein:
30
g
Fat:
17
g
Saturated Fat:
4
g
Polyunsaturated Fat:
2
g
Monounsaturated Fat:
9
g
Trans Fat:
0.1
g
Cholesterol:
90
mg
Sodium:
651
mg
Potassium:
674
mg
Fiber:
2
g
Sugar:
12
g
Vitamin A:
288
IU
Vitamin C:
5
mg
Calcium:
33
mg
Iron:
1
mg