This is the ultimate recipe for grilled barbecued beef ribs that are tender and juicy, with a caramelized, smokey char and a tangy, spicy sauce that will make them the star of your summertime cookout!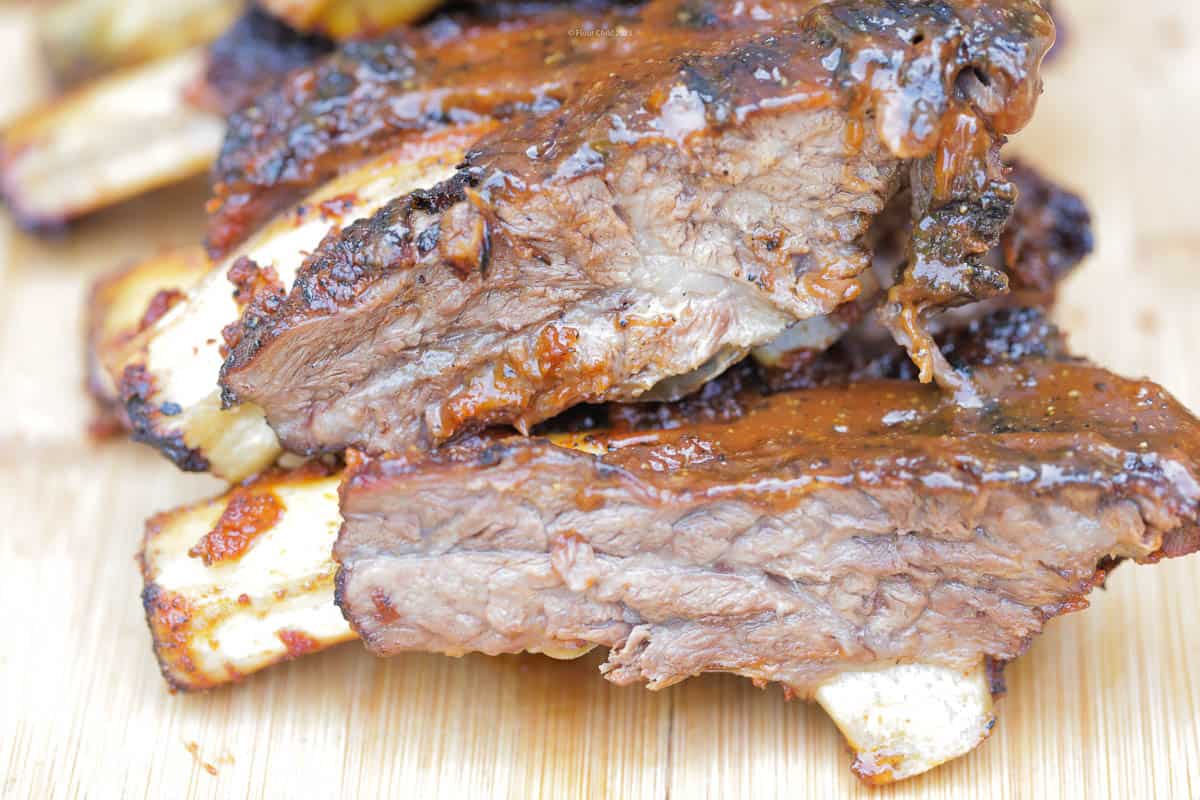 Beef Short Ribs: A Great Choice For the Barbecue
Beef short ribs are an excellent choice for barbecuing due to their rich flavor, tender texture and succulent marbling. The smoky, charred exterior in contrast to the tender, fall-of-the-bone interior are meat lover's delight. Basted with a sweet and tangy barbecue sauce with a hint of spice, grilled barbecued beef short ribs make the perfect centerpiece to any summer cookout.
Short ribs come from the lower portion of the rib cage and are meatier, more marbled and more flavorful than back ribs. They are cut in 2-inch portions; you can purchase them already divided in your grocer's meat department. If you prefer to purchase an uncut slab, you can ask the butcher for it.
The Key to Perfect Flavor is in the Barbecue Sauce
Barbecue sauce is essential to enhancing the flavor of barbecued ribs. A good sauce adds depth, richness, smokiness, and a delicious tang to the meat. The sauce acts as a glaze, caramelizing and forming a crust on the ribs. It also adds an irresistible color and texture to the dish.
A Dry Rub Will Further Enhance the Flavor of Beef Short Ribs
Our mid century recipe calls for applying a simple rub consisting of equal parts kosher salt, pepper, celery salt and garlic powder prior to cooking. Cover the ribs generously (approximately 1 tablespoon per pound) with the seasonings, then place in a sealed plastic bag or airtight container in the refrigerator for at least 1-2 hours to marinate. You can also marinate them in the refrigerator overnight. The rub will enhance the flavor and tenderize the meat.
Ingredients for Grilled Barbecued Beef Short Ribs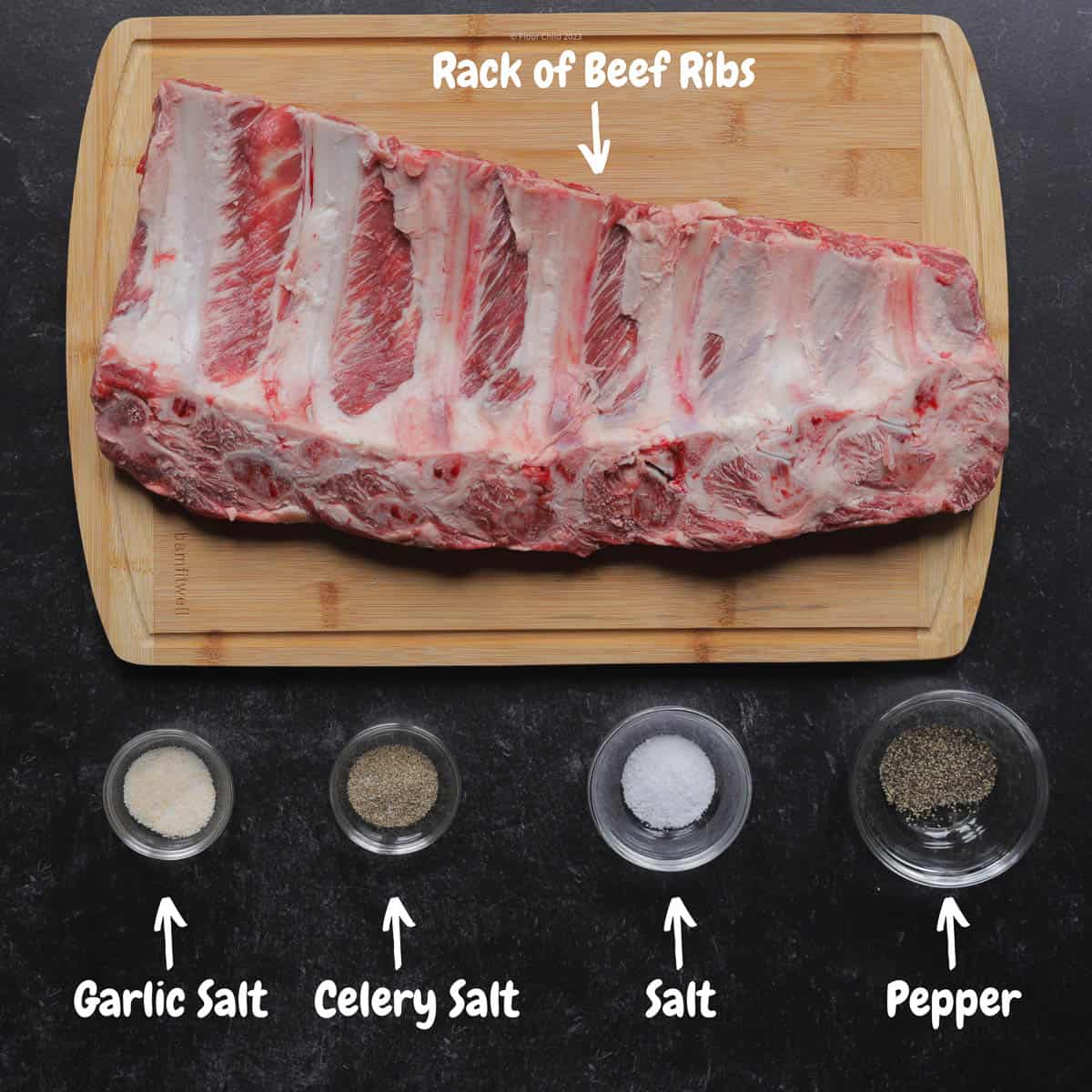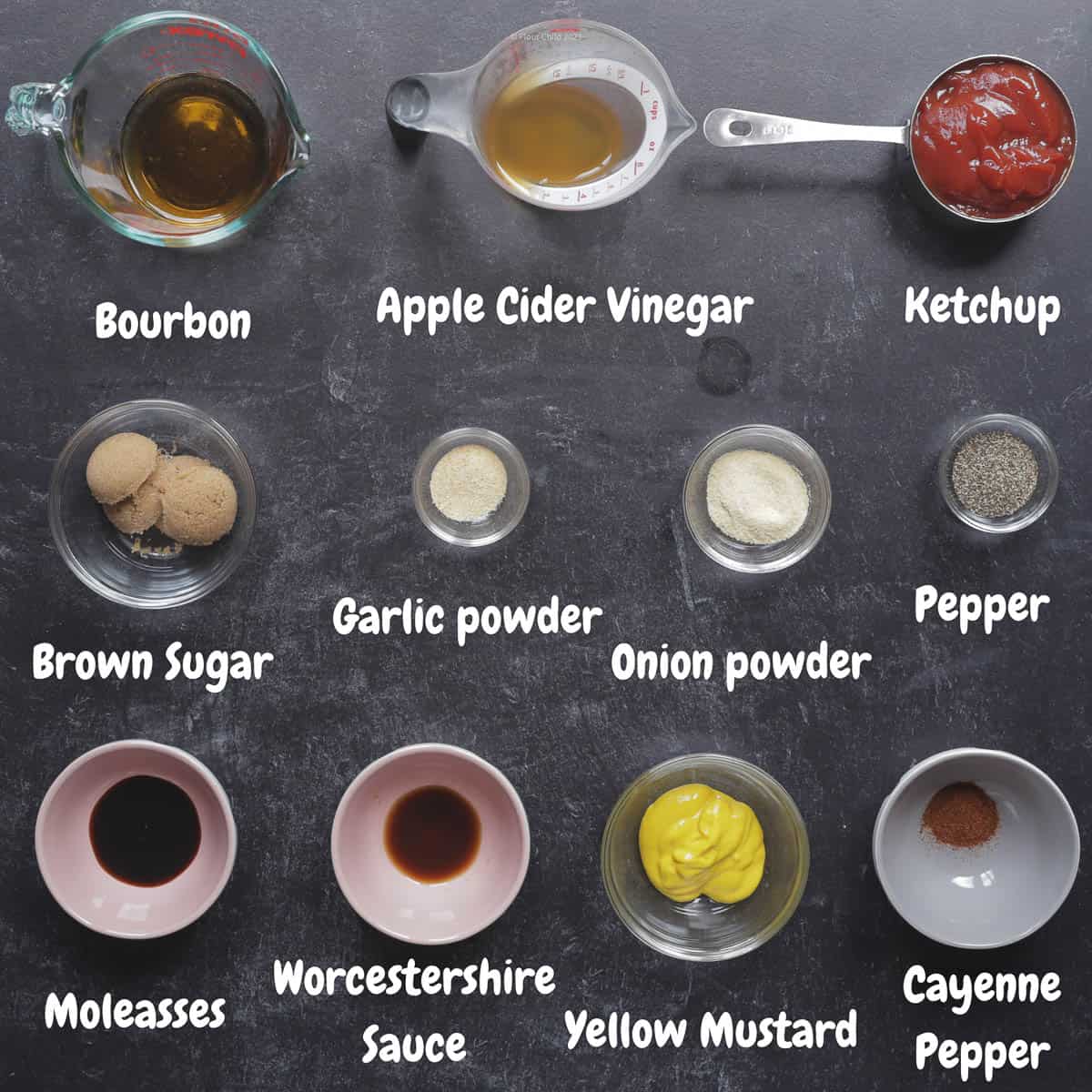 A Note About Grilling Beef Ribs
Barbecue grills cook differently based on the make and model of your grill, and whether it's charcoal or gas. We strongly recommend following your manufacturer's recommendation for grilling beef short ribs. Our procedure for cooking on our gas grill is as follows:
On the grill, sear ribs at 400 degree on direct heat for 10 minutes, flipping them over half way through.
Baste ribs with barbecue sauce. Wrap tightly in heavy aluminum foil and grill for 40 minutes on 350 degree indirect heat.
Remove from heat, open, flip the ribs and baste again. Re-seal in aluminum foil and cook for another 40 minutes at the same temperature.
Open the foil so the ribs are exposed, and continue grilling at the same temperature for another 10 minutes. Using a meat thermometer, check to ensure the ribs are at least 165 degrees before serving.
As a general rule, you should plan on grilling approximately ¾ pound of bone-in beef short ribs per person, or 3-4 lbs for 4 people.
Have a comment or a vintage recipe you'd like to share? We'd love to hear from you! Please rate, comment, or send me an email at [email protected]!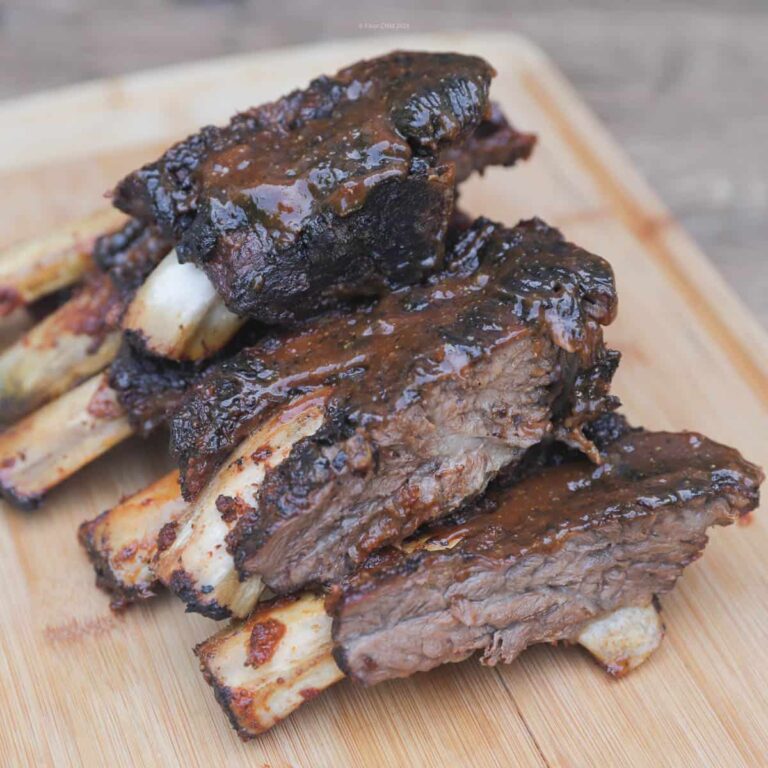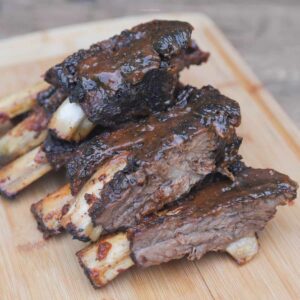 Grilled Barbecued Beef Short Ribs
Ingredients
Ribs & Seasoning Rub Ingredients
4-5

pounds

beef short ribs

1

tablespoon

kosher salt

1

tablespoon

black pepper

1

tablespoon

garlic powder

1

tablespoon

celery salt
Barbecue Sauce Ingredients
¼

cup

Bourbon

¼

cup

apple cider vinegar

1

teaspoon

garlic powder

1

cup

ketchup

4

tablespoons

brown sugar

2

teaspoons

black pepper

2

teaspoons

onion powder

2

tablespoons

yellow mustard

½

teaspoon

cayenne pepper

¼

cup

water

1

teaspoon

Worcestershire sauce

1

tablespoon

molasses
Instructions
Mix together kosher salt, celery salt, black pepper and garlic powder. Rub seasoning mixture generously over ribs. Seal ribs in an airtight container and refrigerate a minimum 1-2 hours, or overnight.

Heat gas grill to 400 degrees Fahrenheit and place the ribs on direct heat for 10 minutes, turning once half way through.

Prepare barbecue sauce by adding all ingredients to a saucepan. Bring to a simmer over low heat and simmer for 10 minutes, stirring frequently.

Remove ribs; baste generously with barbecue sauce. Wrap in heavy aluminum foil and seal tightly.

Grill on indirect heat at 350 degrees for 40 minutes; remove from heat and unwrap. Flip the ribs over, baste again with barbecue sauce, and re-seal aluminum foil. Return to grill on indirect heat at 350 degrees for 35 minutes.

Open foil to expose ribs, and continue grilling for 15 more minutes. Check with meat thermometer to ensure temperature is at least 165 degrees. Ribs are ready to serve!
Nutrition
Serving:
6
g
Calories:
504
kcal
Carbohydrates:
25
g
Protein:
43
g
Fat:
23
g
Saturated Fat:
10
g
Polyunsaturated Fat:
1
g
Monounsaturated Fat:
10
g
Cholesterol:
130
mg
Sodium:
2906
mg
Potassium:
1037
mg
Fiber:
1
g
Sugar:
19
g
Vitamin A:
288
IU
Vitamin C:
2
mg
Calcium:
55
mg
Iron:
6
mg