Juicy, tart cherries encased in a flaky, buttery crust makes very cherry pie an irresistible classic American dessert often enjoyed at holidays like Independence Day and Thanksgiving.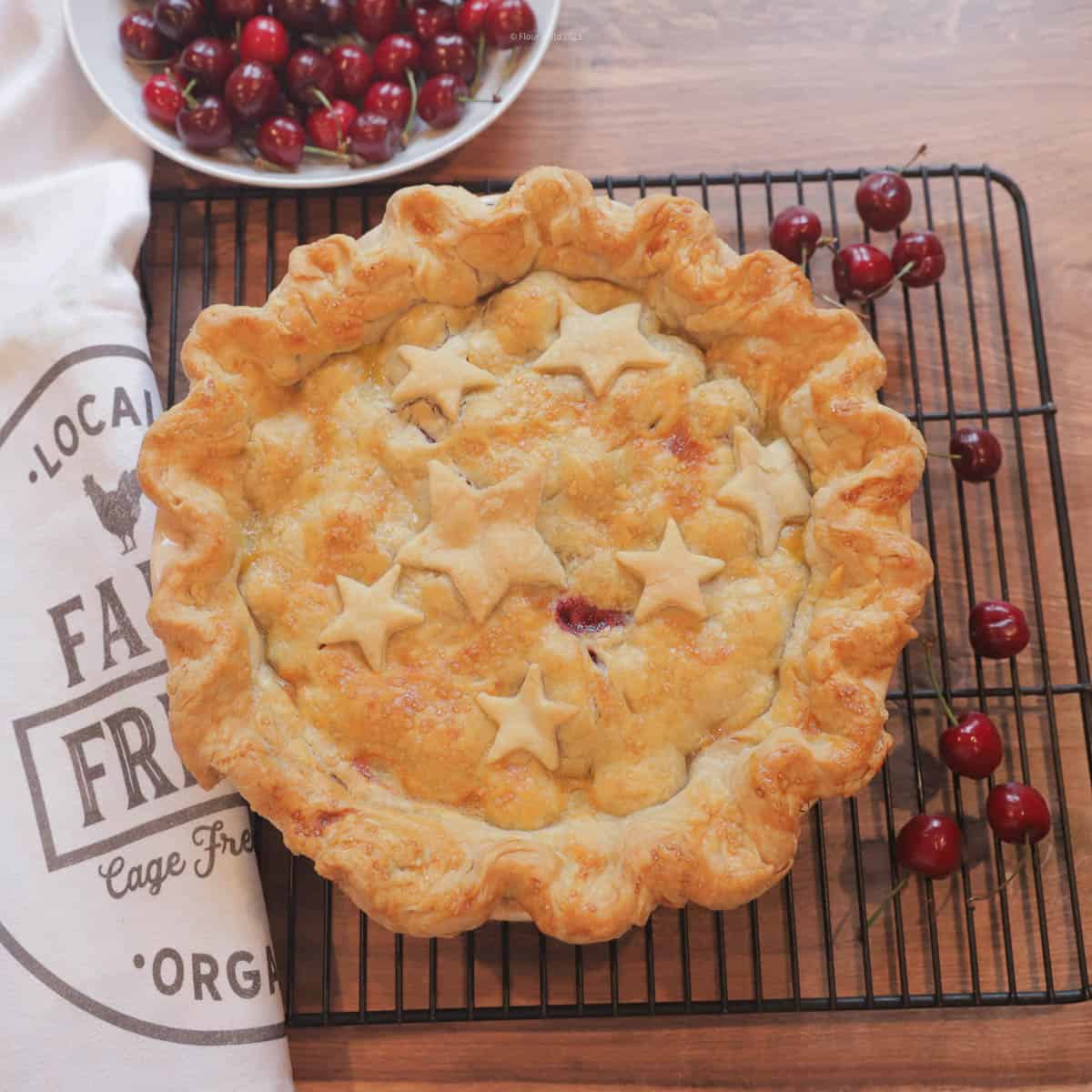 There's something undeniably nostalgic and comforting about the aroma of a freshly baked cherry pie wafting through the air. With its rich ruby-red filling nestled between layers of flaky, golden crust, cherry pie has long been a symbol of Americana, evoking images of picnics, Fourth of July celebrations, and cozy gatherings with loved ones.
What Makes a Great Cherry Pie
A cherry pie's success lies in the perfect balance between the filling and the crust. The filling primarily consists of ripe cherries, which can be either sweet or tart, fresh or frozen, depending on personal preference. Sweet cherries lend a candy-like flavor, while tart cherries contribute a tangy, refreshing twist. Personally, I like a combination of both in my cherry pie, which is what makes it very cherry!
Growing up in the midwest, fresh, tart Montmorency cherries (or "pie cherries" as we called them) were readily available. Now that I live in Los Angeles, the only tart cherries I can find are frozen, so that's what I use. This recipe calls for 6 cups of ripe, pitted cherries with the stems removed. They can be either fresh or frozen.
Ingredients for a Double Crust Very Cherry Pie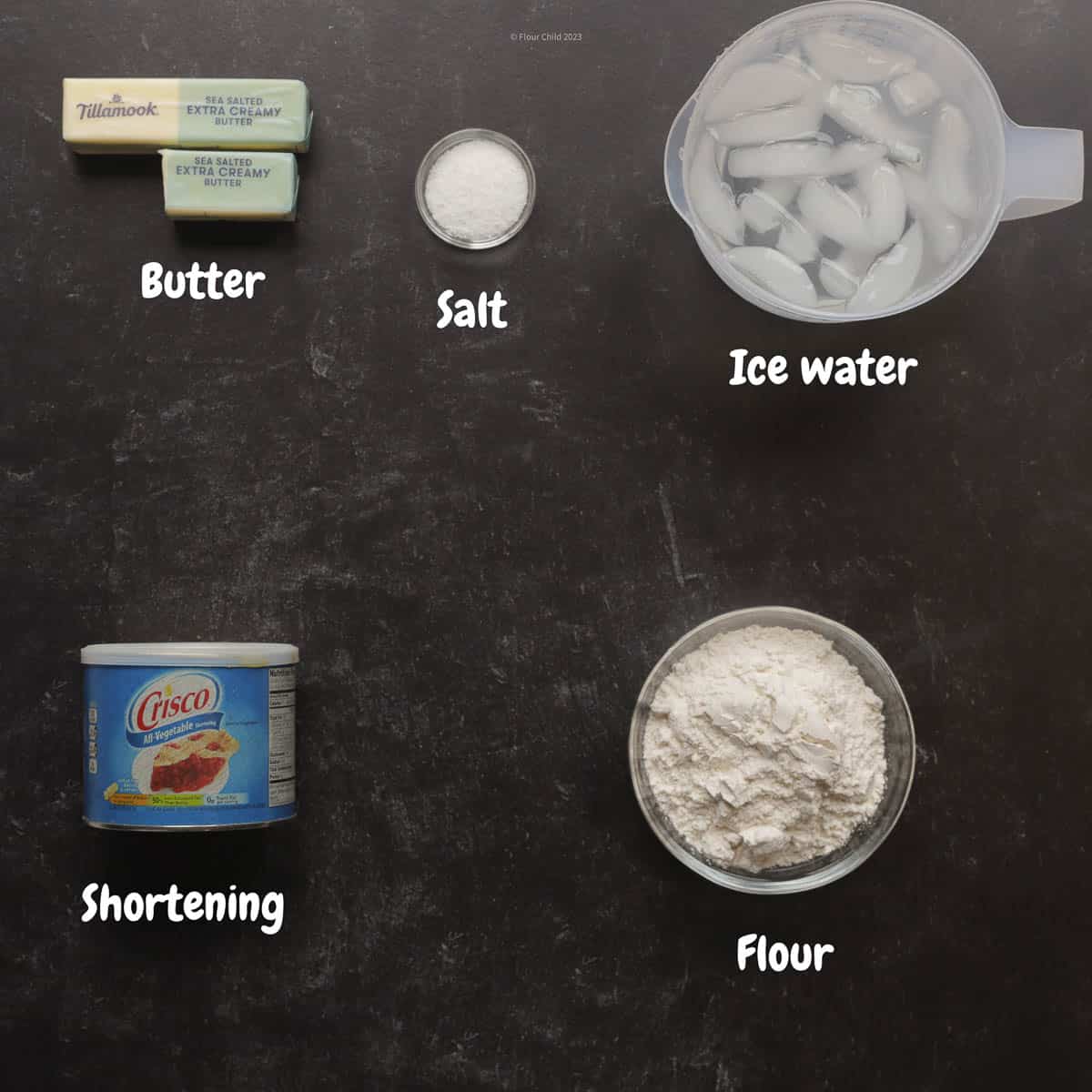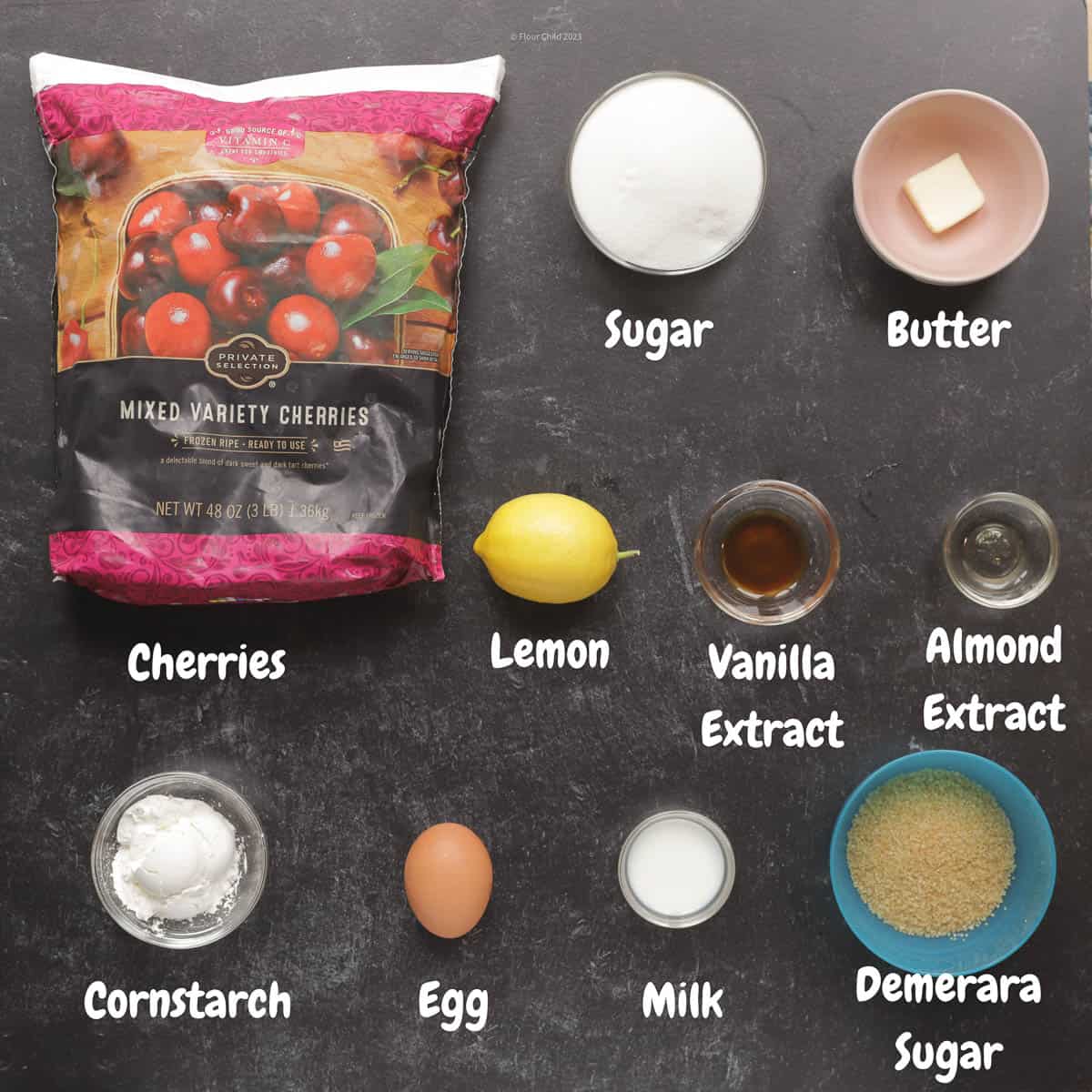 Fresh vs. Frozen Cherries for Cherry Pie
When it comes to making a cherry pie, you'll need to decide whether to use fresh or frozen cherries. Both options have their advantages, and understanding the differences can help you choose the best option for your pie.
Flavor: When in season, fresh cherries offer a wonderful burst of flavor. They have a vibrant, juicy, sweet-tart taste that will positively impact the overall taste of your pie. However, high quality frozen cherries will still deliver an excellent taste, especially if they were frozen at the peak of ripeness.
Texture: Fresh cherries have a firm and crisp texture that adds a pleasant bite to your pie. In contrast, frozen cherries tend to become softer after thawing, which can result in a slightly different texture in your pie. They may release more juice during baking, possibly leading to a slightly runnier filling. However, this can be controlled by adjusting other ingredients in your recipe.
Availability: One major advantage of using frozen cherries is their availability throughout the year. Fresh cherries are typically only available during a limited period of time, depending on your location and the cherry variety. Frozen cherries offer a convenient alternative that can help you enjoy this delicious dessert whenever you'd like.
Preparation: Fresh cherries require more preparation compared to frozen cherries. You'll need to wash, pit, and stem each individual cherry, which can be a time-consuming process. On the other hand, frozen cherries come pitted and ready to use, saving you considerable time and effort.
Price: Fresh cherries are a seasonal fruit, so their prices tend to be higher when they are out of season or if they are imported from other regions. Frozen cherries are generally more cost-effective and can be a budget-friendly option, especially when fresh cherries are not readily available or are too expensive.
Ultimately, the choice between fresh and frozen cherries for your pie depends upon your preferences for taste and convenience, plus their availability.
Type of Crust for a Very Cherry Pie
There is much debate over whether to use butter or shortening to make a pie crust. Butter is ultra-flavorful but can be difficult to handle. If it's not at the perfect temperature it can tear easily. Shortening crusts are easier to work with and hold their shape better, but they're not as flavorful and can taste greasy after you bake them.
The solution? I prefer to use both -- 75% butter to 25% shortening. This imparts the delicious flavor of butter into a flaky crust while making it easier to work with, and it holds its shape well.
Helpful Hints For Making Dough for a Double Crust Pie
Don't be intimidated by making pie dough -- it takes just a few ingredients and a little practice. Here are some tips to keep in mind:
Use cold butter and vegetable shortening direct from the refrigerator. I like Crisco Baking Sticks to make chilling and measuring easy.
Use very cold ice water to gradually moisten the dough. Be careful not to over-moisten. If you do, add a small amount of flour until it is the right consistency.
Do not overwork the dough or it will become tough. As you add water, you should toss it lightly, using your fingers like prongs to toss the dough like you would use forks to toss a salad. Gently work in the cubes of butter and shortening until small pea and almond sized lumps form.
Test a small part of the dough to see if it will hold together. If it starts to fall apart as you form a disc, it is still not damp enough and you'll need to add more water.
If you're using frozen cherries, for best results you should thaw, then pre-cook the cherries. This will reduce the water caused by the freezing process, and will thicken the filling so you don't have a runny pie.
Carefully watch the pie during baking. The edges tend to brown much faster than the rest of the pie. If this occurs, carefully place a crust protecter over the edge when it reaches the desired level of doneness.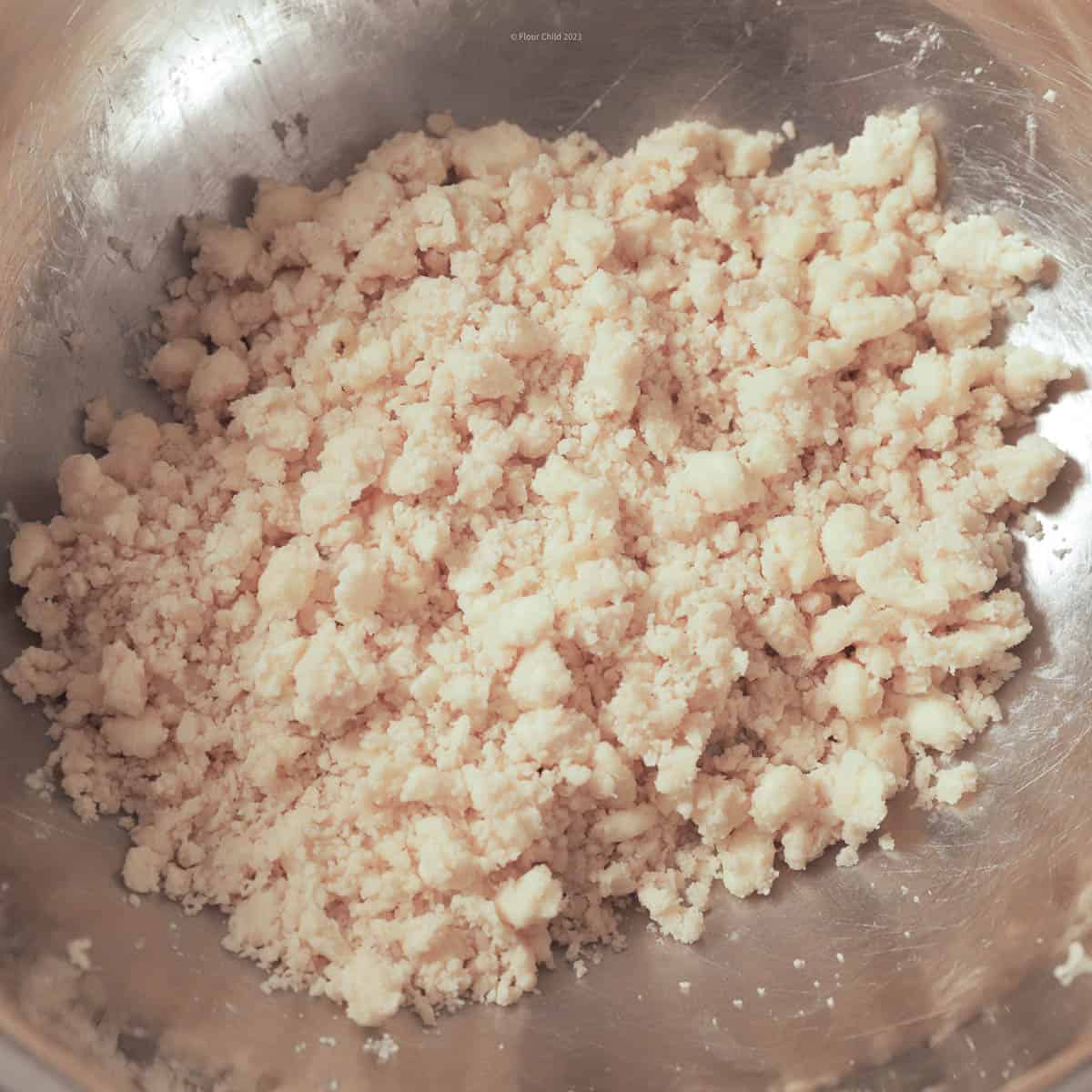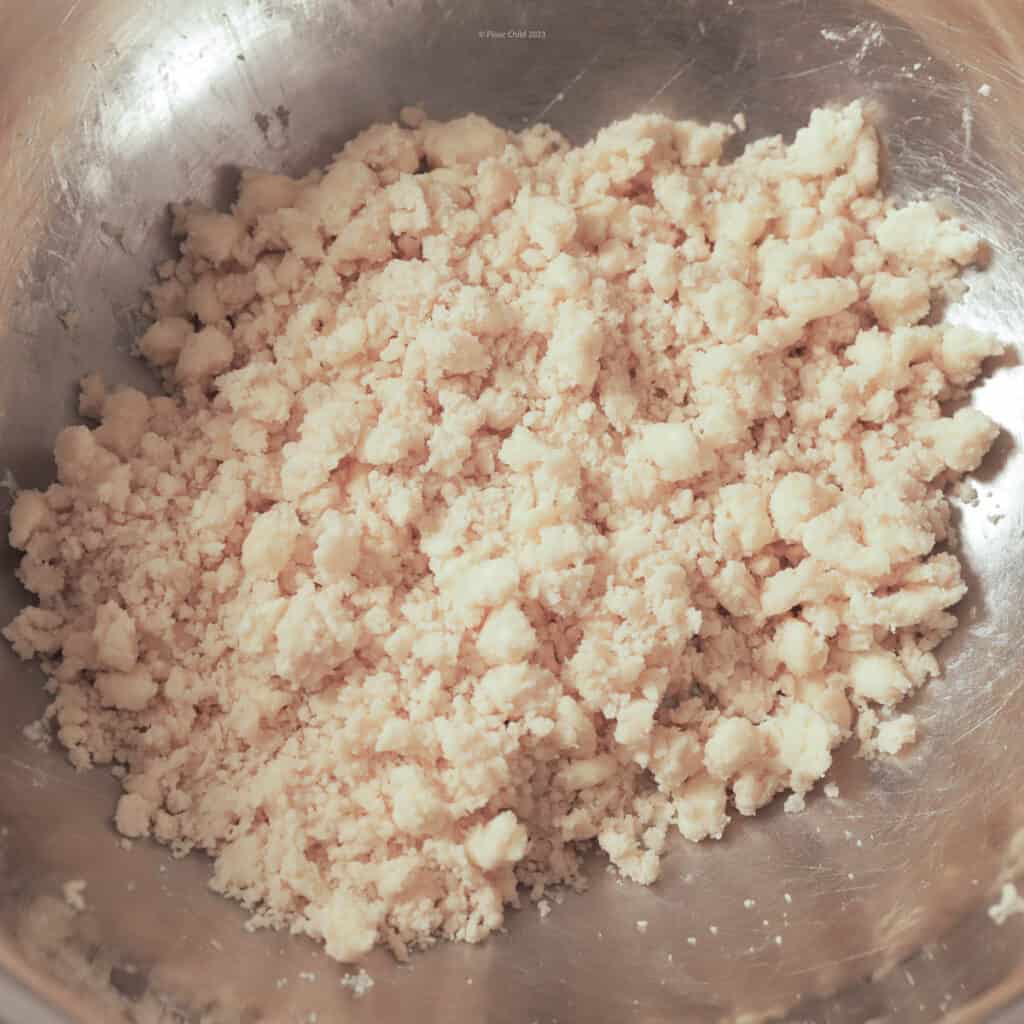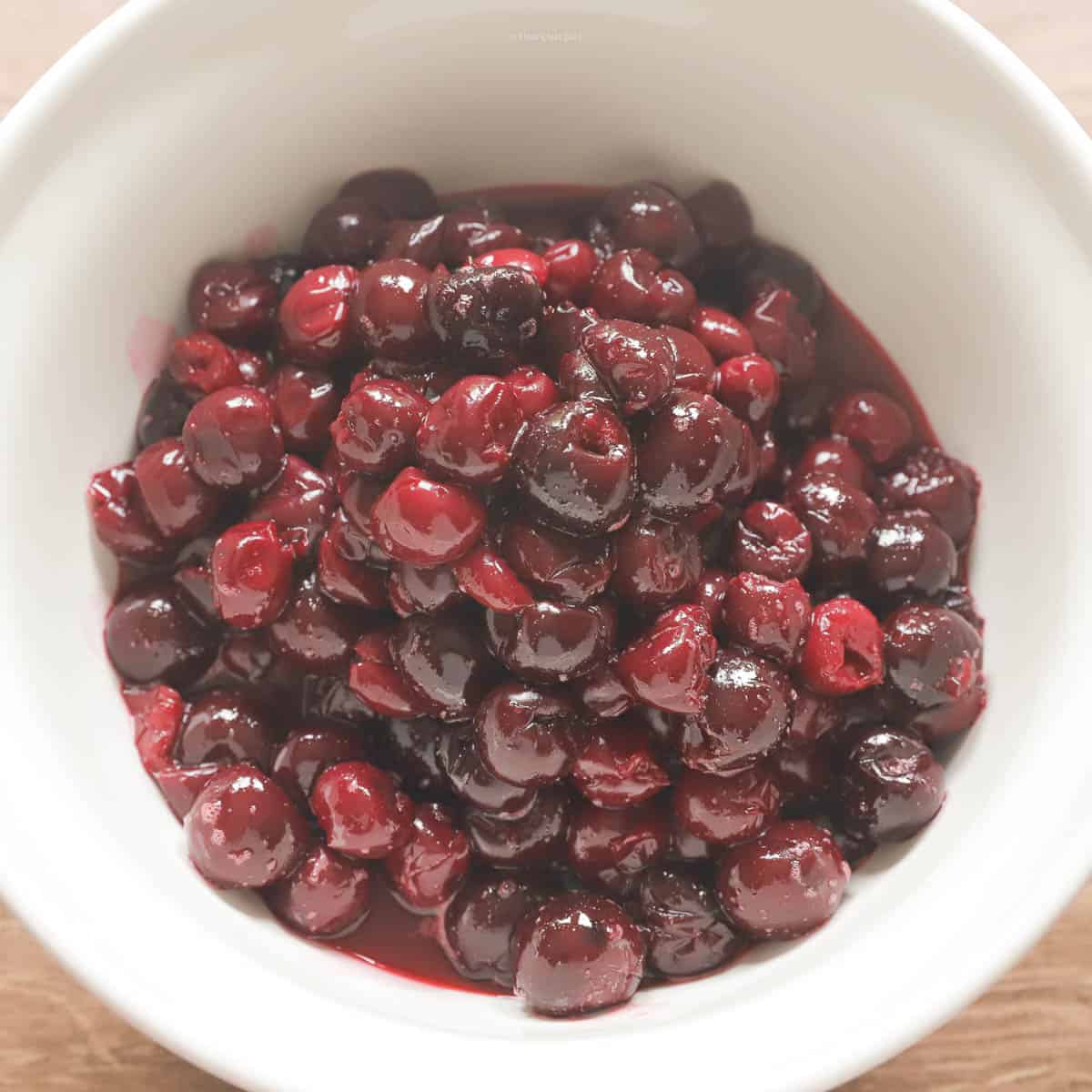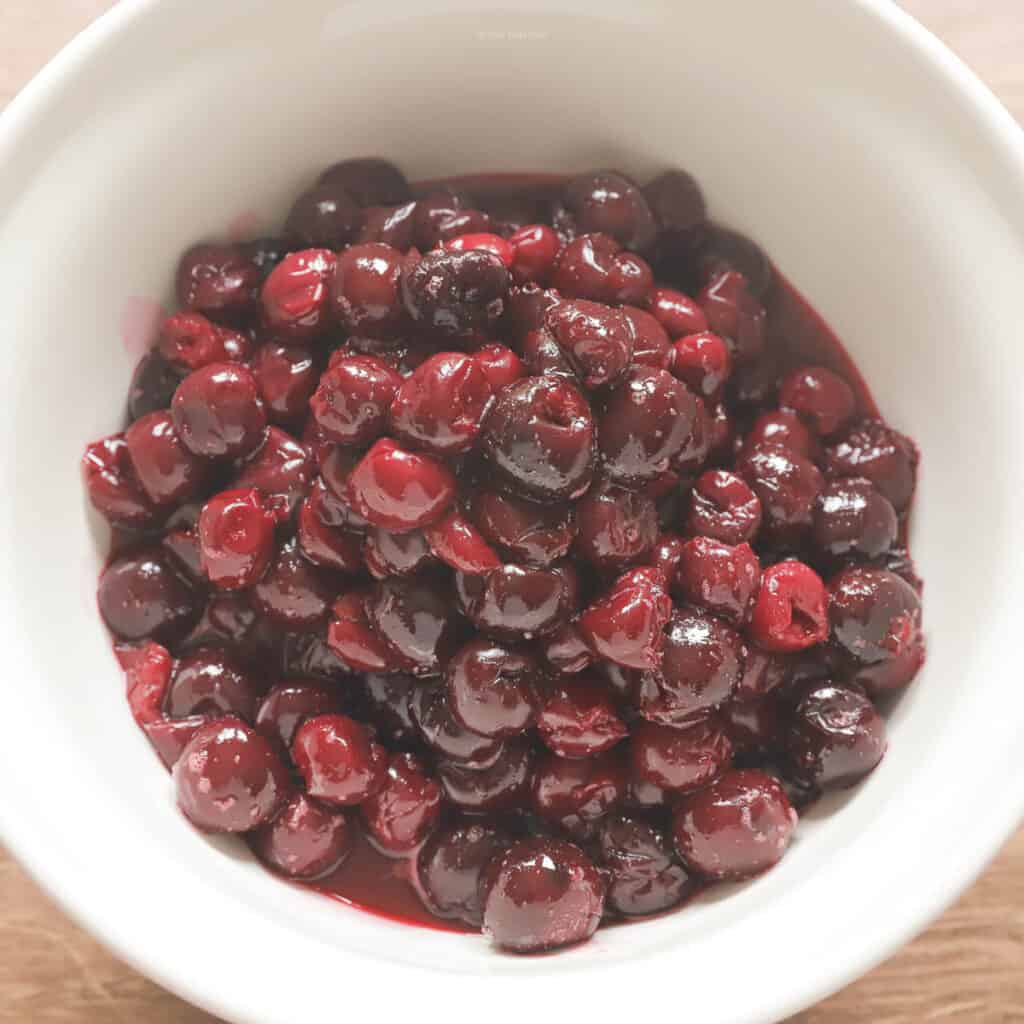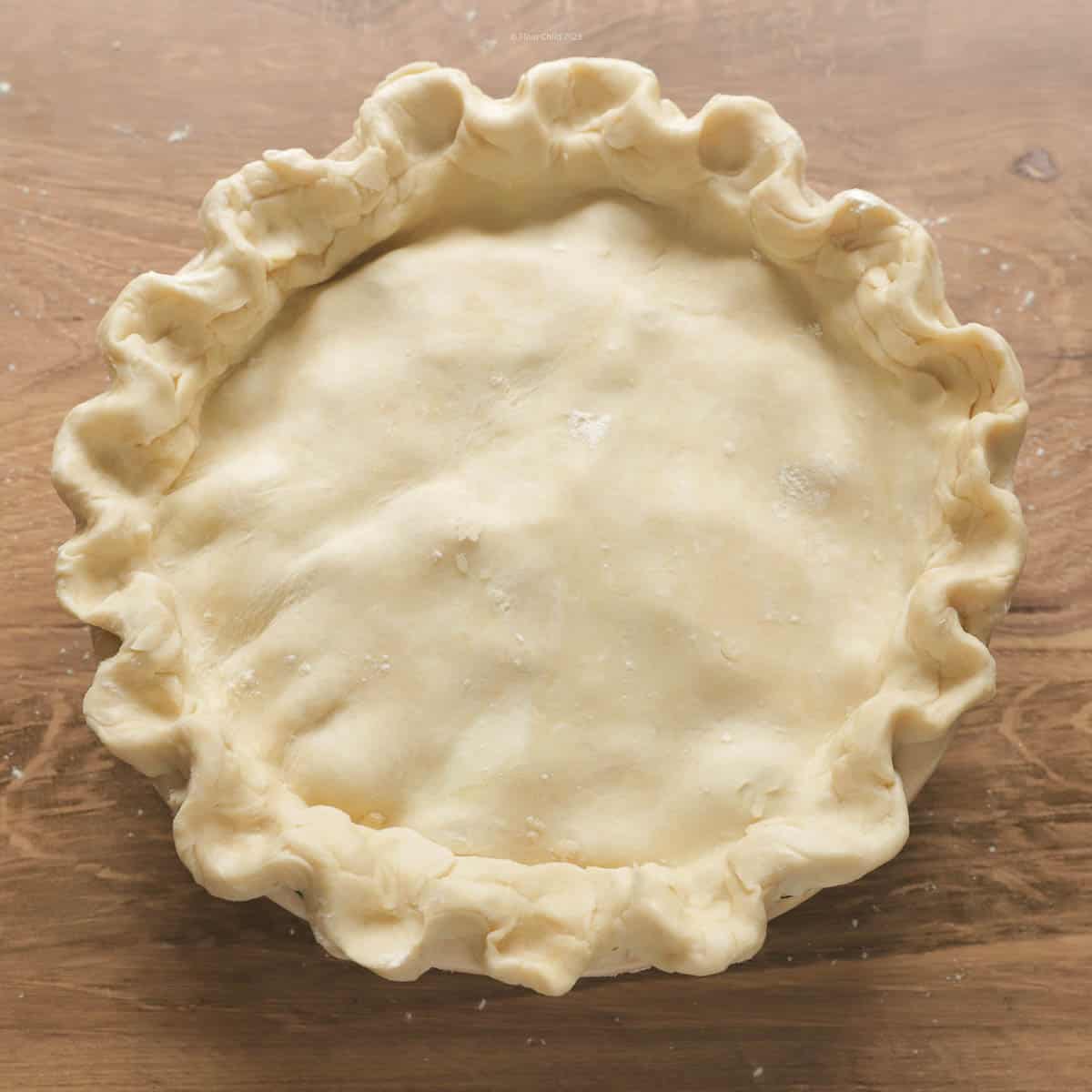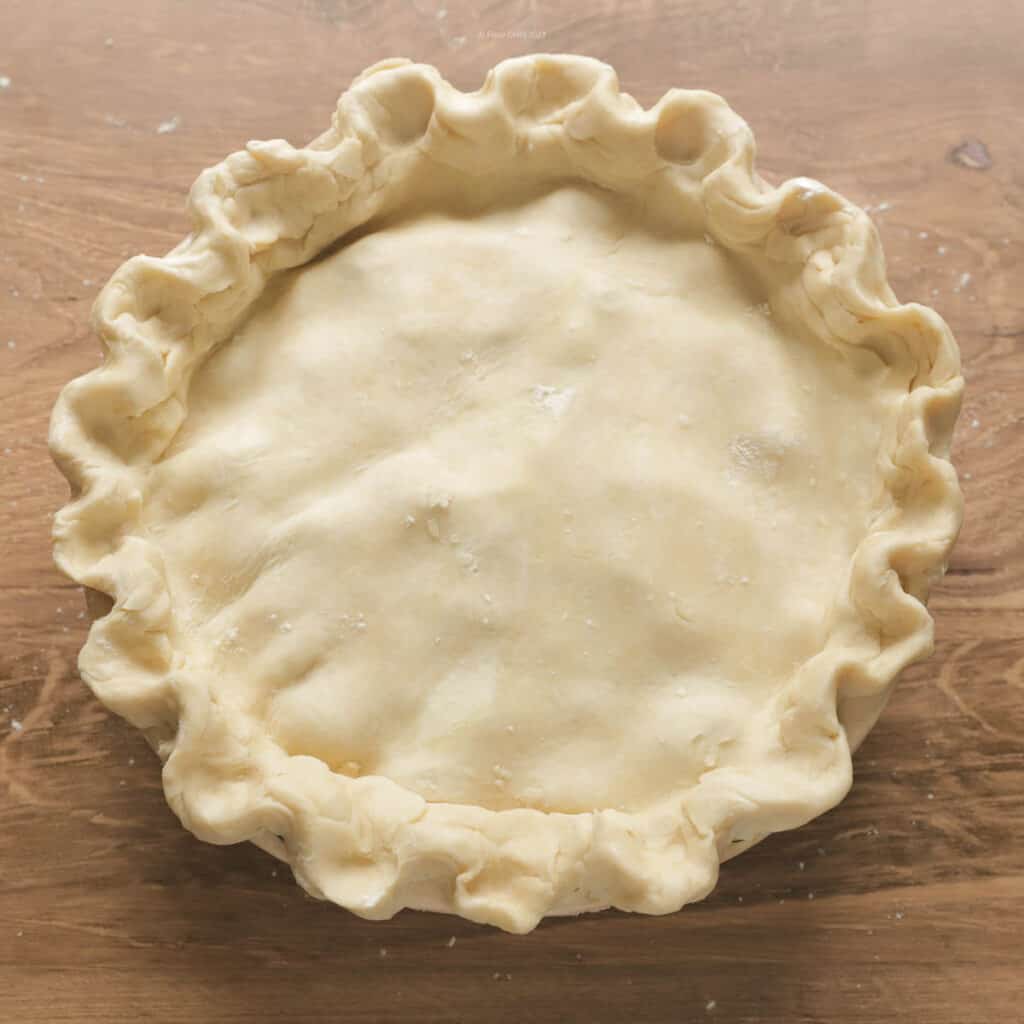 Once your pie is decorated, for an added touch you can sprinkle it with some Demerara sugar to give the crust a nice sparkle and to add a satisfying little crunch to it. Set your pie in a preheated oven at 425 degrees Fahrenheit for 15 minutes, then turn the oven down to 375 and continue baking for 30 minutes or until crust looks done and the filling is bubbling through the vent holes.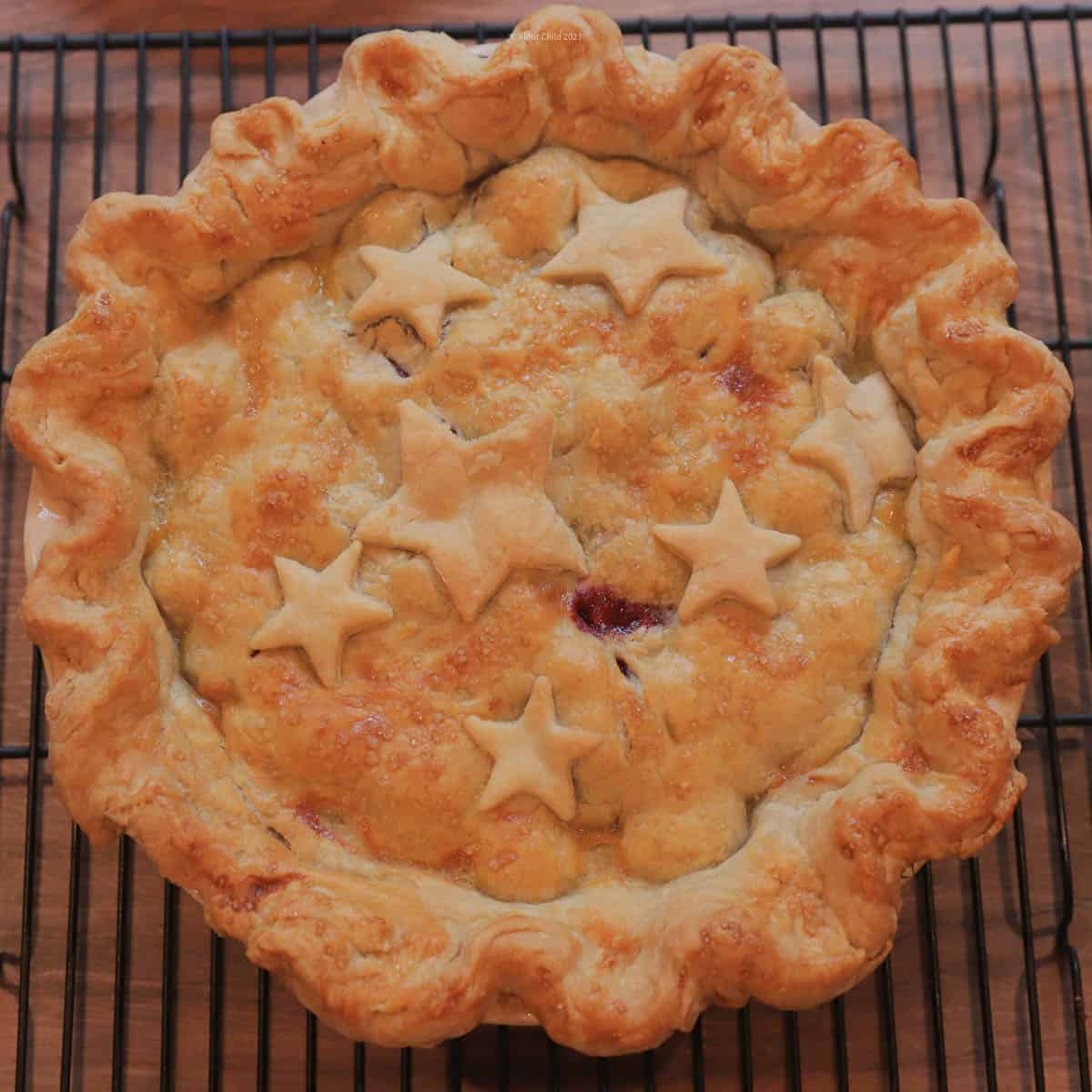 Last but not least, don't fret about your pie looking perfect! Pies are made with love and they taste delicious regardless of how they look. I guarantee nobody is going to turn down a delicious piece of pie because the appearance isn't perfect! Put it on the table and serve it with pride (and a scoop of vanilla ice cream or a dollop of whipped cream) and enjoy!
Have a comment or a vintage recipe you'd like to share? We'd love to hear from you! Please rate, comment, or send me an email at [email protected]!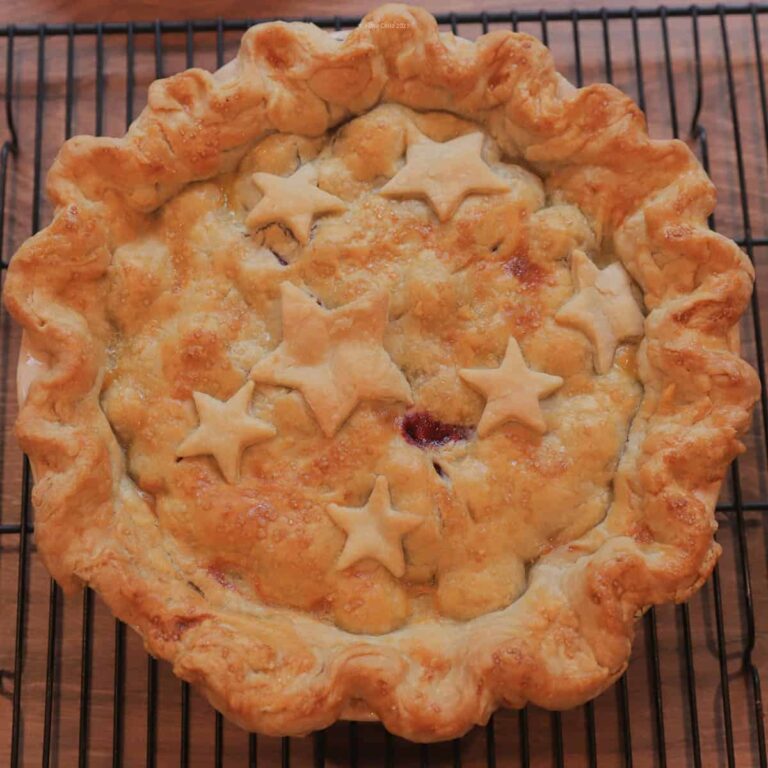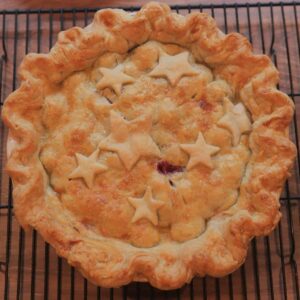 Very Cherry Pie - A Classic American Dessert
Juicy, tart cherries encased in a flaky, buttery crust makes very cherry pie an irresistible classic American dessert!
Ingredients
Double Crust Pie Dough
¾

cup

butter

cold

¼

cup

vegetable shortening

cold

2⅓

cups

all purpose flour

⅛

teaspoon

salt

1

cup

ice water

(but only use enough to moisten dough)
Cherry Pie Filling
6

cups

pitted fresh cherries, stems removed, or 48 oz bag of frozen cherries

1½

cups

sugar

(¼ cup less if you use sweet cherries)

¼

teaspoon

salt

4

tablespoons

cornstarch

1

teaspoon

vanilla extract

1

teaspoon

almond extract

1

tablespoon

lemon juice

1

tablespoon

butter

1

egg

beaten

1

tablespoon

milk
Instructions
To Make Double Crust Pie Dough
Add the flour and salt to a large, deep bowl.

Cut the butter and shortening into small cubes. (Cut tablespoon sized slices into 9 pieces.) Add to the flour and salt mixture.

Using your fingers, work the butter and shortening into the flour and salt until you have pea and almond sized lumps.

Sprinkle ice water into the mixture a little at a time. Gently toss the mixture with your fingers a few times without squeezing, pressing or kneading the dough. Repeat just until dough is moist enough to hold together without breaking apart.

Flour your hands and form the dough into a ball, working it as little as possible in the process.

Divide the dough in half and form two equal sized discs. On a heavily floured surface, roll one out, place in pie dish and fill with cherry pie filling.

Roll the other disc out and set on the top when pie is filled and ready.
TO MAKE THE CHERRY PIE FILLING
Step 1 - ONLY IF YOU ARE USING FROZEN CHERRIES:
Thaw cherries and drain in a colander until all excess liquid is removed.

Combine the cherries, sugar, cornstarch salt, vanilla extract, almond extract, and lemon juice in a large saucepan or dutch oven over medium-high heat. Bring to a simmer stirring constantly until the mixture starts to thicken (approximately 10 minutes.). Remove from heat and allow to cool to room temperature.
Step 1 - ONLY IF YOU ARE USING FRESH CHERRIES:
Combine the cherries, sugar, cornstarch salt, vanilla extract, almond extract, and lemon juice in a large mixing bowl.
Step 2
Fill bottom of pie crust with cherry mixture. Add a couple of pats of butter on top. If filling still looks very juicy, sprinkle another tablespoon of cornstarch over all.

Cover with the top crust and crimp edges. Using a sharp knife, cut several vent holes in the top of the pie crust.

Mix together egg and milk to make an egg wash. Using a pastry brush, cover the entire crust with the egg wash.

If you are going to decorate the top -- roll out leftover pieces of dough. Using a cookie cutter, cut pieces of dough and set them on top of the pie crust. Do not brush with egg wash. If desired, sprinkle with Demerara sugar rather heavily over all.

Bake at 425℉ for 15 minutes. Turn oven down to 375℉, and bake for an additional 30 minutes or until crust is golden and filling is bubbling through the vent holes. While baking, check periodically to see if you need to add a crust protector to prevent the edge from burning.

Remove to a cooling rack and allow to cool for a minimum of 2 hours before slicing.
Nutrition
Calories:
789
kcal
Carbohydrates:
114
g
Protein:
8
g
Fat:
35
g
Saturated Fat:
18
g
Polyunsaturated Fat:
4
g
Monounsaturated Fat:
10
g
Trans Fat:
2
g
Cholesterol:
94
mg
Sodium:
359
mg
Potassium:
385
mg
Fiber:
4
g
Sugar:
68
g
Vitamin A:
900
IU
Vitamin C:
11
mg
Calcium:
42
mg
Iron:
3
mg