Classic Gibson cocktails are more than just a variation of the all-time favorite Martini. The savory cocktail onions give it a simple twist and it will be a favorite at your next dinner party or cocktail hour.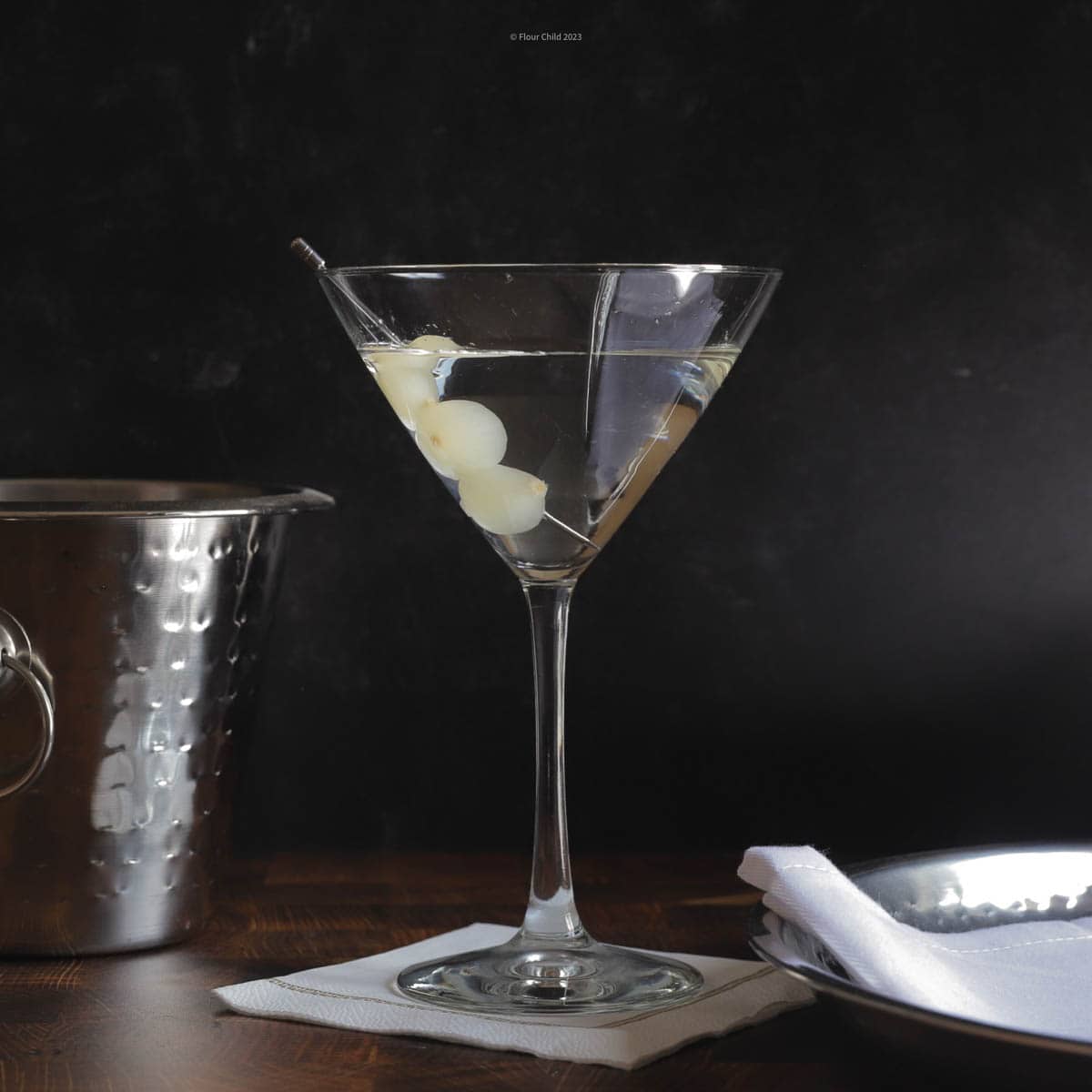 Sip your way to elegance and sophistication with the Gibson
In the world of classic cocktails, the original Gibson Martini stands as a timeless masterpiece, adorned with a unique and iconic garnish -- the cocktail onion. This briny twist on the classic dry martini (or dirty martini) has an intriguing history that takes us back to the late 1800s and the cocktail culture of New York City.
The drink's origins are a subject of debate, with a couple of references dating back to the late 1800s. Some believe it was named after the famous illustrator Charles Dana Gibson, creator of the "Gibson Girl" illustrations, while others attribute it to a bartender named Charley Connolly in New York City. One additional theory of the cocktail's history is that it was named after Walter Gibson of the San Francisco Bohemian Club. The drink became popular again after the First World War and especially during Prohibition. Regardless of its exact origin, this classic cocktail, like its cousin the classic gin martini, has withstood the test of time and is more than just a martini variation.
What is a Gibson Martini?
A classic Gibson Martini is a simple yet sophisticated concoction, consisting of equal parts dry gin and dry vermouth, stirred with ice cubes in a mixing glass. The cocktail is strained into a chilled cocktail glass and garnished with a pickled onion instead of the typical olive or lemon twist.
Though this great cocktail may have debuted among an old crowd in the late 1890s, it continues to evolve. In recent years, new variations add pickled red onions instead of a pickled cocktail onion. You can also mix it with equal parts gin and equal parts vermouth for a simple change, and some bartenders have added a twist of orange or orange bitters as a variation -- not my favorite! When I change it up, the half gin, half vermouth variation is enough for me.
The Simple Ingredients Needed to Make the Classic Gibson Cocktail Recipe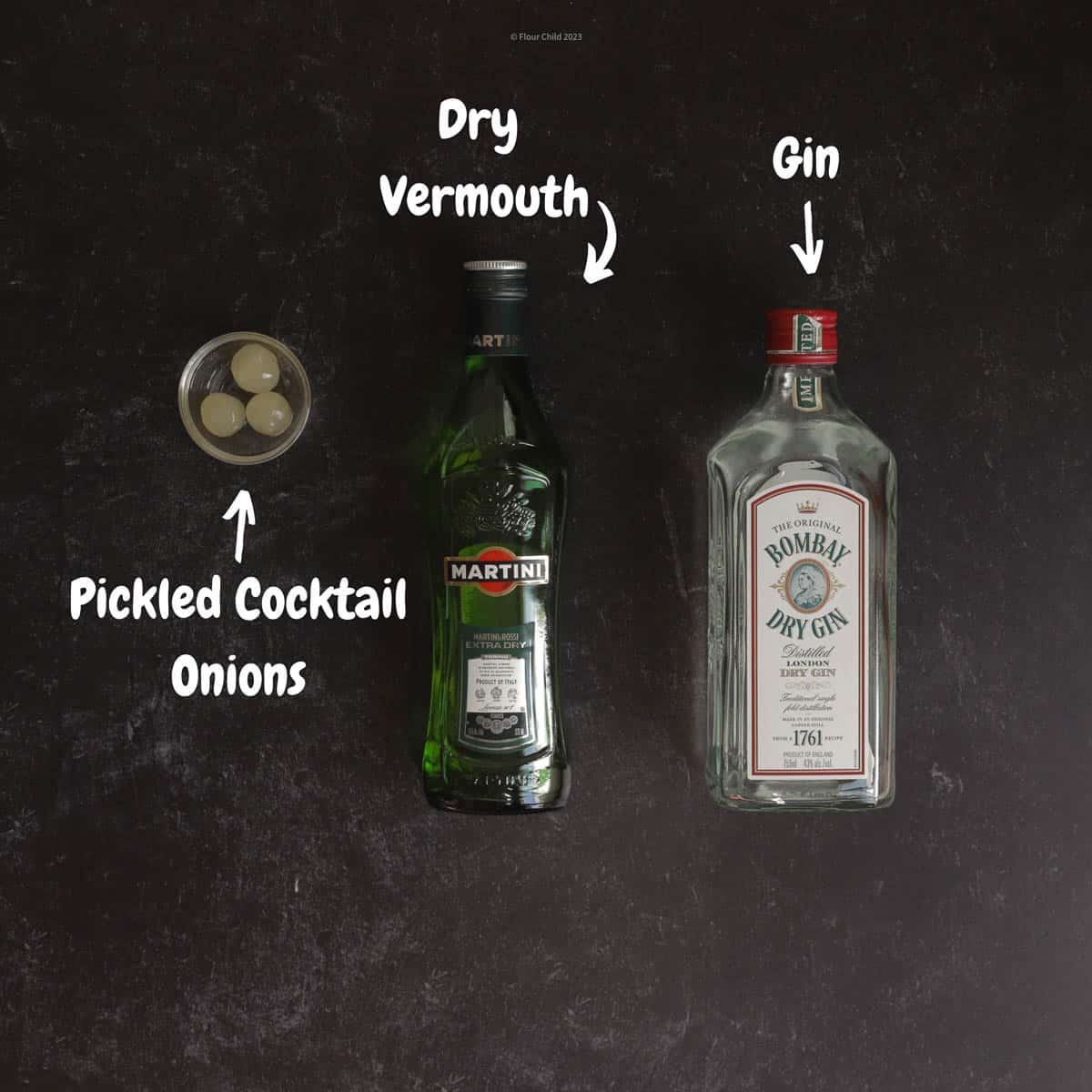 To recreate this classic gin cocktail yourself, you'll need the following ingredients:
Your favorite gin -- I recommend Bombay Dry Gin, my long time favorite.
Dry Vermouth (which is a fortified wine that smooths out the gin and gives it a different undertone). You can also try a Bianco vermouth for something that is a little in between dry and sweet.
Pickled Pearl onions that you can find at local grocery stores or liquor stores.
Plenty of fresh ice cubes.
Bar Tools Needed
You don't need any fancy bar tools to mix this cocktail, so there are no excuses not to whip one up. Use the following basics:
Mixing glass
Bar spoon
Jigger
Strainer
How to Make this Gibson Recipe
This drink is what is known as a 'duo' cocktail meaning that there are only two ingredients, so it's very easy to make. Just follow these simple directions:
Place a handful of fresh ice cubes into a large mixing glass.
Pour a jigger of dry English gin (like Plymouth gin, according to my favorite cocktail book) and the jigger of French vermouth (avoid Noilly Prat, as it can be overpowering) into the mixing glass.
Stir with a bar spoon for 30 seconds to properly chill the drink.
Strain into a martini glass.
Top it off with the all-important pickled pearl onion garnish. They're small, so I like to put 3 on a cocktail pick and insert into the glass.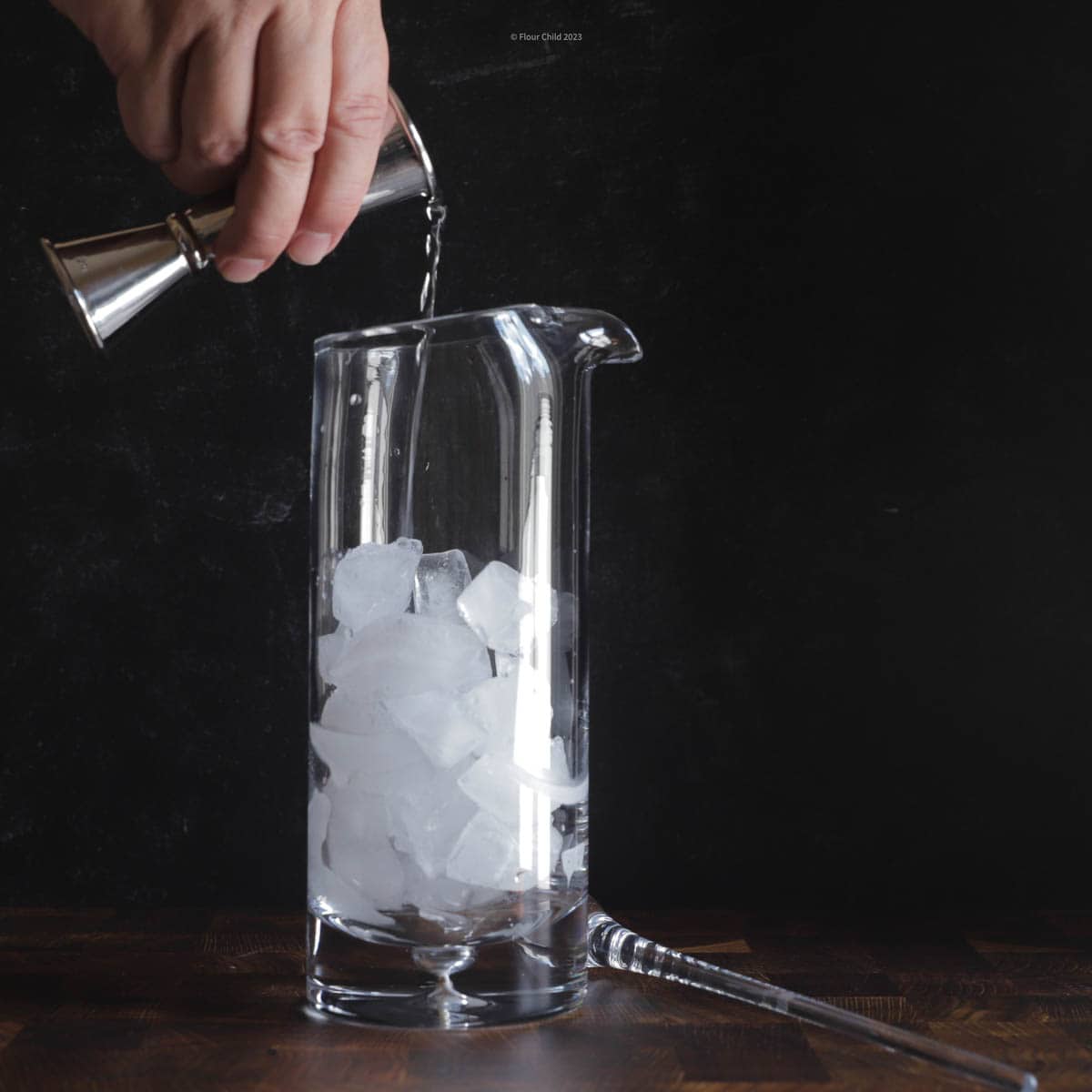 And that is it! That's why I love a simple cocktail, no muss no fuss.
Tips for Success
I've always thought of the Gibson as a sophisticated cocktail with an elegant appearance. Follow these simple tips to make a successful drink:
Always mix with a quality base spirit. If you use an inferior base, the whole cocktail will reflect that in the harsh taste.
Drink this cocktail from a classic martini glass. The bowl will allow you to enjoy the smell of the gin, and holding the stem will keep the drink from warming to room temperature from your hand. Even though the terms "martini glass" and "cocktail glass" are often used interchangeably, they are not the same thing. Usually martini glasses are slightly larger.
Serve it in a chilled glass -- always put the glass in the freezer for at least 30 minutes before serving to give that extra chill to keep the drink nice and cold.
Frequently Asked Questions
Is a Gibson cocktail just a Martini?
I guess you could say they are 'cousins' since they share many key ingredients and characteristics. The biggest difference is the briny, salty pickled onions used for garnishment rather than olives.
Can a Gibson be served 'dirty'?
Yes, similar to a martini that has a little of the briny olive juice added for flavor, for something different you can add a bar spoonful of the onion brine for a "Dirty Gibson."  In the fine art of mixing drinks, it's always best to adjust it to your personal preferences for maximum enjoyment!
Have you tried these other cocktails made with gin? The classic Martini is one of the favorite martinis of any gin lover. For something with a little more punch, my favorite martini recipe is the James Bond Vesper Martini. For hot summer days, cool off with a Tom Collins. Of course if you switch to bourbon, enjoy an Old Fashioned which is sure to satisfy anyone's high standards.
Before you go, did you try this cocktail? Why not leave a comment in the comments section along with a rating? I always appreciate hearing from you and getting your feedback.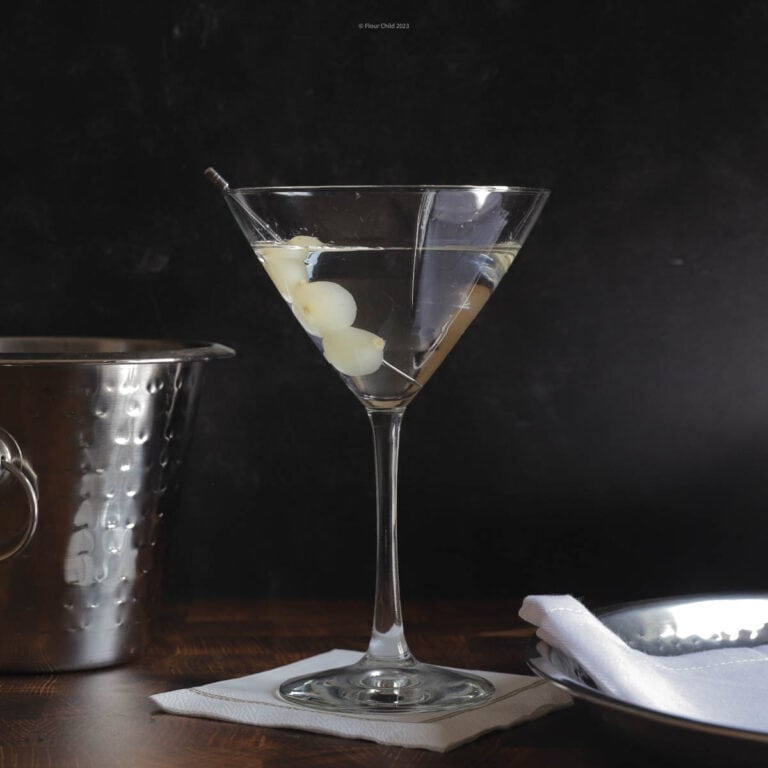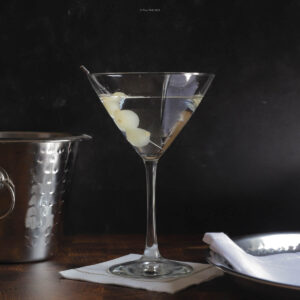 How to Make the Best Classic Gin Gibson Cocktail
This easy duo cocktail is quick to mix and tastes delicious.
Ingredients
2

oz

Dry Gin

1

oz

Dry Vermouth

3

ea

Pickled Cocktail Onions
Instructions
Place a handful of fresh ice cubes into a large mixing glass.

Pour the gin and vermouth into the mixing glass over the ice.

Stir for 30 seconds to thoroughly chill.

Strain into a martini glass.

Add several cocktail onions on a cocktail pick, or drop them straight into the cocktail.
Notes
Chill the martini glass in the freezer for at least 30 minutes before mixing the cocktail.
For a little variation, pour a bar spoon of the pickled onion juice into the cocktail for a 'dirty' Gibson.
Nutrition
Serving:
3
0z
Calories:
154
kcal
Carbohydrates:
1
g
Protein:
0.02
g
Sodium:
1
mg
Potassium:
1
mg
Iron:
0.02
mg