Crushed sugar cubes and orange rind with bourbon, bitters, and a cherry on top show why the Old Fashioned is an irresistible original cocktail.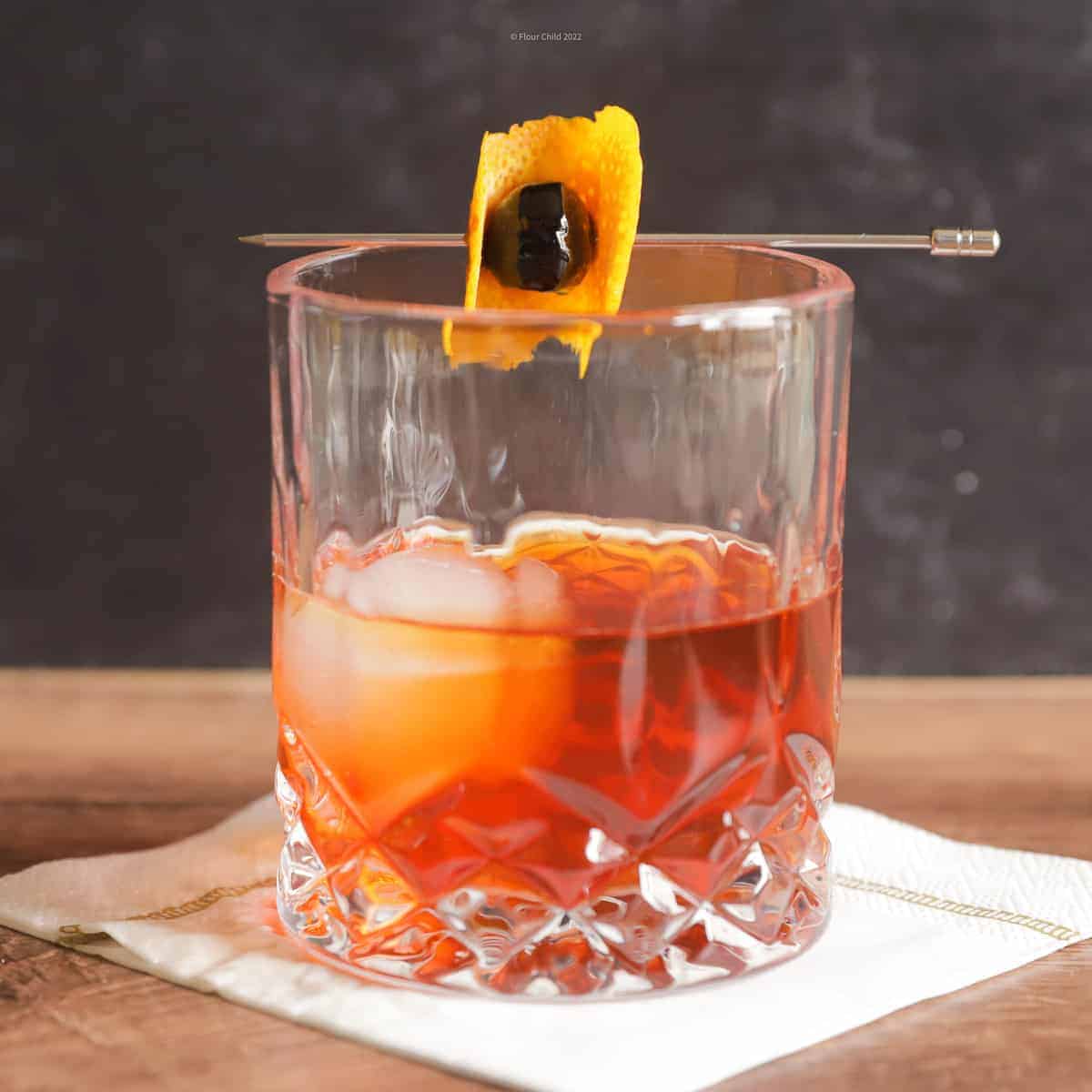 The original mid century cocktail
No list of mid century cocktails is complete without the Old Fashioned. It has been said that this drink is what all cocktails are based on. My bartender refers to it as the original cocktail. It was Don Draper's drink of choice on the television show Mad Men.
This drink supposedly originated in Louisville, Kentucky at the famous Pendennis gentlemen's club which was founded in the late 1800's. However, some similar recipes had been kicking around since the early 1800's. Nancy's great-grandfather is credited as a bartender who may have been the inventor, but that's a story for another time.
Ingredients needed to make an Old Fashioned Cocktail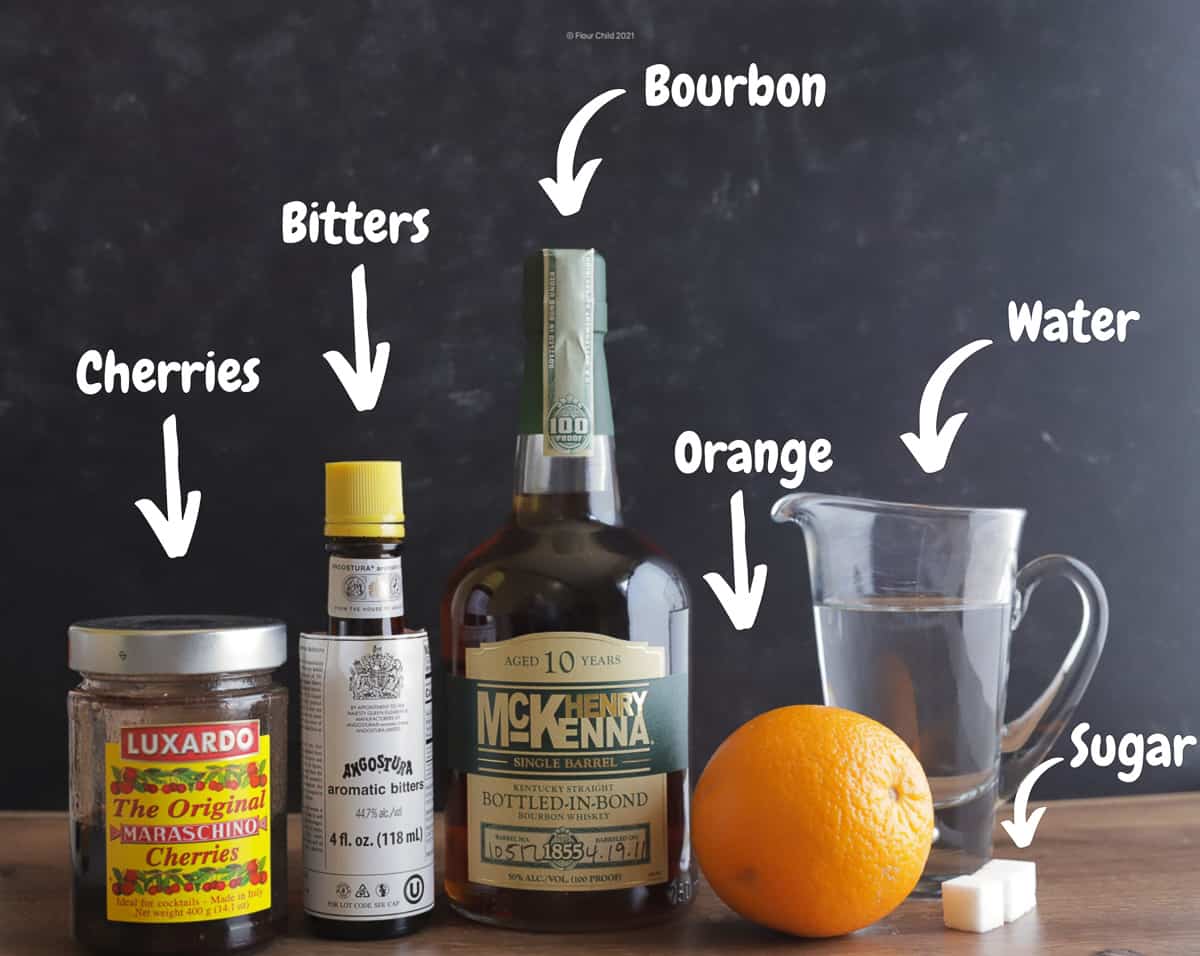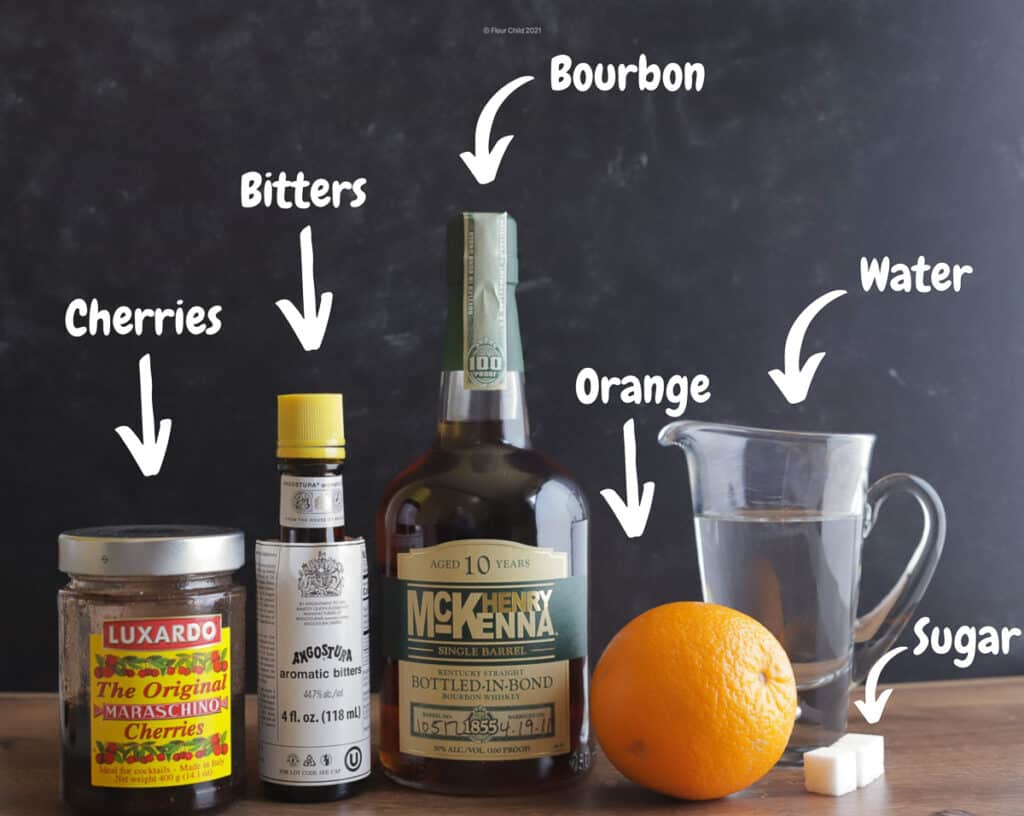 Here are the ingredients you'll want to have on hand:
Bourbon
Sugar cubes (or simple syrup)
Bitters
Water
Orange
Luxardo Cherries
Bar tools needed
This classic cocktail stays popular because it is so easy to make. It doesn't 'require' any special tools, but here are a few basics your bar most likely already has that will make a good drink every time out:
Mixing glass
Jigger
Bar spoon
Muddler
Strainer
How to make an Old Fashioned
This drink is fun to make when you have friends over. There's something to be said about soaking the cubes with bitters and adding a splash of real Kentucky limestone water—yes, you can buy it by the bottle now.
If you're new to using a muddler, just remember to twist when you push down with it to grind up the sugar cubes.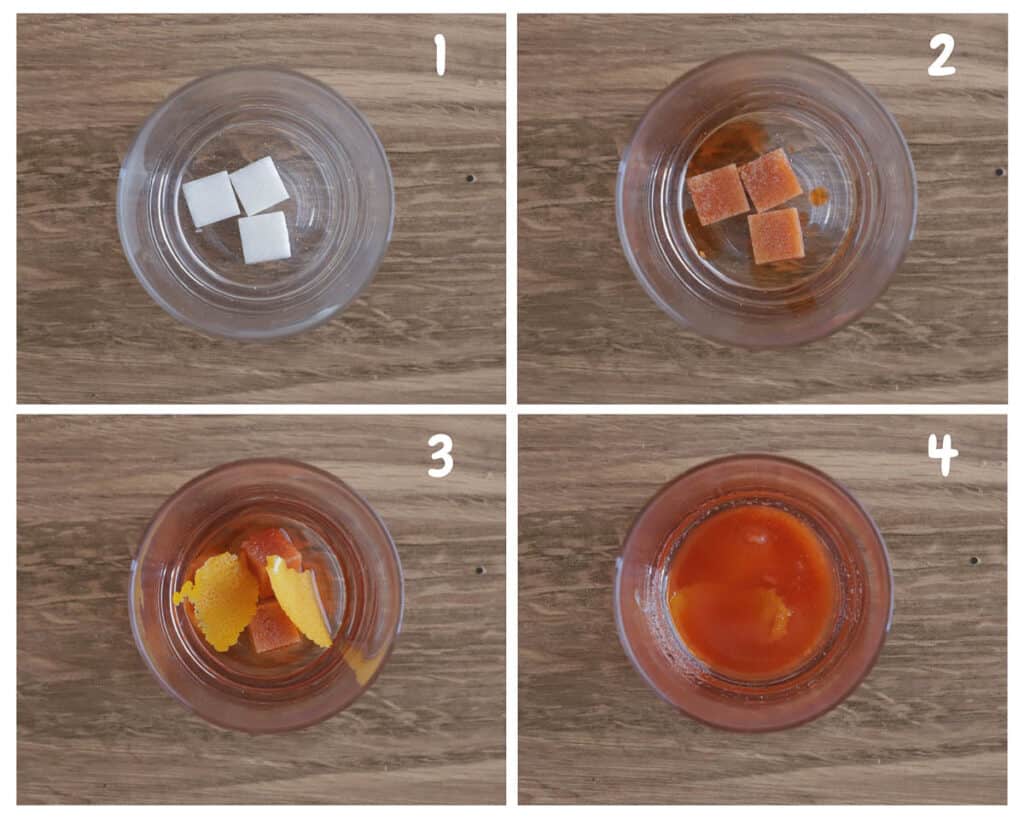 Place sugar cubes in the bottom of a mixing glass
Give your bitters 3 liberal shakes to soak the sugar cubes
Add some bits of orange peel and a dash of water
Use your muddler to crush up the sugar cubes and mix together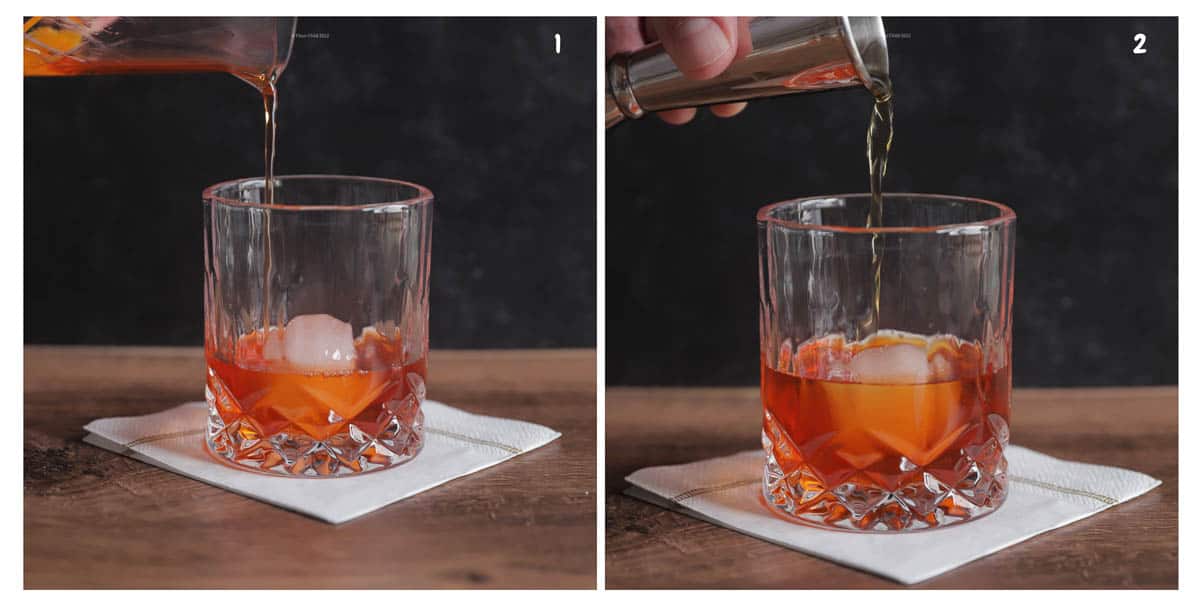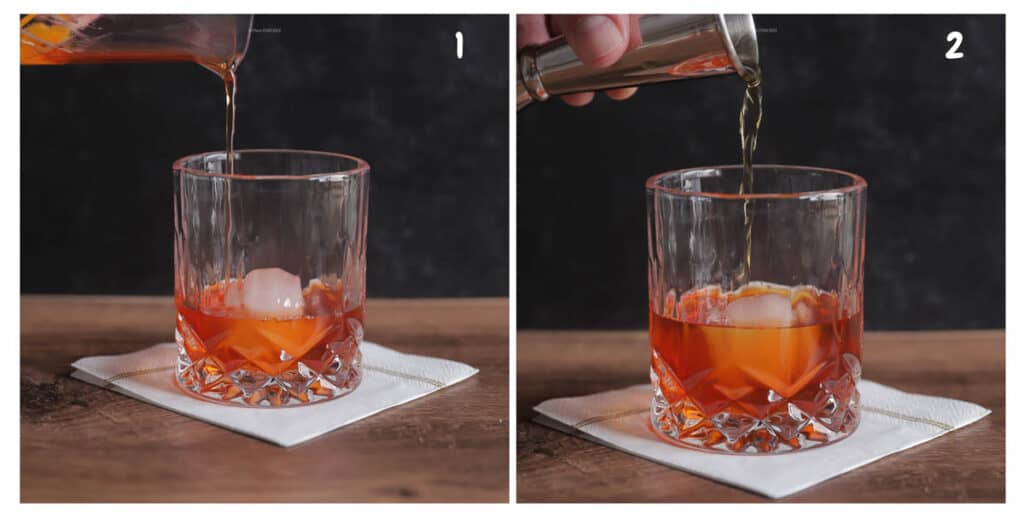 Pour the sugar and bitters into the rocks glass with ice
Pour the whiskey in last and then give a stir and add your garnish--if desired
How to serve
This drink is best served in a rocks glass with a ball or block of ice which will melt slowly and keep the drink nice and cold without watering it down while you enjoy it.
Tips for success
To prepare this cocktail you need the right tools, but otherwise it is a pretty easy drink to mix up. Just remember these tips to create a classic.
Always use a quality bourbon to mix with. A cheap whiskey will make a poor-tasting drink.
Muddle a little extra orange peel with the sugar to give it a little extra flavor.
When using the orange peel, don't cut too deep and get into the bitter rind of the orange--you'll want to just skim the orange skin.
Don't forget to 'express' the orange peel. The orange scent adds to the drinking experience.
Variations
Like many whiskey-based cocktails, there are plenty of variations that keep it interesting.
Rye Old Fashioned
Today we are blessed with amazing selections of spicy ryes. Chose a solid rye whiskey like George Dickel Rye and you'll really appreciate the contrast between the sweet sugar and the kick of the rye. Don't forget about Bulleit Rye for a classic rye taste.
Everything is the same in the recipe, just substitute rye for the bourbon and enjoy.
Brandy Old Fashioned
Being from Chicago, I've drank plenty of these when visiting Wisconsin--it is hugely popular there. Instead of whiskey, use brandy and float some 7-Up soda on top. Super sweet, but also a delicious change up.
Frequently Asked Questions
Why is it call an Old Fashioned?
Legend has it that people requested that their cocktail not be made from a mix, but made the 'old fashioned way', or from scratch.
What is the difference between an Old Fashioned and a Manhattan?
These are two classic whiskey drinks. The main difference is that the Manhattan uses a sweet vermouth, whereas the Old Fashioned gets its sweetness from sugar cubes.
Onto the main event with the heavyweight champ—The Old Fashioned, the original cocktail.
Before you go, did you try this cocktail? Why not leave a comment in the Comments section along with a rating? I always appreciate hearing from you and getting your feedback.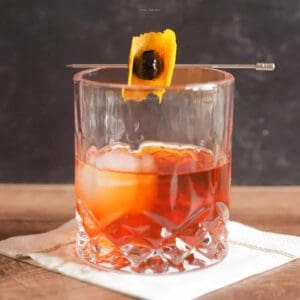 The Classic Old Fashioned Cocktail
The heavyweight champ of cocktails, the Old Fashioned is a winner all year 'round. It's a Madmen favorite and you'll like it, too.
Ingredients
2-3

sugar cubes

3-4

dashes

Angostura bitters

2

orange peels

2

ounces

bourbon

1

dash

purified water

1

cocktail cherry
Instructions
Put sugar cubes in your mixing glass.

Add 3 or 4 dashes of bitters - you want to saturate your sugar cubes.

Add a dash of cold water.

Peel a little orange peel off and add that to the bottom of the glass. Keep it separate from the piece you want to use as garnish.

With your muddler, crush the sugar cubes and grind them up.

Put large block of ice into your rocks glass

Pour in the sugar water mix.

Pour in the bourbon.

Last, add a bit of orange peel and a cherry for garnish. But you should express the orange peel into the glass first. Do this by twisting it until you see a little of the essence spray from the peel. Then slide the orange peel and cherry onto a drink pick, and you're ready to enjoy!
Notes
You can use craft sugar cubes to give the drink different flavors
Have fun with different bitters flavors like orange and black walnut. 
If you're in a hurry, by all means reach for the simple syrup rather than crushing the sugar cubes.
You can use Rye rather than Bourbon to make a spicier cocktail with a harder bite.
Nutrition
Calories:
179
kcal
Carbohydrates:
10
g
Protein:
1
g
Fat:
1
g
Polyunsaturated Fat:
1
g
Sodium:
3
mg
Potassium:
38
mg
Fiber:
1
g
Sugar:
9
g
Vitamin A:
83
IU
Vitamin C:
4
mg
Calcium:
2
mg
Iron:
1
mg