Taffy Apples are a delicious fall treat consisting of fresh, tart and crunchy apples covered in a sweet & chewy caramel, then rolled in crushed peanuts -- or not!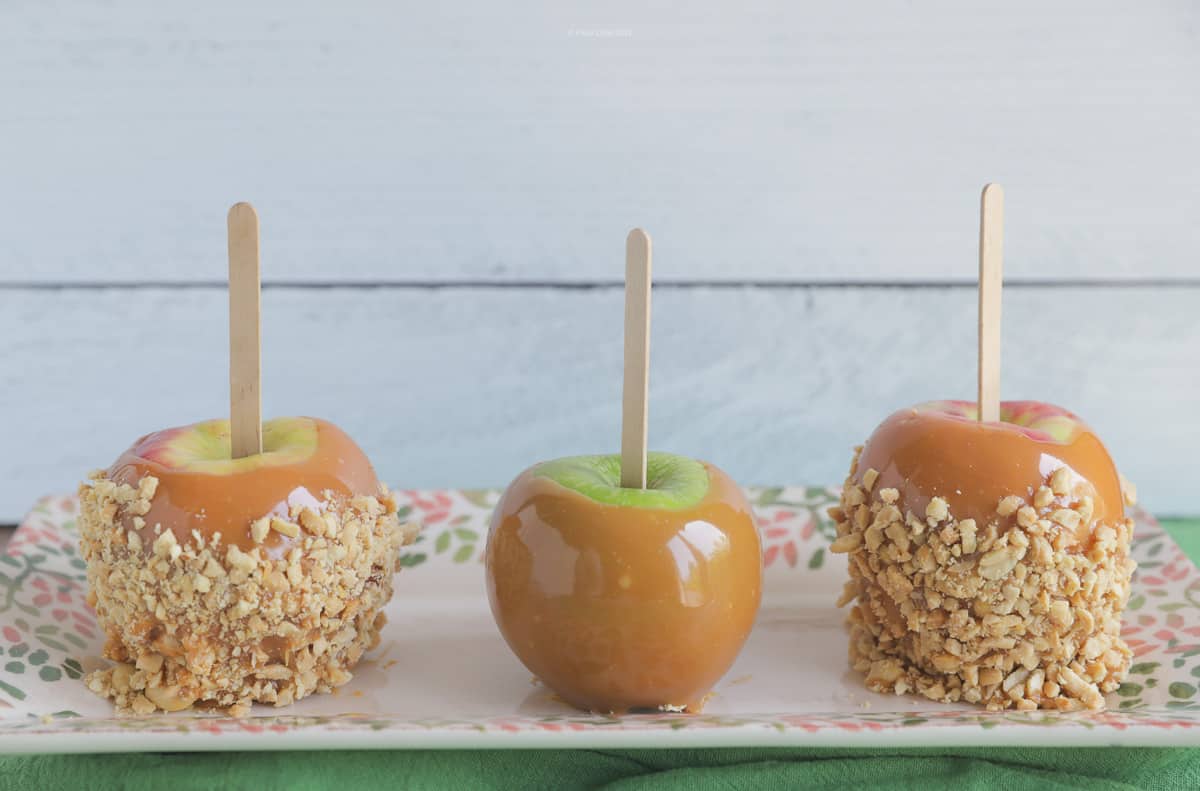 Carmel apples, or taffy apples as we called them in the midwest, bring to mind the season of cozy cable knit sweaters, golden leaves, hayrides and halloween. If fall had a taste, it would taste like a taffy apple!
The owner of a candy shop in Newark is credited with inventing this treat in the late 19th century. As he was thinking of ways to use his excess caramel, he picked up an apple and dipped it into some hot caramel. Viola! The taffy apple recipe was born.
In the 1950's, the Kraft Foods company introduced individually wrapped caramels and promoted them as a fast and easy way to make caramel apples at home. When I was in school in the 1970's, taffy apples were a popular treat at bake sales, Halloween parties, and fall festivals. I also recall receiving them wrapped in cellophane on Halloween, in the days when neighbors often passed out homemade goodies!
Best Apples For Making Caramel Apples
With over 7500 varieties of apples in the world, choosing the right one for your caramel apple recipe can be daunting. Fortunately, your local grocery store carries a handful of varieties, many of which will work perfectly.
The caramel coating on a taffy apple is very sweet, so to counterbalance it I prefer to choose an apple with some tartness to it. My favorite varieties include Granny Smith, Pink Lady, and Honey Crisp. Braeburn and Jonathan apples will also work well.
Organic vs. Conventional Apples
Producers spray conventional apples with a wax coating that acts as a preservative and adds an eye-catching shine. When making caramel apples, you need to thoroughly wash this coating off, otherwise the caramel will not stick to the apples. To avoid this, I prefer to use organic apples which do not have a coating. Of course, you still need to wash them, but there's no waxy coating to scrub off.
Caramel Apple Ingredients
Here's what you'll need to make a quick batch of taffy apples at home:
8-10 medium sized cold (refrigerated) apples
Wooden popsicle sticks for each apple
Two 11 oz. bags of caramels
4 tablespoons heavy whipping cream
⅛ teaspoon salt
Crushed salted peanuts (optional)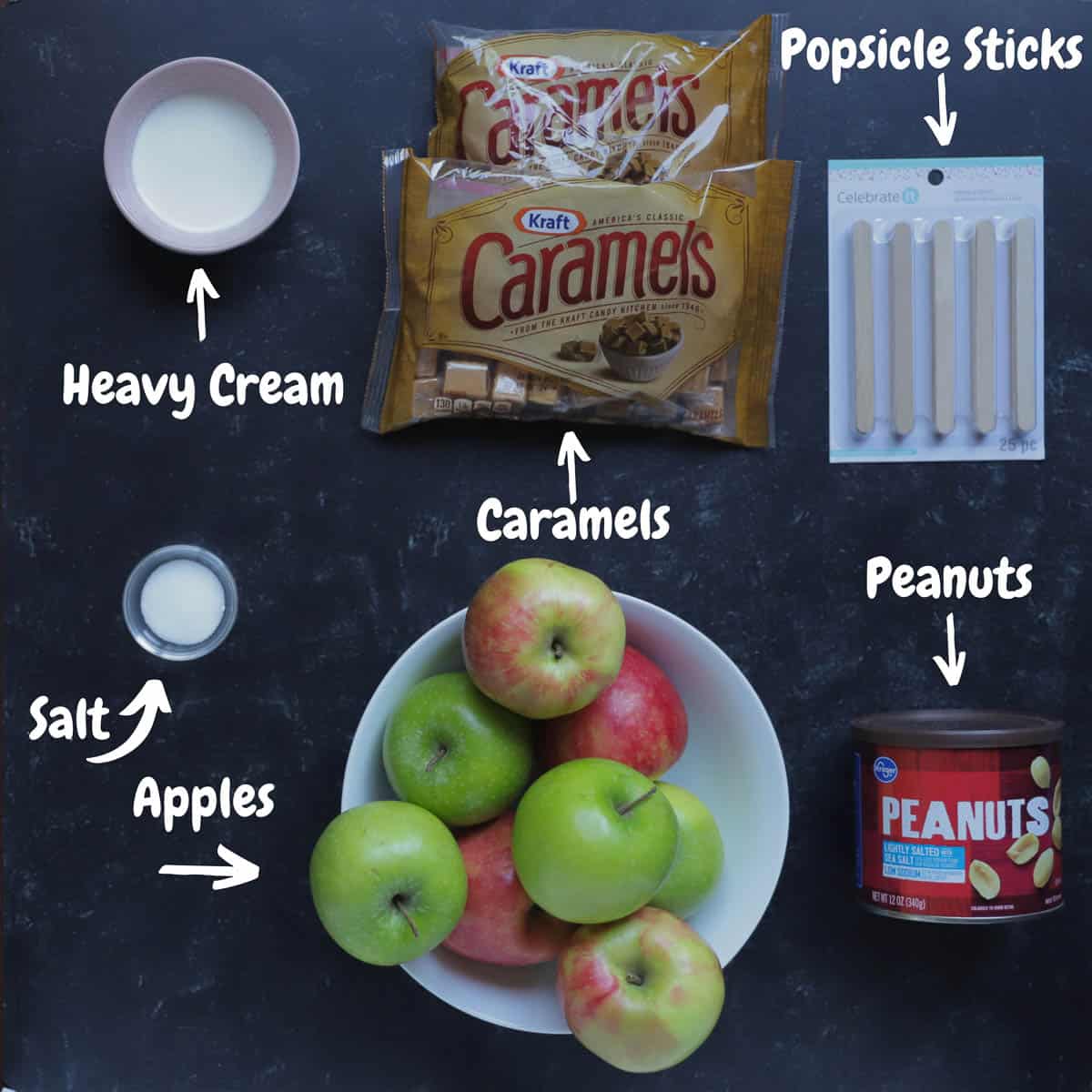 How to Make the Carmel for Taffy Apples
Using the 1950's method, unwrap 22 oz. of caramels, and place them in a nonstick saucepan or double boiler with the whipping cream and salt. Heat on a very low heat, stirring periodically until caramels are melted and creamy.
Getting the Apples Ready to Serve
Push a wooden popsicle stick where the stem has been removed in each apple. Dip into hot caramel until ¾ of the apple is covered. If desired, roll the caramel coated apple in a bowl of crushed salted peanuts, then set on parchment paper or in individual cupcake liners and refrigerate until ready to serve.
Helpful Hints When Making Caramel Apples
Use organic apples because they aren't sprayed with a waxy coating that needs to be scrubbed off for the caramel to adhere.
Refrigerate your apples for at least an hour prior to dipping them in hot caramel sauce. Hot caramel sets faster on cold apples and resists sliding off.
Use a nut grinder to quickly grind your peanuts into the perfect sized pieces for taffy apples.
Use wooden popsicle sticks rather than skinny bamboo sticks to hold your apples. They are easier to grasp and the apple is more stable on the wider stick.
Store apples in the refrigerator for up to 5 days to prevent bacteria growth and rotting. They can be stored in airtight plastic bags, although the caramel tends to stick to the bags. You can buy caramel apple containers that are ideal for storage, bake sales, and gift giving.
Have a comment or a vintage recipe you'd like to share? We'd love to hear from you! Please rate, comment, or send me an email at [email protected]!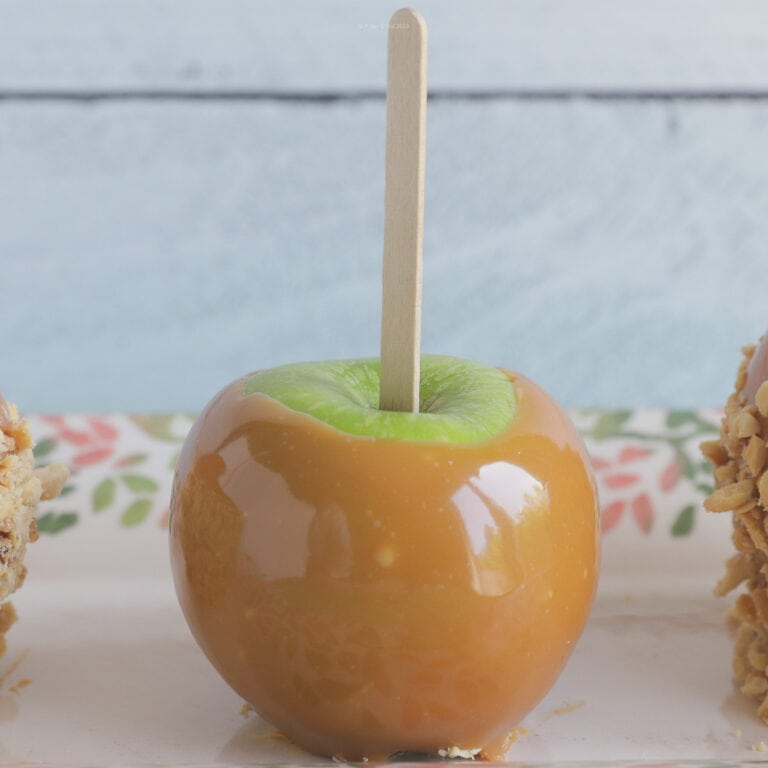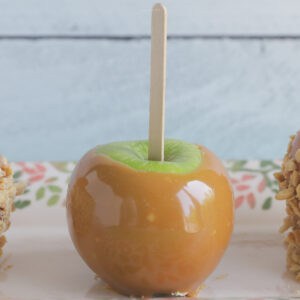 Easy Taffy Apples Recipe (Caramel Apples)
Equipment
10 popsicle sticks

10 caramel apple storage boxes

optional
Ingredients
10

Granny Smith apples

organic

22

oz.

caramels

¼

cup

heavy cream

⅛

teaspoon

salt

½

cup

chopped salted peanuts

optional
Instructions
Remove stems from apples, then wash. Thoroughly scrub off wax coating if you are not using organic apples. Dry apples and push wooded popsicle sticks into the stem opening until secure. Refrigerate for at least 1 hour.

Grind peanuts and place on a plate or in a shallow bowl.

Roll out a sheet of parchment paper large enough to hold all of the apples spaced a couple of inches apart.

Unwrap individual caramels and place In a nonstick saucepan or double boiler. Add cream and salt; heat on a low stirring occasionally until caramels are melted and creamy.

Remove apples from refrigerator and dip into hot caramel, rolling until approximately ¾ of the apple is covered. Remove from caramel and if desired, immediately roll into ground peanuts. Place on parchment paper. Store in airtight container in refrigerator.
Nutrition
Serving:
1
g
Calories:
395
kcal
Carbohydrates:
75
g
Protein:
6
g
Fat:
11
g
Saturated Fat:
4
g
Polyunsaturated Fat:
4
g
Monounsaturated Fat:
3
g
Cholesterol:
11
mg
Sodium:
217
mg
Potassium:
391
mg
Fiber:
5
g
Sugar:
60
g
Vitamin A:
212
IU
Vitamin C:
9
mg
Calcium:
108
mg
Iron:
0.5
mg