There's really nothing like a Hot Toddy to soothe a sore throat or to relax with before turning in on a cold winter night.
A Medicinal Treatment that Tastes Great
A nice warm drink, or hot toddy, on a cold, winter's night is perfect for relaxing -- hot fire in the fireplace is optional!
The word toddy likely evolved from the 17th century Hindi word taddy, meaning a fermented beverage. However, some say it was named after a London physician who dispensed a recipe for a hot drink made with spirits. Either way, we can all agree that it works as it's supposed to, and for that we can all be thankful!
Mixing spirits with hot water was thought to be a treatment for many Victorian-era ailments such as a sore throat, common cold or even a toothache. There may actually be a little truth to this. The vitamin C from the lemon juice was beneficial, and certainly the alcohol acted as a pain killer. Also, the honey coats the throat, and the heat can clear the sinuses.
Whether it was used as a cure-all drink or a pleasant way to end the day, this drink has had staying power for over two hundred years, so it must be good for something!
The Hot Toddy in Mid Century
Tennessee Williams referenced the hot toddy in his 1954 book Cat on a Hot Tin Roof, when main character Brick Pollitt indulges in the wintertime drink. But that isn't the only time the hot toddy made an appearance in mid century -- it was a popular cold weather drink of that era. If you have any doubt, just look in antique stores or online for vintage hot toddy glasses. They were a staple of the 1950's and 60's and are still readily available. I recently picked up a great set of vintage, stamped Federal hot toddy glasses with a display rack. And I've been putting them to good use since the cold weather started!
Ingredients for a Hot Toddy
There's nothing to mixing up a mug of this warm cup of comfort. You'll need:
Hot water
Bourbon
Honey
Lemon juice
Cinnamon stick
You can add other spices like nutmeg or ground cloves, but that changes the taste of the drink too much for me, so I like to stick to the basics.
Tips for a Successful Hot Toddy
Here are a few pointers to keep in mind:
I prefer a good, sweet Bourbon such as Basil Hayden's to mix these up with. It compliments the honey well and isn't too sweet. You can use a different spirit if you prefer. Some folks like rye instead of Bourbon, and it's not unusual to see them made with brandy as well.
Experiment with the amount of lemon juice you use. I recommend starting small and adding more as you go, otherwise it may be too tart.
Frequently Asked Questions
What is a good bourbon for hot toddy?
I prefer a wheated bourbon because of the sweet taste. I think it cuts down on the sharp lemon acid and compliments the honey. I like to use Basil Hayden.
Can you heat bourbon?
Yes, you can heat bourbon. I typically add it to an already simmering pot of water when making a hot toddy.
What kind of whiskey goes in a hot toddy?
This drink is very versatile. You can add bourbon, rye, rum or even brandy to name a few.
Similar Cocktails
Hot Butter Bourbon is the Perfect Drink for Cool Fall Nights
Do you think a hot toddy really has medicinal qualities? Which alcohol do you use, Bourbon, rye or brandy?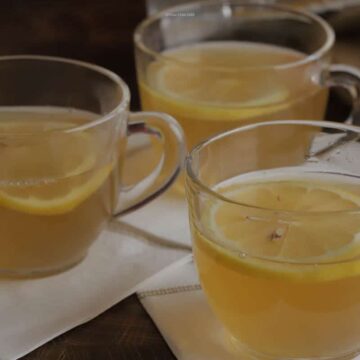 Easy Bourbon Hot Toddy
A wonderful, warm hot toddy is perfect for soothing a cold, or for just relaxing on a cold night!
Ingredients
1-½

cups

hot water

2

jiggers

Bourbon

1-2

tablespoons

fresh lemon juice

2

tablespoons

honey

1

cinnamon stick

lemon rounds for garnish
Instructions
Add water and cinnamon stick to a small pot and bring to a simmer.

Add the Bourbon, lemon juice and honey--stir to dissolve the honey.

Remove the cinnamon stick and pour into mugs

Add lemon rounds and serve
Notes
You may want to experiment a little with the lemon juice. Start small and add more as you go. It can be strong and overpower the other ingredients.
Feel free to use other spirits such as rye or brandy to give it a spicier taste.
If you like the drink with more lemon flavor, add a slice or two of lemon peel to the hot water while simmering.
Nutrition
Calories:
72
kcal
Carbohydrates:
19
g
Protein:
1
g
Fat:
1
g
Saturated Fat:
1
g
Monounsaturated Fat:
1
g
Sodium:
4
mg
Potassium:
26
mg
Fiber:
1
g
Sugar:
17
g
Vitamin A:
6
IU
Vitamin C:
3
mg
Calcium:
21
mg
Iron:
1
mg