Candy apple salad is a delightful twist on the traditional garden salad, and can be enjoyed year-round. Crunchy apples, chewy cranberries, and sweet candied walnuts make this a salad lover's delight!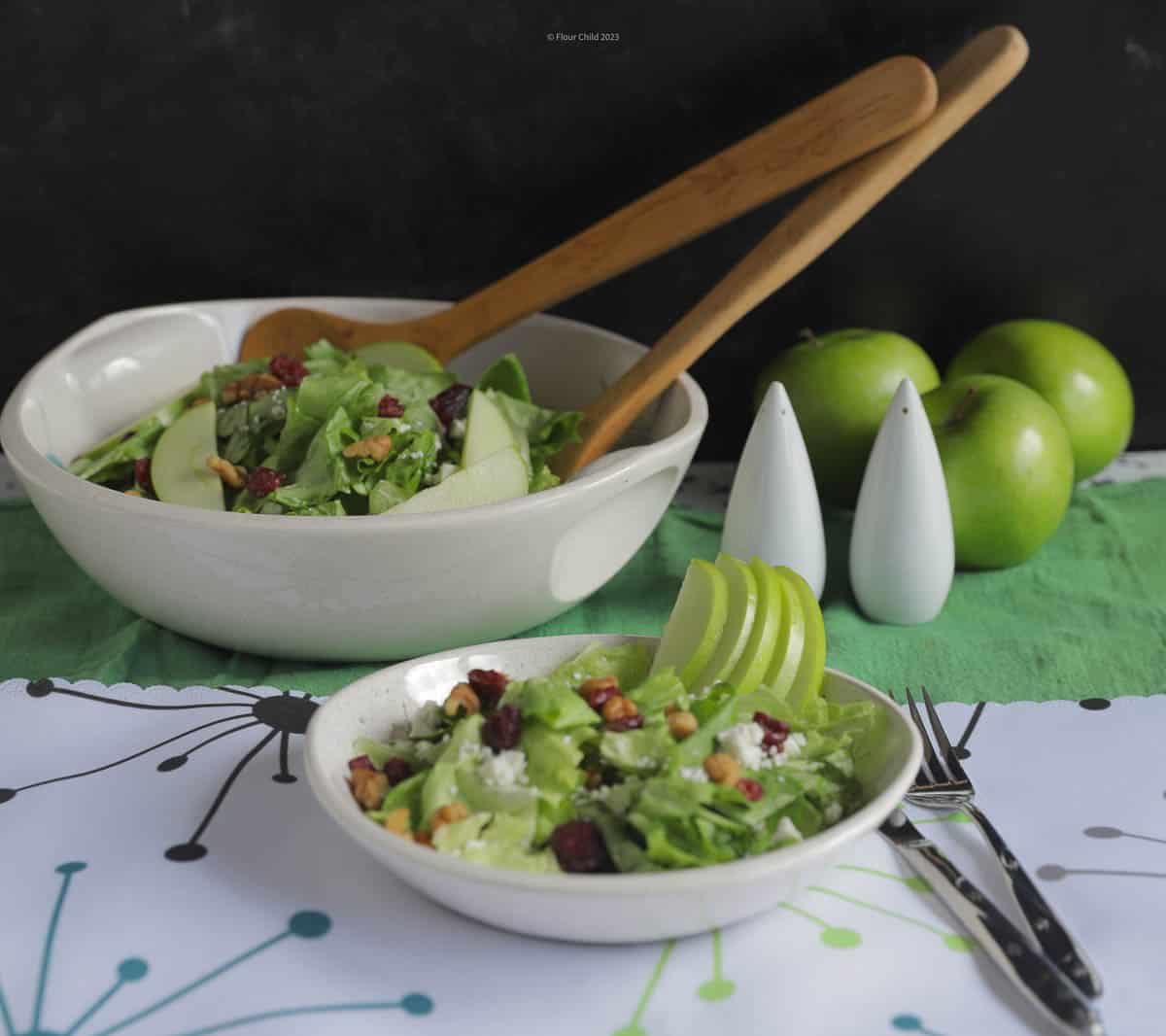 I love a dish that you can serve year-round, and this fresh candy apple salad goes effortlessly from a springtime lunch entrée to a holiday side dish.
This is a less-fussy variation of the mid century favorite classic Waldorf salad, and is sometimes referred to as cranberry apple walnut salad. Borrowing apples, walnuts, and greens, then deviating with cranberries, feta cheese, and an apple cider vinaigrette, it's a light and tasty cousin of the mayonnaise-based Waldorf. The "candy" in the name comes from the candied, or glazed, walnuts used in the recipe.
When to Serve Candy Apple Salad
There are so many great serving ideas for this sweet and savory salad. Here are just a few:
Add grilled chicken and feature it as a main dish in the spring or summer
Bring it to a potluck gathering as a fall harvest salad
Make it an autumn fruit salad Thanksgiving side dish
Feature both red and green apples for a beautiful holiday salad
Serve as a healthy fruit and nut salad at a vegan meal
As you can see, this festive apple walnut salad is as versatile as it is delicious!
Salad Ingredients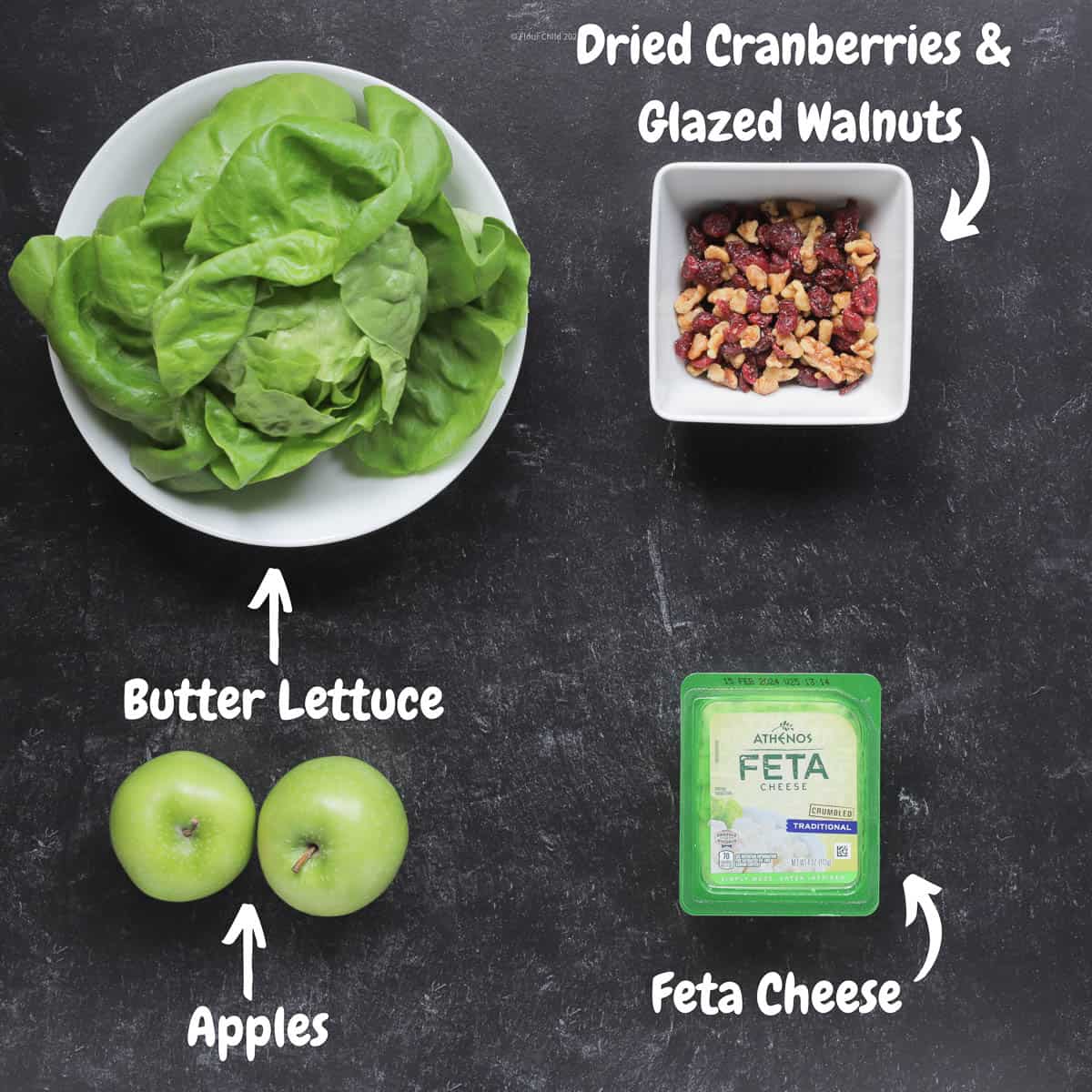 Butter lettuce
Apples
Feta cheese
Apple Cider Vinaigrette Ingredients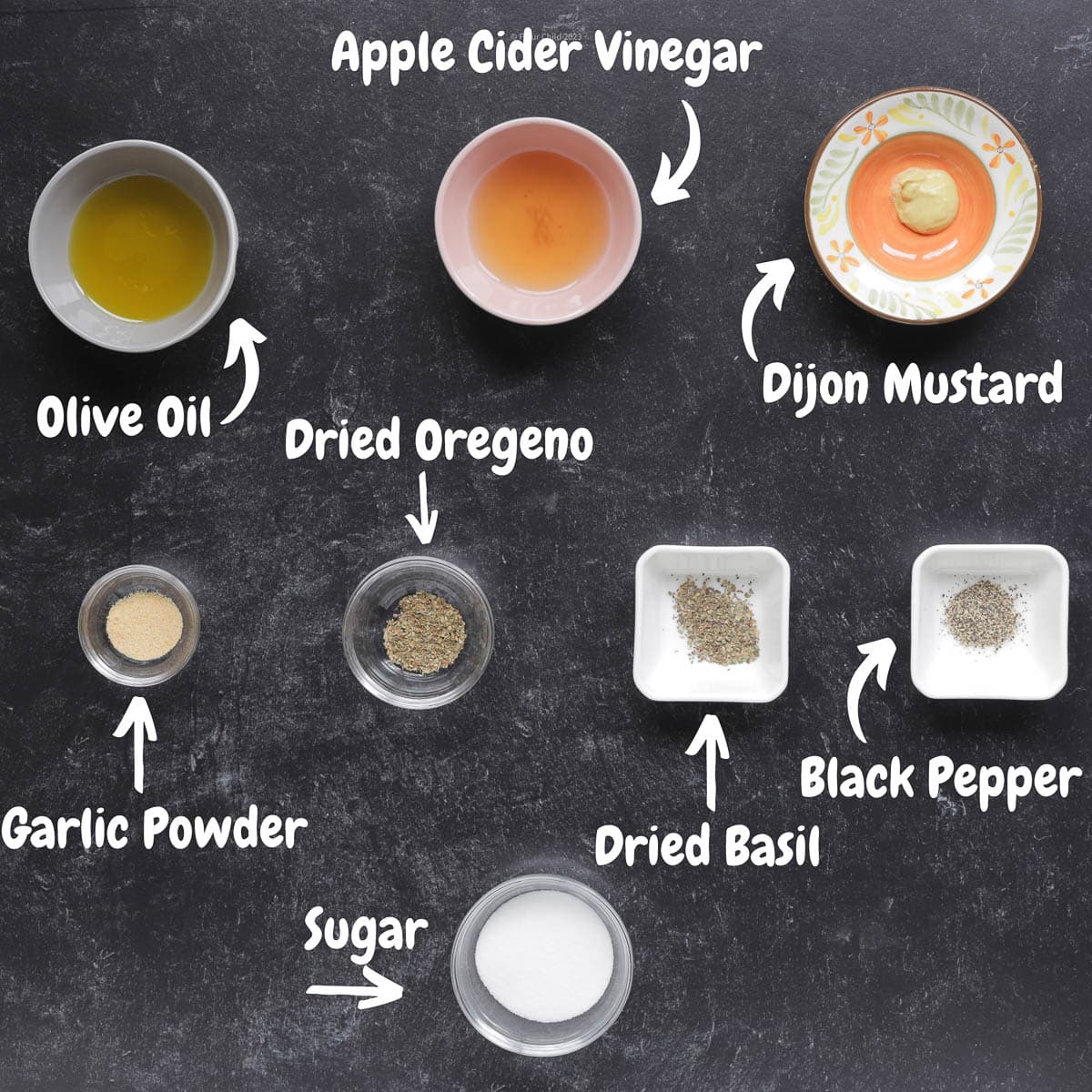 Olive oil
Apple cider vinegar
Dijon mustard
Basil
Garlic powder
Oregano
Black pepper
Sugar
How to Prepare a Cranberry Apple Walnut Salad
Preparing this salad couldn't be easier. Simply tear the butter lettuce leaves to bite size pieces, slice & add the apples, then toss in the cranberries & glazed walnuts and sprinkle the feta on top!
Combine all the ingredients of the salad dressing, and stir well or shake, then mix it again right before serving.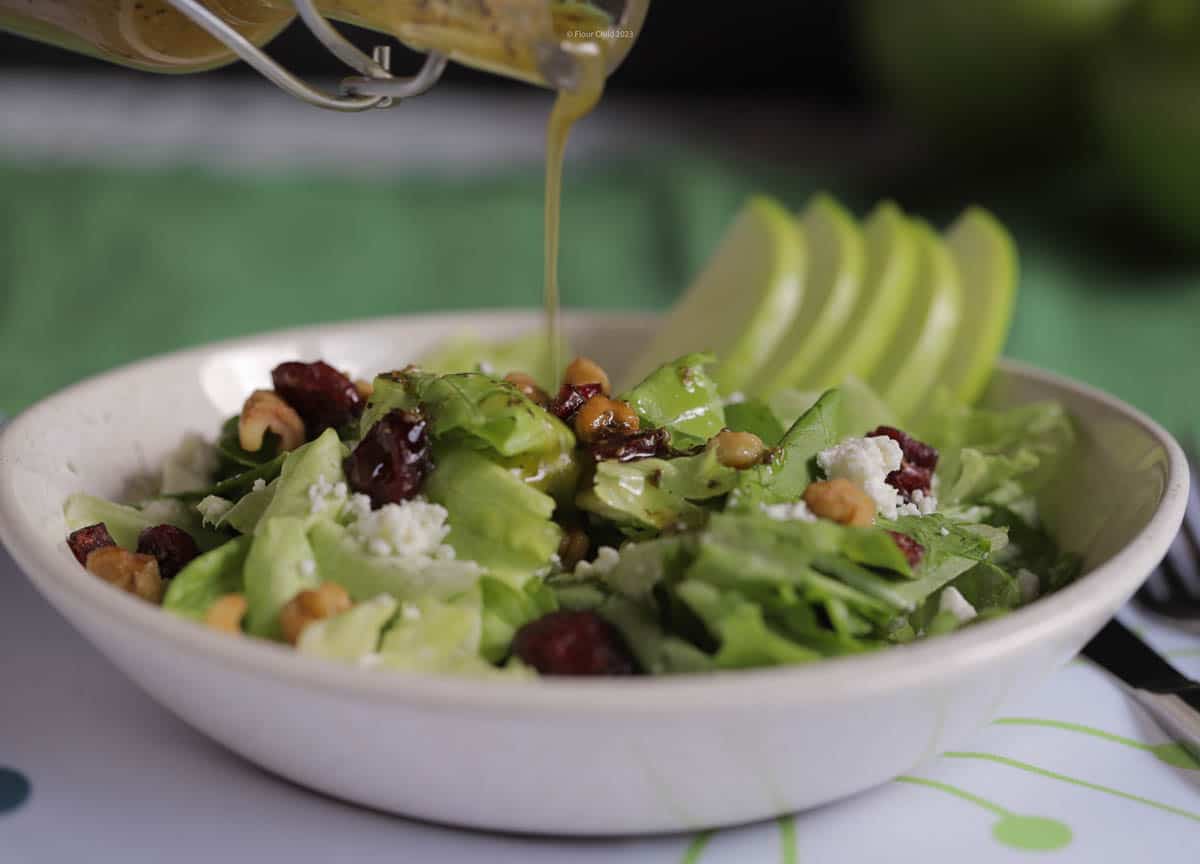 Tips for a Great Salad
Put the dressing on each individual serving when it's time to eat. Putting it on the salad earlier will make it turn soggy.
Feta cheese is recommended for a nice mild taste that doesn't overwhelm. As an alternative you can use gorgonzola or bleu cheese.
Butter lettuce is recommended for its nutritional value. Feel free to add other greens to the mix such as fresh spinach, kale, or arugula.
Choose an apple with a sweet/tart balance like Honeycrisp, Pink Lady, Fuji or Empire. If you enjoy a tart apple in contrast to the sweet cranberries and walnuts, a Granny Smith will work. I brush a little bit of orange juice on my apples after I slice them to slow down the browning process.
For quick & easy salad prep, use a bag of dried & sweet cranberries & glazed walnuts. If you prefer to add them separately, add ⅓ cup of cranberries and ½ cup homemade candied walnuts.
Looking for some apple recipes? Try our easy taffy apple recipe, homemade slow-cooked apple butter, and apple Brown Betty.
Have a comment or a vintage recipe you'd like to share? We'd love to hear from you! Please rate, comment, or send me an email at [email protected]!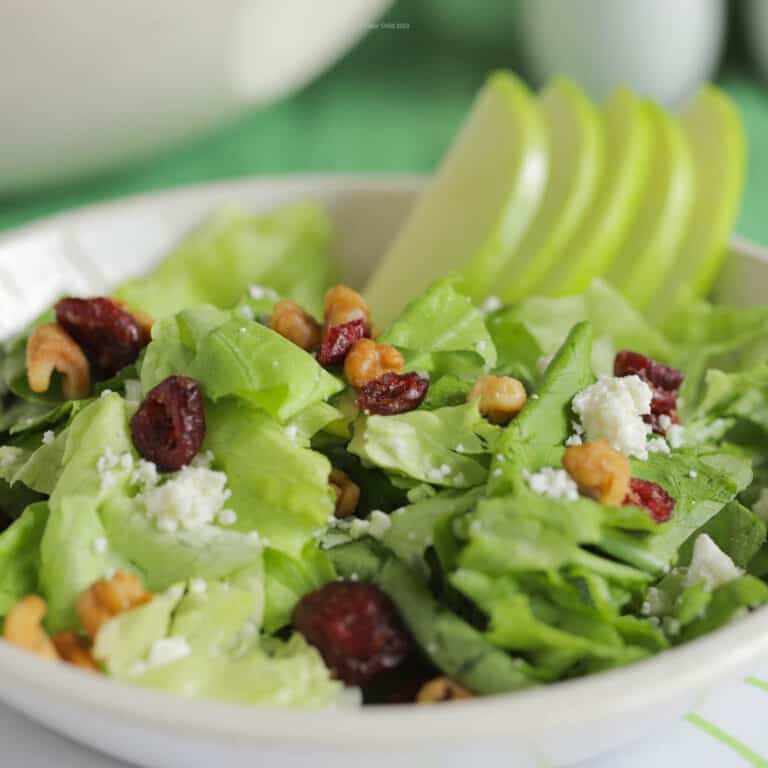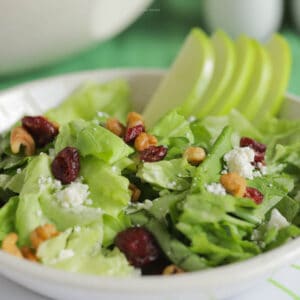 Candy Apple Salad with Apple Cider Vinaigrette
Crunchy apples, chewy cranberries, and sweet candied walnuts make this a delightful twist on a traditional garden salad.
Ingredients
Salad Ingredients
2

heads

butter lettuce

2

apples

thinly sliced

½

cup

feta cheese

3.5

oz

package dried & sweet cranberries & glazed walnuts salad topping
Apple Cider Vinaigrette
¼

cup

olive oil

¼

cup

apple cider vinegar

½

teaspoon

dijon mustard

¼

teaspoon

dried basil

¼

teaspoon

garlic powder

¼

teaspoon

dried oregano

¼

teaspoon

freshly ground black pepper

2

tablespoons

sugar
Instructions
Salad Instructions
Tear lettuce into bite sized pieces.

Toss in sliced apples, feta cheese, and cranberries & walnuts.

Store in airtight container in refrigerator until ready to serve.
Apple Cider Vinaigrette Instructions
Add all ingredients together in a mixing bowl, and whisk vigorously until well combined. Serve with salad.

Store in an airtight container in refrigerator until ready to serve.
Notes
Substitutions
In place of packaged cranberries & glazed walnuts, you can substitute ⅓ cup of dried cranberries and a ½ cup of candied walnuts.
Instead of butter lettuce (Bibb lettuce), you can use romaine.
You can substitute gorgonzola or bleu cheese in place of feta.
Storage
Store salad in an airtight container for up to 5 days. 
Store apple cider vinaigrette in tightly covered container in the refrigerator for up to 1 week.