This classic recipe for ambrosia salad tastes so fresh and delicious because it uses fresh fruit rather than canned. It's the perfect addition to your Easter table, or as a refreshing spring/summer side dish.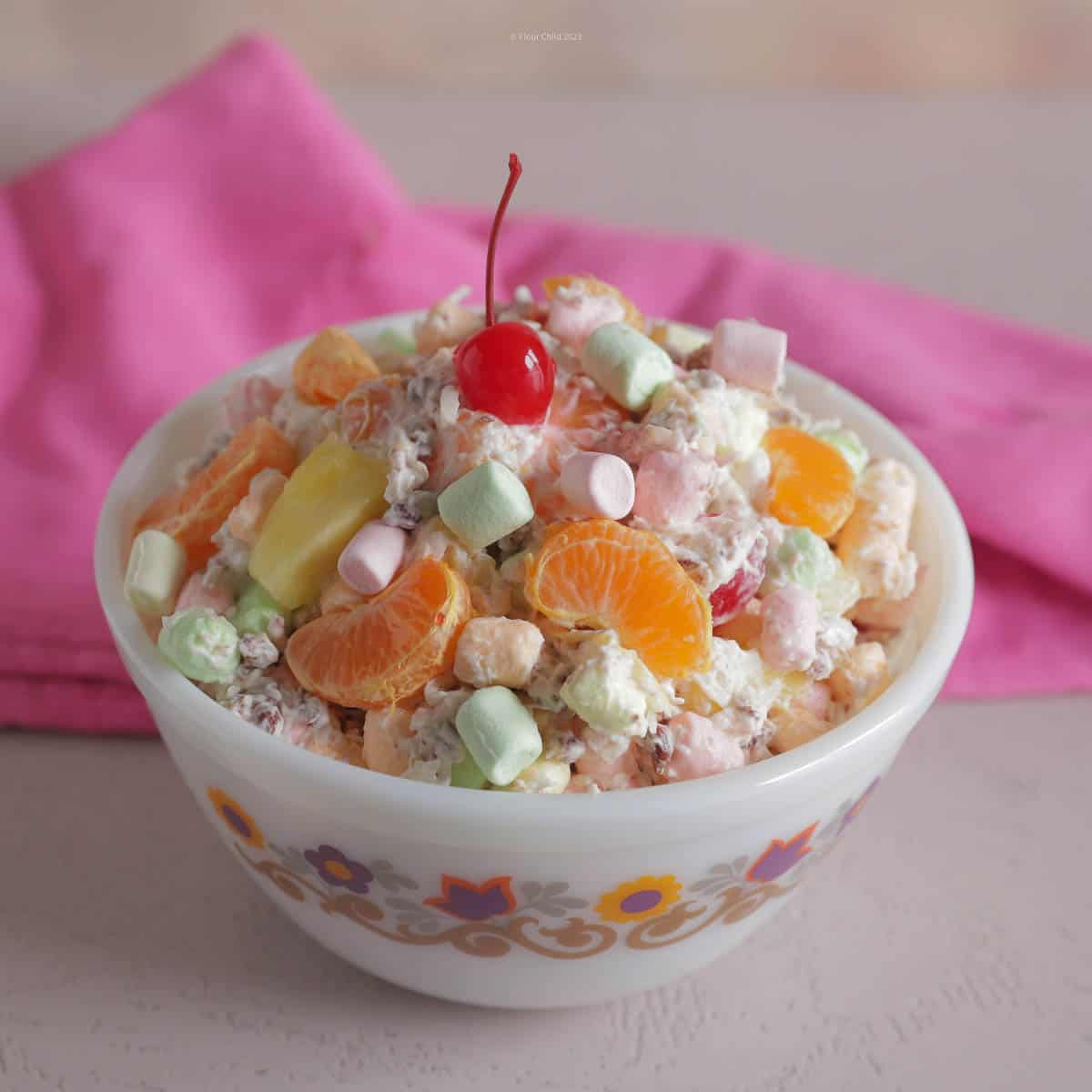 Ambrosia salad originated in the Southern United States in the late 19th Century, and became a popular staple on the mid century table. Served as either a side salad or dessert, this colorful dish generally always includes mandarin oranges, pineapple chunks, miniature marshmallows, and coconut in a whipped cream base. There are many variations, but this recipe is what you would have found on the dinner table in the 1950's.
Ambrosia Salad with Fresh Fruit vs. Canned
I remember my mom making this dish in the 1970's, and she always used canned fruit. That is certainly a popular option, but I prefer the flavor and texture of fresh fruit. Some people claim that using canned fruit is a time saver, but it honestly would only shave off a couple of minutes by the time you drain and dry off the canned fruit (you don't want to put wet fruit into whipped cream or it will flatten.)
There is no comparison in the taste, and it doesn't take long at all to prepare the fruit. You simply need to peel 3-4 mandarin oranges and divide them into segments, then cut pineapple chunks into bite-sized pieces. I buy the pineapple that's already cut up in the produce section, then just trim the pieces if necessary. It takes minutes, and your fruit is ready! (The maraschino cherries always come in a jar. They need to be drained and patted dry.)
Though the traditional recipe doesn't call for it, other fresh fruits that go well in this dish are sliced bananas and seedless grapes.
Preparation and Serving Tips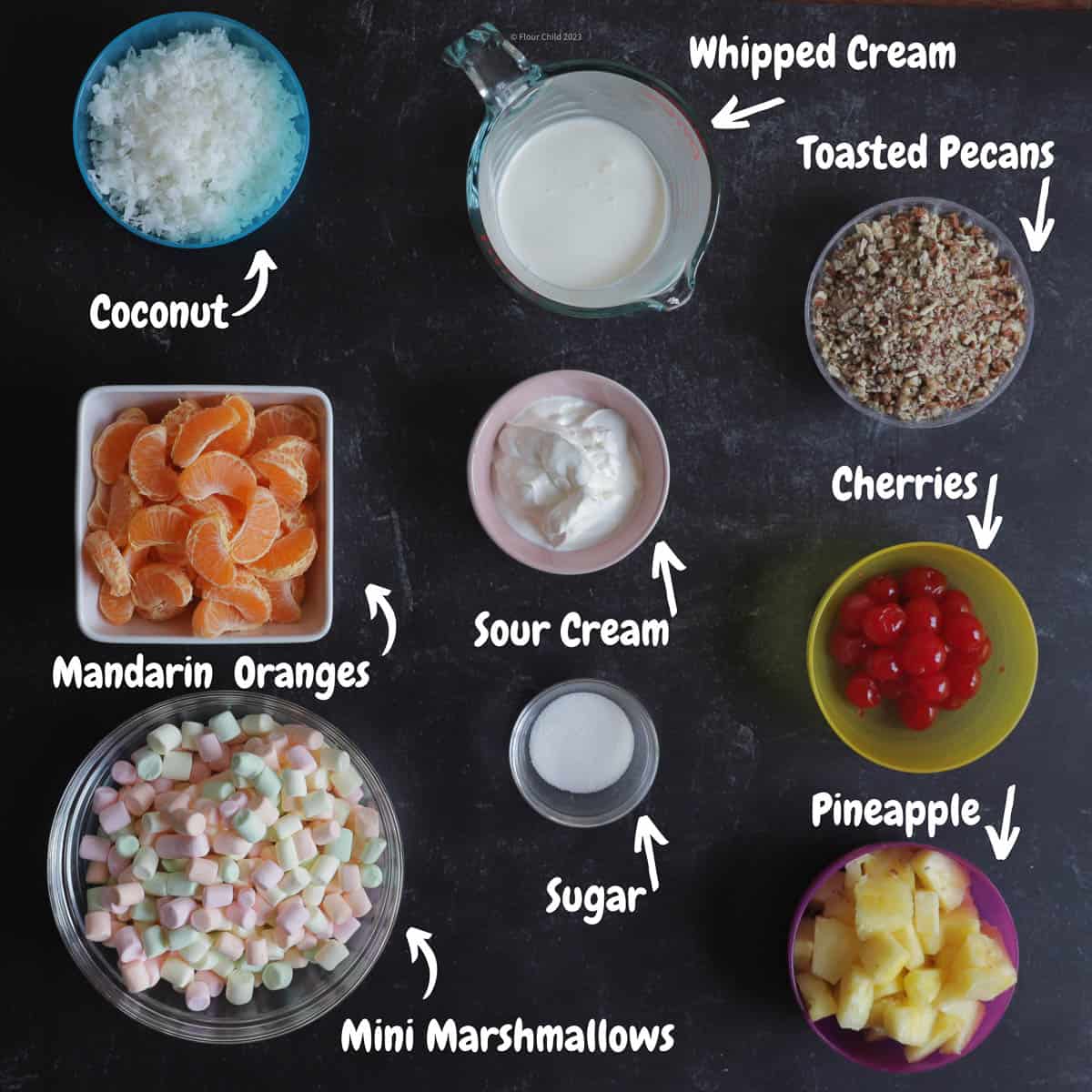 This dish is best prepared about 2 hours ahead of serving to give it time to set and chill in the refrigerator. Keep in mind the following hints:
Put a glass bowl and beaters in the freezer for 20-30 minutes before whipping your cream for best results.
Remove the stems from the maraschino cherries and pat them dry. Only add dry fruit to the whipped cream mixture so you don't flatten the whipped cream.
Make sure you fold the ingredients in gently. Do not stir; you don't want to damage the fruit or flatten the whipped cream.
This recipe calls for toasted pecans (you can also use walnuts.) If you are using them, add small bite-sized pieces. Don't finely grind them, as they disappear into the whipped cream.
When ready to serve, you can present your ambrosia salad in a bowl topped with some fresh fruit pieces for a serve-yourself presentation. Or, scoop a serving on a bed of lettuce and set at each individual place setting for a more formal table.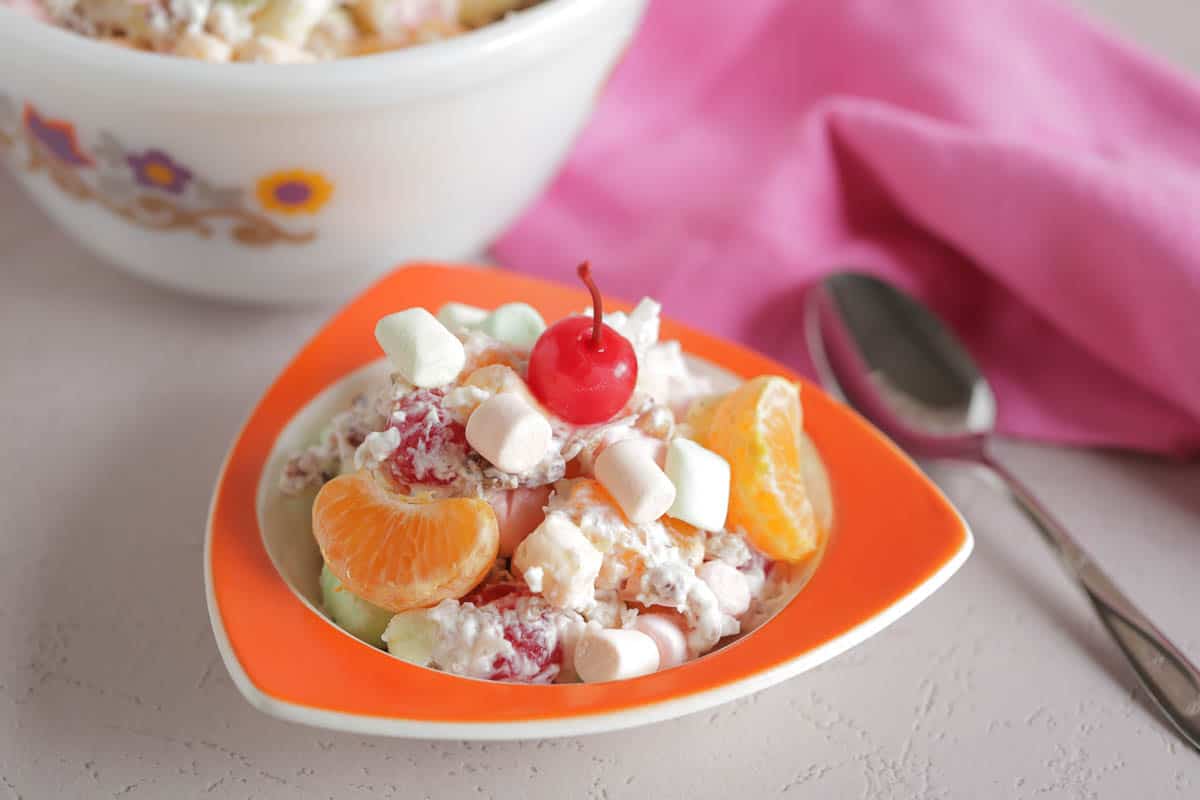 Storage Instructions
Leftovers of ambrosia salad (if there are any!) can be stored tightly covered in the refrigerator and will keep for 2-3 days. It is not recommended that you freeze this dish because it will break down during the thawing process.
I hope you enjoy this classic dish! If you love mid century whipped cream salads, try our luscious Watergate salad for a fun alternative.
Have a comment or a vintage recipe you'd like to share? We'd love to hear from you! Please rate, comment, or send me an email at [email protected]!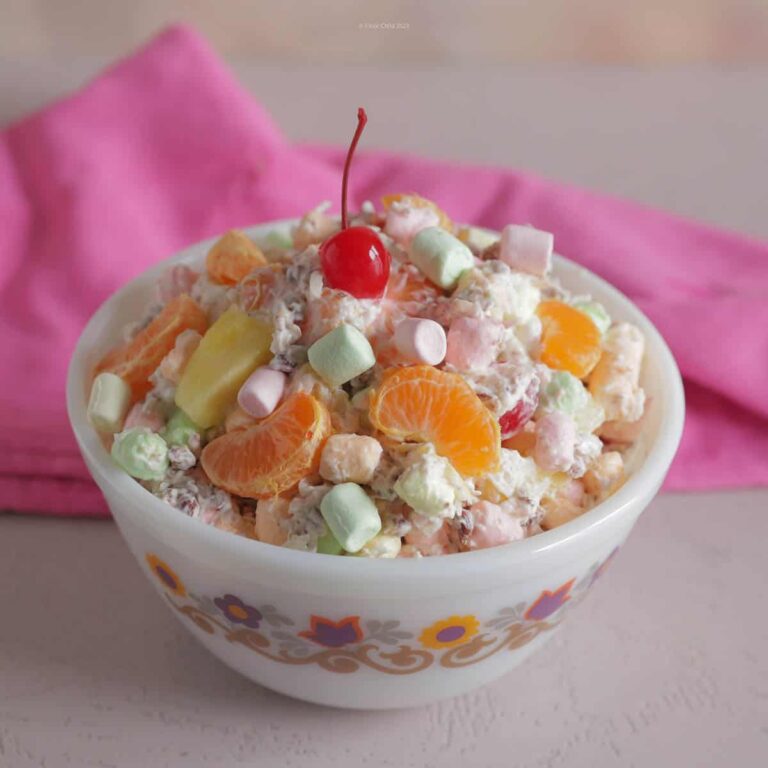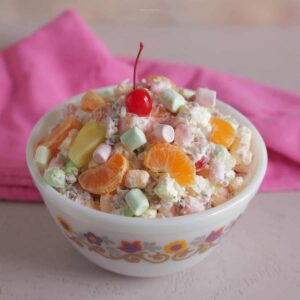 Vintage Ambrosia Salad (made with fresh fruit)
This fresh combination of fruit, whipped cream, marshmallows and toasted pecans makes a colorful and delicious side dish or dessert for your table.
Ingredients
1

cup

chopped pecans

toasted

½

cup

maraschino cherries

drained and dried

1

cup

mandarin orange segments

approx 3-4 oranges - peeled and segments separated

1

cup

pineapple

fresh - chopped into bite-sized pieces

½

cup

heavy cream

1

tablespoon

granulated sugar

4

oz

sour cream

3

cups

miniature marshmallows

approximately 6 oz

1

cup

sweetened coconut flakes
Instructions
Place glass bowl and beaters in freezer for 20-30 minutes to prepare for whipping cream.

Spread chopped pecans on a baking sheet lined with parchment and bake at 350 degrees for 5-8 minutes, until toasted.

Drain maraschino cherries and pat dry. Remove stems (save one or two for decoration if you'd like.)

Peel mandarin oranges and break into segments, then chop pineapple into bite-sized pieces.

Remove bowl from freezer and add heavy whipping cream and sugar. Beat until stiff peaks form, then add sour cream and beat just until combined.

Fold in oranges, pineapple and cherries until coated with whipped cream.

Gently fold in miniature marshmallows, then coconut flakes and toasted pecans.

When thoroughly combined, place in a tightly covered glass bowl in the refrigerator. It is recommended that you allow it to set and chill for at least two hours before serving.
Notes
Variations
Add 1 banana, sliced
Add 1 cup seedless green grapes, sliced in half
Substitute toasted walnuts or toasted almonds in place of toasted pecans
Storage
Store in tightly sealed container in the refrigerator for up to 2-3 days. 
Freezing is not recommended
Nutrition
Calories:
330
kcal
Carbohydrates:
36
g
Protein:
3
g
Fat:
21
g
Saturated Fat:
9
g
Polyunsaturated Fat:
3
g
Monounsaturated Fat:
8
g
Cholesterol:
25
mg
Sodium:
56
mg
Potassium:
185
mg
Fiber:
3
g
Sugar:
27
g
Vitamin A:
643
IU
Vitamin C:
18
mg
Calcium:
49
mg
Iron:
1
mg