This classic potato salad recipe is a dish that has graced the table of many family gatherings and picnics over the years. It features a comforting blend of red potatoes, smoky bacon, and old-fashioned seasonings that make for the perfect side dish at a backyard barbecue or potluck gathering.
Choosing The Right Potatoes for Potato Salad
One of the key elements of a great potato salad lies in choosing the best potatoes. The ideal potato should strike a balance between creamy and firm, holding its shape while yielding a tender bite. Varieties like Yukon Gold, red-skinned, and fingerling potatoes work exceptionally well, as they maintain their texture and absorb dressings beautifully.
My mom always used red potatoes for her potato salad, and after trying several types I like them the best, too. The russet potatoes I tried turned out fluffy, but broke apart when I added the rest of the ingredients. Yukon Gold potatoes held up well, but were not as flavorful as the red.
Red potatoes have a natural waxy texture, which allows them to hold their shape even when cooked and tossed in dressing. Additionally, red potatoes have a subtly sweet and slightly nutty flavor that complements the other ingredients in the salad, such as mayonnaise, herbs, and crunchy vegetables. Their thin red skin adds a pleasant touch of color to the dish, while also containing beneficial nutrients like fiber, potassium, and vitamin C. Whether you prefer a classic potato salad or a creative twist, red potatoes provide a sturdy and flavorful foundation that enhances the overall appeal of this popular side dish.
Ingredients in our Classic Potato Salad Recipe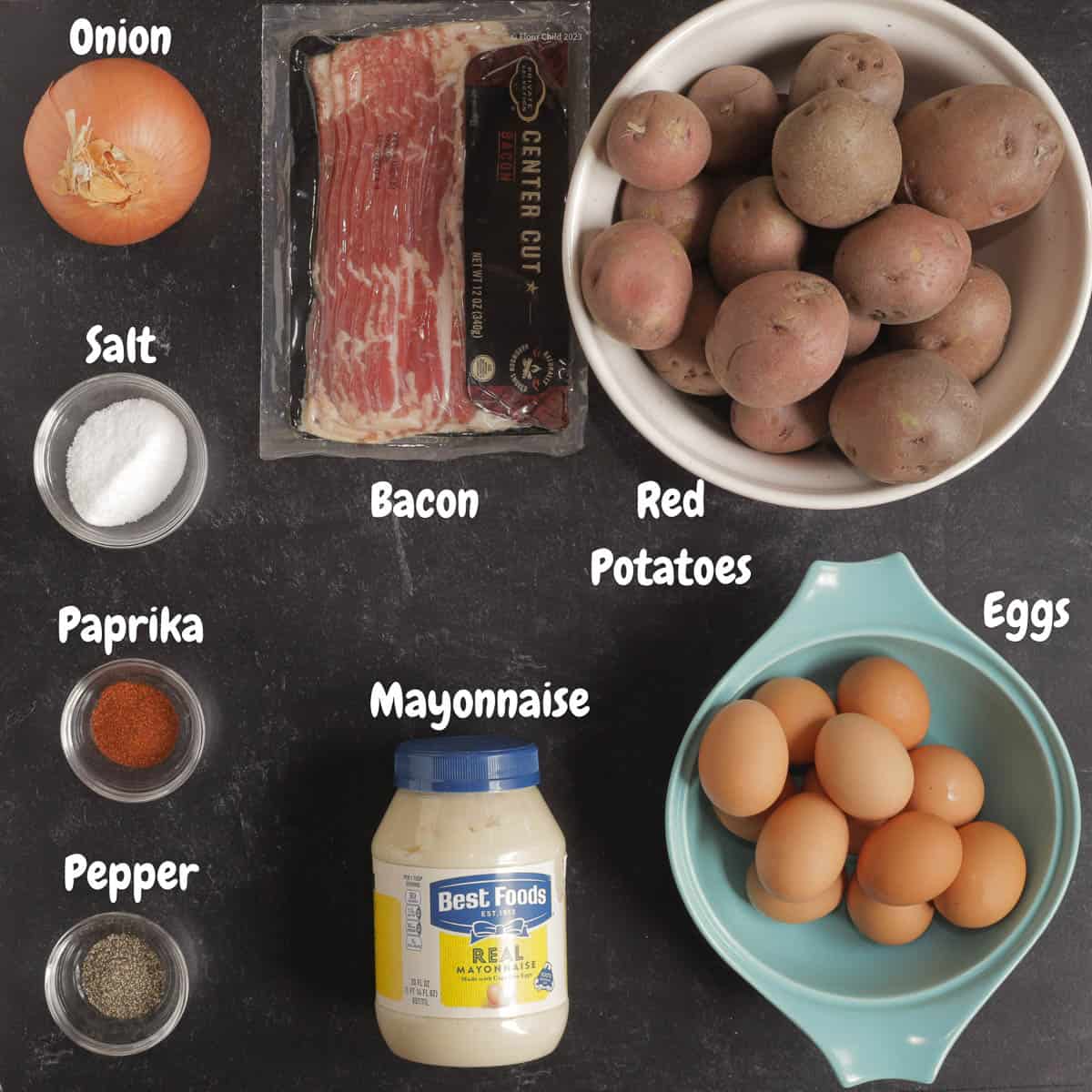 Potato salads can come with all kinds of ingredients now, but back in the 1950's and 60's, the contents were very basic. I like this recipe because the focus of the flavor is on the potatoes themselves, and not a bunch of added ingredients. I believe potato salad should taste potatoey!
Red potatoes
Bacon
Hard boiled eggs
Yellow onion
Mayonnaise
Salt
Pepper
Paprika
I usually cook my own bacon, but if you're in a time crunch I recommend Hormel Real Bacon Pieces. One jar is equivalent to six pieces of bacon. I prefer the bacon pieces to the bacon bits, because the bacon bits are just too small. If you don't like bacon, it's okay to leave it out.
Tips for the Best Flavored Potato Salad
Use red potatoes, skin-on, for the best flavor and texture in your potato salad. For detailed instructions on how to properly cook potatoes for potato salad, click here.
Use a yellow onion, and dice it into medium sized pieces. If you're using my favorite chopping tool, use the larger sized dicing tray.
Cook bacon until crisp, being careful not to burn. Well cooked bacon adds a crispy texture and smoky flavor, but burned bacon ruins the flavor of potato salad.
Use real mayonnaise and not Miracle Whip or another dressing.
Make potato salad a day ahead and refrigerate overnight to allow all the flavor to meld together before serving.
Taste test for salt and pepper before serving. Potatoes absorb a lot of salt, so you may want to adjust to your personal taste.
Can I use a sweet onion in place of a yellow onion?
I don't recommend substituting a sweet onion in this recipe. A yellow onion gives it the strong flavor that it needs against all of the potatoes. The flavor of a sweet onion tends to get lost in this potato salad.
Can the eggs be left out?
It's better to keep the eggs in because they add both color and flavor to this dish. You can, however, leave out the bacon if you prefer.
Can I freeze potato salad and eat it later?
Freezing is not recommended, because the mayonnaise breaks down and separates. It doesn't hold its flavor well in the freezer either. You can store it in a tightly sealed container for up to 5 days in the refrigerator.
Can I use russet potatoes instead of red potatoes.
Yes, just be sure you cook them properly for potato salad. You can refer to this guide here for the proper cooking instructions.
Have a comment or a vintage recipe you'd like to share? We'd love to hear from you! Please rate, comment, or send me an email at [email protected]!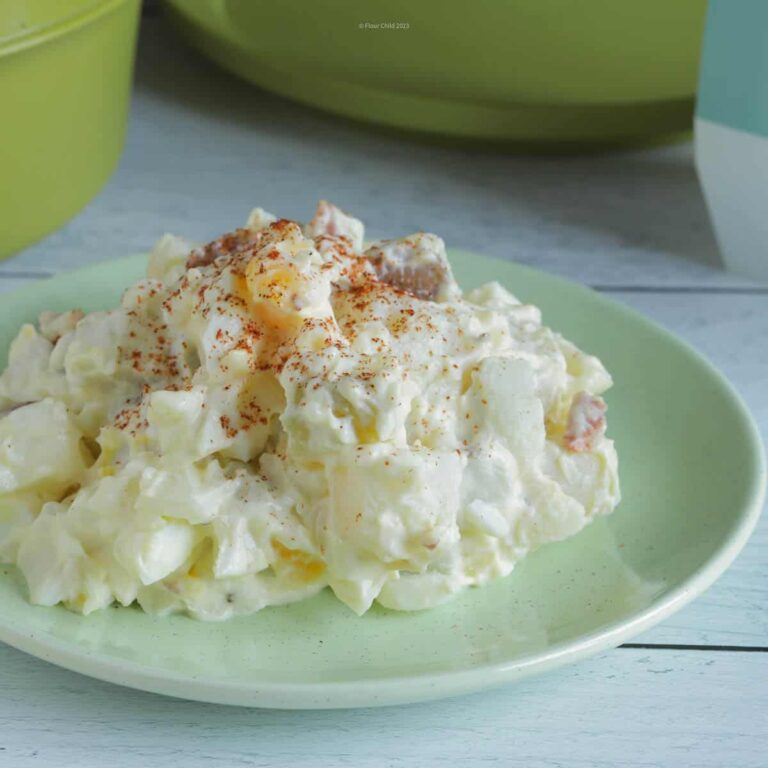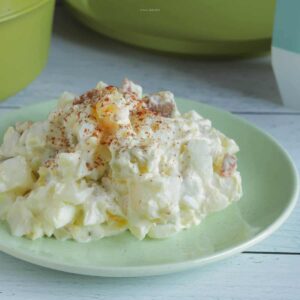 Classic Potato Salad Recipe
This recipe features a comforting blend of red potatoes, creamy dressing, and old-fashioned seasonings that make for the perfect nostalgic side dish.
Ingredients
5

lbs

red potatoes

skin on

1

dozen

hard boiled eggs

20

ounces

mayonnaise

not Miracle Whip

1

yellow onion

large

6

pieces

lean bacon

cooked crisp

2

teaspoons

kosher salt

1

teaspoon

black pepper

paprika

for garnish
Instructions
Put clean, scrubbed potatoes in a large pot and add cold, salted water until they are covered by 1-½ inches. Bring to a boil; once potatoes are boiling cook approximately 15-20 minutes. Potatoes should be soft enough to pierce with a paring knife or fork with slight resistance without breaking apart.

When potatoes are finished, drain, cool and cut into cubes. It is not necessary to peel them, but if you want to peel them, do so while they are warm.

Place eggs in a saucepan and cover with cold water. Bring to a boil and remove from heat. Cover and let stand 12 minutes.  Remove from hot water; cool, peel, then chop eggs.

Combine chopped eggs and potatoes in a large bowl.  Mix in mayonnaise, then gently fold in chopped onion and bacon. Mix in salt and pepper.

If you have time, refrigerate overnight. Before serving, season with additional salt and pepper to taste. Transfer to a serving bowl and garnish with paprika.
Notes
Watch potatoes carefully and test frequently to avoid overcooking.
If you don't have time to cook bacon, you can substitute a jar of Hormel Real Bacon Pieces (not bits.)
If you prefer, you can leave out the bacon.
Start with 20 ounces of mayonnaise from a 30 ounce jar. When it's mixed in, if it is too dry, continue adding mayonnaise until it is the consistency you want.
Store in an airtight container in the refrigerator for up to 5 days.
Nutrition
Calories:
458
kcal
Carbohydrates:
31
g
Protein:
4
g
Fat:
36
g
Saturated Fat:
6
g
Polyunsaturated Fat:
21
g
Monounsaturated Fat:
8
g
Trans Fat:
0.1
g
Cholesterol:
20
mg
Sodium:
732
mg
Potassium:
885
mg
Fiber:
3
g
Sugar:
3
g
Vitamin A:
45
IU
Vitamin C:
17
mg
Calcium:
26
mg
Iron:
2
mg