Homemade vinegar and oil salad dressing is fast and easy to prepare. It has a zesty, fresh taste and no preservatives!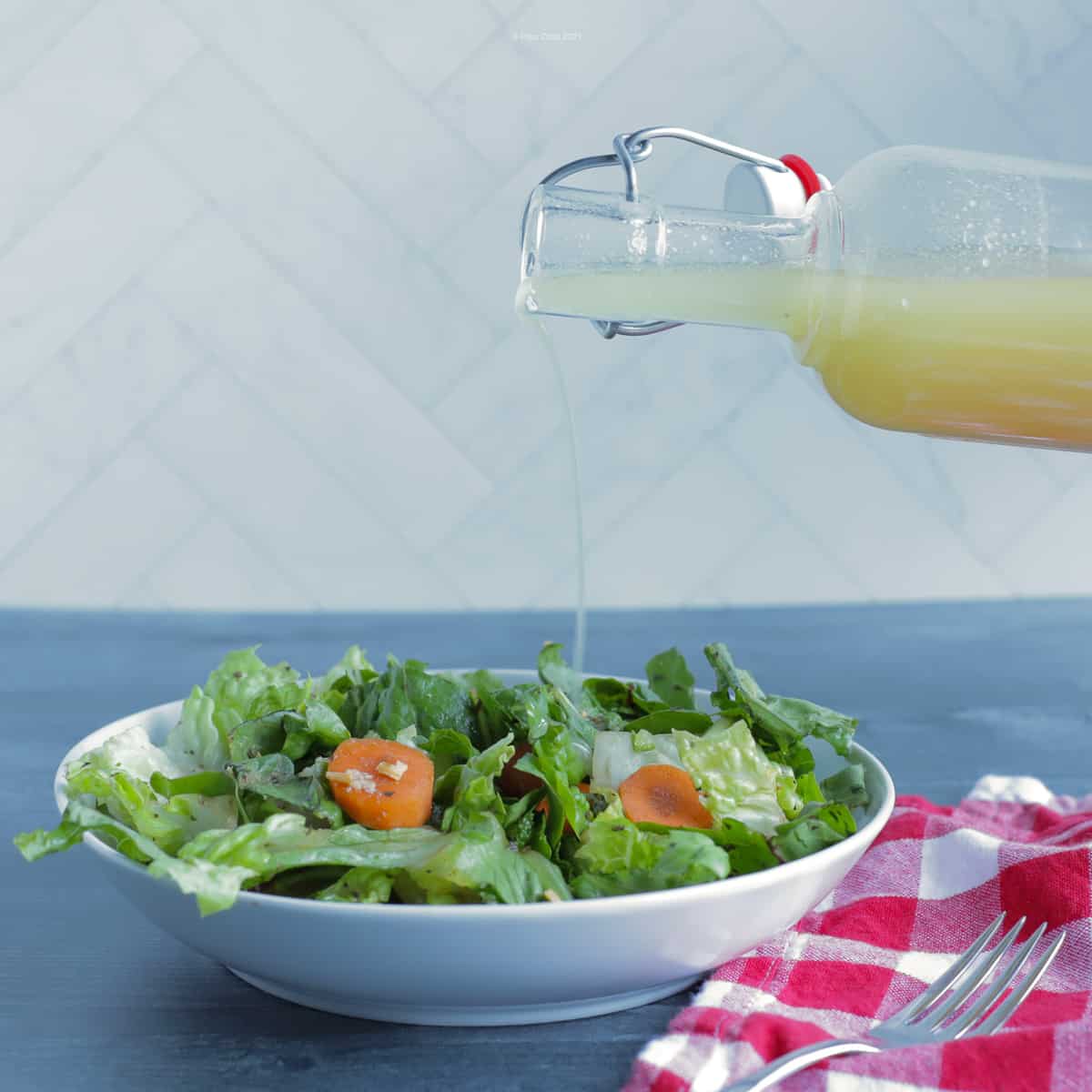 Fresh, healthy and tastes great -- these are the reasons to make your vinaigrette salad dressing at home!
How To Make Vinegar & Oil Dressing From Scratch
The popular formula for vinegar and oil dressing is one part vinegar to 3 parts oil. So for one cup of dressing, that would be ¼ cup vinegar and ¾ cup oil. If you find this ratio too oily, try using equal amounts of vinegar and oil, which makes for a more tangy dressing. You may need to experiment a little to come up with your favorite proportion of oil to vinegar.
What Kind of Vinegar and Oil To Use
You have several options when choosing your vinegar and oil. For this recipe I used a white balsamic vinegar with a light olive oil.
Difference Between Traditional Balsamic And White Balsamic
Traditional balsamic vinegar is a dark, Italian vinegar made from pressed white grapes. It is cooked, then aged in wooden barrels, typically 12-25 years. The longer it ages, the thicker it becomes. It has a strong and complex taste. Very high quality aged balsamic is sweet with the consistency of syrup, and is delicious as a dessert topping or for sipping as an aperitif.
White balsamic vinegar is a golden-white colored vinegar which is also made from white grapes. It undergoes a different cooking process and is not barrel-aged. It has a milder flavor and color than traditional balsamic, and won't overpower the taste of a salad or cooked vegetables when used as a topping.
Difference Between Extra Virgin Olive Oil and Light Olive Oil
Extra virgin olive oil has a dark, greenish color and a distinct olive aroma and flavor. It is a healthy, high quality oil rich in antioxidants. It is frequently the oil of choice for a vinegar and oil salad dressing, but some people find the taste a little too powerful.
Light olive oil has a light yellow tint color and has a much milder flavor than extra virgin olive oil. Its neutral taste makes it interchangeable with vegetable oil, and a good option for baking. It doesn't have all the same nutritional benefits as extra virgin olive oil, but it's a good option for the times when a lighter flavor is desired.
Variations of Vinegar and Oil Dressing
You really can't make a mistake when making a vinegar and oil dressing. Try substituting some of these combinations in our recipe for different flavor options:
Lemon vinaigrette: ¼ cup lemon juice + ¼ cup olive oil
Red wine vinaigrette: ¼ cup red wine vinegar + ½ cup of olive oil
Apple cider vinaigrette: ¼ cup apple cider vinegar + ¼ cup olive oil
White Wine vinaigrette: ¼ cup white wine vinegar + ¼ cup olive oil
Or try this sweet vinaigrette that goes great with fruit salads.
All of these vinaigrettes will stay fresh in the refrigerator for up to 2 weeks with the exception of the lemon vinaigrette, which can be kept for up to 5 days.
Add a Bit of Spice For Enhanced Flavor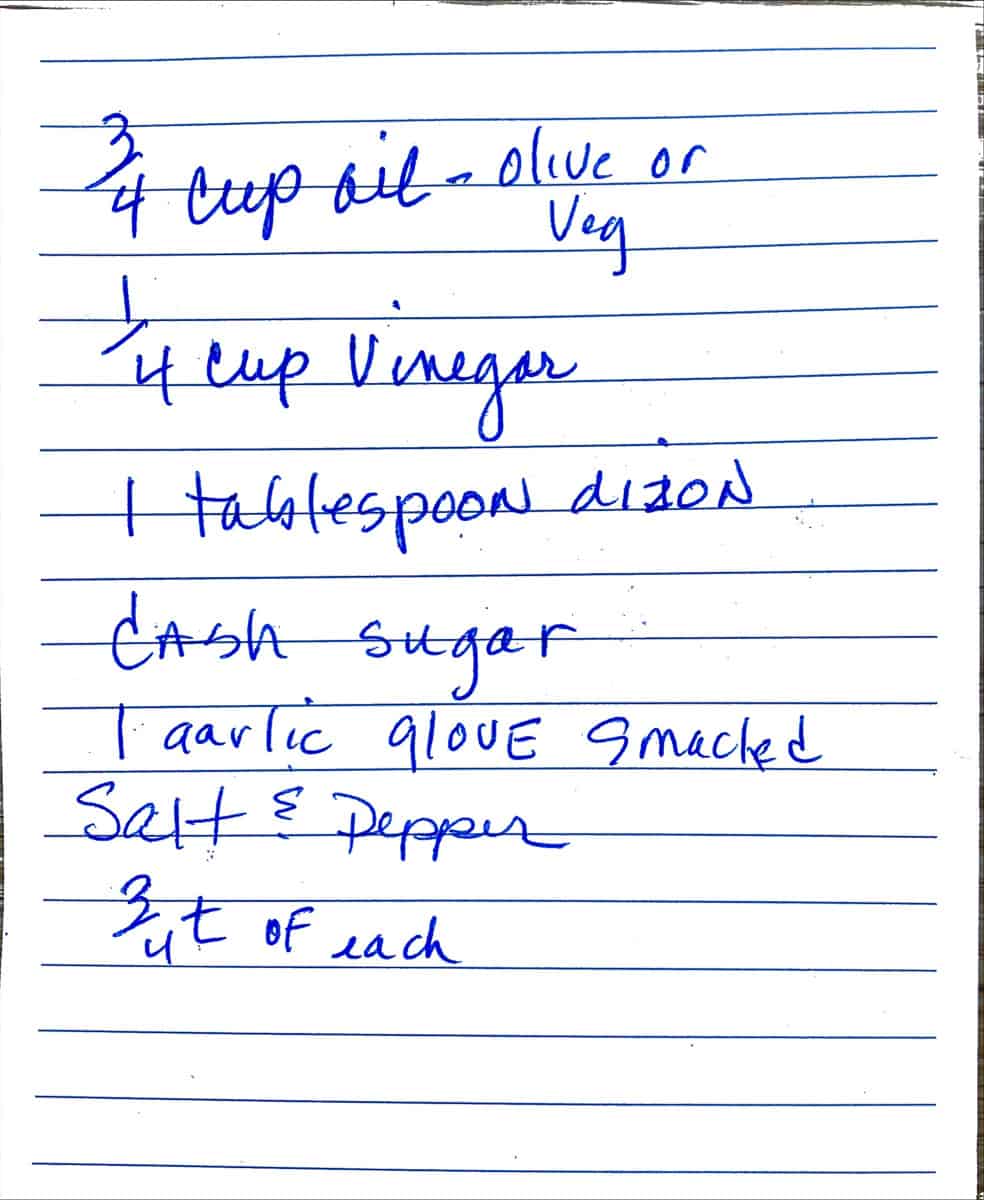 Vinegar and oil alone can be a little bland, so this recipe spices it up a bit with some dijon mustard, smashed garlic, salt and pepper. A pinch of sugar takes the edge off the sharpness of the vinegar. You can substitute a tablespoon of honey in place of the vinegar.
Smashed garlic is called for to add flavor without adding actual bits of garlic to the salad dressing. You simply smash a whole clove of peeled garlic in a bowl, then pour the vinegar and oil mixture over it. Prior to serving, you remove the garlic clove. This will add a subtle garlic flavor to the dressing without leaving in grains of minced garlic. I'm a big garlic fan and don't mind having the minced garlic in the salad, so I opt to use that instead.
Why does vinegar and oil separate?
Oil and vinegar have a different molecular makeup, which causes the oil to repel water. Adding other items to the mixture, like herbs, mustard, and pepper help emulsify, or combine, the two ingredients. Always make sure to shake the ingredients together before pouring.
Is a vinaigrette a healthy salad dressing?
Yes, it is one of the healthiest salad dressings you can use. If you have dietary restrictions, reduce the amount of salt you use or eliminate it altogether.
Can I use something other than olive oil?
Yes! Some nice tasting oils include coconut oil, sunflower oil, safflower oil, walnut oil and sesame oil.
If you have a vintage recipe you'd like share with us for possible publication, please scan it and email it to [email protected]. We'd love to hear from you!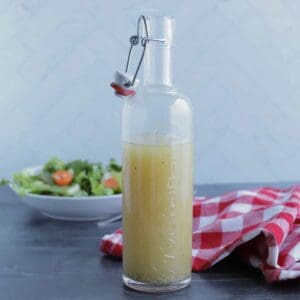 Homemade Vinegar and Oil Salad Dressing
Homemade vinegar and oil salad dressing is fast and easy to prepare. It has a wonderfully fresh taste and no preservatives!
Ingredients
¾

cup

light olive oil

¼

cup

white balsamic vinegar

1

garlic clove

minced

1

tablespoon

dijon mustard

¾

teaspoon

salt

¾

teaspoon

pepper

1

tablespoon

honey

or ¼ teaspoon sugar
Instructions
Whisk all ingredients in a mixing bowl until throughly combined and oil & vinegar are emulsified. 

Transfer to a glass jar with a lid, and store in refrigerator.

Shake well before serving.
Notes
Can be stored in the refrigerator for up to 2 weeks. 
Nutrition
Serving:
2
Tablespoons
Calories:
98
kcal
Carbohydrates:
2
g
Protein:
1
g
Fat:
10
g
Saturated Fat:
1
g
Polyunsaturated Fat:
1
g
Monounsaturated Fat:
7
g
Sodium:
121
mg
Potassium:
9
mg
Fiber:
1
g
Sugar:
2
g
Vitamin A:
1
IU
Vitamin C:
1
mg
Calcium:
3
mg
Iron:
1
mg