If you're looking for a colorful and fun dessert with a retro vibe that will steal the show at your next special occasion, look no further than our Stained Glass Jello recipe! This visually stunning treat is a crowd pleaser at family gatherings, birthday parties, and holiday celebrations.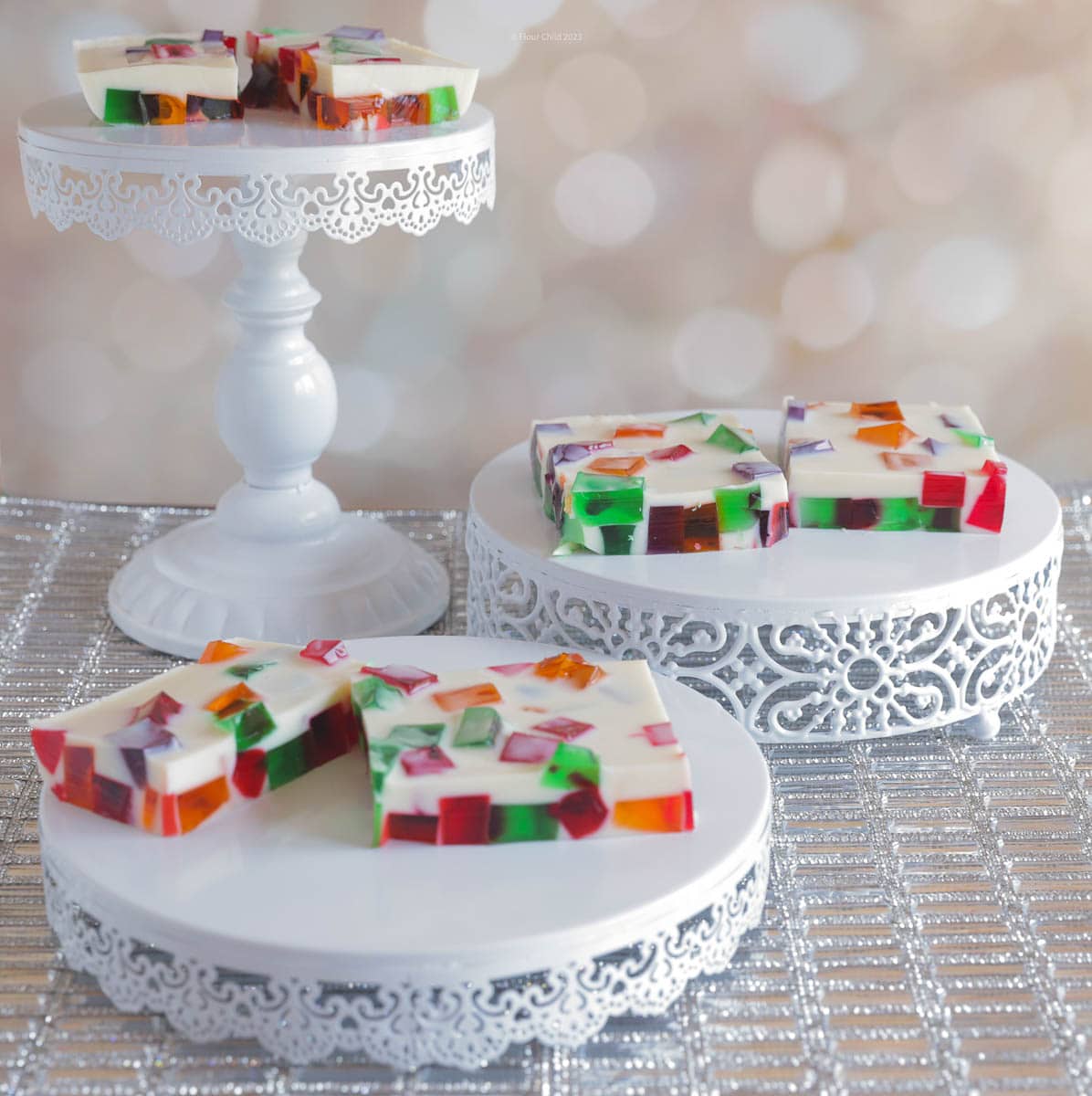 Stained glass Jello, also known as broken glass Jello, sea glass Jello, or crown jewel, is named for its resemblance to church windows. It was invented by a home cook named R.J. Gatti, who sent it to Jello's company headquarters in 1955. It quickly became a sensation, and variations on the recipe were used in ads and featured in the 1962 Joys of Jello cookbook. Who knew you could get so creative with a box of Jello?
Why You'll Love This Recipe
It's gorgeous on your dessert table.
It can be made in a 9 x 13 pan and doesn't require a Jello mold, which can be tricky to extract Jello from.
It can fit any occasion! You can use different colors of Jello to create the right mood for the holiday season or special occasions. Depending on the time of year, you could try a variety of flavors like these:
St. Patrick's Day - Lime Green Jello.
Fourth of July and Memorial Day: Strawberry and Blue Raspberry Jello.
Easter - Starburst Pink Jello, Blue Raspberry Jello and Lemon Jello.
Christmas - Cherry and Lime Jello.
Super Bowl - The color Jello of your favorite sports team (last year I made blue Jello and yellow Jello for the Los Angeles Rams!)
Graduation - Select the flavor of gelatin corresponding to the school's colors.
Using different flavors of Jello cubes will give you a new, colorful dessert each time you make it!
Ingredients for Stained Glass Jello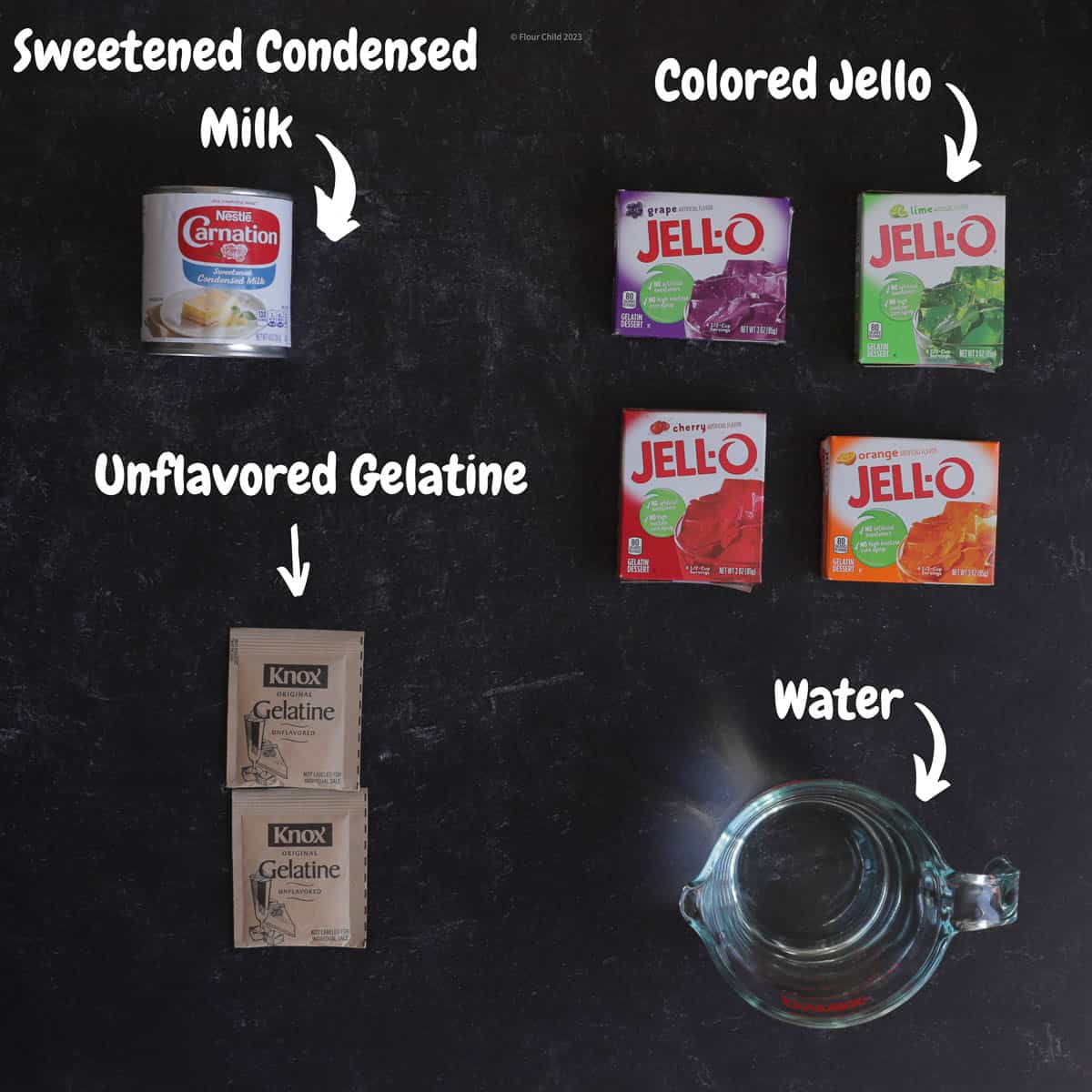 Here's what you'll need to make this dazzling dessert:
For the Colored Gelatin Layers:
4 different 3 oz. Jello packages and a separate bowl for each (I used grape, lime, cherry and orange.)
4 cups boiling water (1 cup of water for each Jello flavor.)
For the Creamy White Jello Layer:
1 can (14 oz.) sweetened condensed milk
2 envelopes of unflavored gelatin (clear gelatin)
2 cups of hot water
Instructions for Making Stained Glass Jello
Making this dessert is easy, but keep in mind you will need a full day prepare it and then chill it overnight. You can cut off a little time by cutting each chilling step to 4 hours. I prefer to chill longer because the firmer the Jello is, the easier it is to cut.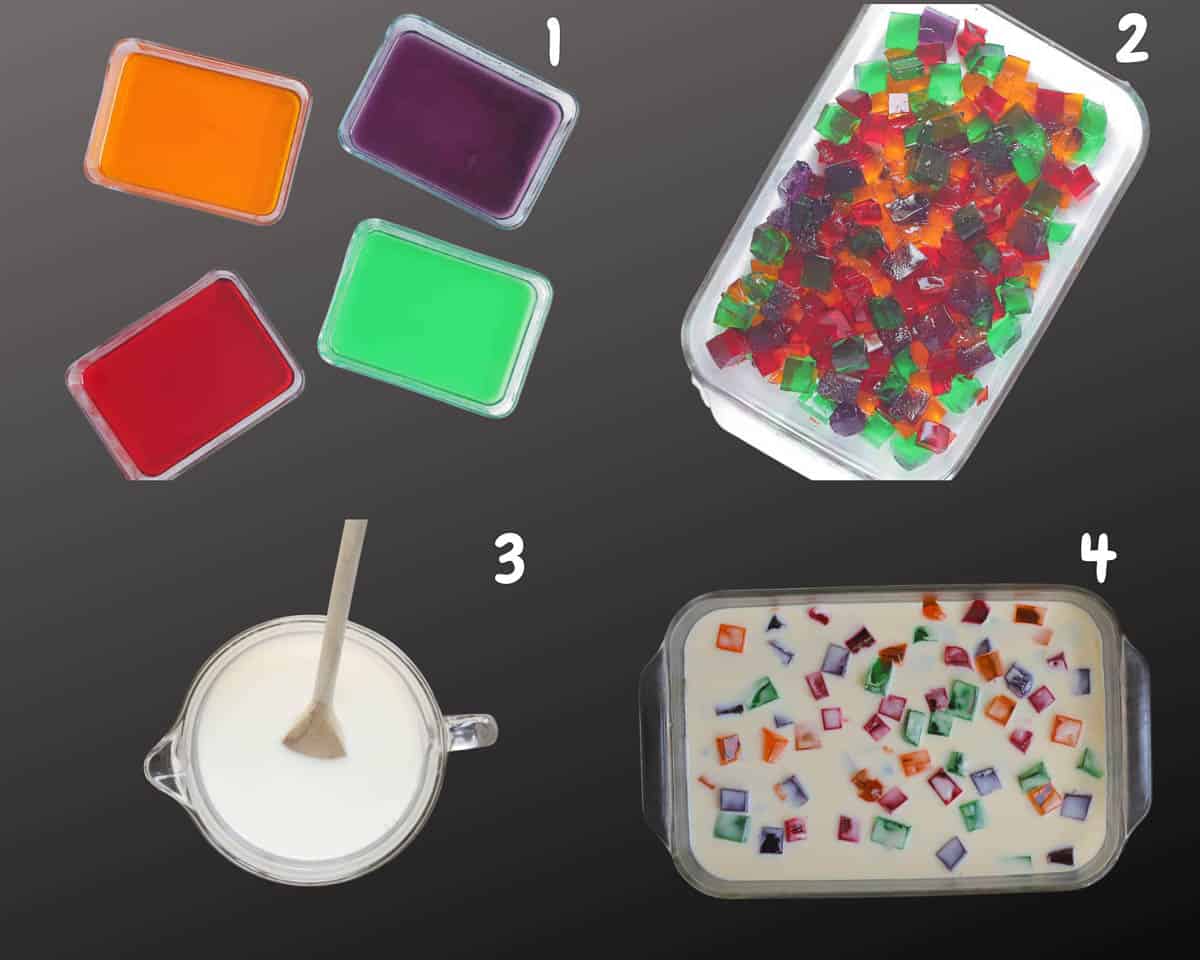 Prepare the Jello Layers:
Pour each flavor of Jello into its own individual container. I use these Pyrex containers. They are rectangular, but small square containers work, too.
Cut the Jello into Cubes:

Once the Jello is firm, carefully cut it into small cubes, uniform in size.

Prepare the White Gelatin:

In a mixing bowl, dissolve both unflavored gelatin packets in 2 cups boiling water. Mix until smooth and fully dissolved.
When the gelatin fully dissolves, stir in the sweetened condensed milk (it will turn the gelatin a white color.)
Allow the sweetened condensed milk mixture to sit until it comes to room temperature, roughly 45-60 minutes. (You can speed up the process by putting it in the refrigerator for 30-45 minutes, but don't forget it or it will solidify! Set a timer and check it starting at 25 minutes.)

Layer It Up:

In a clear 9 x 13-inch pan, start by placing a layer of the Jello cubes at the bottom.
Slowly pour a layer of the condensed cooled milk mixture on top of the colorful cubes (if you pour too quickly, air bubbles will form.)
Continue layering with more gelatin cubes and condensed milk mixture until your dish is filled. Make sure to eliminate any air bubbles that may have formed.

Chill and Set:

Cover the Jello mixture with plastic wrap and refrigerate overnight to allow the dessert to set.

Serve and Enjoy:

When you're ready to serve, cut into squares or scoop out portions into dessert cups and watch as your guests marvel at the stunning stained glass effect!
Cover leftovers in plastic wrap or store in an airtight container in the refrigerator for up to 5 days.
Preparation Tips
Remember to allow plenty of time to prepare this dessert -- 1 day to prepare & chill the individual packets of jello, and put them into a 9x13 dish with the condensed milk mixture, then overnight to chill the dessert.
Bring your water to a rolling boil before adding it to the gelatin packets, then stir constantly for a couple of minutes, until no gelatin granules are left.
Make sure to buy the correct size Jello -- the first time I made this recipe I accidentally got the large boxes at the grocery store because they were set at eye level. Next time I made sure I got the size listed on my recipe card! (Take the printable recipe with you!)
Remember not to follow the directions on the boxes of Jello -- preparation is different; you will be using less water to create firmer cubes -- kind of like finger Jello or Jello Jigglers, if you've ever made either of those.
When adding water, err on the side of less. It's hard to pour exactly 1 cup, so it's better to make it a smidge less water than a smidge more (you want it to be very firm.)
Make sure the condensed milk mixture has reached room temperature before you add it to the Jello cubes. If it's still warm, it will melt them.
Low Carb Version
You can make this broken glass dessert in a low-carb version! Simply follow these instructions for a low-carb, simple dessert:
Ingredients
Four 3 oz. boxes of sugar-free Jello
2 envelopes of unflavored gelatin
2 cups heavy cream
⅓ cup Swerve or other sugar-free sweetener
Water
Prepare the Low Carb Jello Cubes
Substitute the four 3 oz. boxes of Jello for four 3 oz. boxes of sugar-free Jello. Pour the sugar-free Jello powder into 4 individual containers, and dissolve in 1 cup of hot water (do not add the cup of cold water as instructed on the box.) Chill until set. Cut into small blocks and place in a clear 9 x 13 baking dish. Keep cold until the white gelatin mixture is ready.
Prepare the Low Carb White Gelatin and Layers:
Put a ½ cup cold water into a mixing bowl and sprinkle the unflavored gelatin powder over the top -- do not stir. Set it aside for 10 minutes until the gelatin blooms (becomes hydrated and puffs up).
Add 1-½ cups boiling water to the bloomed gelatin and stir until fully dissolved.
While gelatin is blooming, in a saucepan bring heavy cream to a boil, and whisk in Swerve or other sugar substitute until completely dissolved. Reduce heat and simmer until mixture reduces by almost ½, about 20 minutes. Then, add 1-¼ cups of the cream mixture to the bloomed gelatin mixture and whisk until it's fully incorporated. Allow to cool to room temperature, 45-60 minutes.
When the creamy gelatin mixture is at room temperature, pour it over the colored gelatin cubes in a 9 x 13 pan and refrigerate overnight or until firm.
I made this version of broken glass jello dessert last year for Christmas, and no one seemed to notice it was low-carb. We ate the whole thing!
Frequently Asked Questions
I've made this recipe and my Jello had a rough texture. What caused this?
Jello will develop a rough texture when chilled if the Jello crystals are not fully dissolved. This can happen if the water you use to dissolve it in isn't hot enough (make sure it's boiling), or if you don't stir it long enough. Make sure the liquid is crystal clear before you put it in the refrigerator to chill, or you won't have the smooth, colorful treat you were hoping for.
How do you cut the Jello squares without damaging them?
Make sure you spray the pans with non-stick cooking spray before adding the Jello. When you're ready to remove, I recommend using a very sharp knife that has been sprayed with non-stick cooking spray. Push it down to the bottom of the pan and drag it all the way through very slowly, being careful not to tear the Jello.
What's the best way to remove the Jello squares from the pans?
Once the Jello is cut into squares, insert a flat metal spatula on the side, then gradually push underneath the squares and carefully lift them out. I recommend using a small spatula like this Bellemain one because it's easier to handle with these small squares.
We hope you enjoy this fun recipe! What are your favorite Jello recipes? This broken glass Jello recipe, or perhaps a fresh fruit Jello mold? Let us know what you'd like to see next!
If you're looking for more retro dessert recipes, try our Watergate Salad, Apple Brown Betty, and Old Fashioned Cherry Cobbler.
Have a comment or a vintage recipe you'd like to share? We'd love to hear from you! Please rate, comment, or send me an email at [email protected]!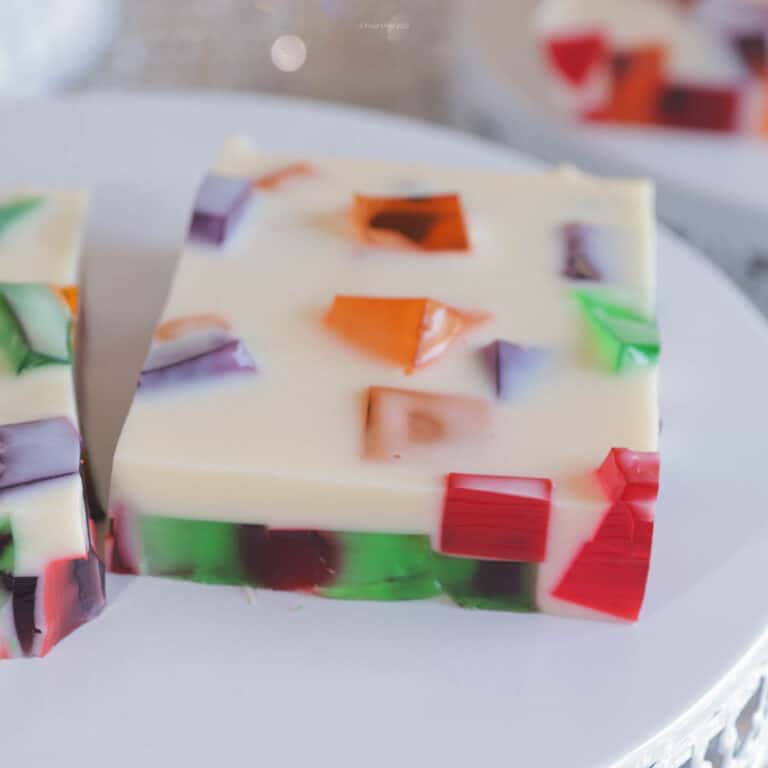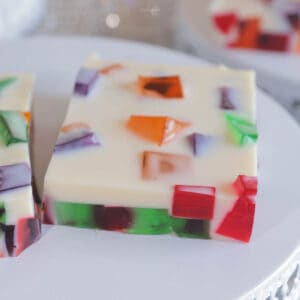 Stained Glass Jello Recipe (Broken Glass Jello)
Stained Glass Jello is a colorful and fun dessert with a retro vibe that will steal the show at your next special occasion!
Ingredients
4

boxes

Jello

3 oz. each

4

cups

boiling water

2

envelopes

unflavored gelatin

.25 oz. each

2

cups

warm water

14

oz

sweetened condensed milk
Instructions
Prepare the Jello
Empty each box of Jello into its own 3 cup rectangular 3.5 x 3.5 x 2.5 rectangular (or similar) container. Add 1 cup of boiling water to each container and stir for several minutes, until liquid is completely clear and all Jello granules are fully dissolved. Refrigerate until solid.
Prepare the Sweetened Condensed Milk Mixture
Add both envelopes of unflavored gelatin to a mixing bowl, and add 2 cups of boiling water. Stir until smooth and fully dissolved.

Add sweetened condensed milk, and stir to fully incorporate into the gelatin. Let mixture sit until it comes to room temperature, approximately 45-60 minutes.
Prepare the Stained Glass Jello
Cut the Jello into small squares using a sharp knife. Distribute a layer evenly over the bottom of a 9x13 glass baking dish that has been sprayed with non-stick cooking spray.

When the condensed milk mixture is at room temperature, slowly pour some over the Jello squares in the 9x13 dish. Add another layer of Jello squares and add more of the condensed milk mixture. Continue until all of the Jello and condensed milk is in the 9x13 pan.

Cover with plastic wrap and refrigerate until firm (overnight is best.) Using a sharp knife, cut into squares for serving, or spoon into dessert cups.
Notes
All Jello mixtures must be fully dissolved for the recipe to turn out well. Using boiling water and stirring constantly until completely clear will ensure the Jello turns out well.
Sweetened condensed milk mixture must be fully cooled to room temperature before pouring it into the Jello squares. If it is still warm, it will melt the Jello.
Pour the condensed milk mixture in slowly to avoid air bubbles. If bubbles form, make sure to get rid of them before you put the stained glass Jello in the refrigerator, otherwise there will be air bubbles in the dessert.
Store stained glass Jello in an airtight container in the refrigerator for up to 5 days.
You can spray your cutting knife with non-stick cooking spray to help it glide through the Jello easier without tearing it.
Nutrition
Serving:
1
g
Calories:
218
kcal
Carbohydrates:
44
g
Protein:
6
g
Fat:
3
g
Saturated Fat:
2
g
Polyunsaturated Fat:
0.1
g
Monounsaturated Fat:
1
g
Cholesterol:
11
mg
Sodium:
182
mg
Potassium:
125
mg
Sugar:
42
g
Vitamin A:
88
IU
Vitamin C:
1
mg
Calcium:
99
mg
Iron:
0.1
mg