Cherry cobbler made with tart cherries in a sweet, golden crust is a fresh taste of summer any time of year!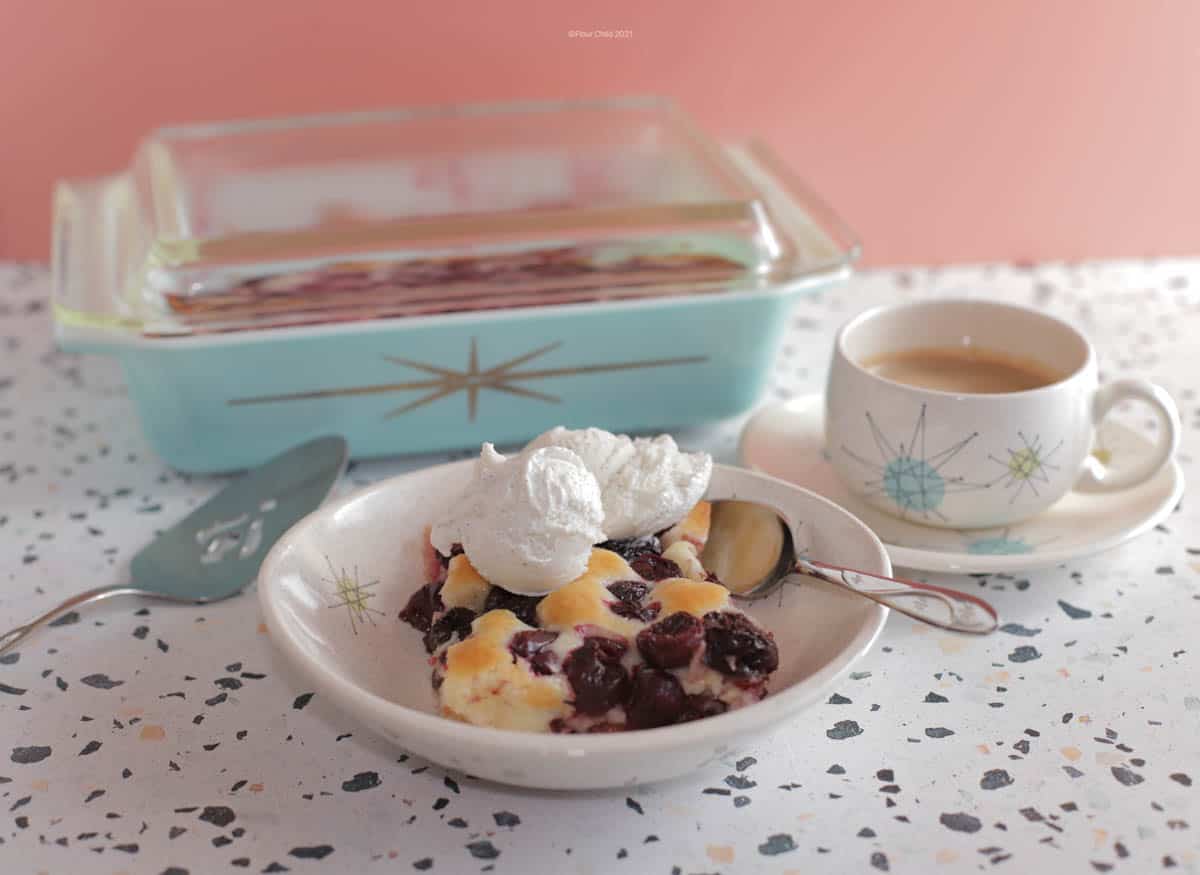 My sister Sue and I love cherries. There's something about them that is so cheerful! We eat cherries, decorate with cherries, and cook in cherry-covered dishes. So when she and my niece gave me my most coveted piece of vintage starburst Pyrex for Christmas (pictured above), I let her choose what I would bake in it first. It came as no surprise that she chose cherry cobbler!
Cobbler is a fruit mixture poured into a baking dish, covered with a batter and baked until the dough turns golden and the fruit peeks through. It was first made in the 1800's by British settlers who were unable to get all of the ingredients to make a proper British suet pudding. Fruit cobbler became a favorite in the South, and is a popular Southern dish to this day.
One of the things that makes cobblers so attractive is how easy they are to make. You simply add butter, a flour batter, and fruit to a baking pan and let the oven do the rest. Fresh fruit is always the best and most flavorful option when making a fruit cobbler. Fresh cherries are not available in my area year-round, so I opted for frozen. Frozen fruit has the closest flavor to fresh. Canned or jarred fruit can be used, but to me it just doesn't have the same flavor.
A Word About Using Frozen Cherries
If the fruit is not fully defrosted and dry, the cobbler will turn out wet and mushy rather than firmly baked. To defrost the berries, remove them from the package and rinse under cold water. Place them in a colander sitting in a larger bowl. Place the bowl, uncovered, in the refrigerator overnight. Discard juice and pat the cherries dry with a paper towel. Put the cherries in a mixing bowl, then mix in the flour and sugar. Your cherries will be juicy and ready for baking without being overly wet.
Where to Find Frozen Cherries
As I write this it is the beginning of February, and frozen sour cherries are nowhere to be found in the grocery stores in my area. During the summer I can find large bags at Costco, but in the winter they disappear. I have found a couple of places that supply excellent cherries straight from the orchard if you need to order them in the winter:
King Orchards in Kewadin, Michigan sells tart, delicious frozen Montmorency Michigan cherries and cherry products year round.
Northwest Wild Foods in Burlington, Washington sells frozen organic dark tart cherries as well as many other berries year round.
Hints for the Best Cherry Cobbler
Use sour cherries for the best flavor complement to the sweet crust. If you only have sweet cherries, add a tablespoon of lemon juice to them before mixing in the filling ingredients.
Do not mix your ingredients together in the baking pan. Each layer (butter, batter, fruit mixture) should sit on top of the previous one without being mixed together.
Allow to cool completely if you'd like to serve it in neat slices. Otherwise scoop it into a bowl while warm. Ice cream and whipped cream make perfect toppings!
Enjoy this delicious dessert any time of year. And mark your calendar for May 17 -- National Cherry Cobbler Day!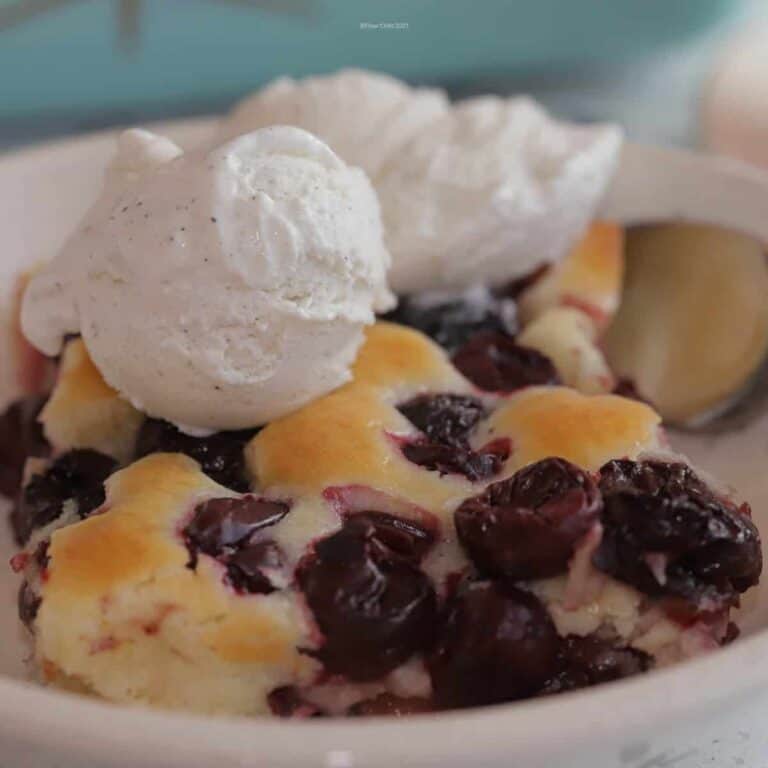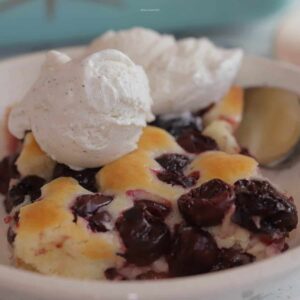 Old Fashioned Cherry Cobbler Recipe
Cherry cobbler made with tart cherries in a sweet, golden crust is a fresh taste of summer any time of year!
Ingredients
Filling
6

cups

sour cherries

pitted

¼

cup

flour

¾

cup

sugar
Batter
½

cup

butter

1

cup

flour

¼

cup

sugar

2

teaspoons

baking powder

¼

teaspoon

salt

1

cup

milk
Instructions
Preheat oven to 350 degrees.
Filling
Wash, dry, and pit the cherries or prepare frozen cherries. 

Place cherries in a mixing bowl and mix with flour and sugar. Set aside.
Batter
Place butter in a 9 x 13 baking dish and set in preheated oven just until melted.

Mix flour, sugar, baking powder and salt. Add milk and stir until fully combined.

Pour the batter into the baking pan with the butter, but do not mix.

Distribute cherries evenly over the batter mixture, but do not mix.

If desired, sprinkle top with a tablespoon of sugar.

Bake 35-40 minutes until crust has risen and is golden brown.

Serve cooled and sliced, or warm with ice cream or whipped cream on top.
Nutrition
Calories:
288
kcal
Carbohydrates:
48
g
Protein:
3
g
Fat:
10
g
Saturated Fat:
6
g
Polyunsaturated Fat:
1
g
Monounsaturated Fat:
3
g
Trans Fat:
1
g
Cholesterol:
27
mg
Sodium:
235
mg
Potassium:
236
mg
Fiber:
2
g
Sugar:
33
g
Vitamin A:
376
IU
Vitamin C:
6
mg
Calcium:
91
mg
Iron:
1
mg