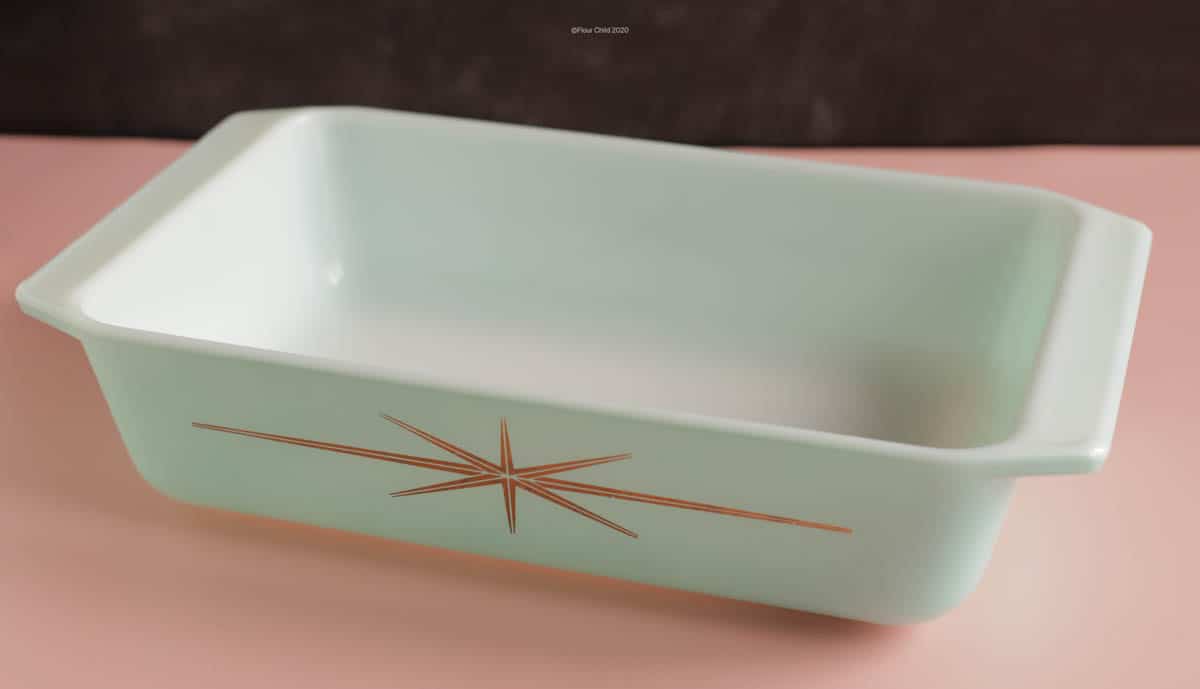 I am absolutely awestruck by this rare and gorgeous Pyrex starburst casserole dish that I received from my sister and niece as a Christmas gift this year! I never thought I would see one in person, much less own one. To me, this dish is the Holy Grail of Pyrex.
This model is a 575-B two-quart space-saver casserole that measures 9 ½"L x 6 ½"W x 2"D. Released in 1960, it originally came with a clear glass lid, cradle and double candle holder. Despite its popularity, the design was produced for only a year as a promotional piece.
This iconic mid century casserole dish came in three colors; turquoise, black, and cream, all with an atomic gold star. The rarest color is cream, of which only a handful of pieces are known to exist in the world. The most coveted by collectors, however, is the turquoise.
This particular Pyrex starburst casserole dish is in pristine condition, albeit missing the lid and stand which are much easier to acquire at a later date, if desired. There is a temptation to set it on a shelf and treat it as a museum piece. But for someone who loves cooking, that wouldn't be much fun! Though I'll treat it with kid gloves, this beauty will definitely get used in my kitchen and will be featured in recipe posts for years to come.
Looking forward to sharing it with you!