You may not realize it, but Dorothy Thorpe glassware has been featured in many of your favorite shows.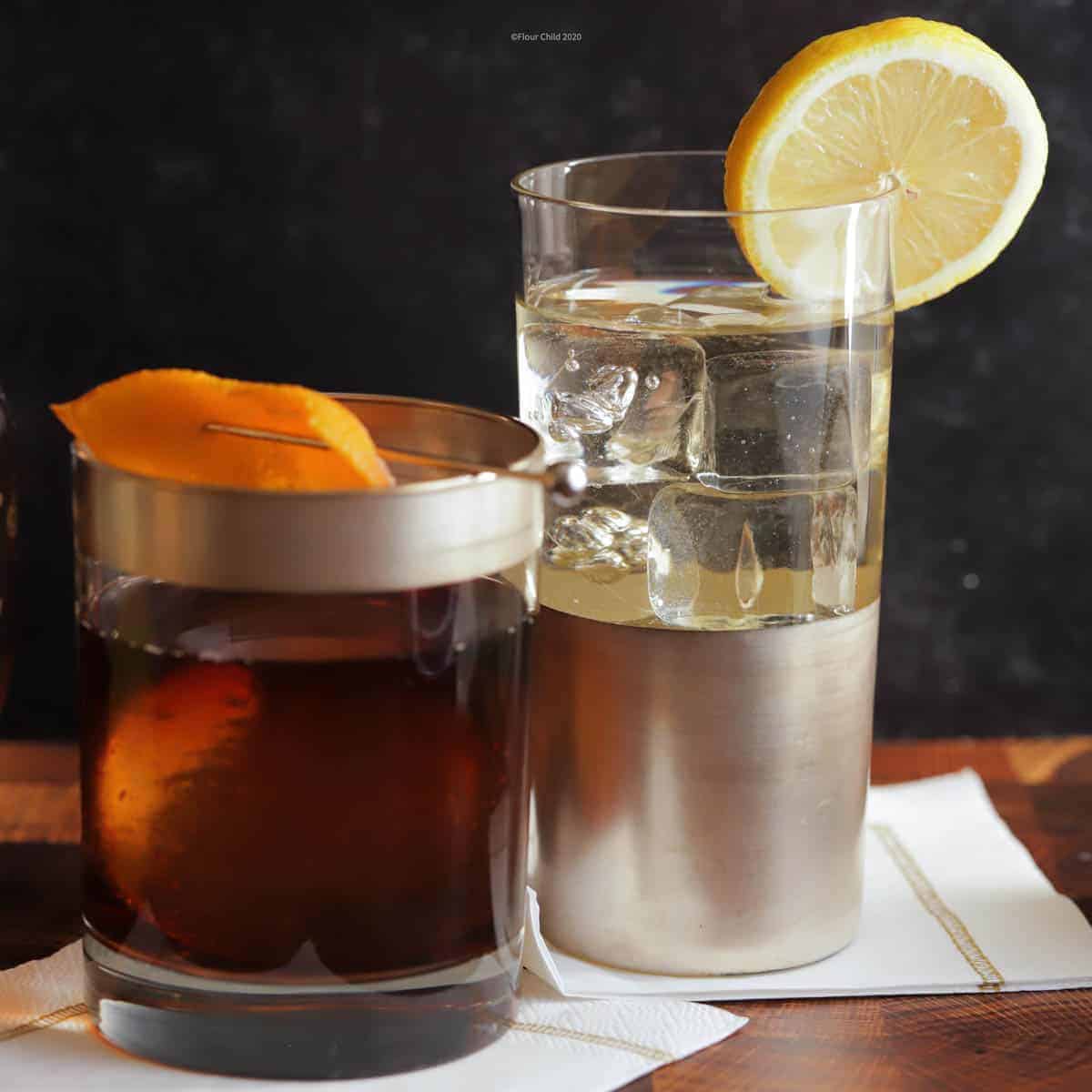 Dorothy Thorpe was ahead of her time
Before I became a fan of all things mid century modern, I had not heard of Dorothy Thorpe. However, I was already familiar with her cocktail glasses. That's because I had seen them so many times in movies and television shows without knowing what they were.
Several years ago Nancy gave me a pair of nice rocks glasses with a cool platinum silver stripe around the rim that I used for serving Old Fashioned cocktails. They reminded me of the ones used by Don Draper in Mad Men. And recently while watching an episode of the early 70's detective show, Banacek, I noticed the suave millionaire also served cocktails in the iconic silver rimmed glasses.
When we started shopping thrift stores and antique markets trying to find mid century items, I started seeing some sets of glasses with silver hand painted rims that were very badly tarnished and also very pricey! That's when I discovered genuine hand painted Dorothy Thorpe glasses.
Dorothy Thorpe was born in Salt Lake City, Utah in 1901. She and her husband lived in Los Angeles where she became a prominent mid century artist. After selling some of her original items to a Hollywood gift shop, studios took notice and began buying up her merchandise. She would go on to design many prized glassware creations over the years.
Dorothy did not manufacture the glassware or dinnerware herself. Instead, she would purchase 'blanks' from companies such as Libby and Federal, and then work her magic. She used techniques such as sandblasting and hand-painting to create mid century classics that today are highly collectible.
I have used these glasses on some cocktail posts you may have seen, such as the Tom Collins recipe. I've even used my 'tribute' glass for the Martini post. While it is not an original, it has the look and feel of a Dorothy Thorpe glass, but it was much more affordable and I never have to worry about breaking it. One way to tell an original from a more recent copycat glass is to inspect the silver. If it is shiny and perfect, it's probably not an original. By this time, her original glasses have taken on a bit of patina.
I only have a handful of original Dorothy Thorpe glasses, but I'm always on the lookout for more--at the right price, of course!