From movies to books to television, the classic Martini cocktail is probably one of the best known drinks and for good reason -- they are simple to make, and served properly chilled are a great refreshment.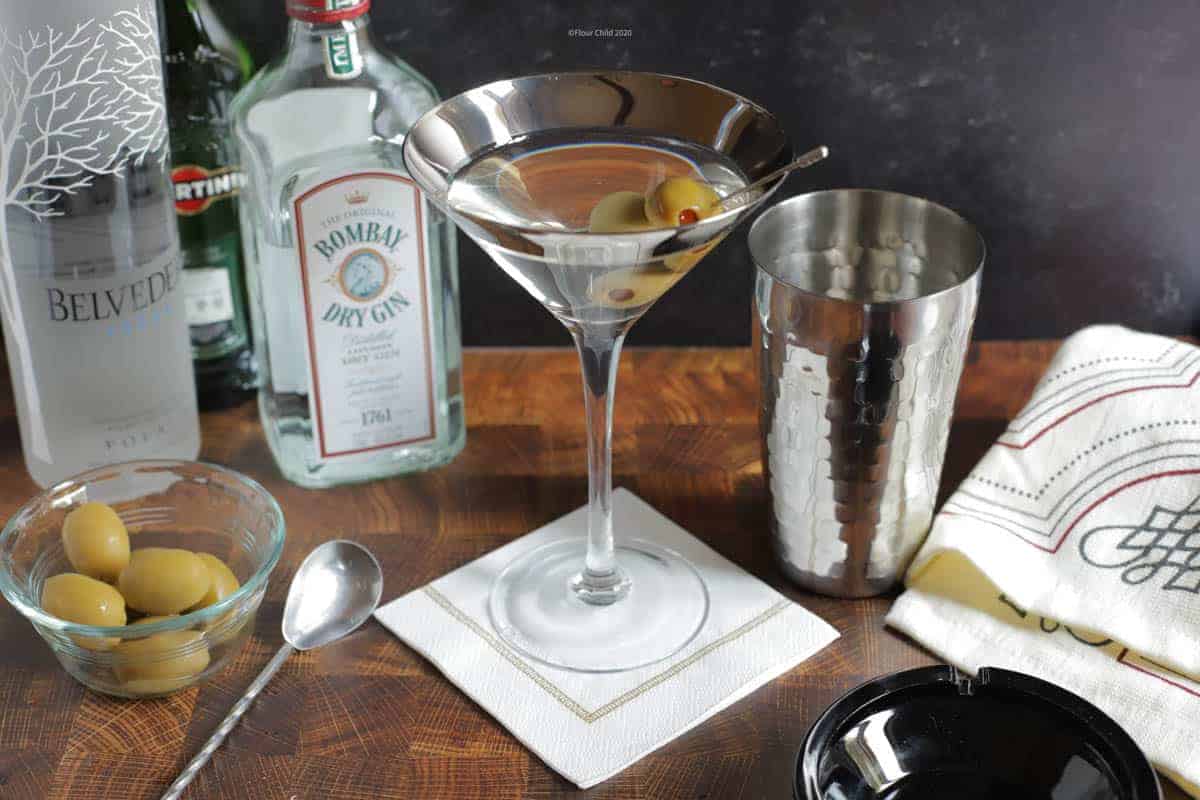 A Clear Cocktail with a Cloudy Past
As with just about every cocktail, it is often difficult to truly know how and where they began or who created them. The Martini is claimed on both coasts, New York and San Francisco. Was it really a variation on the Martinez? Was it shortened from Martini and Rossi? No one can really say, but it gained popularity in the US during Prohibition since gin was a simple, fast, and cheap spirit to produce during those "trying" times. The Martini kind of fell out of favor for a while, but made a strong comeback in the mid century period.
The Martini Cocktail Proves Less is More
When Jacques Straub wrote his "Drinks" book in 1914, the Martini had already lost some of its original ingredients such as orange bitters and maraschino liqueur, and listed only two ingredients:

The Martini may have evolved into a 'duo' (two ingredient) cocktail, but you'd think you were in line at a hipster coffee shop ordering a double caff, half soy latte when you hear all of the unique, personal customizations people request when ordering a Martini. There are so many options and questions that it can be confusing, and not just a little off-putting. Even the olives have variations, such as blue cheese stuffed or pimento.
But that didn't stop the Martini from becoming one of the favorite drinks for mid century drinkers. Whether you're watching an episode of Mad Men or reading a spy novel, you can see plenty of evidence that the Martini became the 'it' cocktail of the time. It even became a sort of shorthand for referring to expensive, excessive business meals by executive types--the 'two martini lunch'.
What Does a Dry Martini Mean?
Many Martini recipes call for equal parts spirit and vermouth. However, a "dry" Martini means that there is less vermouth than gin or vodka. Decreasing the amount of vermouth in the mix is what gives a Martini it's "dry-ness". Some people jokingly tell the bartender to "just wave the vermouth bottle over the glass" or "keep the gin in the same room as the vermouth." One mid century American president was said to pour vermouth in his glass and swirl it around a little before dumping it out and adding the gin.
Vodka or Gin?
Is it true that we have the fictional spy James Bond to thank for swapping out the gin for vodka in the Martini? It's one of many theories about the preferences people have for ordering this cocktail.
It could also be that Americans began drinking more vodka and less gin starting in the early 60's just as the Martini was becoming popular again. Either way, both spirits bring a unique flavor to the drink and have their followers.
Which did James Bond really prefer? So that he didn't have to choose, Bond created a drink called The Vesper which contained both gin and vodka and a type of French vermouth that was discontinued in the late 60's.
Shaken or Stirred?
I'm fairly certain we do have James Bond to thank for this question. Or at the very least his creator, Ian Fleming. There's been much debate from book to book and movie to movie about how James ordered the drink, and the reasons why you would shake it or stir it.
Does it make a difference? A Martini should be very cold when served, so shaking it in a cocktail shaker is the quickest way to accomplish this. Some people claim that this also causes the ice to chip and can water down the drink. Maybe that's exactly what Fleming intended. When you're saving the world you need to keep your wits about you and can't get sloppy by having too much alcohol!
A Duo For the Ages
Just like Lennon and McCartney or Fred and Ginger, good things come in twos. Aside from lots of ice to chill it, here's all you need for a wonderful classic Martini:
Tips for a Successful Classic Martini Cocktail
Since this is cocktail making in its purest form, you should follow these tips for how to serve your guests a memorable Martini.
Ask them what they prefer. By now you've figured out that everyone who drinks Martinis has a preference.
Mix using quality ingredients. This isn't Prohibition, so you don't have to serve inferior-quality spirits. Good quality doesn't mean you have to break the bank -- the customer service staff at your local liquor store will ask you a few questions about your preferences and recommend the best options in your price range.
Martinis keep evolving and there are many, many variations that include flavor-infused vodkas -- even chocolate! Many modern drinks append 'tini' to the end of a title, such as the "Apple-tini," to blend the old with the new.
My Dirty Secret to a Great Martini
OK, truth time on my own personal preferences for making a Martini. I prefer vodka as the base spirit and an equal part of vermouth. I'm perfectly fine with the old reliable standby, Martini & Rossi dry vermouth. But here's where the purists may have a problem with me. I prefer two bar spoons full of the salty, bitter olive juice in my drink which makes it a Dirty Martini. Lately, I've really been enjoying the Filthy brand of olives (I get no compensation from them, I just like their olives). And yes, I prefer my Martini shaken, not stirred!
Frequently Asked Questions
What is the original martini?
According to Jaques Straub's 1914 Drinks book, a Martini calls for Italian vermouth, gin and orange bitters. Although some refer to a Martinez as a possible 'original' Martini.
Whys is it called a dirty martini?
Typically a Martini is crystal clear, but when you pour a little extra juice from the olives into the drink it turns cloudy or 'dirty'.
Did James Bond drink vodka or gin martinis?
Typically Bond drank vodka martinis. Although his Vesper Martini did include both gin and vodka.
Similar Cocktails:
You may also enjoy these other cocktails:
James Bond Vesper Martini Cocktail
The Rum Collins is Good Enough to Die For
The Americano is a Delicious Classic
The Martinez Cocktail is the Best of Both Worlds
I'd love to hear your Martini stories. Which do you prefer, gin or vodka?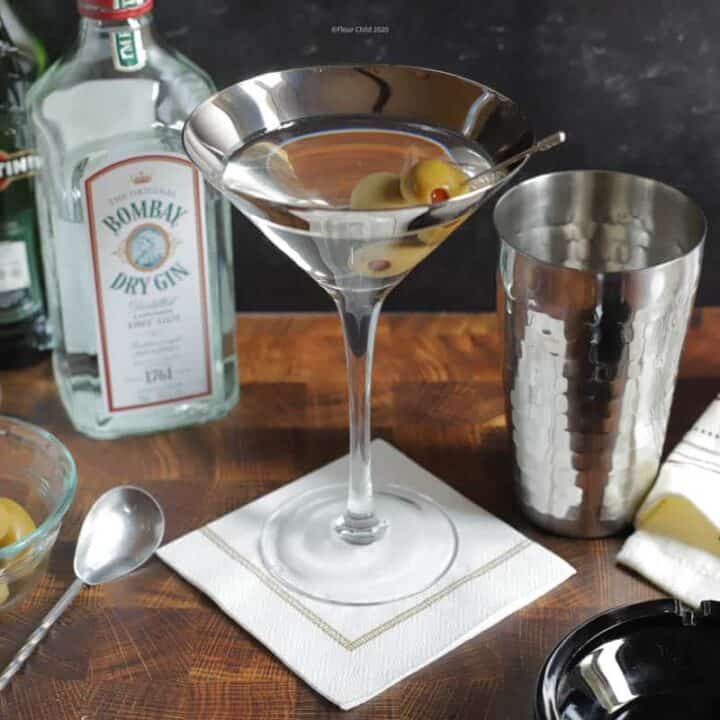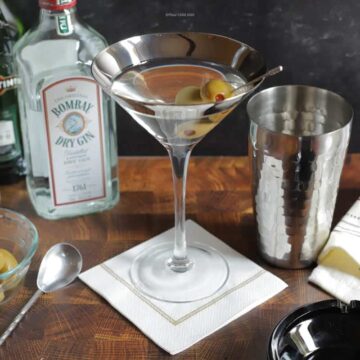 Classic Martini Cocktail Recipe
The suave Martini is a mid century favorite cocktail with deep roots in films and books. It is a refreshing, simple cocktail best enjoyed ice cold.
Ingredients
2

scoops

ice

1 ½

Ounces

Gin or Vodka

1 ½

Ounces

Dry Vermouth

Olives or a lemon twist for garnish
Instructions
Place two scoops of ice in cocktail shaker

Pour in spirit and vermouth 

Cover with lid and shake vigorously for several seconds

Strain into a cocktail glass

Add garnish of olives or lemon twist

(optional) Add two bar spoons of olive juice
Notes
You can play around with the amount of vermouth you add to the drink, but 50-50 is considered optimal. Feel free to experiment and add more vermouth for an Upside Down Martini. If you add bar onions the drink becomes a Gibson, which is also delicious.
Nutrition
Calories:
132
kcal
Carbohydrates:
2
g
Protein:
1
g
Sodium:
1
mg
Potassium:
1
mg
Calcium:
1
mg