You don't need to be an international man of mystery to enjoy this twist on a traditional Martini. The Vesper Martini is refreshing and packs a punch like a Walther PPK slug to the chest.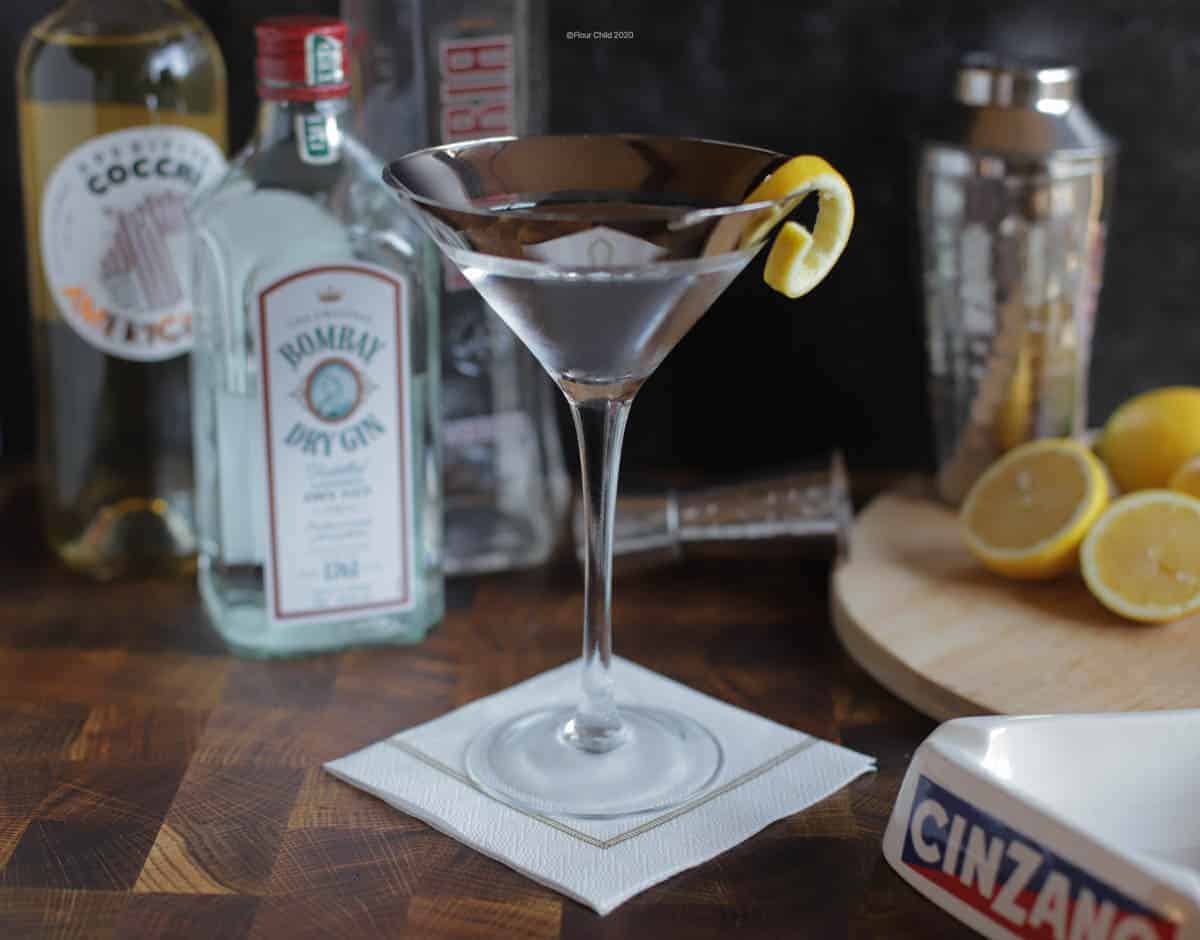 The Making of a Legend
If you have watched many James Bond movies you've no doubt heard him order a Vodka Martini, but unless you've seen the movie Casino Royale or read the book, you may not know this drink. Many people are familiar with Bond's alter ego and creator, Ian Fleming. Fleming was born in a posh suburb of London in 1908. During the Second World War Fleming was recruited to work in British Naval Intelligence. It was here that he gained the experience he needed to create a realistic spy for his future novels.
After the war, Fleming worked in Jamaica while running a newspaper. He also wrote his first bond novel, Casino Royale in 1953. Similar to Ernest Hemingway incorporating his own drink recipe into his book, Death In the Afternoon, Fleming created his own cocktail for his protagonist. The Vesper is slightly different from a Martini in that it contains both Gin and Vodka, substitutes a lemon peel for olives, and lastly contains Kina Lillet instead of a dry vermouth.
The Vesper Martini is Old and New
Fleming was very specific about how Bond ordered the drink and the amounts of alcohol it contained. "Just a moment. Three measures of Gordon's, one of vodka, half a measure of Kina Lillet. Shake it very well until it's ice-cold, then add a large, thin slice of lemon peel. Got it?" Based on a classic Martini, the Vesper didn't even have a name until a later chapter in the book.
It's a little tricky to make this one like Fleming enjoyed it, because the spirits used in 1953 are no longer available. For example, Gordon's does not make the same proof gin, and Kina Lillet was discontinued in 1986.
To make this I recommend a dry gin like Bombay. And even though you can still buy a modern version of Lillet, it doesn't contain the quinine that the older version had so it tastes very different.
Cocchi Americano contains quinine and is often substituted since it is closer to the original. Lastly, choose a strong vodka that is as close to 100 proof as you can take -- and make sure it is a grain-based vodka as Bond recommended, rather than a potato based one.
Shaken Not Stirred?
Ever since the first book there's been a debate about why Bond drinks his cocktails "shaken, not stirred." Purists contend that shaking the cocktail results in splinters of ice diluting it, therefore it should be stirred for a better tasting drink.
But this cocktail is so strong that a little bit of watering down is not necessarily a bad thing! And if you're a daring spy in the middle of a mission for King and Country, can you afford to be under the influence?
Ingredients for a Sublime Vesper Martini
Here's all you need to crack the code on a Vesper:
Dry Gin
Vodka
White Vermouth
Just add a lemon twist and you're all set.
Tips for Success
This drink has just a few 'rules' to follow to get it close to Ian Fleming's ideal:
Use a quality dry gin to give the drink a crisp taste.
Keep the ingredients as cold as possible. This drink is best enjoyed when served ice cold.
Use the proper vermouth, Cocchi Americano, which still contains quinine.
Frequently Asked Questions
What is the martini that James Bond drinks in Casino Royale?
The character James Bond orders a variation on a Martini that he dubs a Vesper, after his love interest, Vesper Lynd.
What is James Bond's Favorite cocktail?
James Bond consumes several different drinks in the Ian Fleming books from an Americano to the Rum Collins. And of course a Vesper Martini. But we usually see Bond drink a Martini.
What does a Vesper martini taste like?
The Vesper is a strong drink when mixed well offers notes grain from the vodka, sweetness from the Cocchi and herbal from the gin. It tastes strongly of alcohol though.
Similar Cocktails:
You may also enjoy these other James Bond cocktails:
Classic Martini Cocktail Recipe
The Rum Collins is Good Enough to Die For
The Americano Cocktail is a Delicious Classic
Do you have a preference for how you like your Vesper, shaken or stirred?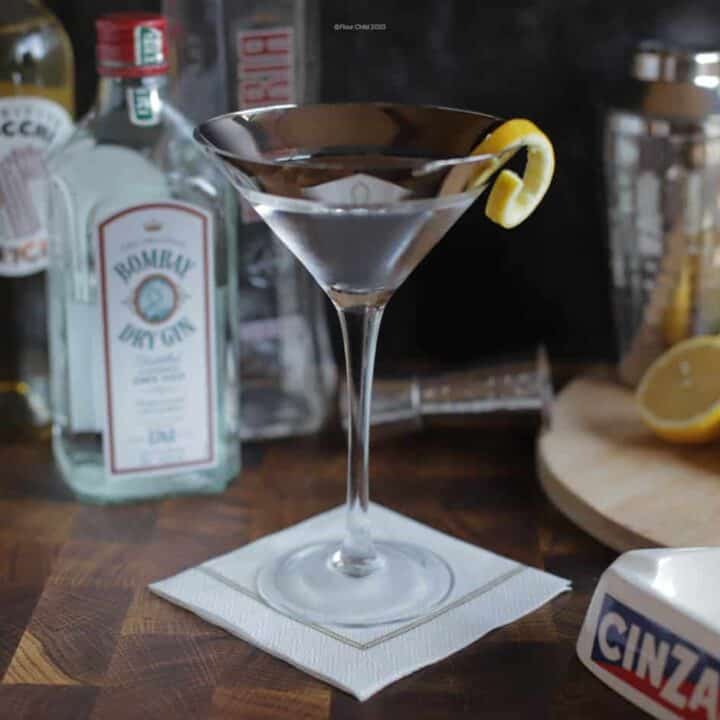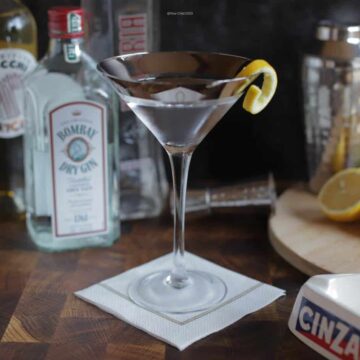 James Bond's Vesper Martini Cocktail
This literary twist on a Martini is a wickedly good-tasting cocktail.
Ingredients
3

Ounces

Dry Gin

1

Ounce

Vodka

½

Ounce

Cocchi Americano

Lemon peel twist
Instructions
Place a scoop of ice in a cocktail shaker.

Add all ingredients.

Shake for 20 seconds and strain into a cocktail glass.

Add a lemon twist for garnish.
Notes
Ensure you use the right type of vermouth, with quinine, if you want this drink to taste like what Ian Fleming had in mind.
Use chilled ingredients poured into a chilled glass to enjoy this drink ice cold.
Nutrition
Calories:
274
kcal
Carbohydrates:
1
g
Protein:
1
g
Sodium:
2
mg
Potassium:
16
mg
Sugar:
1
g
Calcium:
1
mg
Iron:
1
mg