Creamy, peppery, full of flavor -- Kentucky style biscuits and gravy is the Sunday breakfast dish your family will beg for!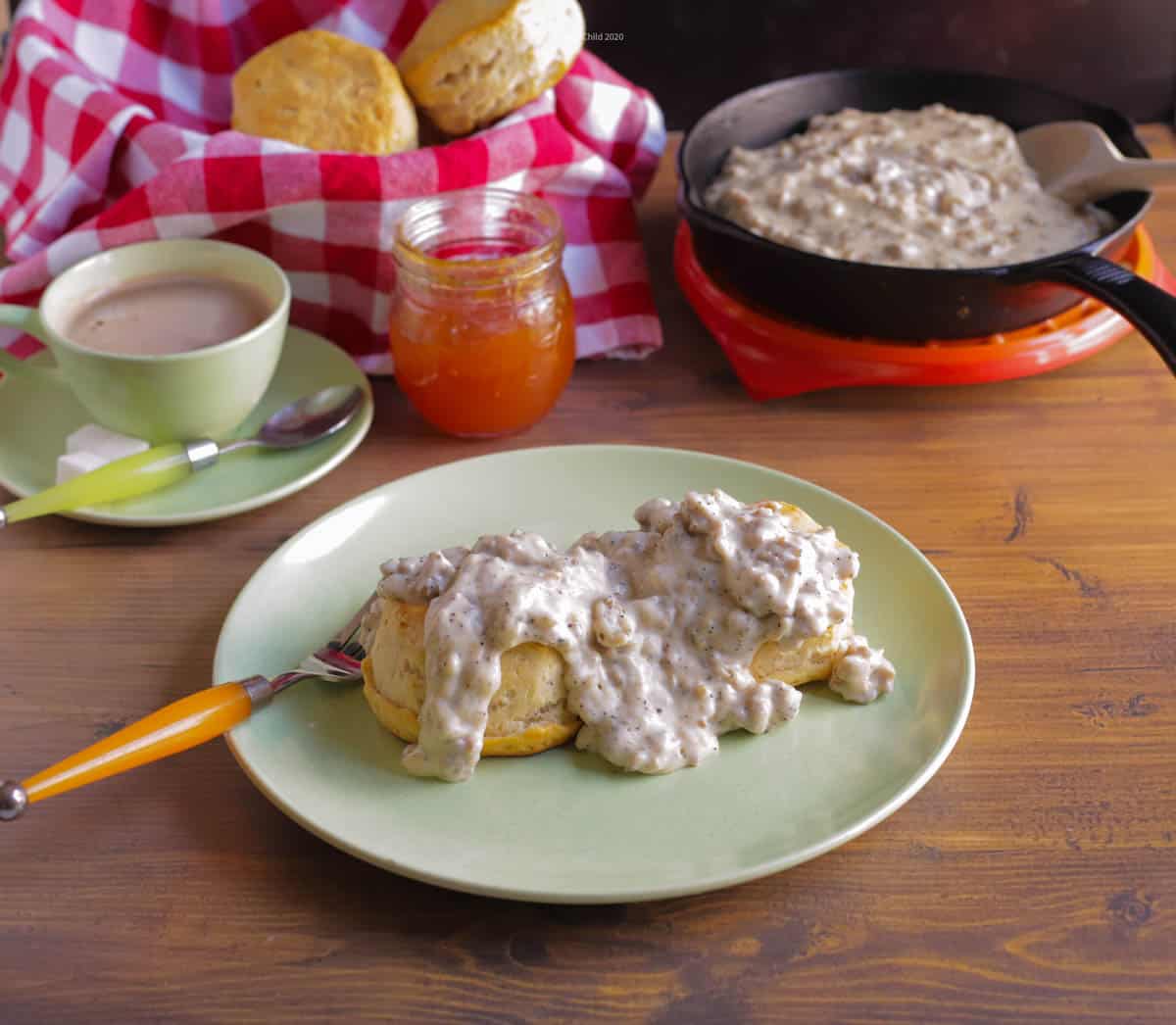 North Meets South
My husband was born in Chicago, but his parents were born and raised in the Appalachian Region of eastern Kentucky. In the post WWII era, coal mining was the primary way to make a living. In search of a better life, they moved to Chicago shortly after they were married, but what his mother brought with her was priceless...the Southern style recipes of Kentucky comfort food.
Recipes? What Recipes?!
I use the term "recipes" lightly...I never saw her refer to a recipe in my life. She and her sisters would get together and cook up the tastiest meals I've ever eaten by using only sight, texture and taste, without a measuring cup or spoon to be found. This was both fascinating and frustrating all at the same time. I wanted to be able to recreate these foods, many of which I'd never heard of, for my husband who had grown up with them. But with all the flour flying and salt shaking and milk pouring going on, it was all I could do to watch, much less write things down. Eventually I picked up the technique, then was able to quantify the ingredients in a written recipe.
Southern style breakfasts were always my favorite meal. There was no need to eat again until dinner after a feast like this. Kevin's mom would make plates full of eggs over easy, hash browns from freshly shredded potatoes, bacon and sausage patties, from-scratch biscuits, and to top them off my very favorite item -- a giant cast iron skillet of sausage gravy.
A word about biscuits
If you already know how to make from-scratch biscuits, then by all means make and serve them with this gravy. The purpose of this recipe is to master the gravy first. We will tackle the homemade biscuits in another recipe. Popping some refrigerated biscuits in the oven while you whip up the gravy makes this a fast and easy recipe to prepare. When using store-bought biscuits, Kevin prefers the Pillsbury Flaky Layers Buttermilk Biscuits.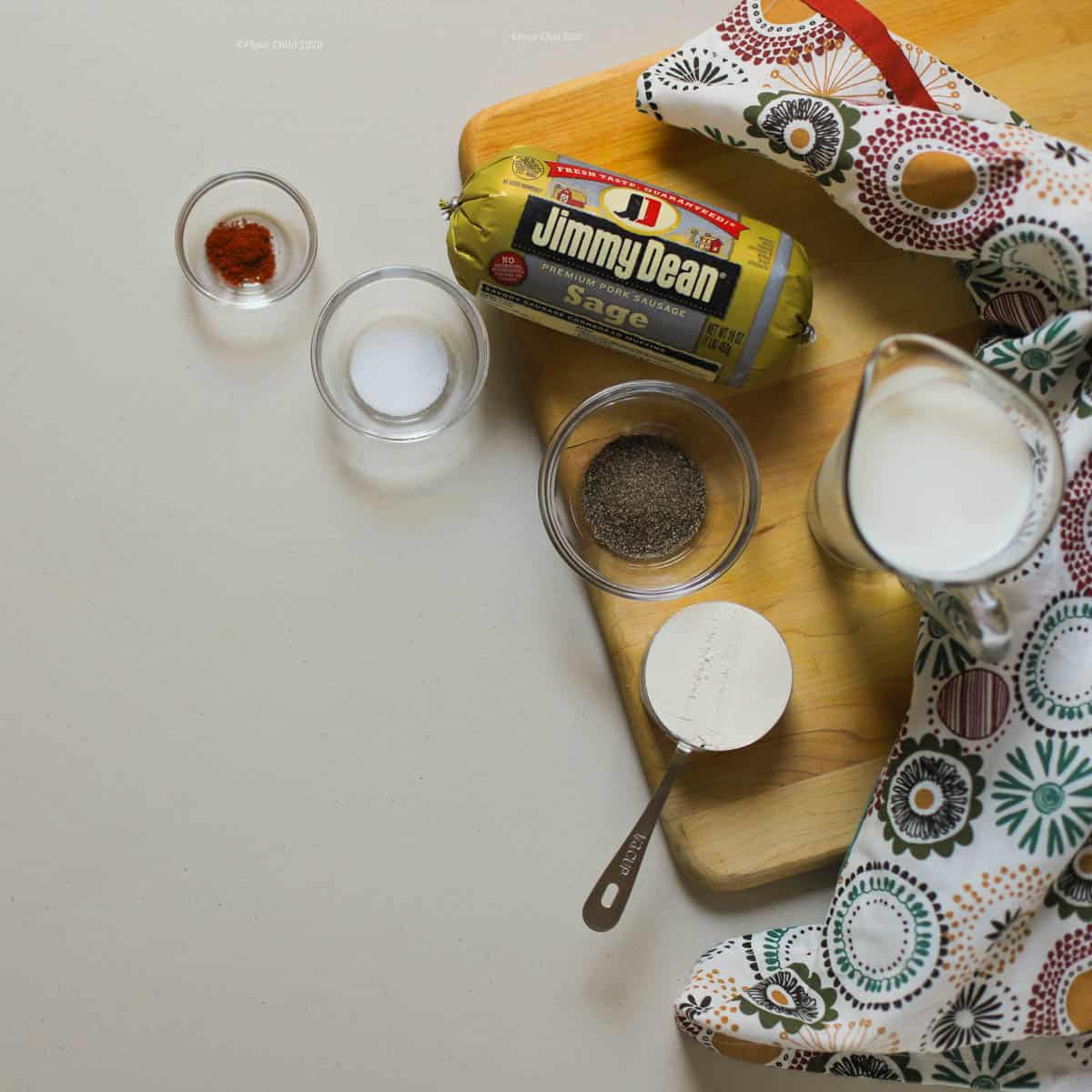 To make the sausage gravy you will need:
Vegetable oil
Breakfast sausage
Flour
Milk
Salt
Pepper
Paprika
Don't forget the biscuits!
Make sure you fully cook the sausage
You start by spreading the vegetable oil in a skillet. With a plastic spatula or wooden spoon, break the sausage up as small as you can in the pan while it's heating over medium heat. It's really important to cook the sausage fully as this is pork, and you can get sick if pork is not fully cooked. So make sure your sausage is browned well.
Lightly brown the flour
Once your sausage is fully cooked, sprinkle in the flour, then stir constantly until it is fully incorporated. It will be very dry. Cook it a minute or two until the flour takes on a light brown tint from the sausage.
Add the milk, season, and stir constantly
I use whole milk in this recipe, it gives the gravy a thickness and richness that low-fat or fat free milk does not. However, if you prefer to use low-fat milk it will not ruin the recipe. The key is to add the milk slowly and stir constantly until it comes to a simmer. This will ensure that lumps don't form and that the gravy doesn't stick to the skillet as it cooks. It should take about 10 minutes to cook and thicken to the point that it's ready to eat.
This recipe doesn't take long and I know you're in a hurry to eat it, but be sure not to turn up the heat too high and cook it too fast. It's best cooked at a medium temperature to allow the flour and milk to absorb the savory flavor of the sausage. If it's cooked too quickly the gravy will have a chalky flour taste to it. And that would not taste like authentic Kentucky style biscuits and gravy!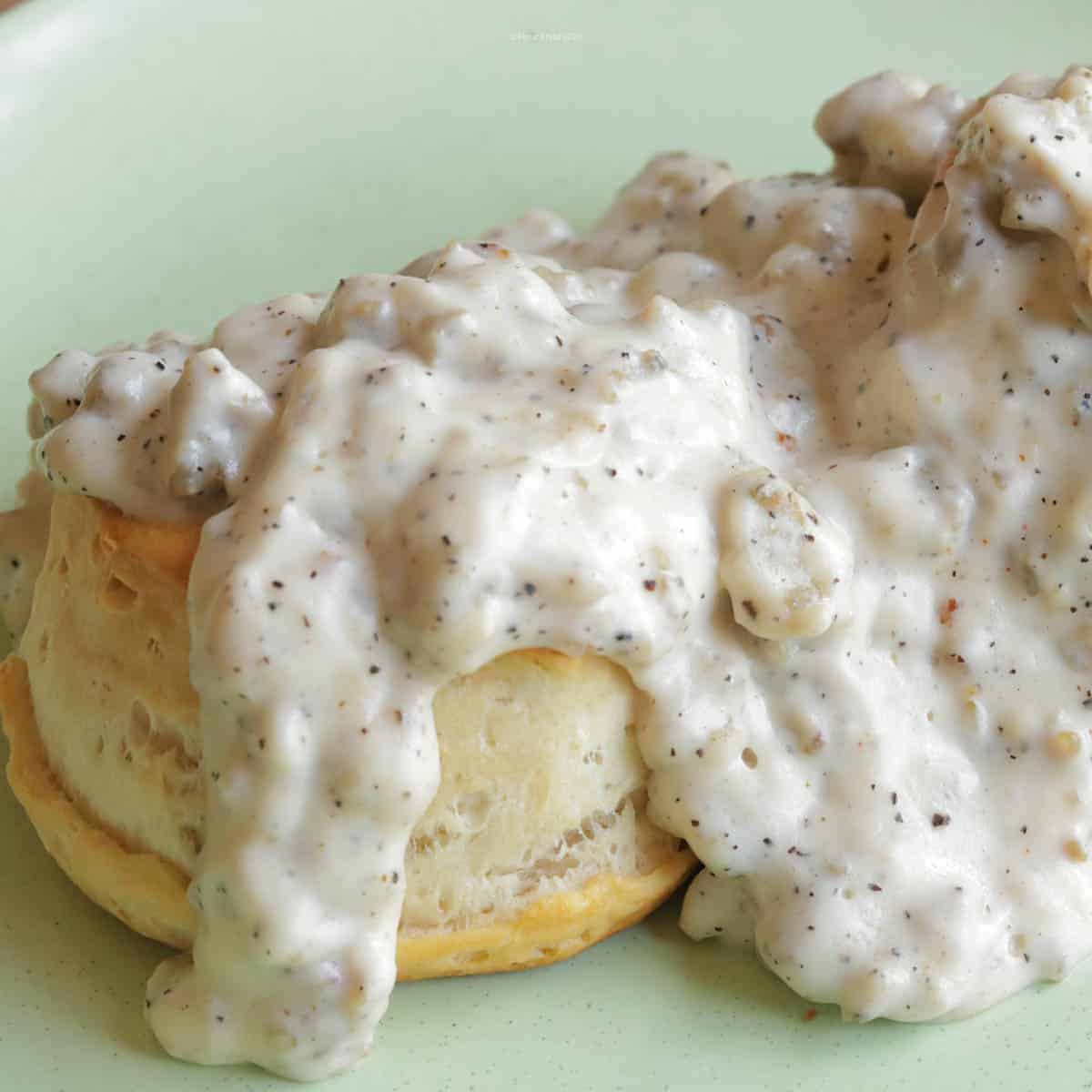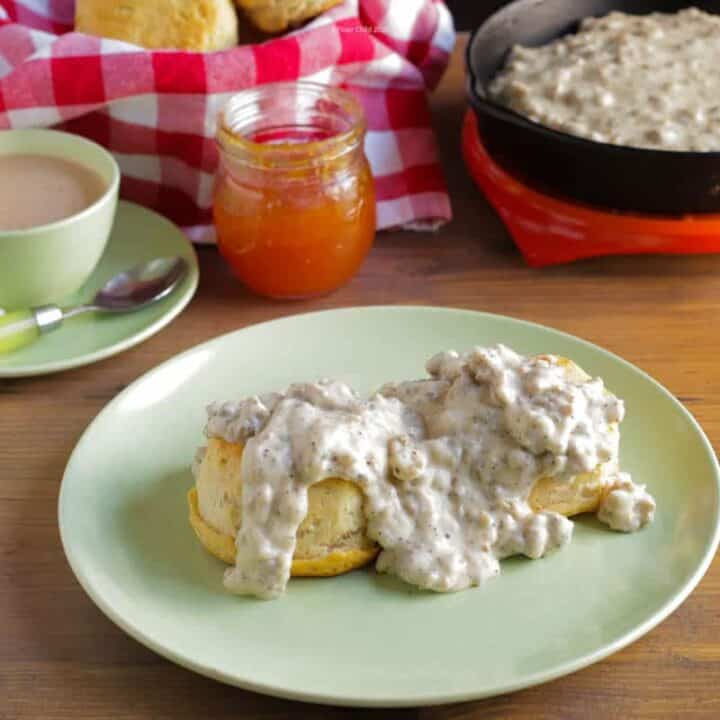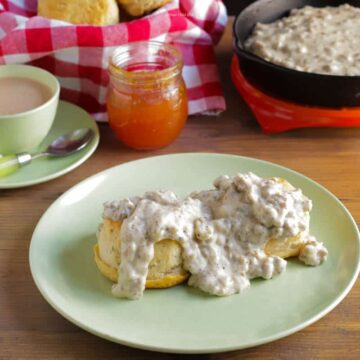 Kentucky Style Biscuits and Gravy
This hearty and delicious biscuits and gravy recipe gave the hard working people of the South the energy and stamina they needed to get through the morning's duties. This is a Sunday morning favorite, and always requested by guests.
Ingredients
1

tablespoon

vegetable oil

16

ounces

package sage pork sausage

⅓

cup

all purpose flour

4

cups

whole milk

½

teaspoon

salt

½

teaspoons

black pepper

⅛

teaspoon

paprika

1

package

refrigerated buttermilk biscuits
Instructions
Break up sausage in 1 tablespoon of vegetable oil in skillet and cook over medium heat until pink is gone and sausage is browned.

Reduce heat to medium-low; sprinkle in the flour and mix until all lumps are gone and flour is fully absorbed by the sausage (the sausage will look very dry.) Continue to cook for one more minute until the flour is slightly browned.

Slowly stir in the four cups of milk and turn the heat up to medium-high. Add salt, pepper and paprika. Stir constantly until gravy is very thick, about 10 minutes.

Serve over hot biscuits and enjoy!
Notes
Lowfat, nonfat, or canned milk can be used in the recipe, but the gravy tastes richer with whole milk.
If it gets too thick, thin gravy by gradually adding more milk until desired consistency is reached. 
Leftover gravy can be stored in the refrigerator, expect it to thicken. Reheat it on the stovetop, adding milk until desired consistency is reached.
If you don't have paprika, you can shake in a drop or two of liquid cayenne pepper. 
Nutrition
Calories:
656
kcal
Carbohydrates:
51
g
Protein:
22
g
Fat:
40
g
Saturated Fat:
12
g
Polyunsaturated Fat:
9
g
Monounsaturated Fat:
16
g
Trans Fat:
1
g
Cholesterol:
71
mg
Sodium:
1470
mg
Potassium:
585
mg
Fiber:
1
g
Sugar:
11
g
Vitamin A:
326
IU
Vitamin C:
1
mg
Calcium:
230
mg
Iron:
4
mg