This flakey homemade quiche crust recipe has only five ingredients plus water. It comes together in minutes and will nicely complement any quiche filling!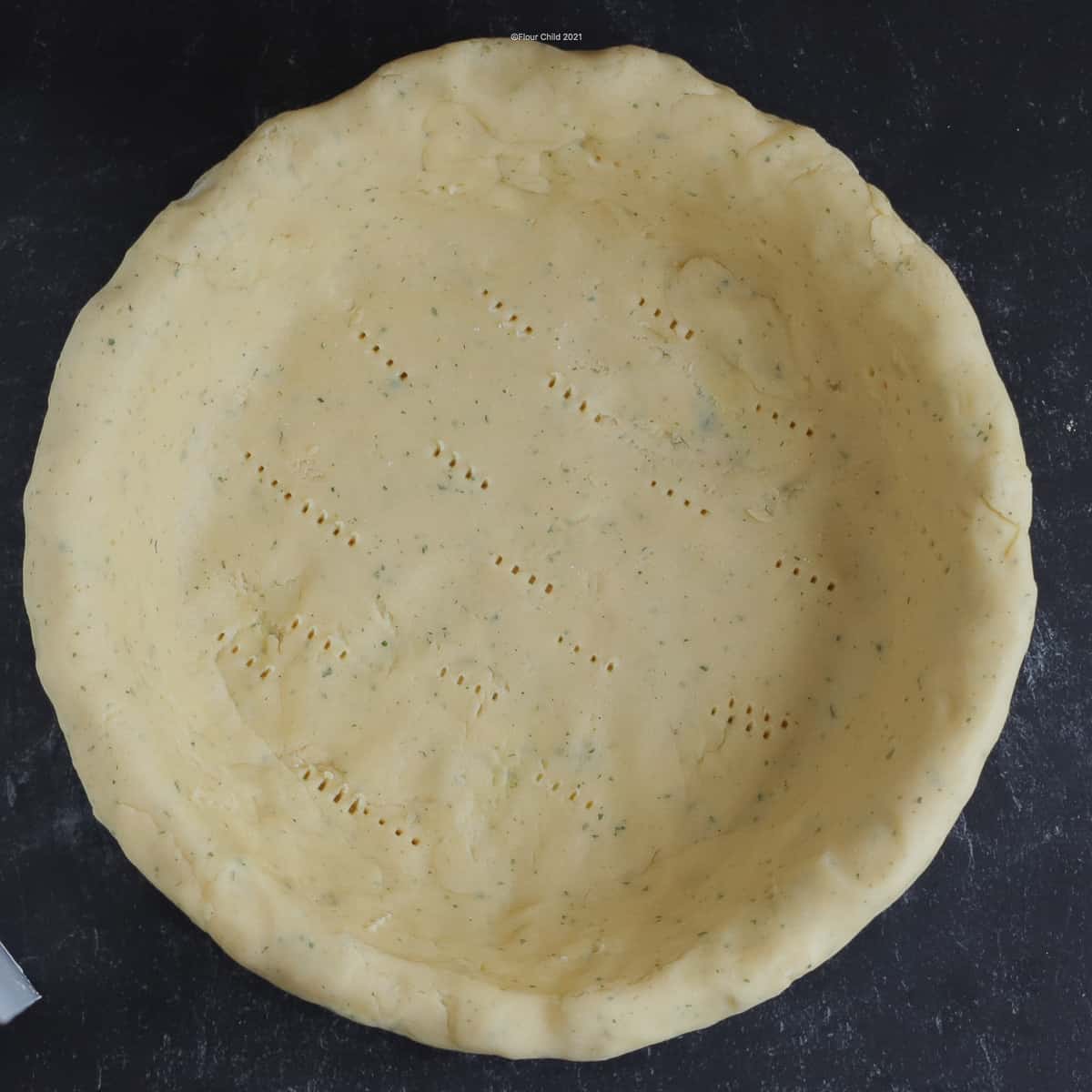 Why Make Your Own Quiche Crust When You Can Buy One?
Cooking from scratch allows you to control the ingredients that go into the foods you eat. I prefer organic ingredients whenever possible. Plus, I try to avoid prepared foods with additives such as preservatives and food dyes. The refrigerated pie crust that I have used in the past contains both of those, so I switched to making my own.
All Crust Recipes Are Not The Same
There are three different types of pie crusts:
A basic pastry crust made primarily of butter, flour, salt, egg and water. Known also by the French term pâte brisée, it is a light and flaky crust that works well with savory dishes like quiche. Our quiche crust recipe falls into this category.
A sweet pastry crust usually made from butter, flour, salt, sugar, and water. Also known by the French term paté sucrée, this type of crust has a cookie-like dough which is typically used for dessert pies and tarts.
A rich, sweet shortbread-like crust made with butter, flour salt sugar, and vanilla. Known in the U.S. as a 1-2-3 dough for containing 1 part fat, 2 parts sugar, 3 parts flour, and alternately by the French term paté sablée. It has a crumbly, sandy texture and is used mainly for fruit tarts.
You will find minor variations of these recipes -- some calling for a particular flour, or lard instead of butter, or different types of sugar. But the flavor outcome will remain consistent, so it's important to choose the crust recipe you use to complement the item you're making. For example, you wouldn't want a sweet, crumbly shortbread crust for a salty, savory dish such as Bacon and Asparagus Quiche or Broccoli & Cheddar Jack Cheese Quiche.
Ingredients for a Flaky, Savory Quiche Crust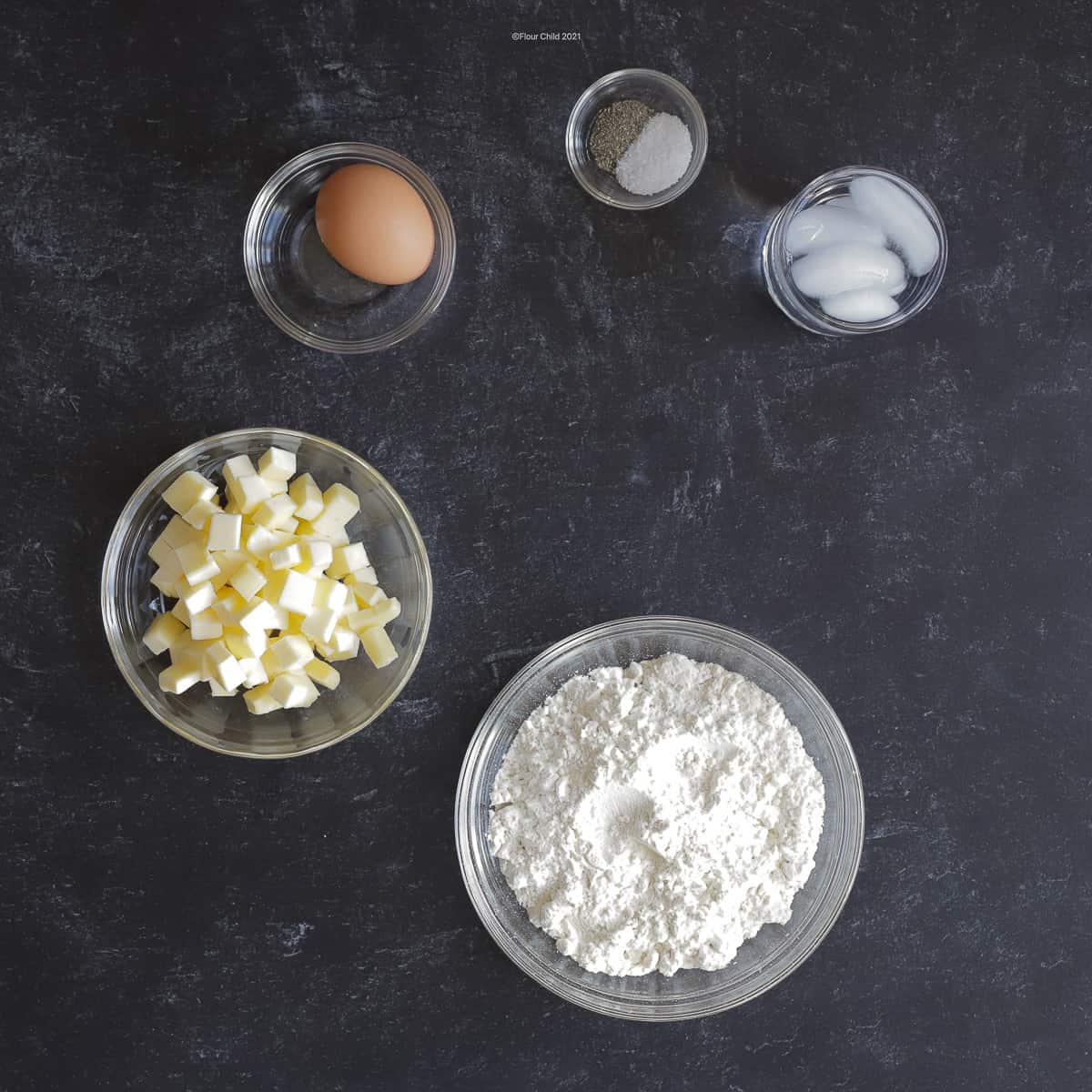 Flour
Butter
Egg
Salt
Parsley
Ice water
I add the parsley because I like the flecks of color it adds to my quiche crust. It won't substantially impact the taste if you would rather not add it.
How To Make Homemade Quiche Crust
Start with your food processor...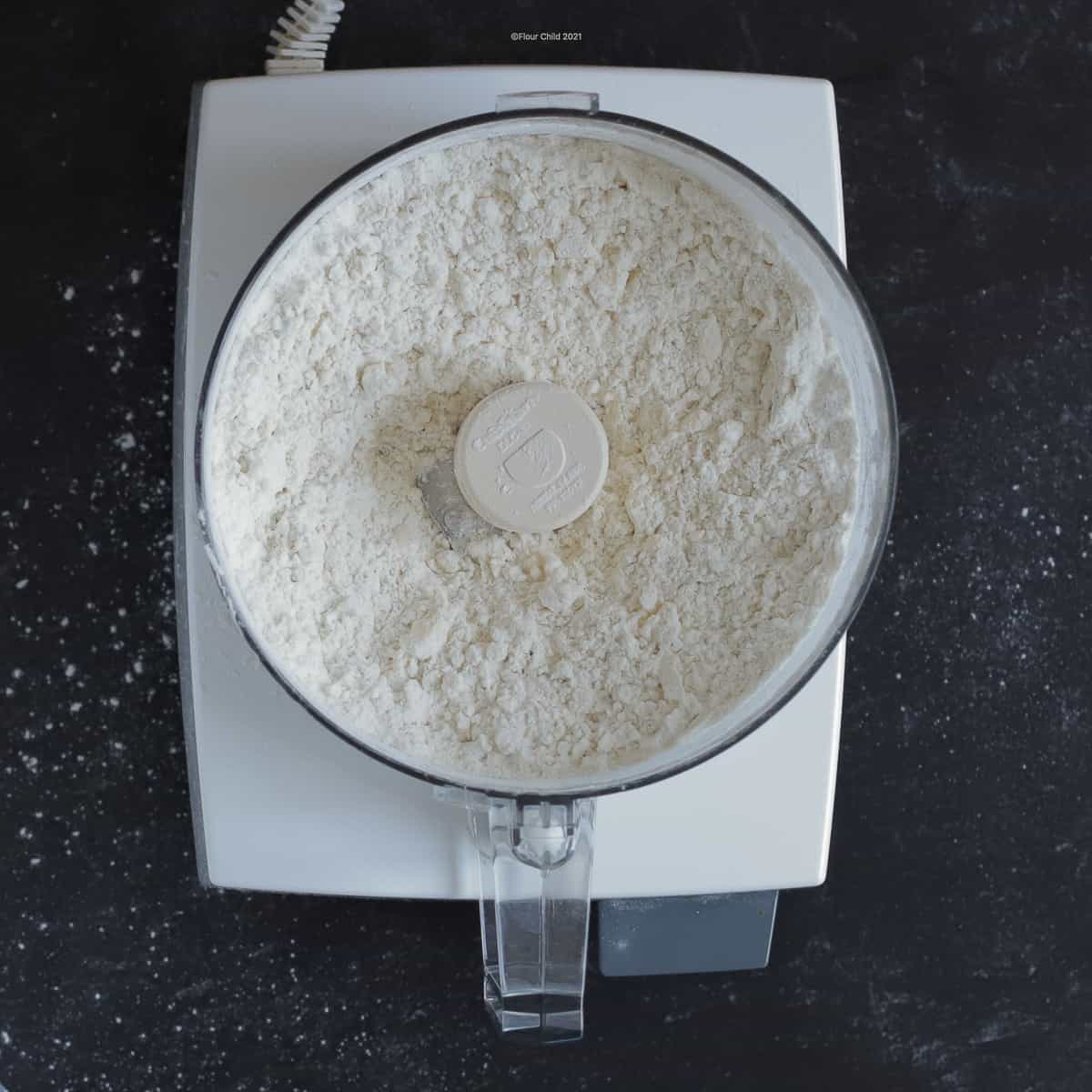 Hints for a Perfect Quiche Crust
Use ice cold butter. You don't want it to soften and mash in with the flour, you want it to be cold enough to form little beads when the butter and flour mix.
Don't overwork the dough. It is not necessary to do heavy kneeding. Simply remove it from the food processor, fold it over on a floured surface a few times, form a disc with it, then roll it out. Too much handling can cause it to become tough, and it will get too warm and tear as you're trying to place it in the pie plate.
Literally use ice water to mix with the eggs. Everything going into this dough should be extremely cold to keep the butter from melting. This will ensure a flaky crust.
Refrigerate the crust for 30 minutes after putting it in the pie pan and before adding the quiche mixture to it. This will prevent the crust edges from shrinking during baking. There is no need to bake this crust prior to adding the egg mixture.
Watch the edge of the pie crust while baking to ensure crust doesn't get too brown. If it's getting too dark, add a pie shield over it.
This crust turns out reliably well, but if it doesn't turn out picture perfect, that's okay! We're not entering it into a beauty contest. It will have a fabulous buttery, flaky homemade taste to complement your quiche, and that's what counts!
If you have a vintage recipe you'd like share with us for possible publication, please scan it and email it to [email protected]. We'd love to hear from you!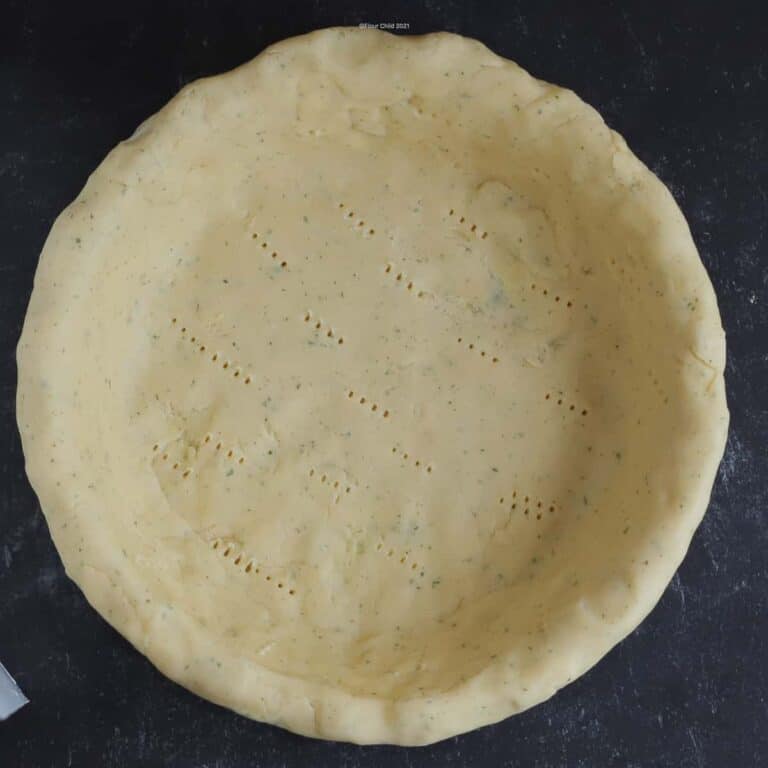 Homemade Quiche Crust Recipe
This flakey homemade quiche crust recipe has only five ingredients plus water. It comes together in minutes and will nicely complement any quiche filling!
Ingredients
1 ½

cups

flour

½

teaspoon

parsley flakes

¼

teaspoon

kosher salt

10

tablespoons

butter

1

large

egg

2 ½

tablespoons

ice water
Instructions
Add flour, parsley, and salt to food processor and pulse a few times to mix and distribute parsley flakes throughout.

Add cubed, cold butter. Pulse a few times until small pebble shapes form. 

Mix egg and cold water together, then pour into flour mixture. Pulse until dough forms.

Remove dough from food processor and roll out on well floured surface to a size that will fit your pie or tart pan.

Gently fold dough in half using floured hands, then lift into your pie plate and carefully arrange inside. Flute edges if desired, and cut excess dough from sides.

Place pie plate with crust in the freezer for 20 minutes while you prepare the quiche.

When quiche mixture is ready, remove crust from freezer and pour inside. Bake according to quiche instructions.
Nutrition
Serving:
0.125
crust
Calories:
220
kcal
Carbohydrates:
18
g
Protein:
3
g
Fat:
15
g
Saturated Fat:
9
g
Polyunsaturated Fat:
1
g
Monounsaturated Fat:
4
g
Trans Fat:
1
g
Cholesterol:
61
mg
Sodium:
207
mg
Potassium:
38
mg
Fiber:
1
g
Sugar:
1
g
Vitamin A:
471
IU
Vitamin C:
1
mg
Calcium:
11
mg
Iron:
1
mg