The thirst-quenching Tom Collins dates from late 18th century England, and may have gotten its name from a popular practical joke of its time in the U.S.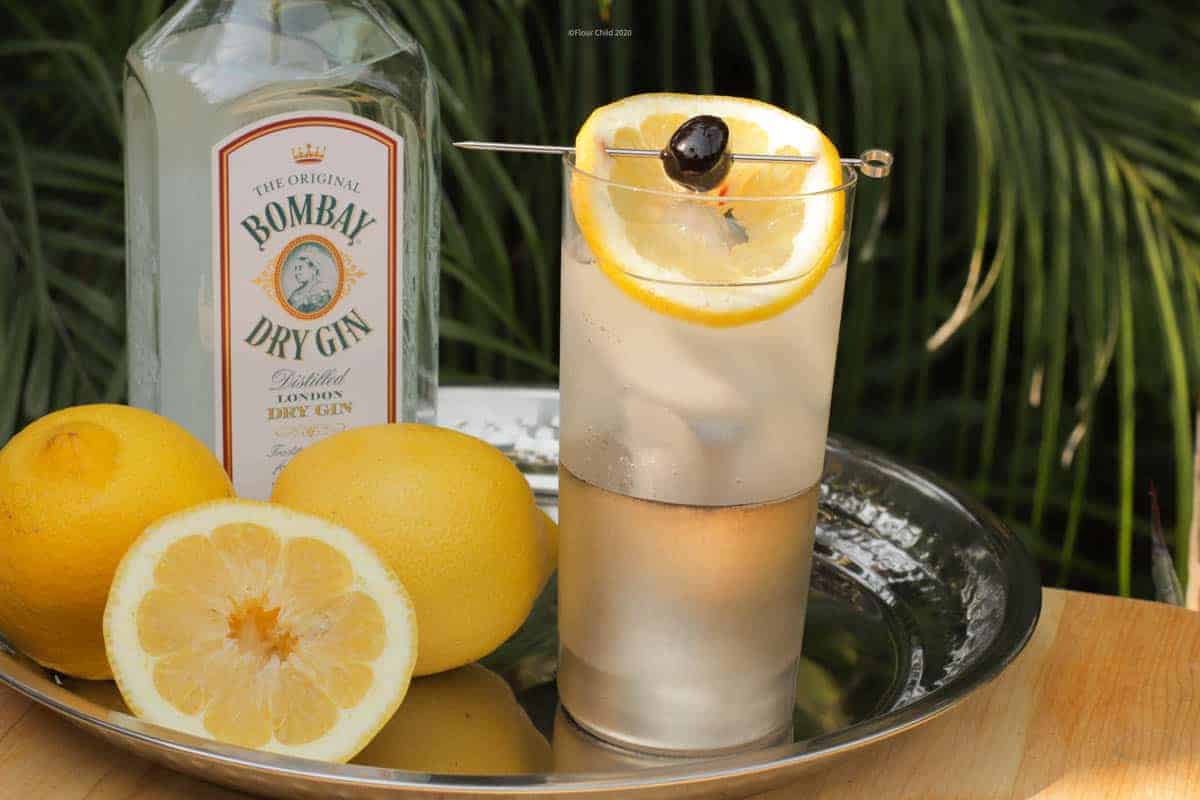 Revenge of the Lemons
If you're a regular reader of my cocktail ramblings, you may remember my lament about the overwhelming number of lemons our tree produces in the spring and early summer. Nancy has been cooking up plenty of lemon recipes and desserts but it barely puts a dent in the number of lemons we get. I've been looking to add more classic lemon cocktails to my repertoire. I'm also looking for ways to beat the heat here in Southern California where temperatures rise into the triple-digits. We are now into late summer and (finally) a drop in lemon production. Now that there are fewer lemons to use, I've gotten more selective on what I use them for.
When it comes to cocktails, there's no better spirit to quench your thirst than gin. And more specifically, a Tom Collins is a great refresher. A friend refers to the Tom Collins as grown up lemonade. It's tart thanks to the lemon juice. The sugar takes some of the bite out of the lemon. It gets bubbly fun from the sparkling water. Lastly, the dry gin does not overpower the ingredients and really compliments the fresh lemons. This is such a popular drink that they named its intended drinking glass after it!
What you'll need
Pucker up! This is one tart drink. To mix it up right you'll need lots of ice and the following:
Dry Gin
Fresh lemon juice
Sparkling water
A note on gins: As you probably know, there are many different types and brands of gins to choose from. I've admitted before that I don't particularly enjoy gin like I do bourbon. However, I recently bought a new brand of gin and it has completely changed my mind. I expanded from the very juniper-y Tanqueray to something a bit more subtle -- Bombay Dry Gin. It is not overpowering and tastes wonderful. I can't wait to make a few more gin-based cocktails now!
Tips for a successful Tom Collins
It's hard to go wrong with this easy-to-make classic, but keep a couple of tips in mind to really land this one:
I've always read that you should use ¾ oz of lemon juice, but every time I've made it with that much lemon juice, it's been too tart. I've learned to back that down to ½ oz of lemon juice.
Use a quality dry gin like Bombay that complements and doesn't flood the taste with too many botanicals.
About the glass
This drink should be served in a Collins glass which is a tall, narrow glass approximately 2 ½" wide and more than 5" tall. However, you needn't be constrained by tradition. Feel free to experiment and see what works best for you. A friend serves these in mason jars stuffed with ice and topped with lemon slices and they taste great!
I was excited to use a glass I recently acquired for my collection which is a mid century Dorothy Thorpe glass. Her signature was a painted silver band on the glasses. You may recognize her hand painted glasses from the TV series Mad Men.
So have fun and keep cool with the Tom Collins.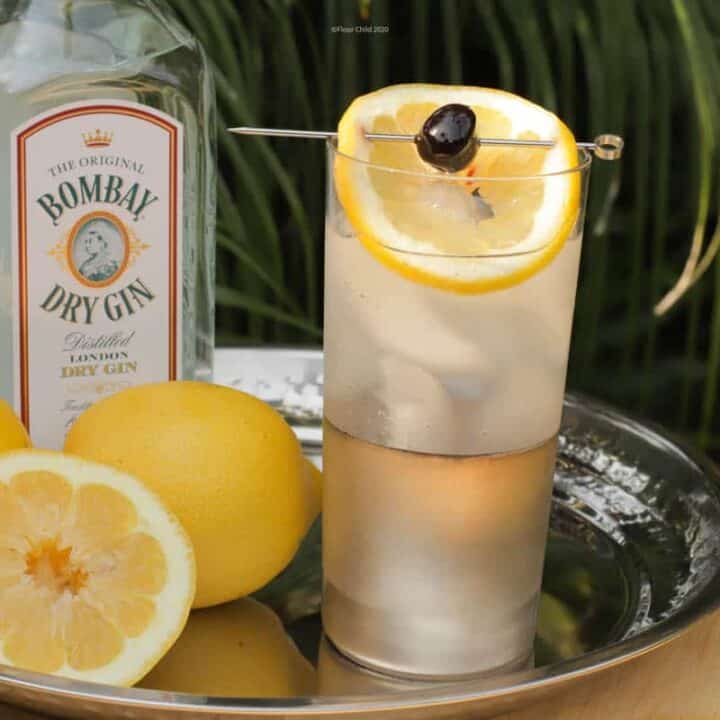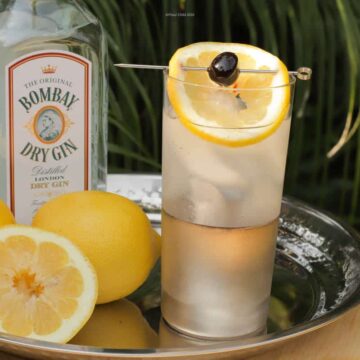 The Tom Collins is a summertime grownup Lemonade
This classic cocktail is perfect to cool off with on a hot summer day. The dry gin quenches your thirst and the lemons give it a perfect tart taste.
Ingredients
2

oz

Dry Gin

½

oz

fresh squeezed lemon juice

¾ to 1

oz

simple syrup to taste

Sparkling water
Instructions
Prepare a Collins glass by placing it in the freezer an hour ahead of time to chill.

Combine gin, lemon juice, simple syrup into a cocktail shaker with plenty of ice

Shake well and strain into a Collins glass filled with fresh ice

Pour soda water to taste or to fill the glass

Garnish with lemon slice and a Luxardo cherry
Notes
  You can use more fresh lemon juice if you like more tartness
  Experiment with different types of gin such as Old Tom
Nutrition
Calories:
191
kcal
Carbohydrates:
17
g
Protein:
1
g
Fat:
1
g
Saturated Fat:
1
g
Sodium:
13
mg
Potassium:
29
mg
Fiber:
1
g
Sugar:
16
g
Vitamin A:
1
IU
Vitamin C:
5
mg
Calcium:
4
mg
Iron:
1
mg