The simple screwdriver cocktail is a classic brunch staple, and makes a refreshing evening drink as well.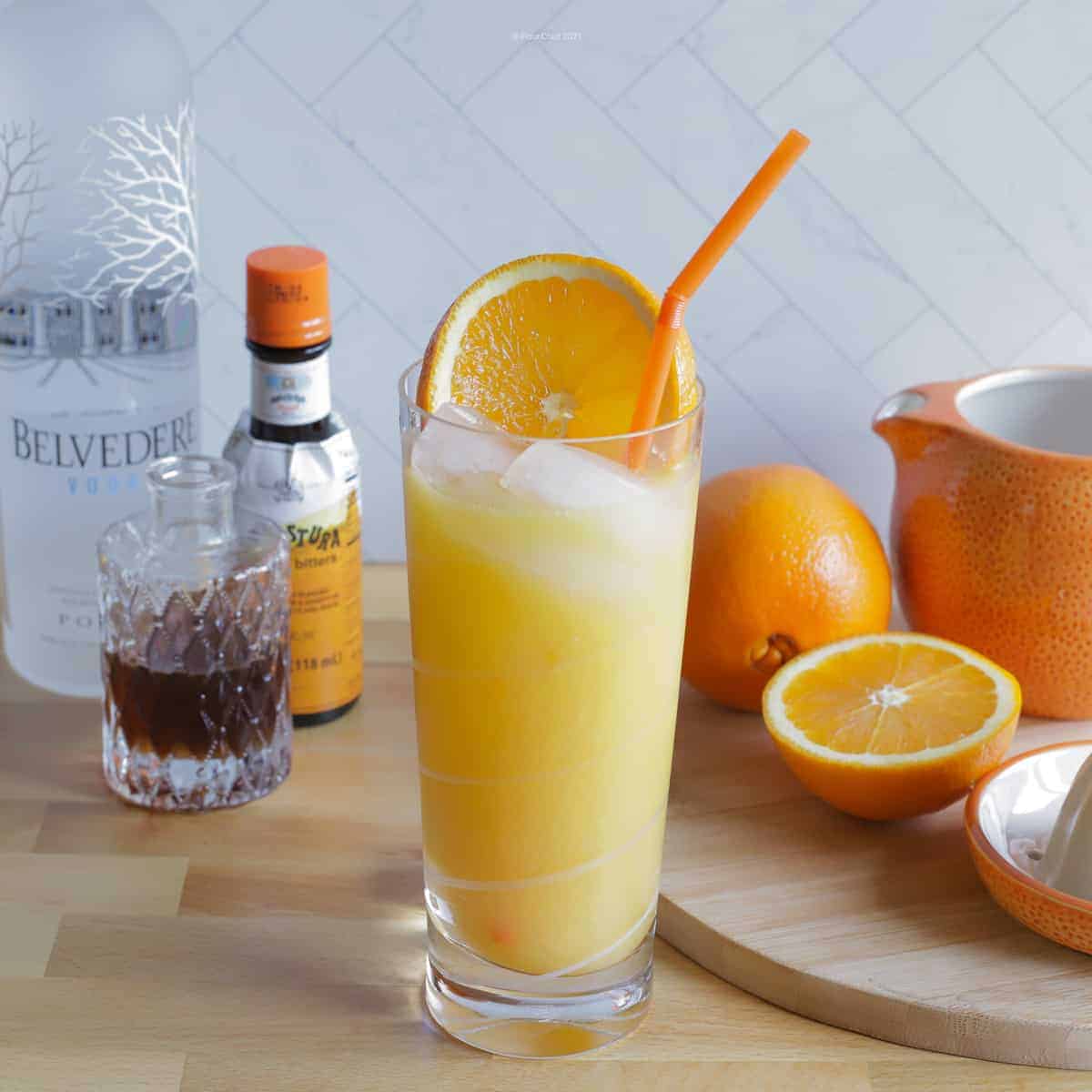 The Original Screwdriver Recipe
A simple cocktail made only of orange juice and vodka, the screwdriver was a mid century favorite. Like many vodka drinks, the screwdriver soared in popularity in the 1960's as Americans moved away from gin, and like their favorite spy James Bond, embraced vodka. It became a popular Sunday brunch cocktail in the 1970's, and still remains on brunch menus with the ever-fashionable champagne Mimosa.
Origin of the Screwdriver Cocktail
How did the screwdriver originate? One story is that it was invented by American oil well workers in the Persian Gulf who snuck vodka into their juice. Another tale attributes it to Marines sneaking a splash into their orange juice during WWII. Yet another legend from Time magazine in 1949 says it was served to Turkish spies, Balkan refugees and American engineers at the Park Hotel in Turkey. No one is really certain, but I like to believe the version where inventive, thirsty American oil well workers discretely added a kick to their fruit juice while working in the hot sun. Not having a spoon handy, they just grabbed a screwdriver to mix it up! Sounds entirely plausible to me.
Ingredients for a delicious Screwdriver Cocktail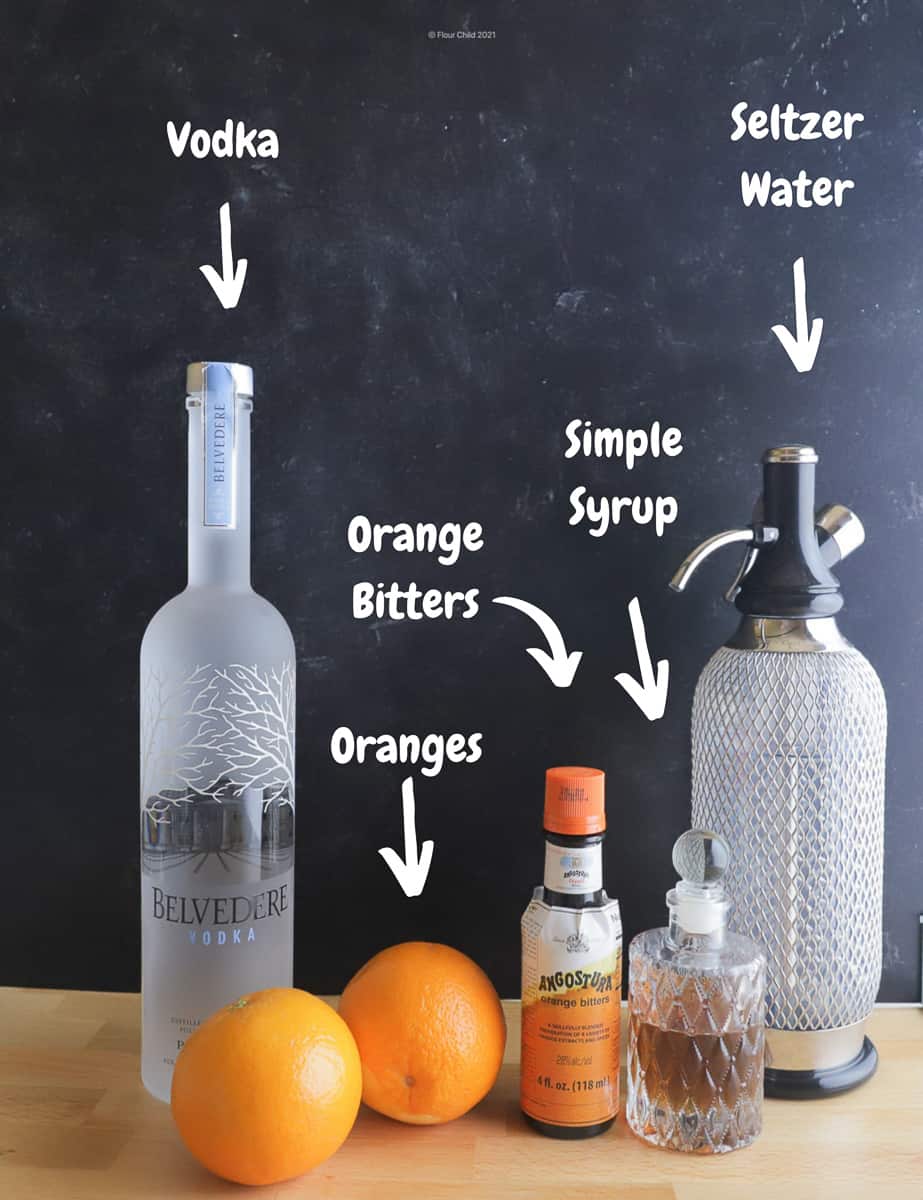 This is an easy drink to whip up since it is a duo cocktail, meaning only two ingredients. But you can still make a few improvements if you like. The base ingredients for a screwdriver drink recipe are:
Vodka
Fresh-squeezed orange juice
Enhancements to the classic screwdriver cocktail can include:
Orange bitters
Seltzer water
Bar Tools Needed to mix a Screwdriver
This cocktail doesn't require anything fancy to mix. Just use these basic tools:
Jigger
Bar spoon
Orange juicer (optional)
How to make it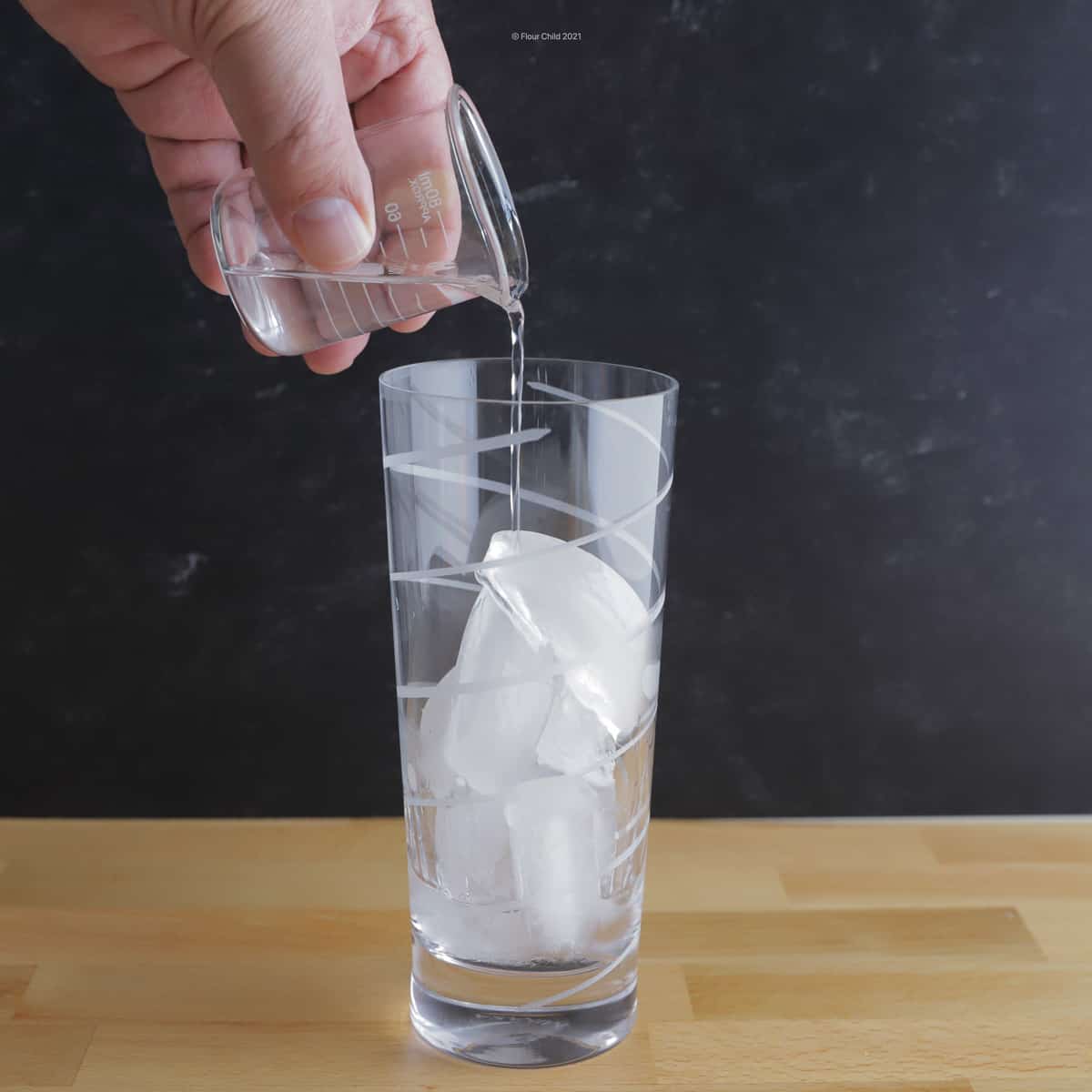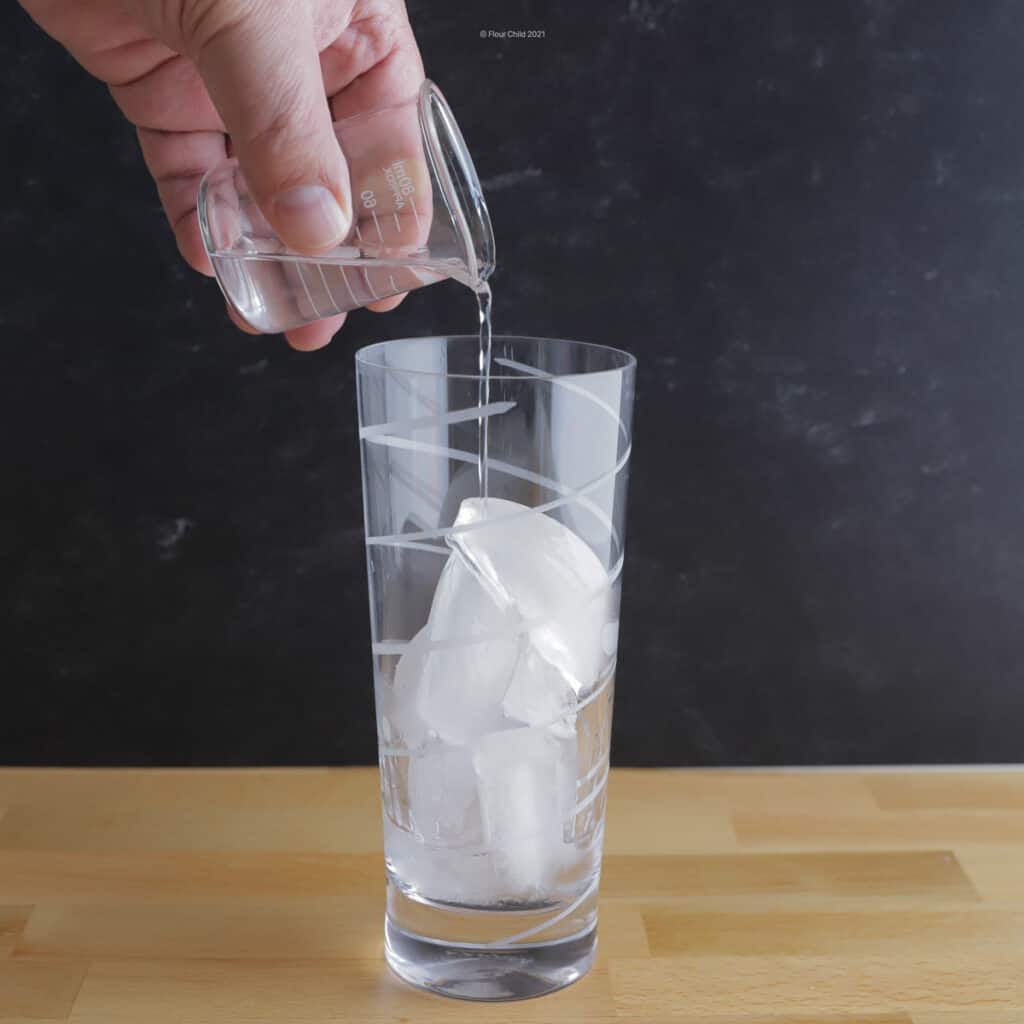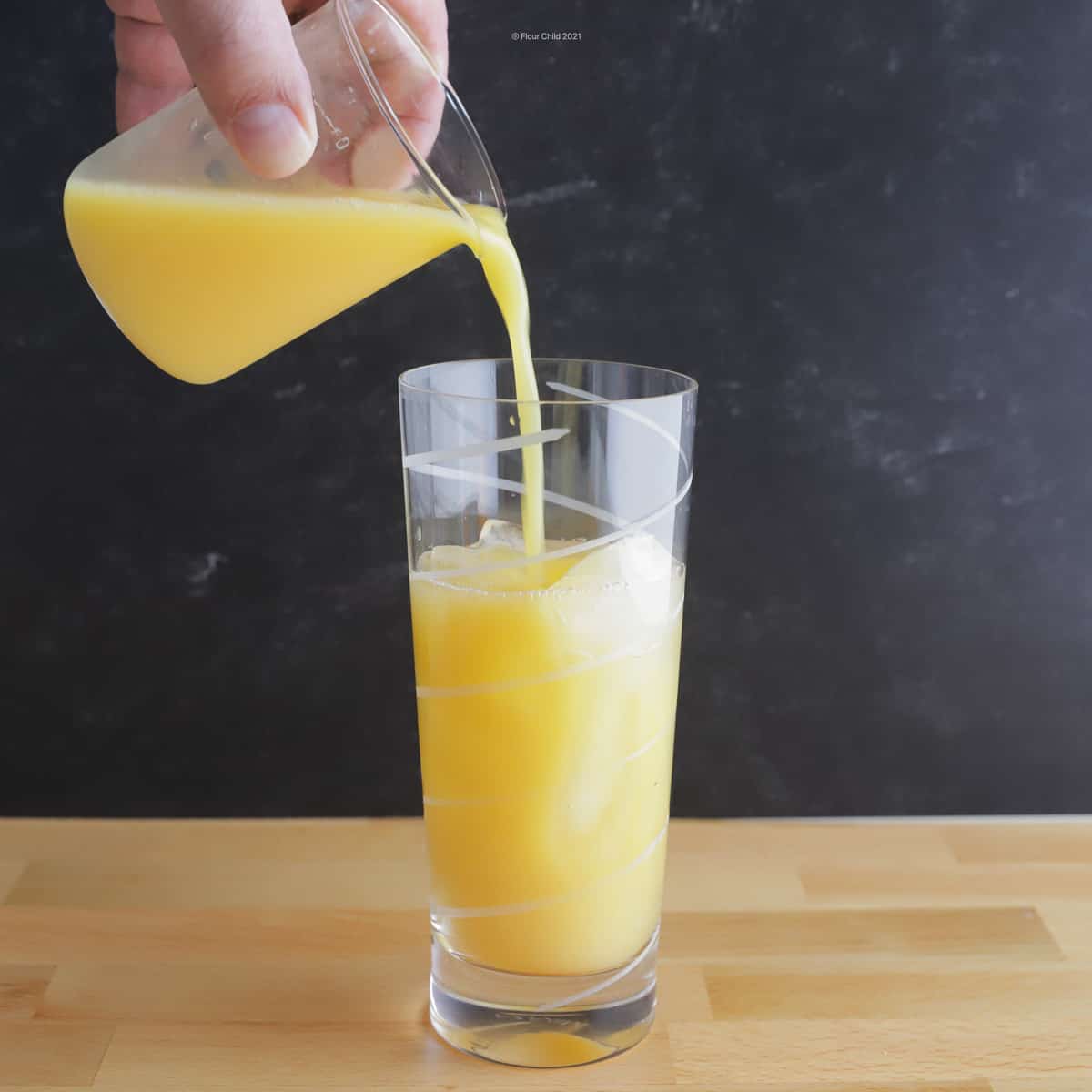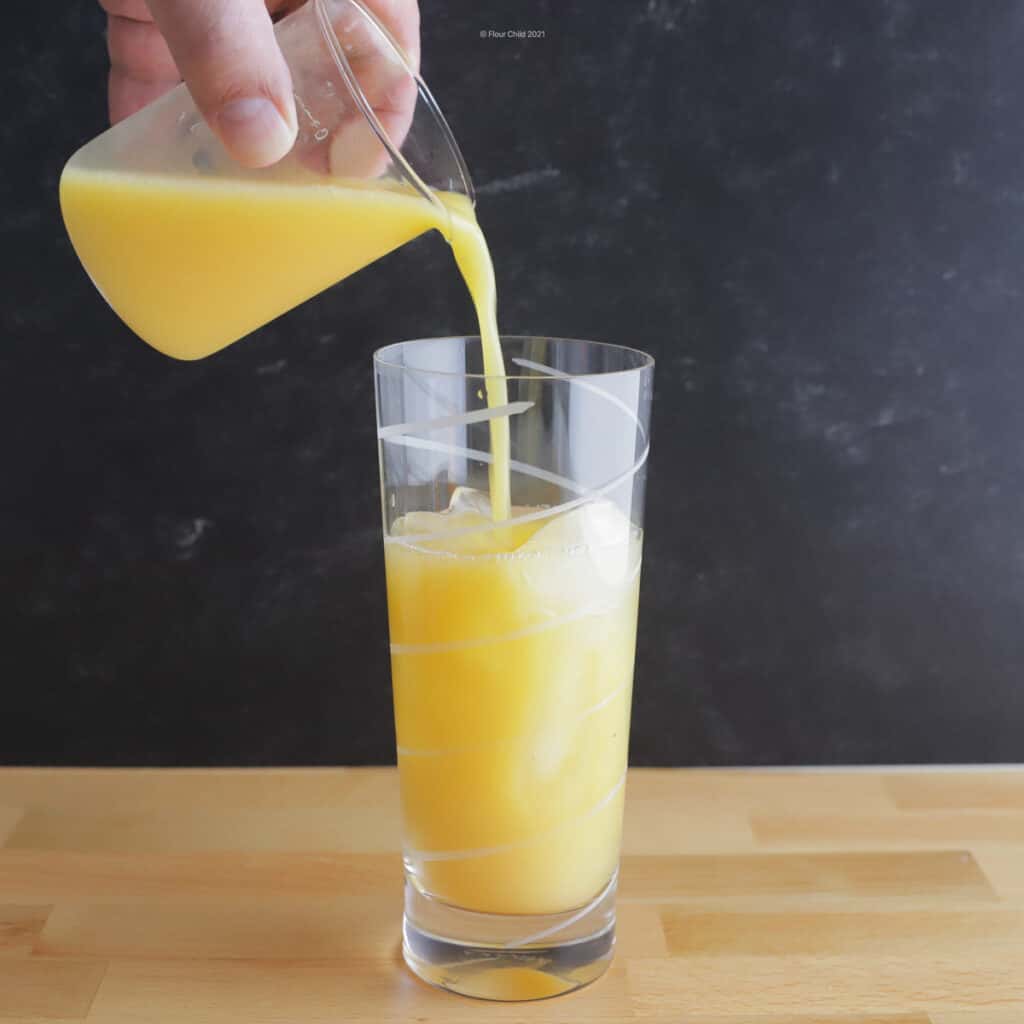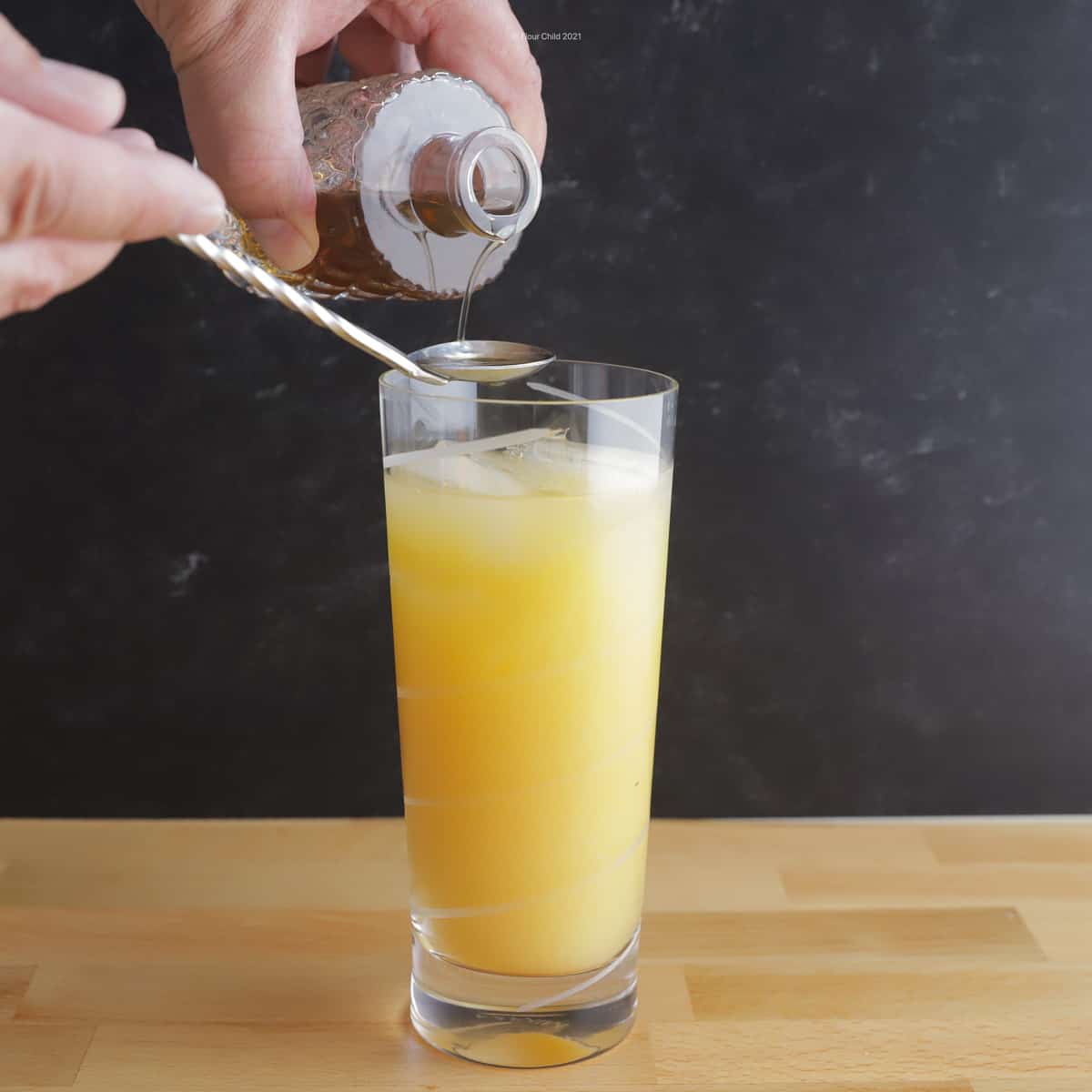 How to serve it
I like to serve my Screwdriver cocktails in a tall glass with plenty of room for ice. I usually use a Collins glass. But really, anything will do--even a champagne flute!
Tips for Making a Screwdriver
Even though this cocktail is essentially vodka and orange juice, keep these things in mind to mix an extra delicious and refreshing drink:
Use only a premium vodka (such as Grey Goose or Belvedere) so that you don't make a 'medicine-y' tasting drink.
Fresh-squeeze oranges at home for a really fresh, sweet drink. If you prefer to buy it, for the best taste stick with a carton of fresh juice rather than frozen, and try to find an organic juice with a little pulp and very little sugar and other additives.
Add a little simple syrup to smooth out the orange juice if it's too tart. It also mellows the taste of a strong vodka.
Include a spritz of carbonated soda water for a little bit of fizz. I like to pull out my iSi Sodamaker Classic for such an occasion.
For a spicy, aromatic element to your drink, add a few dashes of orange bitters.
Frequently Asked Questions
Can you use other alcohol instead of vodka?
Yes, you can use gin instead of vodka, but then it is technically no longer a screwdriver and becomes an orange blossom cocktail.
Can you use a different fruit juice to make a screwdriver?
The choice is yours! You can use grapefruit juice and vodka, but that drink is called a greyhound cocktail. There are many variations of fruit juice you can choose, but it's no longer called a screwdriver. Mix away to your hearts content!
When do you like to enjoy a Screwdriver? Just for brunch, or evenings, too?
Before you go, did you try this cocktail? Why not leave a comment in the Comments section along with a rating? I always appreciate hearing from you and getting your feedback.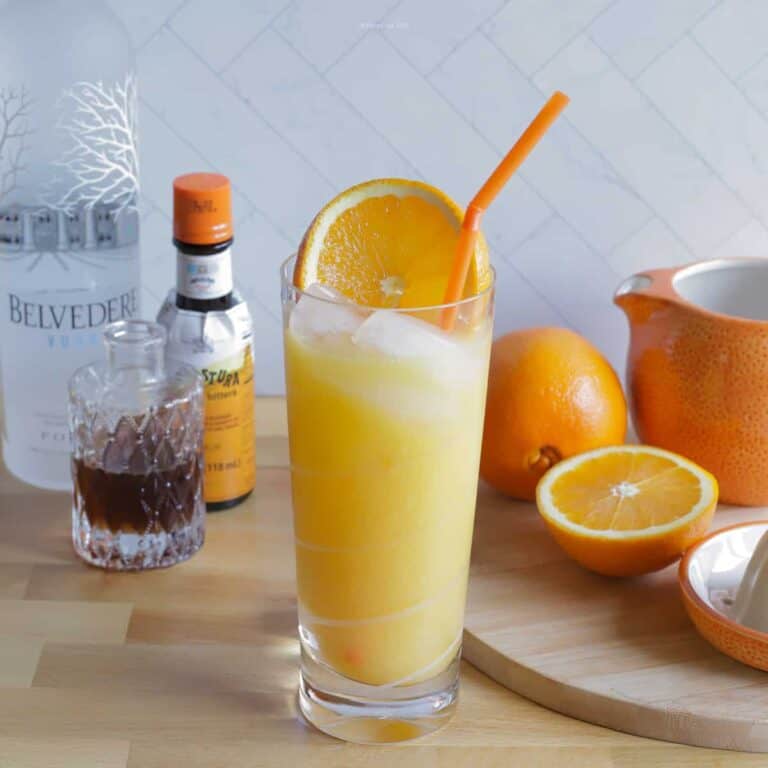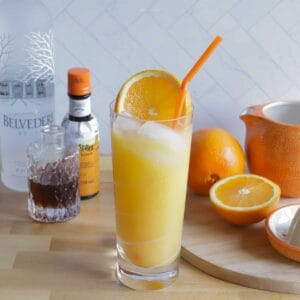 The Original Screwdriver Drink Recipe
The sweet and tasty classic Screwdriver cocktail is a brunch must-have! 
Ingredients
2

ounces

vodka

4-6

ounces

fresh-squeezed orange juice

2

bar spoons

simple syrup

optional

3-4

dashes

orange bitters

optional

spritz of seltzer water

optional
Instructions
Add a scoop of fresh ice to a highball cocktail glass.

Pour in the vodka and orange juice.

Stir the ingredients with a bar spoon to mix well.

Add a couple of dashes of orange bitters.

Add a couple of bar spoons of simple syrup and stir again.

Lastly, give a spritz from a seltzer bottle or pour some club soda into the drink to give it a little sparkle.
Notes
If you don't want to squeeze the oranges yourself you can use a store-bought brand, but pick one that is low in sugar and features some pulp for an authentic taste.
You can muddle some orange peel in the cocktail glass for an extra-intense taste.
Nutrition
Calories:
215
kcal
Carbohydrates:
18
g
Protein:
1
g
Fat:
1
g
Saturated Fat:
1
g
Polyunsaturated Fat:
1
g
Monounsaturated Fat:
1
g
Sodium:
6
mg
Potassium:
232
mg
Fiber:
1
g
Sugar:
15
g
Vitamin A:
227
IU
Vitamin C:
57
mg
Calcium:
13
mg
Iron:
1
mg