The smooth classic Manhattan cocktail may have originated in New York, but it is a world-famous rat pack favorite that everyone should know how to make.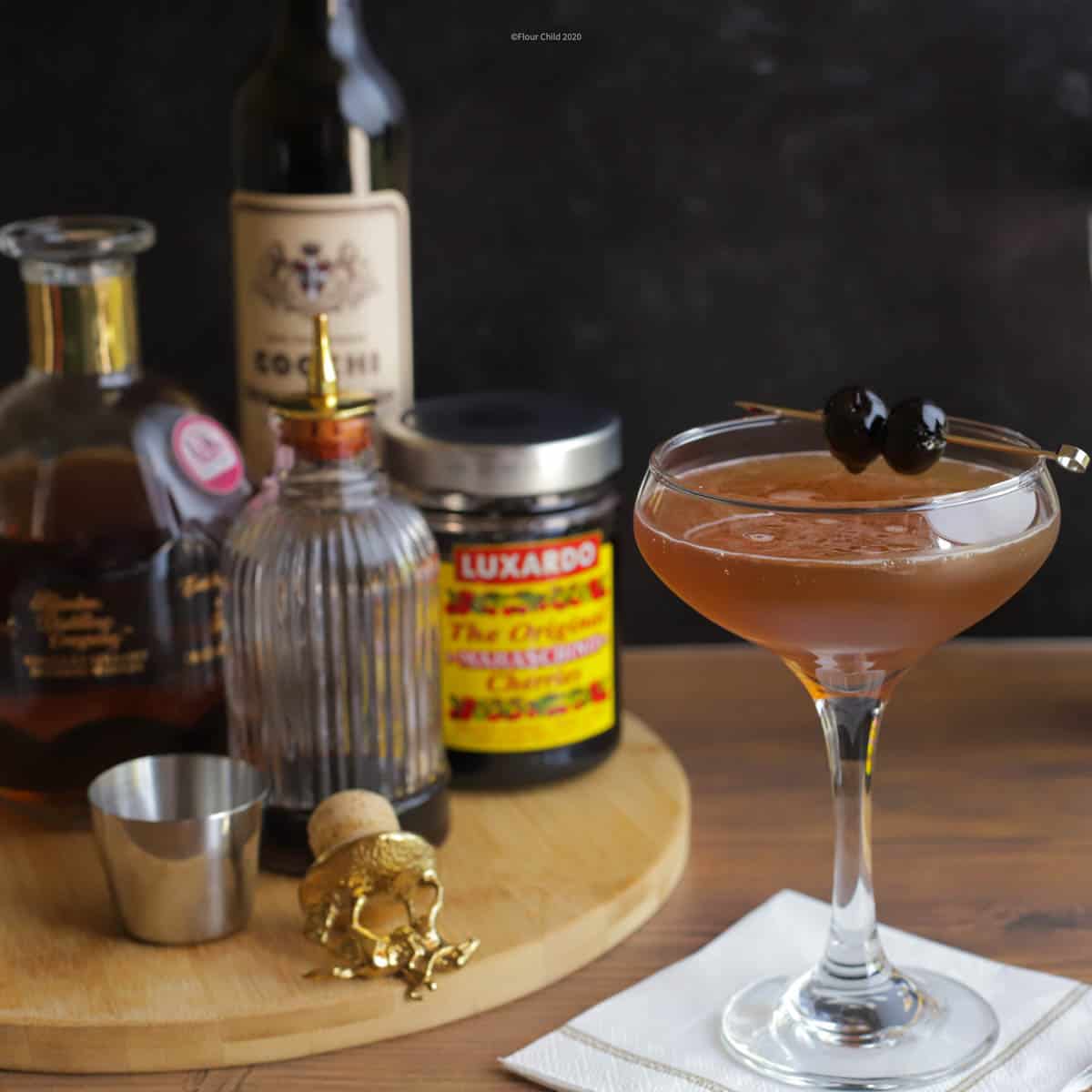 A smooth classic cocktail that is an original
When you think of mid century cocktails and sipping drinks in a dark room thick with cigarette smoke, usually the first cocktail that comes to mind is the smooth classic Manhattan. That's because it is a very approachable and versatile cocktail that is not complicated to make. It can have many fun variations to suit your taste or the occasion.
Different from many vintage cocktails, the basic ingredients for a Manhattan haven't really changed much since its beginnings. That's good, because sometimes when making a recipe you'll notice that an ingredient or a particular brand are no longer available, and there may not be a substitute. We are fortunate that our choices today are much improved over what the mad men had available to them. There are many wonderful bourbons and delicious vermouths from all over the globe. Trying them is half the fun.
A long time ago in the Empire City...
The drink's origins are a little murky. It seems to have been invented in the New York area in the mid 1800's, hence it's name. See? It really is a mid-century cocktail—just not the correct century! There are tales of it being created to celebrate a dinner for Winston Churchill's mother. Unfortunately, that appears to be just a myth. There are also debates about whether to use Rye or Bourbon whiskey—as if we need more things to divide us!
My family history with this smooth classic drink
This drink hit my radar because it was the drink of choice for my father-in-law. Pretty much every evening in the summer if he was feeling particularly jaunty he'd mix up a small batch. I remember them as strong and spicy, with a neon red cherry or two in the bottom of the tumbler. I've made it a habit to drink one of these when I'm out at a work dinner, and silently toast my father-in-law. It has become my go-to cocktail.
When I started getting more serious about my mixology, I experimented with different whiskey types, brands and even 'non-regulation' ingredients. I've also been lucky in that a few talented bartenders filled me in on their tips and tricks.
What you'll need
One of the reasons the Manhattan is such a favorite cocktail lies in the blending of a small number of ingredients in just the right amounts.
Whiskey--I prefer bourbon but you can use rye
Vermouth
Bitters
Luxardo Cherries
Have fun with all the variations
I've made Manhattans using both rye and bourbon, but I've settled on bourbon because, to my taste, it makes for a more smooth sipping cocktail without the spice or bite that a rye can have. Speaking of bourbon, I've come to realize a few things about my taste that influences how I make cocktails. I like a sweeter Bourbon or a 'wheated' Bourbon. That just means that the mash contains wheat as the second ingredient instead of rye—in addition to the main event, corn. It usually has a sweet taste and is a more mellow sipping bourbon that you can drink neat. I prefer Weller Special Reserve or the surprisingly affordable Larceny Small Batch as my go-to bourbons. I found the Blanton's Gold bourbon a couple of years ago. It was produced for export to the UK market, and that one is also good to use.
We are lucky to have access to so many different vermouths today. Back in the day people just used that Martini & Rossi Italian vermouth in the ubiquitous green bottle and didn't give it another thought. I prefer to make mine with Cocchi Vermouth from Torino, Italy. It's been around since 1891 so it has stood the test of time and is delicious to sip all by itself. For a twist, I will also use Dubonnet from France for a very sweet cocktail.
When it comes to bitters, I use the tried and true Angostura bitters. The only thing I'll note here is that it is worth your time to buy a fresh bottle right now. If you have the same stained yellow-capped bottle that's been there since about the 50's, it's time for a new bottle! Some people really enjoy substituting an Amaro such as Fernet-Branca, but I find it changes the cocktail's taste a bit too much for me.
One note about the glass to serve it in. I've seen many places serve it in a cocktail glass, but I've always preferred to drink this in a coupe glass. Because it is a stemmed glass, my hand doesn't warm it up and the broad bowl lets me enjoy the smell of the drink.
Lastly, the garnish. Back in the old days people just used the pinkish-red cocktail cherries because that's all they had. Treat yourself to a real candied Maraschino cherry such as Luxardo brand. Pricey but you don't go through them that fast and they're worth it. Plus, it's not the worst thing in the world if you get a little extra juice with it in the cocktail—it's that good!
Tips for success
This cocktail is a classic that you can have fun updating but keep these tips in mind to stay on solid footing:
Use quality whiskey--something you wouldn't drink neat is something you shouldn't mix with either
Find a craft vermouth that you like rather than just the obvious choices at the supermarket
Skip the candied neon cherries and go with something that speaks to 'class'
For the best tasting drink remember: If you wouldn't drink it or eat it by itself, don't mix with it, either.
So enough with the chatter, let's get to the directions for making this smooth classic cocktail.
Print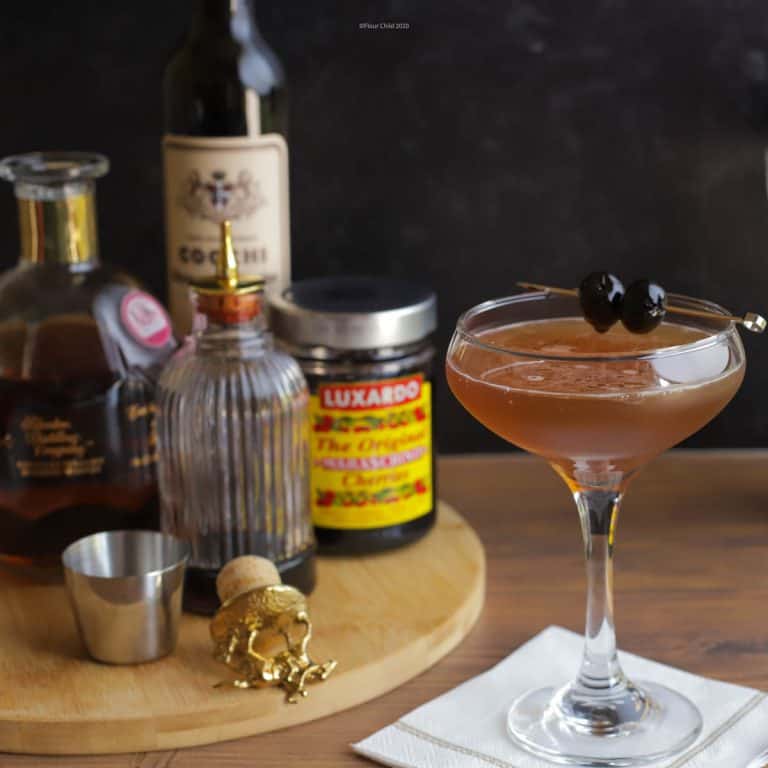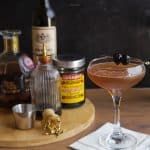 Manhattan Cocktail
Author:

Kevin Mayfield

Prep Time:

7 Minutes

Total Time:

7 Minutes

Yield:

1

Serving

1

x

Category:

Cocktails
---
Description
A tried and true classic cocktail that came into it's own during the mid-century era.
---
2 oz bourbon
1 oz vermouth
3 dashes bitters
1-2 maraschino cherries
---
Instructions
Fill your cocktail mixer with a couple of generous scoops of crushed ice.
Pour in the bourbon and vermouth.
Mix thoroughly with a long handled bar spoon.
Using a bar strainer, pour into either a rocks glass or coupe glass.
---
Notes
A nice variation is an ounce and a half of bourbon and a half ounce of cognac rather than 2 full ounces of bourbon.
Feel free to try other bitters such as black walnut or orange. One substitution can change the whole vibe of the drink. It may not technically be a "Manhattan," but that's okay!
Keywords: Mid century cocktails, rat pack cocktails, madmen cocktails, 1960's cocktails, 1950's cocktails, cocktail party