This classic Manhattan recipe originated in New York, but it is a world-famous rat pack favorite. Everyone should know how to make a Manhattan cocktail.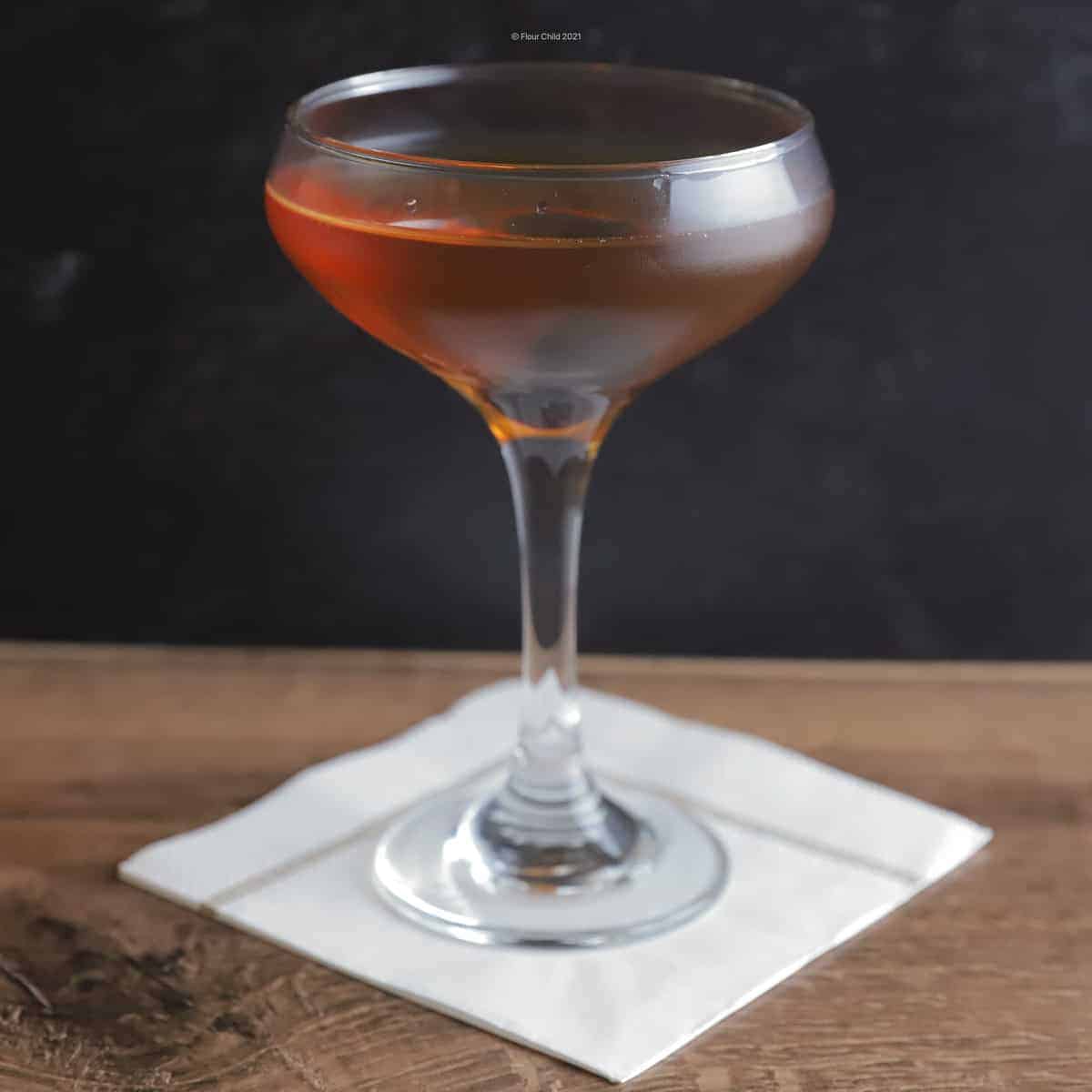 A Smooth Classic Cocktail
Different from many vintage cocktails, the basic ingredients for a Manhattan haven't really changed much since its beginnings. It is a favorite cocktail that has stood the test of time. It is mentioned in books and television shows, and is seen in the mid-century classic movie Some Like it Hot. Even Marylin Monroe knew to make it using Bourbon rather than rye whiskey!
Is it Really From Manhattan?
The drink's origins are a little murky. It seems to have been invented at a club in the New York area in the mid 1800's, hence its name. It really is a mid-century cocktail—just a different century! There are tales of it being created to celebrate a dinner for Winston Churchill's mother. Unfortunately, that appears to be just a myth, since records show she was in Paris at the time.
Ingredients Needed to Make a Manhattan Cocktail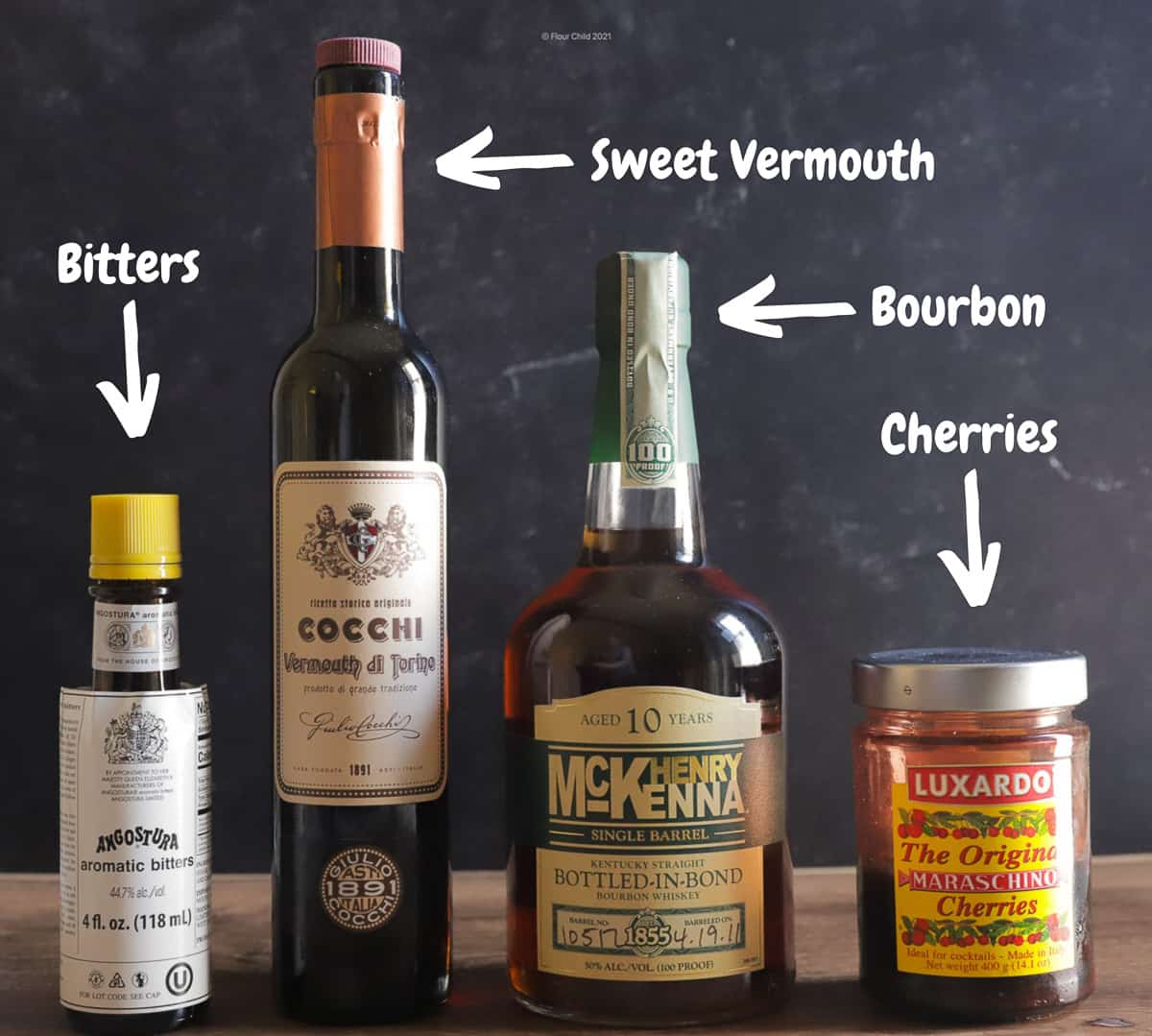 One of the reasons the Manhattan is such a long-time favorite cocktail is that it uses just these 3 ingredients in the right amounts:
Whiskey--I prefer Bourbon, but you can use rye
Sweet Vermouth
Bitters
Of course, no Manhattan is complete without the cherries for garnish.
What is the Best Bourbon for a Manhattan?
The good folks at Heaven Hill Distillery make a couple of my favorites, such as McKenna Single Barrel or the surprisingly affordable Larceny Small Batch. If I'm mixing drinks for a group, I always reach for Maker's Mark Bourbon.
What is the Best Vermouth for a Manhattan?
I prefer to make mine with Cocchi Vermouth from Torino, Italy. It's been around since 1891 so it has stood the test of time, and it's delicious to sip all by itself.
What are the Best Bitters for a Manhattan?
When it comes to bitters, I use the tried and true Angostura Bitters. The company has an amazing history and it truly is the standard. The only thing I'll note here is that it is worth your time to buy a fresh bottle right now. If you have the same stained yellow-capped bottle that's been in your bar since about the 50's, it's time for a fresh new bottle!
There's Really Only One Brand of Cherries to Use--Luxardo!
Lastly, the garnish. Back in the old days people just used the pinkish-red cocktail cherries because that's all they had. Treat yourself to a real candied Maraschino cherry such as Luxardo brand. Pricey, but you don't go through them very fast and they're worth it. Plus, it's not the worst thing in the world if you spill a little extra juice in the cocktail—it's that good!
Bar Tools Needed
This classic cocktail stays popular because it is so easy to make. It doesn't 'require' any special tools, but here are a few basics your bar most likely already has that will make a good drink every time out:
Mixing glass
Jigger
Bar spoon
Strainer
How to Make a Classic Manhattan Cocktail using Bourbon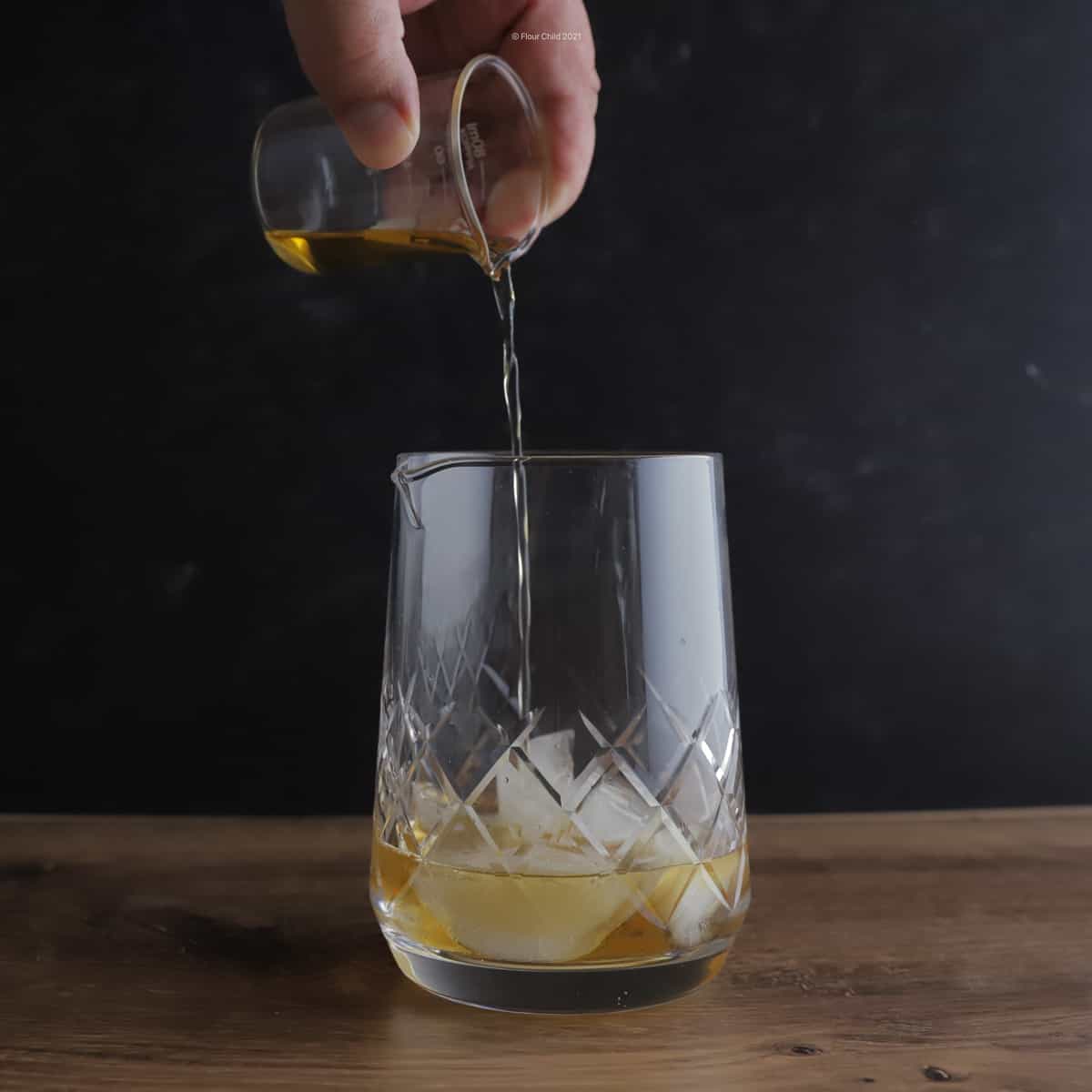 How to Serve this Cocktail
A note about the glass for a Manhattan. I've seen many places serve it in a cocktail glass, but I've always preferred to drink this in a coupe glass. Because it is a stemmed glass, my hand doesn't warm it up and the broad bowl lets me enjoy the smell of the drink and really engage my senses.
Tips for Success
Keep these tips in mind to make a simple classic without going off course:
Use quality Bourbon -- If it's something you wouldn't drink neat, you shouldn't mix with it.
Choose a craft vermouth that you like, rather than just the obvious choices at the supermarket.
For the best tasting drink remember: If you wouldn't drink it by itself, don't mix with it, either.
Variations
It's always fun to play around with the ingredients of a cocktail. I've been known to use different bitters occasionally. But when you change out the base spirits in the drink, it becomes something completely different, often with a different name. These variations are examples of modifications to the Manhattan that have stuck around.
Rob Roy
This is another classic that deserves its own story one day. Substitute Scotch for the Bourbon.
Rye Manhattan
We've touched on this already, but simply substitute Rye whiskey for the Bourbon.
Black Manhattan
This is a relatively new twist on the Manhattan that uses orange bitters and Italian Averna Amaro instead of vermouth.
Perfect Manhattan
This adaption mixes sweet and dry vermouth in a 50/50 combination rather than just sweet vermouth.
Frequently Asked Questions
What's the difference between a Manhattan and an Old Fashioned
These are two classic whiskey drinks. The main difference is that the Manhattan uses a sweet vermouth, whereas the old fashioned gets its sweetness from sugar cubes.
Should a Manhattan be made with Rye or Bourbon?
For me this is a matter of personal preference. I tend to enjoy the smoothness that Bourbon brings to a cocktail. Others enjoy the spicy flavor that a rye adds. My go-to guide for drink mixing is Jacques Straub's Drinks book from 1914. He simply states 'Whiskey' as the third ingredient. So it's up to you to decide which you prefer.
How should you drink a Manhattan?
Most people prefer a Manhattan 'straight up' in a cocktail glass or coupe. This is because the drink is already chilled when it is mixed with ice. However, some people do like to drink it over ice and served in a rocks glass.
So enough with the chatter, let's get to the directions for making this smooth classic cocktail.
Before you go, did you try this cocktail? Why not leave a comment in the Comments section along with a rating? I always appreciate hearing from you and getting your feedback.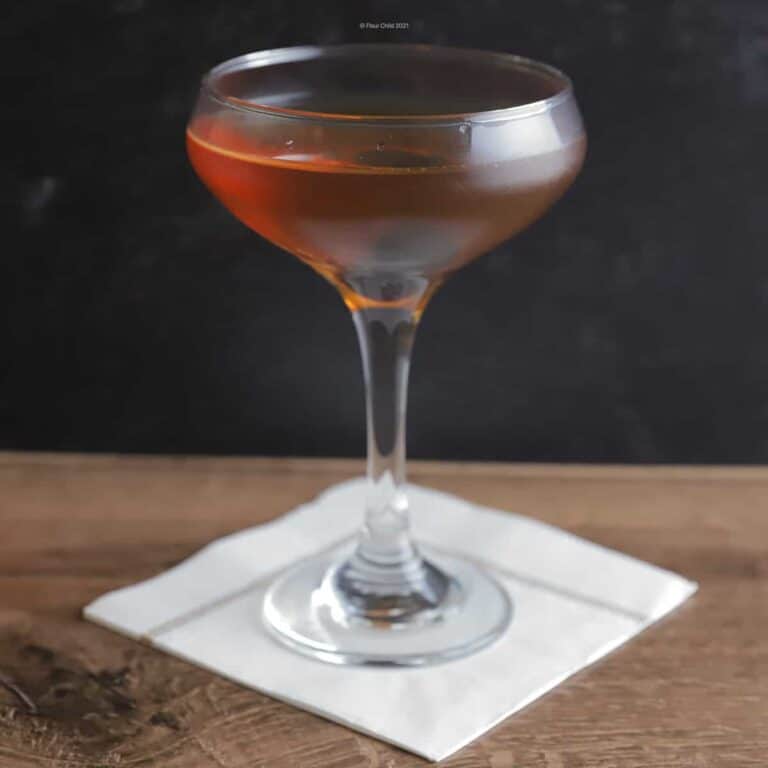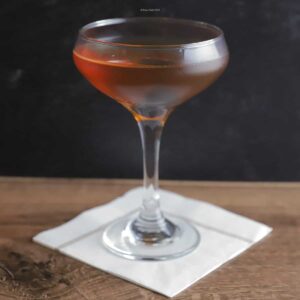 Manhattan Cocktail
A tried and true classic cocktail that came into it's own during the mid-century era.
Ingredients
2

oz

Bourbon

1

oz

vermouth

3

dashes

bitters

1-2

maraschino cherries
Instructions
Fill your cocktail mixer with a couple of generous scoops of crushed ice.

Pour in the bourbon and vermouth.

Add the dashes of bitters.

Mix thoroughly with a long handled bar spoon.

Using a bar strainer, pour into a coupe glass.
Notes
A nice variation is an ounce and a half of Bourbon and a half ounce of cognac rather than 2 full ounces of Bourbon.
Try other bitters such as black walnut or orange. One substitution can change the whole vibe of the drink. It may not technically be a "Manhattan," but that's okay!
Nutrition
Calories:
176
kcal
Carbohydrates:
5
g
Protein:
1
g
Fat:
1
g
Sodium:
1
mg
Potassium:
2
mg
Fiber:
1
g
Sugar:
2
g
Vitamin A:
2
IU
Calcium:
3
mg
Iron:
1
mg