When you drink the famous Zombie tiki cocktail, you too will feel brain dead. But given the amount of rum this Tiki drink contains, it tastes surprisingly delicious!
The Zombie Tiki Cocktail is a Classic
This tiki classic has a long history that is shrouded in codes and secrecy. It was originally created by Donn Beach, founder of the famous Don the Beachcomber tiki restaurants. He didn't want his cocktails copied, so he created an elaborate set of coded phrases and secret ingredient mixes that only he knew.
Over the years there have been many attempts to crack the codes and recreate this classic recipe. Some are probably more successful than others. I'm not certain that my easy Zombie Tiki cocktail is perfectly accurate, but I like the way it tastes. And from what I've read, it's probably pretty close to the original!
This drink is one I prefer to drink at home so that I have control over what actually goes into it. In a restaurant or bar it runs the risk of becoming a dumping ground for different syrups and cheap spirits that the bar makes a hefty markup on.
Ingredients for a Zombie Tiki Cocktail
Admittedly this tiki drink does have a long list of ingredients. So get ready to give your bar a workout!
Light rum
Dark rum
151 overproof rum
Pernod
Fresh-squeezed lime juice
Falernum
Cinnamon simple syrup (use this recipe, but add two cinnamon sticks to the boiling water)
Grapefruit juice
Grendine
Angostura bitters
Yellow Chartreuse
Garnish with a grapefruit wedge, lime and a cocktail cherry and you're all set.
Bar tools needed
Bar spoon
knife

Jigger

Cutting board
Lemon/lime juicer
How to serve it
Make sure you have some fun with your Tiki drinks. So use a zany tiki glass to serve it in.
There are plenty of vintage tiki glasses at thrift stores and even more at sites like Amazon. I actually feel more comfortable using newer glasses since it takes the worry out of breaking an old glass when the spirits are flowing on a wets slippery glass.
Tips for a Successful Zombie
Keep these pointers in mind to mix it like a pro:
Add the Chartreuse to the glass and swirl it around to coat the inside, then pour it out to give the drink a touch of licorice flavor.
Always use freshly squeezed fruit juices instead of bottles so that the drink will be less sweet and will mix better with the rums.
Don't skip some of the more obscure spirits, such as Falernum. I admit that I hadn't tried Falernum before, and even had to ask where to find it at the large liquor store where I shop. It was worth the effort. It's a wonderful, tropical tasting liqueur with flavors like spices and cloves.
Do get a bottle of strong, overproof rum for your collection. Overproof rum is 151 proof, whereas regular rum is 80 proof. The extra power really gives your tiki drinks a special boost of flavor.
Frequently Asked Questions
What alcohol is in a Zombie Cocktail?
What isn't? The base spirit for this drink is rum. It uses both light and dark as well as 151 proof rum.
Who created the Zombie Cocktail?
It is pretty generally accepted that Donn Beach invented this drink at his Hollywood Don the Beachcomber restaurant.
If you're having a Tiki themed night, you need to try this baked coconut shrimp which can be served as an appetizer or main course.
What is your go-to Tiki cocktail? Do you follow a different recipe? If so, drop me a line and let me know!
Before you go, did you try this cocktail? Why not leave a comment in the Comments section along with a rating? I always appreciate hearing from you and getting your feedback.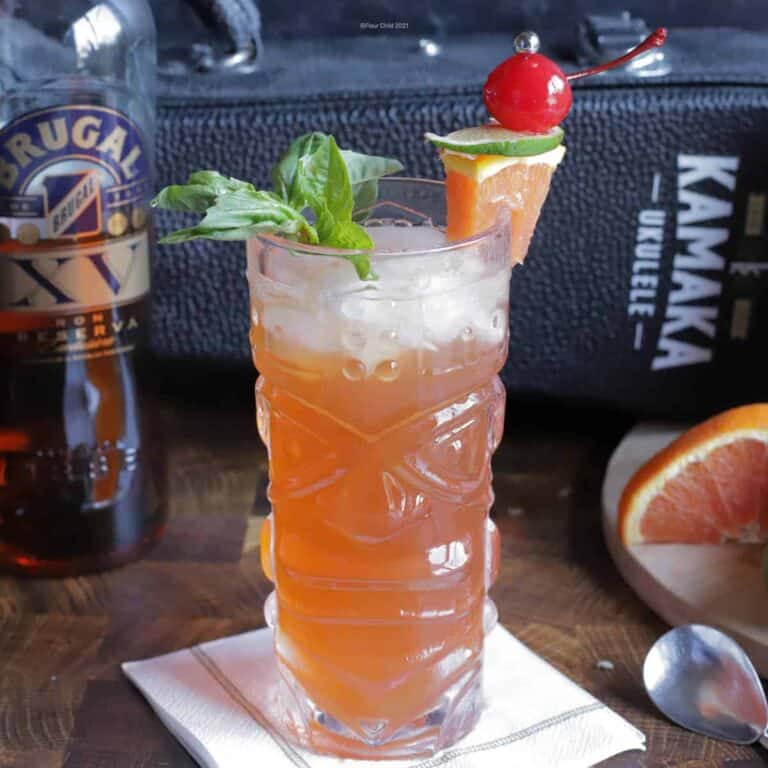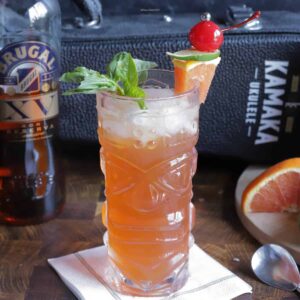 Easy Zombie Tiki Cocktail Recipe
This classic tiki cocktail packs a strong, but delicious, punch!
Ingredients
1 ½

ounces

light rum

1 ½

ounces

dark rum or gold rum

1

ounce

overproof rum

1

teaspoon

grenadine

½

teaspoon

Pernod

½

ounce

fresh-squeezed lime juice

½

ounce

Falernum

½

teaspoon

cinnamon simple syrup

Dash of grapefruit juice

Dash of Angostura bitters

Dash of Yellow Chartreuse swirled in the tiki glass

then discarded

Garnish
Instructions
Place a small scoop of ice cubes in your blender

Pour in the liquid ingredients and pulse a few times in the blender -- just enough to mix it up and crush the ice a little

Pour into a tiki glass (add a little more ice if you prefer)

Add the garnish of grapefruit wedge, bar cherry, lime slice and mint 
Notes
Supposedly Donn Beach added something he called Donn's Mix. I'm not entirely sure what that is, but a bartender friend of mine told me it is a simple syrup made with cinnamon sticks and a dash or two of grapefruit juice mixed in.
You don't have to blend this drink, it is perfectly fine to use a cocktail shaker instead.
Nutrition
Calories:
336
kcal
Carbohydrates:
18
g
Protein:
1
g
Fat:
1
g
Sodium:
13
mg
Potassium:
32
mg
Fiber:
1
g
Sugar:
16
g
Vitamin A:
7
IU
Vitamin C:
4
mg
Calcium:
5
mg
Iron:
1
mg