The original Puerto Rican mid century Piña Colada has hints of pineapple, coconut and rum. It's light and refreshing without being overly sweet.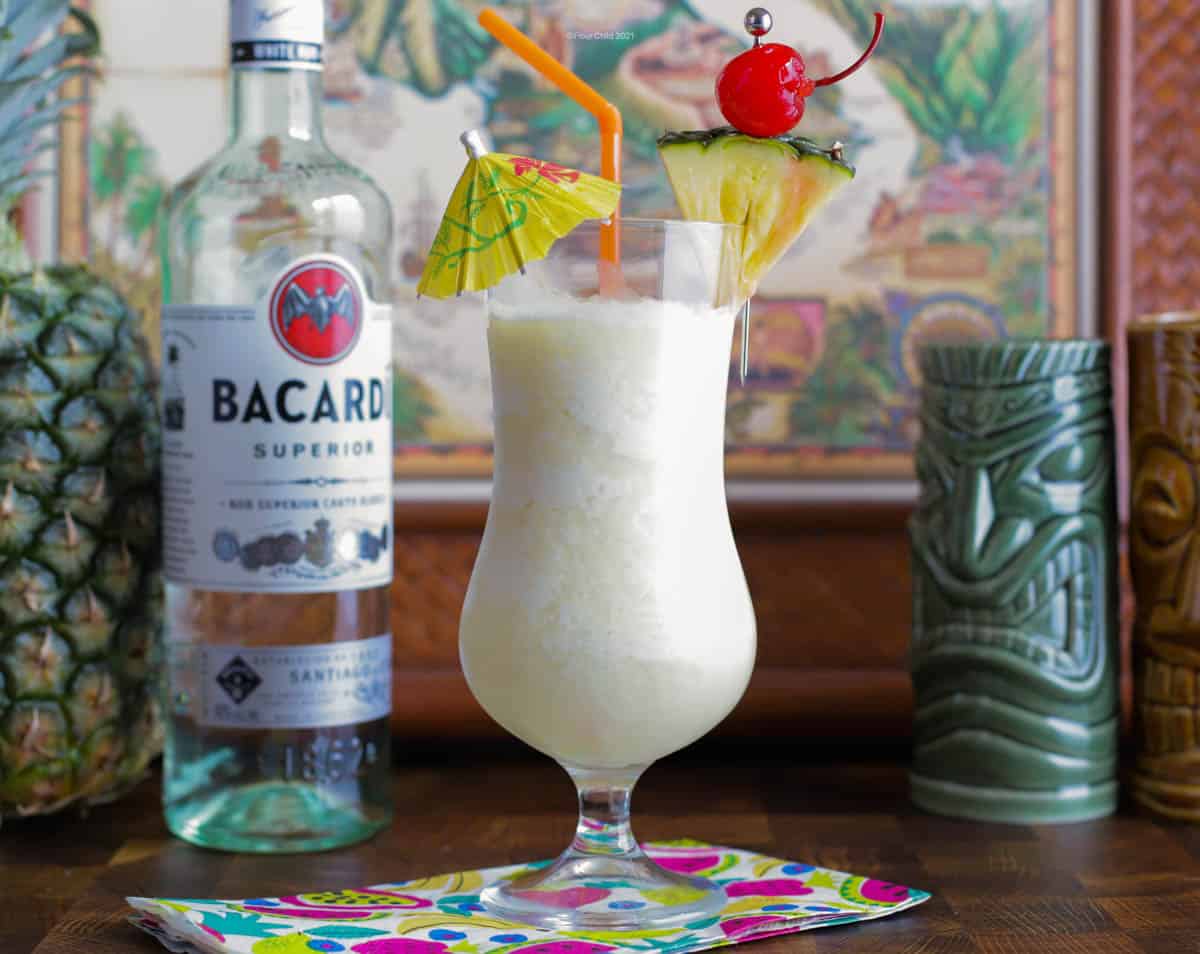 The Original Piña Colada is Still the Best
The name Piña Colada is Spanish for 'strained pineapple.' Legend has it that a Caribbean pirate mixed coconut, pineapple and rum for his crew to drink in between raids. After his capture and death, the recipe was lost.
With the invention of an easy way to extract the creamy syrup from coconuts in the early 1950's, the stage was set for this drink's (re)invention. In 1954, the Caribe Hilton in San Juan was looking for a signature cocktail, and tasked one it's barmen, Ramon 'Monchito' Marrero, to experiment with local ingredients. As a result, he created the drink we know today. And in 1978, It was declared the official drink of Puerto Rico!
4 Simple Ingredients
Like a lot of Tiki drinks, this is easy to make while looking very impressive. Aside from ice, all you need is:
Light rum
Coconut cream
Pineapple juice
Heavy whipping cream
And that's it! (Although if you're serving it to guests, you may want to add a slice of pineapple and a cherry to the rim for a stunning presentation.)
Bar tools needed
This Tiki drink doesn't require many bar tools:
Jigger

Bar spoon
Knife
Cutting board
Lemon/lime Juicer
Blender (optional)
How to Serve it
I really like to use a Hurricane glass to show off the beautiful colors of this drink. You can always use a Tiki glass for some old-school-cool.
Tips for a Successful Piña Colada
Keep these things in mind for this frozen treat:
Use fresh juice whenever possible. The pineapple juice is naturally sweet and compliments the light rum nicely.
Mix with a white or light rum, because the naturally sweet finish helps balance the acidity in the pineapple juice.
If you prefer to skip the alcohol, leave out the rum and you'll have a Virgin Colada. So go ahead and try one any time of day -- there's no excuse not to, now!
Frequently Asked Questions
What alcohol is in a Piña Colada?
Light rum is the main spirit used to make a Piña Colada.
Where was the original Piña Colada made?
There are a few origin stories for this drink, but most agree that it was made in San Juan, Puerto Rico at the Caribe Hilton in the early 1950's.
Are Piña Coladas always frozen?
Not necessarily. Many folks like to use a shaker rather than a blender, which is fine. Just remember to shake for at least 30 seconds to ensure it is properly chilled and aerated.
This drink is so celebrated that has it's own holiday! The United States celebrates National Piña Colada Day on July 10, so mark your calendar. But you don't need to wait for a special occasion to have one!
If you're having a Tiki themed night, you need to try this baked coconut shrimp which can be served as an appetizer or main course.
E hele kāua!
Before you go, did you try this cocktail? Why not leave a comment in the Comments section along with a rating? I always appreciate hearing from you and getting your feedback.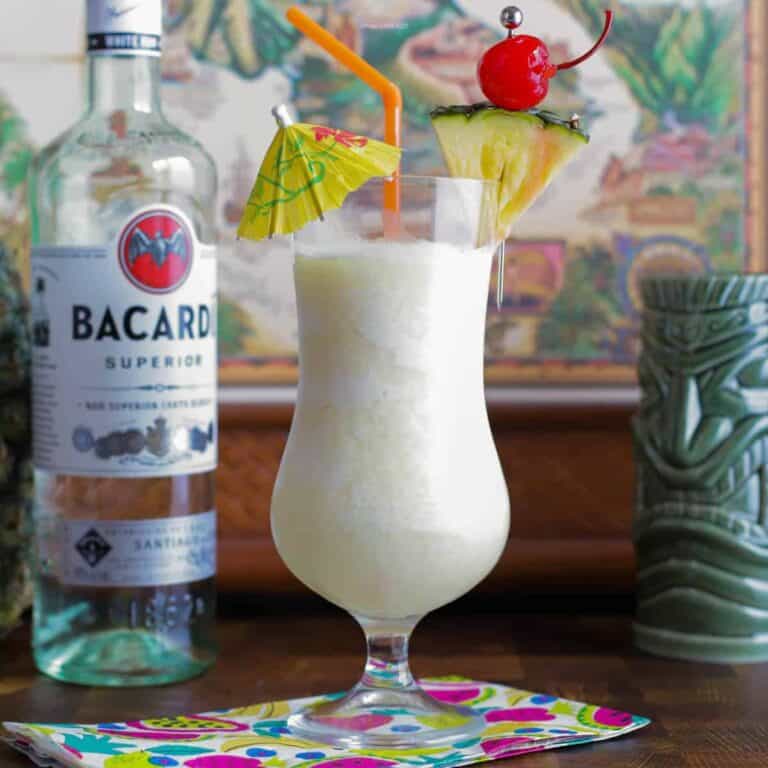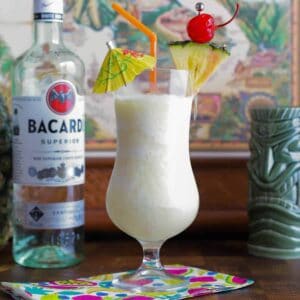 Original Piña Colada Recipe
This tropical 1950's original recipe never needed any 'improvements'. It is a perfect blend of rum and coconut sweetness without any of the syrup-y taste of the mixes.
Ingredients
2

cups

fresh ice

2

ounces

white rum

1

ounce

coconut cream

1

ounce

heavy whipping cream

6

ounces

fresh pineapple juice
Instructions
Place all ingredients in a blender and pulse or mix until evenly blended

Pour into a hurricane glass

Add a wedge of fresh pineapple and cherry for garnish
Notes
If you prefer to skip the alcohol, leave out the rum and serve as a Virgin Colada
If you don't feel like blending, you can use a cocktail shaker to mix this drink--just remember to shake for at least 30 seconds to ensure it is properly chilled and aerated
Nutrition
Calories:
412
kcal
Carbohydrates:
25
g
Protein:
2
g
Fat:
21
g
Saturated Fat:
15
g
Polyunsaturated Fat:
1
g
Monounsaturated Fat:
3
g
Cholesterol:
39
mg
Sodium:
16
mg
Potassium:
336
mg
Fiber:
1
g
Sugar:
17
g
Vitamin A:
425
IU
Vitamin C:
18
mg
Calcium:
44
mg
Iron:
1
mg