Strong as a tropical storm, the rum runner cocktail is so good it's worth the potential hangover!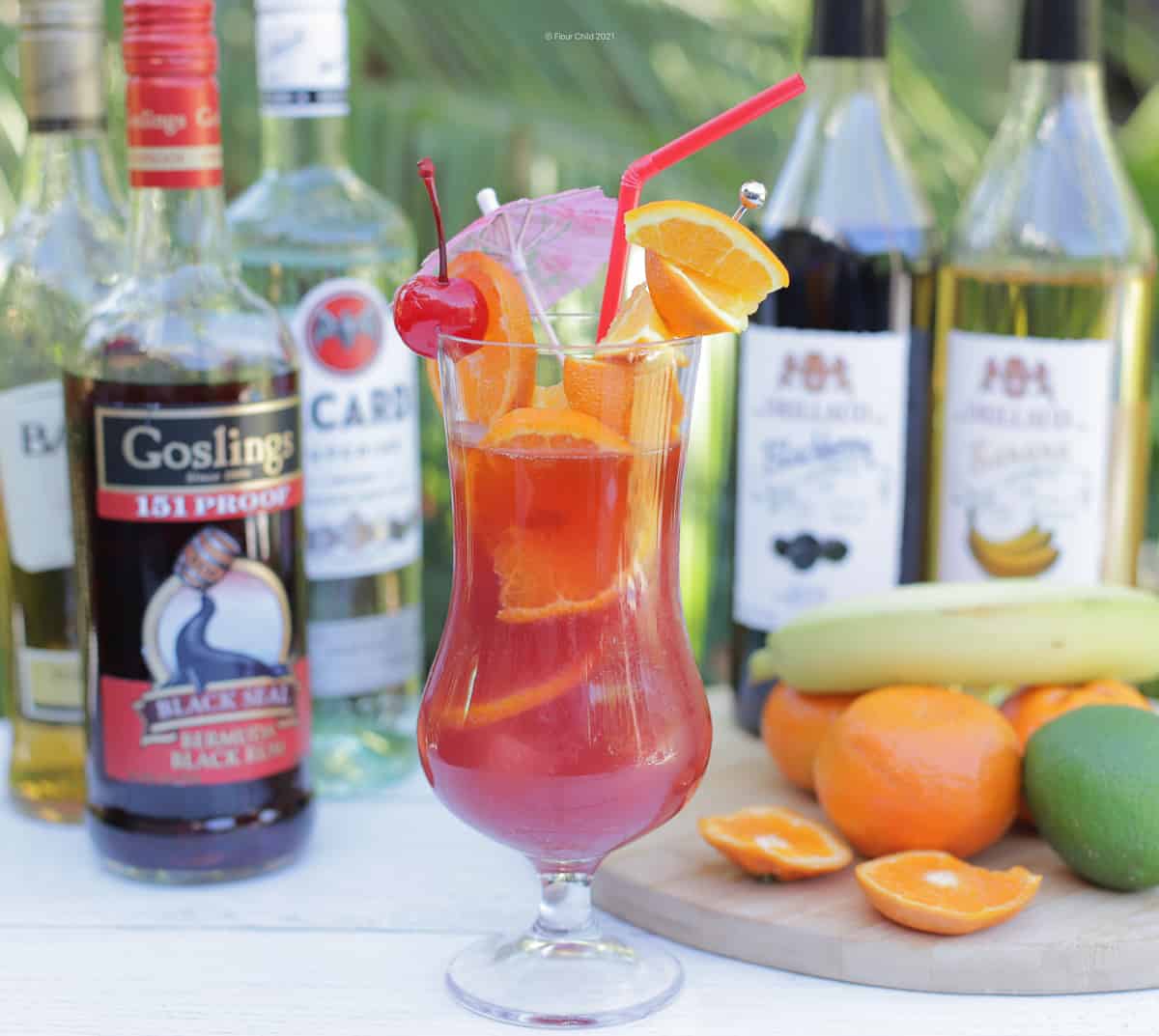 The Rum Runner Cocktail is a Florida Keys Favorite
When you are looking for a good mid century, fun, tropical drink, look no further than the rum runner cocktail. It is said to have been invented in the Florida Keys at the Holiday Isle Tiki Bar. Legend has it that the owner was trying to use up surplus liquor inventory, so he threw a bunch of rums and liqueurs together to create this classic tiki favorite. This story sounds similar to the Hurricane cocktail's creation, and probably could be said for several other tiki drinks. Supposedly it is named after the bootleggers that brought illegal rum up from the Caribbean, especially during Prohibition.
I stopped in for a Rum Runner during spring break in college. That's about all I remember!
Ingredients for a Delicious Rum Runner Cocktail
Like many Tiki drinks, there's a long list of ingredients, but it's worth it:
White rum
Dark (or aged) rum
Pineapple juice
Orange juice
Banana liqueur
Blackberry liqueur
151 rum
Grenadine
You can blend the drink, or shake it for a frothier mix. Either way it's delicious!
Tips for Success
Quality ingredients and a festive presentation is paramount when enjoying a good tiki drink. Keep these pointers in mind:
Always use fresh squeezed fruit juices where you can--the drink will taste so much better than when using packaged products.
Use premium rums to avoid a harsh-tasting cocktail. As a rule of thumb, if you wouldn't drink it straight, don't use it.
Serve this drink in a hurricane glass -- it really adds to the fun spirit of the cocktail.
Add a colorful umbrella and straw with some fruit garnish for a festive flair.
Frequently Asked Questions
Who invented the rum runner drink?
The owner of the Holiday Isle Tiki Bar, John Ebert, is said to be the creator of the cocktail.
What can I mix with rum?
A well made rum will retain some of the sweetness of the sugar cane it was produced from, but it also has a bit of an alcohol-forward taste. Therefore, you should look to mix it with something like fruit juices--just about any work well. A sweet liqueur also mixes well with rum.
What is your favorite Rum Runner Cocktail adventure? Or can you recall it? Be sure and add some Tiki appetizers like a PuPu Platter to your next party.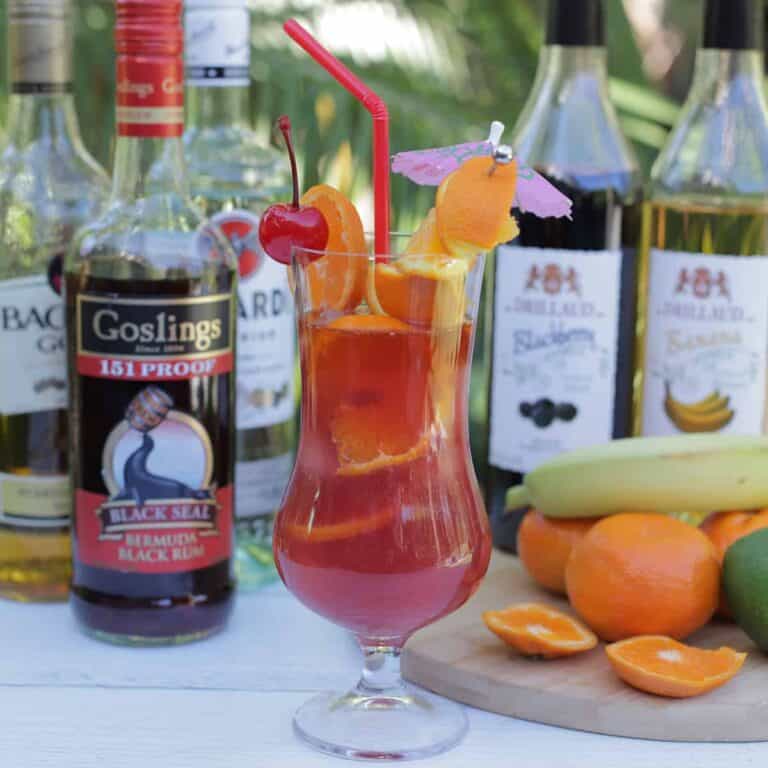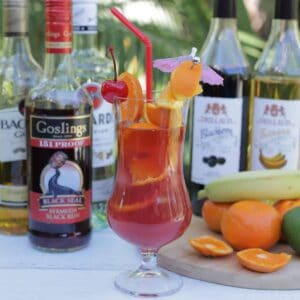 The Tasty Rum Runner Cocktail
This Florida Keys creation has many delicious variations but the original is a classic tiki favorite!
Ingredients
1

ounce

white rum

1

ounce

dark or aged rum

1

ounce

banana liqueur

1

ounce

blackberry liqueur

1

ounce

pineapple juice

1

ounce

orange juice

Splash of grenadine

Splash of overproof rum

Orange slice or pineapple slice for garnish
Instructions
Add two scoops of fresh ice to a cocktail shaker

Pour in all wet ingredients except the overproof rum and shake for 30 seconds

Strain into a hurricane glass

Add a dash of overproof rum on top

Add garnish
Notes
This drink can be blended if you prefer. Instead of a cocktail shaker, simply place all ingredients in a blender and hit the button!
Don't be afraid to go a little wild with the garnishes. I like to use an orange slice, pineapple slice and cocktail cherries as well as a colorful umbrella.
Nutrition
Calories:
350
kcal
Carbohydrates:
27
g
Protein:
1
g
Fat:
1
g
Saturated Fat:
1
g
Polyunsaturated Fat:
1
g
Monounsaturated Fat:
1
g
Sodium:
4
mg
Potassium:
103
mg
Fiber:
1
g
Sugar:
25
g
Vitamin A:
58
IU
Vitamin C:
17
mg
Calcium:
7
mg
Iron:
1
mg