The Mai Tai is one of the most famous Tiki cocktails, and it was invented by Trader Vic himself!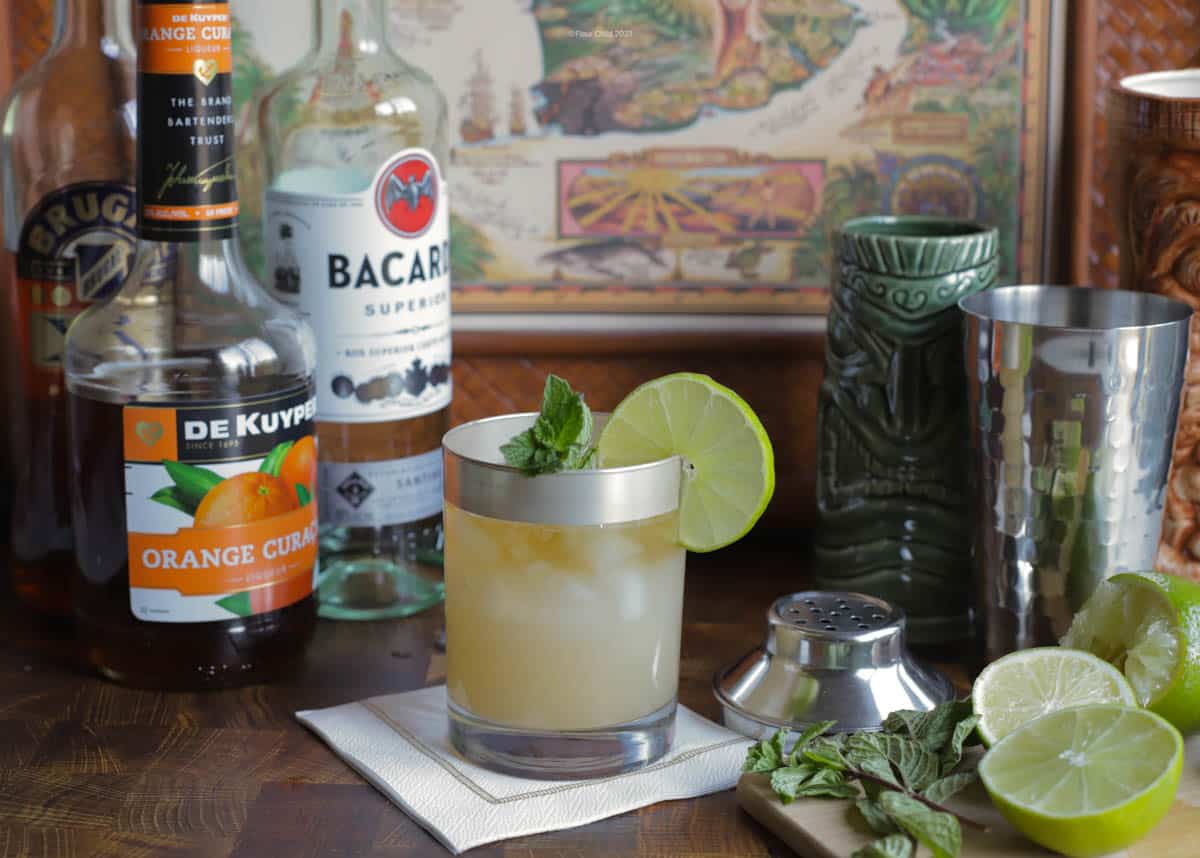 The Mai Tai is King of the Tiki Cocktails
This classic Tiki cocktail is claimed by none other than Trader Vic himself, Victor Bergeron. Vic said he invented it at his Oakland, CA restaurant in 1944. The name is derived from Tahitian, meaning 'good' or 'excellent.' The Tahitians got that right!
This drink makes a brief appearance in my favorite Tiki movie, Elvis Presley's Blue Hawaii. It played a role in helping jump start the Tiki movement from the islands and the west coast to all around the country.
So I remember being served my first Mai Tai at 35,000 feet on a United Airlines flight when Nancy and I were on our honeymoon. It was so strong it nearly ate through the plastic cup! In fact, it wasn't very good and put me off Mai Tai's until I learned it was most likely made from a mix.
That's one of the few problems with Tiki drinks. Rather than taking the time to make it from scratch, many people just use a packaged mix and some rum. That's too bad, because rather than the overly sweet, artificially flavored drink a mix makes, taking your time to hand-craft one results in a clean, crisp cocktail.
Here's What You'll Need to Make a Mai Tai
I'm not sure why people think that Tiki drinks are more complicated than they are. Maybe because they are so exotic; but as you can see, there are just a few spirits and some fruit juice:
Light rum
Dark rum
Orange curacao
Fresh-squeezed lime juice
Orgeat syrup
Mint leaves and lime wheel garnish
And don't forget the crushed ice! This drink is best served in a highball cocktail glass. The particular glass in these pictures is an original Dorothy Thorpe glass, as seen on Mad Men being used by Don Draper.
Bar Tools Needed
This Tiki drink uses only a few of your bar tools:
Jigger

Bar spoon
Lemon/lime Juicer
Tips for Success
While this is one of the classic Tiki drinks, it doesn't mean that you can't take a couple of liberties with the quantities of the ingredients to adjust it for your palate. This is one strong rum-forward cocktail, but if you want to sip something smooth on a warm afternoon the Mai Tai can come across a little too strong. So, here are a couple of tips to smooth out the rough edges of the rum:
Add a full one ounce of the almond flavored orgeat syrup
Use one full ounce of the orange curacao
Frequently Asked Questions
What can I use in place of orgeat syrup?
Unless you are planning on mixing a lot of Mai Tai's, you may not have orgeat syrup in your home bar. Almond syrup is a good substitute. I've seen people use the Torani brand, which is often used as a flavor in coffee. That way, you've got both your morning and evening drinks covered!
What is the best rum for a mai tai?
There are plenty of different brands of rums available that run the gamut from bargain price to very expensive. When mixing a mai tai, I prefer to use a light rum as the base and pour my dark rum in at the end. I still prefer the sweetness of Bacardi rum for the light rum. For my dark rum, I use Brugal Ron Reserva XV from the Dominican Republic. However, you can use the dark rum you prefer.
What is orgeat syrup made of?
Orgeat syrup is made from sugar, almonds, and rose water. It is very sweet and can be used in a number of cocktails such as the Mai Tai and the Whiskey Daisy.
What alcohol goes into a Mai Tai?
The primary spirit for a Mai Tai is rum. It also contains orange curacao liqueur.
Before you go, did you try this cocktail? Why not leave a comment in the Comments section along with a rating? I always appreciate hearing from you and getting your feedback.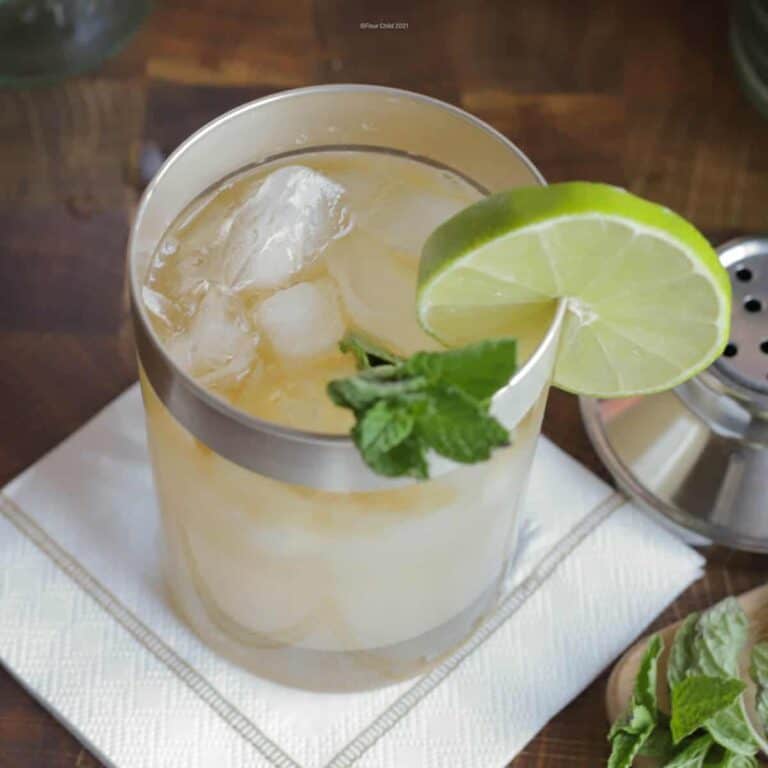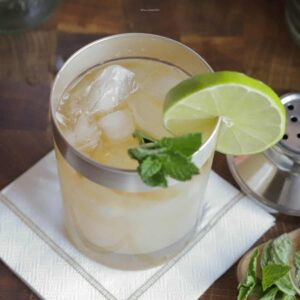 Classic Mai Tai Cocktail Recipe
This rum-forward classic Tiki cocktail has been a favorite since it was introduced by Trader Vic's because it tastes fantastic and packs a punch!
Ingredients
1 ½

ounces

light rum

½ to 1

ounce

orange curaçao

½ to 1

ounce

orgeat syrup

½

ounce

fresh squeezed lime juice

¾

ounce

dark rum
Instructions
Place a scoop of fresh ice in a cocktail shaker

Pour the light rum, orange curaçao and lime juice into the cocktail shaker and shake for 30 seconds

Fill a highball glass with crushed ice

Strain the ingredients from the shaker into the glass

Gently pour the dark rum onto the drink so it 'sits' on top

Rub a couple of sprigs of mint leaves around the rim of the glass to express the oils, then stick them directly into the cocktail

Garnish the rim of the glass with a lime wheel
Notes
You can stir this drink to mix the rums or just enjoy the strong dark rum on the first couple of sips
Aside from going a little heavy on the sweet ingredients, I actually cut back a little on the lime juice because it can be very sour
Nutrition
Calories:
233
kcal
Carbohydrates:
16
g
Protein:
1
g
Fat:
1
g
Saturated Fat:
1
g
Polyunsaturated Fat:
1
g
Sodium:
10
mg
Potassium:
31
mg
Fiber:
1
g
Sugar:
15
g
Vitamin A:
7
IU
Vitamin C:
4
mg
Calcium:
4
mg
Iron:
1
mg