This post-war classic is a must-have if you want a delicious rum-based cocktail with a punch.
The Hurricane Cocktail Lives up to its Name
Let's admit it up front -- this rum-based cocktail packs a punch, but it also tastes darn good! Unlike many drinks that are made with rum and fruit juices, this cocktail is not sweet at all. It has a tangy, sweet-tart taste thanks to the combination of Passion fruit puree and fresh lime juice.
It is said that the New Orleans bar, Pat O'Brien's, invented this drink to use up excess rum stocks in the early 1940's. Other stories claim the drink appeared at World's Fair in the '30's. Like any good cocktail history, there are several possibilities. I prefer the Pat O'Brien story, because I like a good cocktail tale.
How to serve your Hurricane Cocktail
The hurricane glass is possibly more famous than the drink itself. It gets its name from the shape of a hurricane lamp, which was a curvy oil lantern used on ships -- probably a good reason for the nautical/tropical theme. The story goes that an enterprising salesman had some leftover glasses and sold them to Pat O'Brien on the cheap. I'm not sure if that's true, but it sounds plausible.
Ingredients Needed
While this drink does have a long list of ingredients, they come together well. You'll need:
Light rum
Dark rum
Overproof 151 rum
Lime juice
Orange juice
Passion fruit puree
Grenadine
Simple syrup (I have an easy to follow recipe here)
And don't forget plenty of ice! You'll want to shake it over ice, and then strain the drink into a Hurricane glass full of more fresh ice.
Where to Find Passion Fruit Puree
The passion fruit puree used in the cocktail can be a challenge to find. I thought I'd have no problem getting it my local grocer, considering Southern California has fruit growing everywhere. No such luck! I eventually found it online in a large, 2 pound plastic pouch that is way more than I need for my modest Hurricane consumption. I figure I'll freeze the rest for the next time my cocktail mood forecasts a Hurricane.
If you don't want to go that route, you can get a syrup like Torani. They make a variety of fruit syrups that work well in cocktails. (I don't get compensation from them, I just like their syrups.)
Bar tools needed
This Tiki drink uses only a few of your bar tools:
Jigger

Bar spoon
Knife
Cutting board
Lemon/lime Juicer
Tips for Success
Tropical or Tiki drinks have a reputation for being difficult to make. That is just not the case! Once you have the ingredients lined up, you merely pour them all into a large cocktail shaker, then shake long enough to get them well blended and chilled. But do keep these things in mind:
Add an overproof rum -- one of my favorite parts of this drink! This serious alcohol blends nicely with the other rums and fruit juices while giving it an extra kick -- the hurricane effect.
Incorporate the fresh fruit you're using for the juice into the garnish for the drink as well. Because this drink requires orange juice, I save some of the orange for a wedge or wheel.
Go easy on the grenadine and passion fruit syrup, unless you prefer the drink to be sweet.
Frequently Asked Questions
What is the best rum for a Hurricane?
Many people prefer to use Jamaican rum exclusively. I like to mix it up a little and use Puerto Rican rum as well as a dark rum from the Dominican Republic that I like, Brugal. The Hurricane uses light and dark rum and as a special treat, I like to add a little overproof 151 rum such as Goslings Black Seal.
What is the most popular drink in New Orleans?
New Orleans is a great party city, and while the Hurricane is a favorite, many people also enjoy a Sazerac which is a close cousin to the Old Fashioned, except the Sazerac is made with Rye Whiskey rather than Bourbon.
If you're having a Tiki themed night, you need to try this baked coconut shrimp which can be served as an appetizer or main course.
What rums do you like in your Hurricanes? Drop me a line and let me know!
Before you go, did you try this cocktail? Why not leave a comment in the Comments section along with a rating? I always appreciate hearing from you and getting your feedback.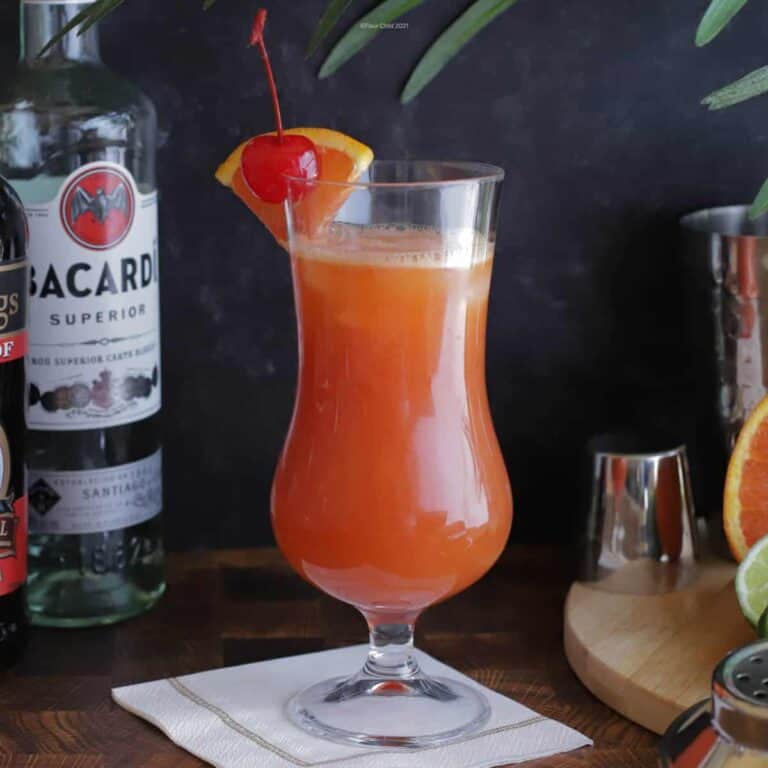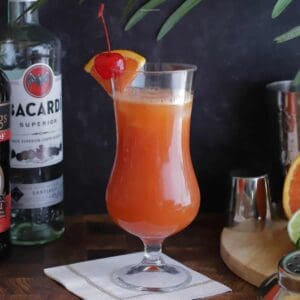 Easy Hurricane Cocktail Recipe
This New Orleans classic is delicious and packs the punch of a category 4 tropical storm!
Ingredients
2

ounces

light rum

2

ounces

dark rum

½

ounce

overproof 151 rum

2

ounces

passion fruit puree

½

ounce

fresh squeezed lime juice

1

ounce

fresh squeezed orange juice

½

ounce

simple syrup

½

ounce

grenadine syrup
Instructions
Fill a large cocktail shaker with two scoops of fresh ice.

Pour all of the ingredients into the shaker and shake for at least 30 seconds, until drink is fully mixed and chilled.

Strain into a hurricane glass filled with one scoop of ice.

Add an orange and cherry garnish.
Notes
You can blend this drink if you choose. Just add two cups of ice to the blender with the wet ingredients and blend until smooth.
You can skip the overproof rum if you prefer. I like the taste it gives the drink, but be forewarned that it can be strong.
If you prefer a sweeter drink, increase the simple syrup to 1 ounce, or to desired level of sweetness.
Nutrition
Calories:
421
kcal
Carbohydrates:
32
g
Protein:
1
g
Fat:
1
g
Saturated Fat:
1
g
Polyunsaturated Fat:
1
g
Monounsaturated Fat:
1
g
Sodium:
14
mg
Potassium:
184
mg
Fiber:
1
g
Sugar:
27
g
Vitamin A:
677
IU
Vitamin C:
39
mg
Calcium:
14
mg
Iron:
1
mg