Baked coconut shrimp has a lightly sweet flavor, and when served with an apricot dipping sauce containing a hint of spice, it's a tropical sensation! Perfect as an appetizer or main course.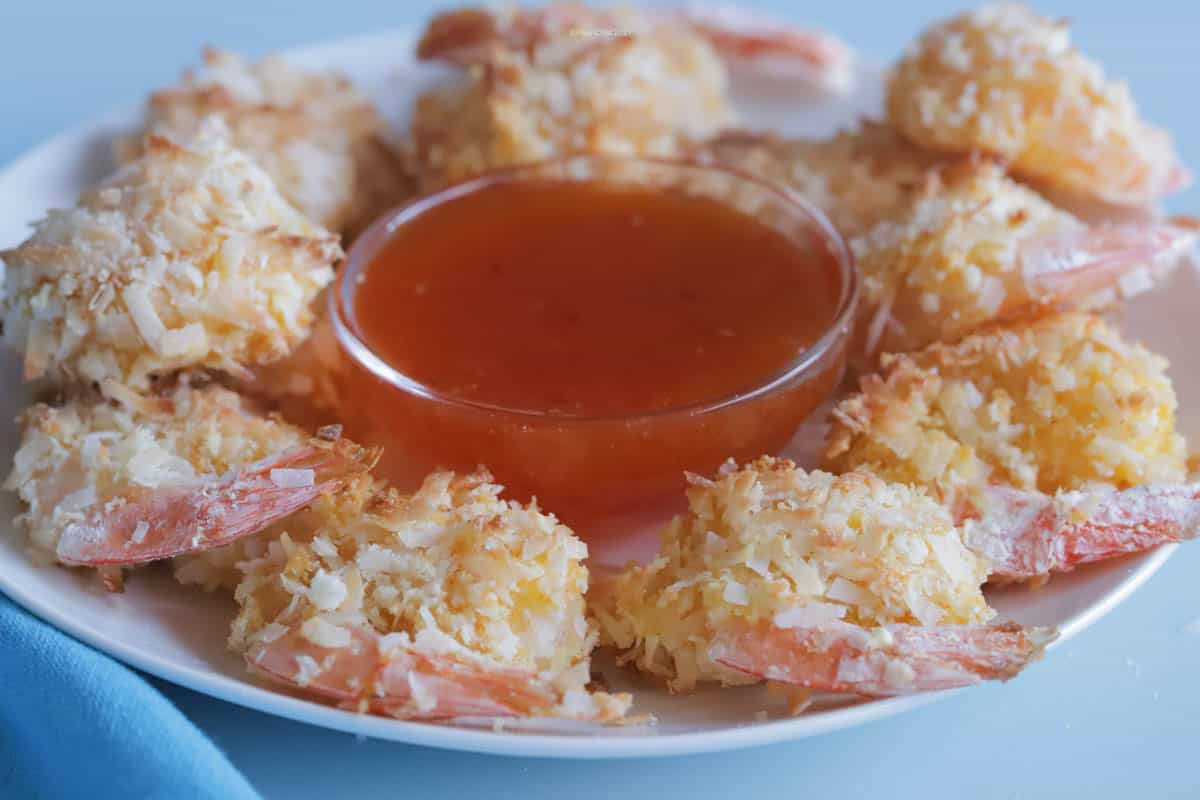 The Mid Century Tiki Craze
Coconut shrimp is a much-loved island dish found in restaurants around the world. Although we can't pinpoint the exact origin, given the ingredients it likely came from somewhere in the South Pacific.
The Tiki craze hit its height of popularity in the U.S. in the 1950's and '60's. Books and photos by adventure travelers regaled the public with tales of life on exotic tropical islands, and stirred the imagination of a public that rarely had the means or opportunity for such travel. Soon the decor, foods, and drinks of these lands became an obsession. It was a way to experience the tropics without actually being there.
The obsession with Tiki began dying down in the 1970's, when by the end of the decade it virtually disappeared. It has recently made a comeback, and Tiki parties are once again on the top of everyone's favorite themed party list.
Coconut Shrimp: A Taste of the Tropics
Kevin and I honeymooned in Hawaii where virtually every restaurant featured some variation of coconut shrimp. Most restaurants in tropical destinations offer coconut shrimp on their menus. I believe one of the reasons this dish is so loved is because it brings back memories of relaxing getaways filled with palm trees and sand and warm ocean breezes!
To Bake or Not to Bake, That is the Question
Let's face it, most coconut shrimp from a restaurant is fried. Frying results in a very crunchy exterior texture with a tender cooked interior. The problem with frying is that it adds calories and fat that many of us are trying to avoid. Baking produces a healthier dish, but how does it taste?
When I presented Kevin with a plate of this baked coconut shrimp, he took a few bites and thought they were fried. That's because the shrimp are dipped in an egg batter, then rolled in a mixture of Panko and coconut which provides a nice crunch leading to a tender interior when you bite into them. Just look at the photo -- you can actually see the crunch! When you're munching on these delicious bites while sipping a piña colada or mai tai, you're not going to notice the difference! However, both frying and air frying instructions are included on the recipe card if you prefer.
Ingredients for Baked Coconut Shrimp With Apricot Dipping Sauce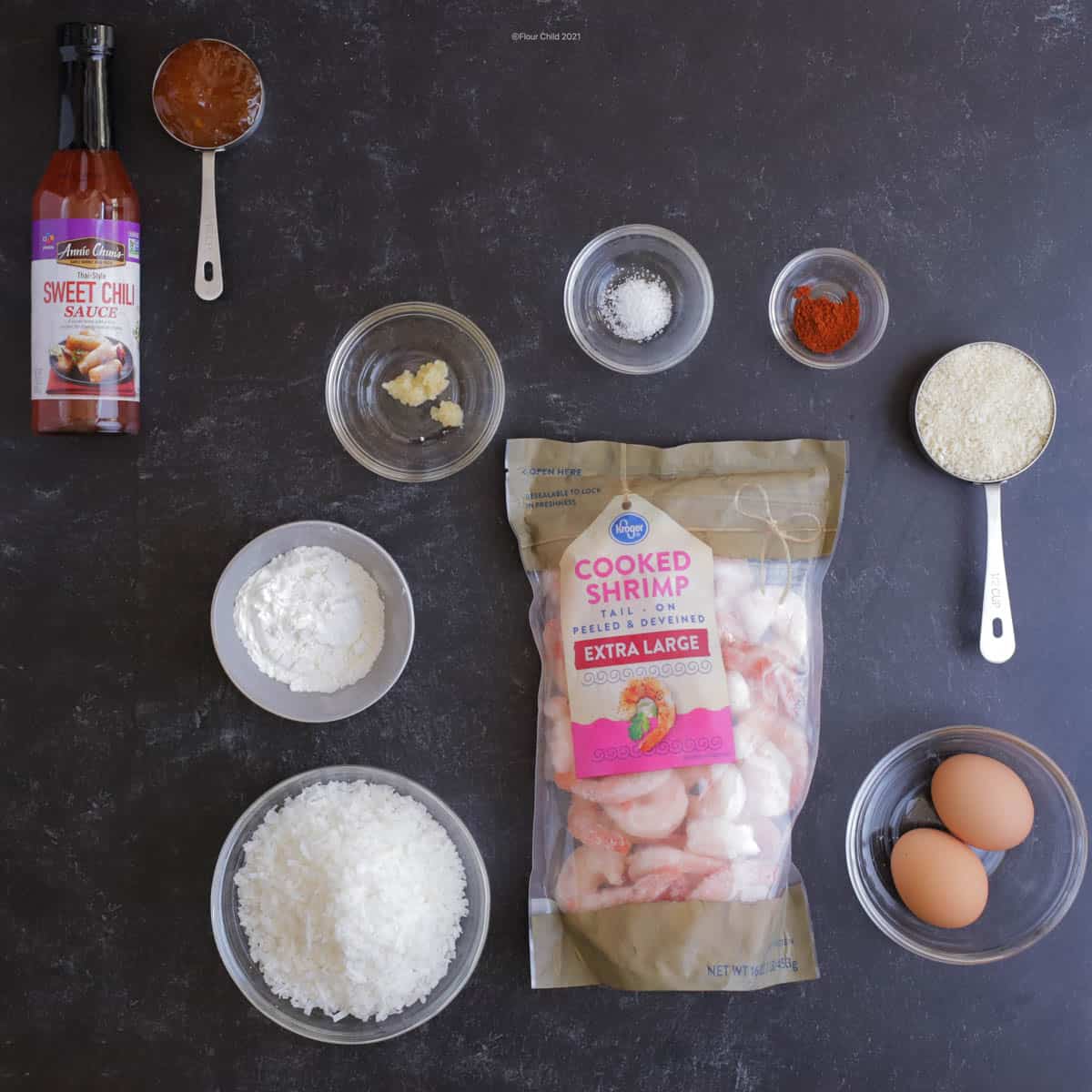 Here's what you'll need to make this island treat:
For the baked shrimp:
Large or extra large shrimp
Coconut, sweetened or unsweetened (I prefer sweetened)
Garlic, minced
Kosher salt
Paprika or Cayenne pepper
Eggs
Cornstarch
Panko
For the apricot dipping sauce:
Apricot jam
Thai chili sauce
Don't Make This Mistake When Preparing the Shrimp
I used to take my shrimp from the freezer, place it in a colander, and rinse it in hot water until it was thawed. While this is not a problem from a food safety standpoint, it results in soggy shrimp.
The best way to thaw your shrimp is to take it out of the freezer the day before, and place the unopened bag in the refrigerator overnight. If you forget to do this (I do every time!) then the next best way to thaw the shrimp is to put the unopened bag in a large bowl of cold water and let it sit for 30 - 45 minutes, until the shrimp has thawed. The larger the shrimp, the longer it will need to sit. When you remove the thawed shrimp from the bag, pat it dry using paper towels to remove excess moisture before you start preparing it. If you don't, the batter won't stay on properly.
Adding a Pinch of Spice
Some people like a hot and spicy bite to their coconut shrimp. We do not have a high tolerance for spicy heat, so I use ground paprika for a bit of spice in this dish. But if you want to notch up the heat, opt for ground cayenne. If you use cayenne, you may want to try a batch with ¼ teaspoon and increase the amount if you would like more heat.
The Difference Between Paprika and Cayenne Pepper
Cayenne is a narrow red chili pepper that is roughly ten times hotter than a jalapeño. It adds a significant amount of heat to food, and should be added with a light hand until you're sure how much you can tolerate.
Paprika, on the other hand, is often a blend of peppers. It is usually on the mild side, containing low heat items such as pimento. However, since paprika is a blend, the heat will vary by brand. There are different types of paprika:
Hungarian Paprika - mild and slightly sweet; usually made from red bell peppers.
Spanish Paprika - a hot paprika made from ground chili peppers and often bell peppers, too. Occasionally a hint of cayenne may be mixed in. Generally not as hot as ground cayenne.
Smoked Paprika - Made from chili and/or bell peppers that have been smoked before grinding.
If you're not sure what kind of paprika you have, check your ingredients label for the type of peppers inside. For more information about these ground pepper varieties, visit the experts at Pepperscale.
Just Two Ingredients in the Dipping Sauce
I chose to make apricot dipping sauce because I had apricot jam in the house. But mango and orange work well, too! You can pair virtually any jam with Thai chili sauce in equal amounts. Thai chili sauce is a flavorful sweet sauce with peppers in it, but it does not have much heat.
I hope you enjoy your island treat!
If you have a vintage recipe you'd like share with us for possible publication, please scan it and email it to [email protected]. We'd love to hear from you!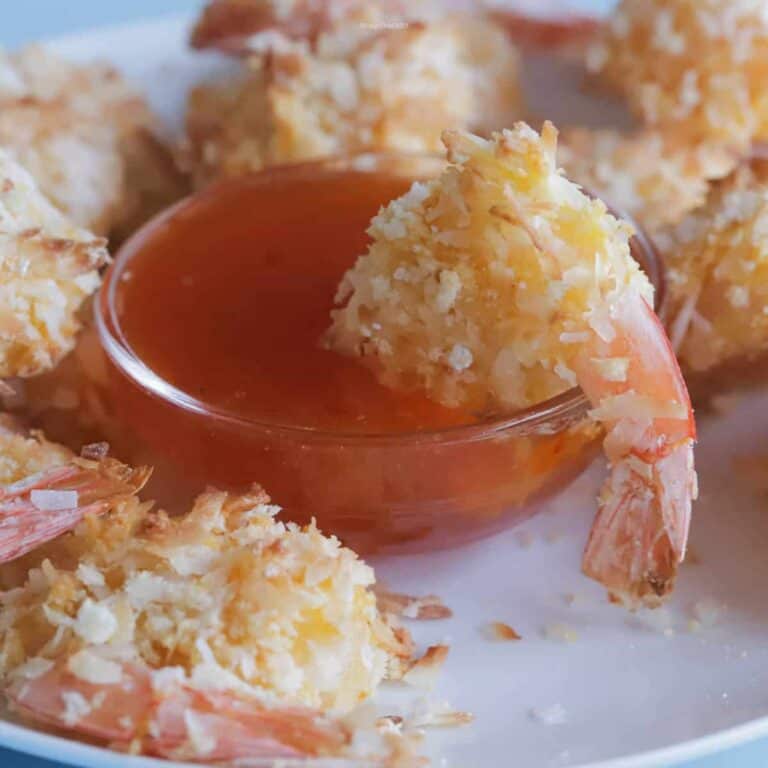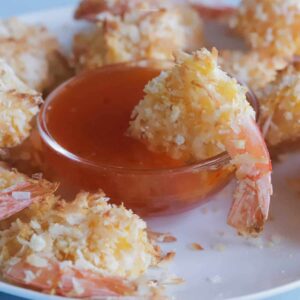 Baked Coconut Shrimp with Apricot Dipping Sauce
Baked coconut shrimp has a lightly sweet flavor, and when served with an apricot dipping sauce containing a hint of spice, it's a tropical sensation!
Ingredients
Coconut Shrimp
1

lb.

large or extra large shrimp

peeled and deveined

1 ¼

cups

cornstarch

½

teaspoon

paprika or ¼ teaspoon ground cayenne pepper

½

teaspoon

garlic powder

2

large

eggs

¼

teaspoon

kosher salt

1 ½

cups

coconut

½

cup

Panko bread crumbs
Apricot Dipping Sauce
¼

cup

apricot jam

¼

cup

Thai chili sauce
Instructions
Preheat oven to 400 degrees
Coconut Shrimp
Thaw shrimp using one of the methods listed in the post above.

Mix cornstarch, paprika and garlic powder in one bowl.

Mix eggs and salt in another bowl.

Combine coconut and Panko bread crumbs in a third bowl.

Coat shrimp in cornstarch mixture, then dip in egg mixture, then roll in coconut crumb mixture. Place on a large, ungreased baking sheet.

Bake at 400 degrees for 15-20 minutes, until coconut and crumbs are lightly browned.
Apricot Dipping Sauce
Mix together apricot jam and Thai dipping sauce.

Place in small serving bowl and serve with coconut shrimp.
Notes
To Fry shrimp: Fill a frying pan with ¼ - ½ inch coconut or canola oil and heat until oil is 350 degrees (or when small bubbles form around a wooden spoon.) Cook 2-3 minutes until shrimp is pink and coconut is golden. Remove and drain on paper towel.
To Air Fry Shrimp: Place coated shrimp in air fryer basket, and fry at 400 degrees for 7 minutes, then turn the shrimp over and cook an additional 4 minutes or until  shrimp is pink and coconut is golden.
Substitute apricot jam with mango or orange jam, if desired.
Nutrition
Serving:
1
piece
Calories:
56
kcal
Carbohydrates:
7
g
Protein:
3
g
Fat:
2
g
Saturated Fat:
1
g
Polyunsaturated Fat:
1
g
Monounsaturated Fat:
1
g
Trans Fat:
1
g
Cholesterol:
31
mg
Sodium:
62
mg
Potassium:
55
mg
Fiber:
1
g
Sugar:
2
g
Vitamin A:
33
IU
Vitamin C:
1
mg
Calcium:
12
mg
Iron:
1
mg