Crab rangoon's rich garlic and scallion infused cream cheese & crabmeat filling in a deep fried won ton wrapper is a tasty Polynesian appetizer!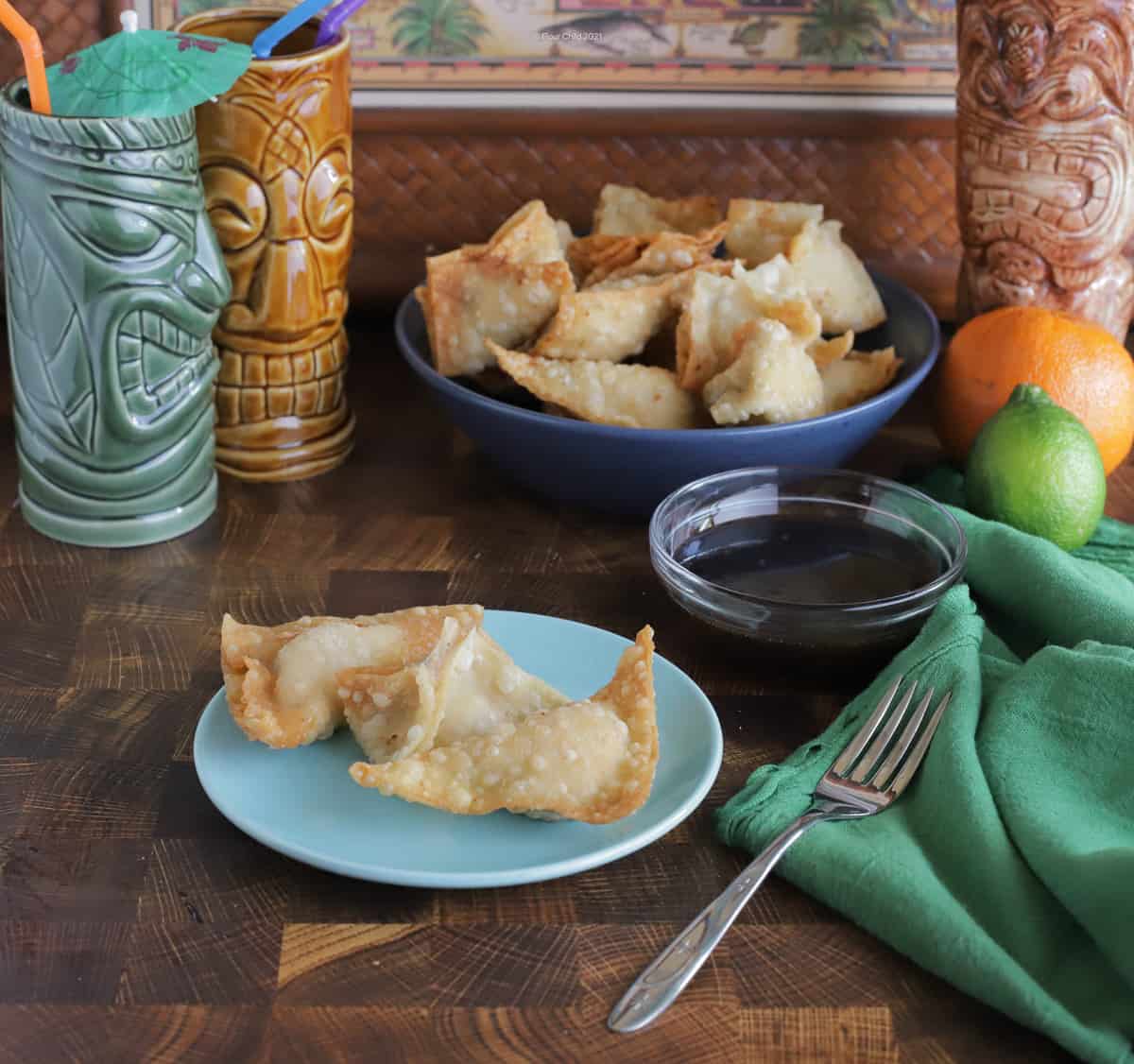 In the mid-1950's Trader Vic's famous Polynesian-style restaurant put this item on its appetizer menu in San Francisco, and it has been a party favorite ever since. Though no one knows for sure, it is thought that the owner of the restaurant, Victor Bergeron, invented the dish himself.
What is Crab Rangoon?
Crab rangoon is an appetizer dish that is frequently found on the menu at Asian, Polynesian, and Asian-fusion restaurants. It has a crunchy, deep-fried outer shell and a hot & creamy filling consisting of cream cheese, crab meat, garlic, green onions and Worcestershire or steak sauce. When paired with a tiki cocktail such as the Blue Hawaii, the Hurricane, or the Mai Tai, you've got a winning combination!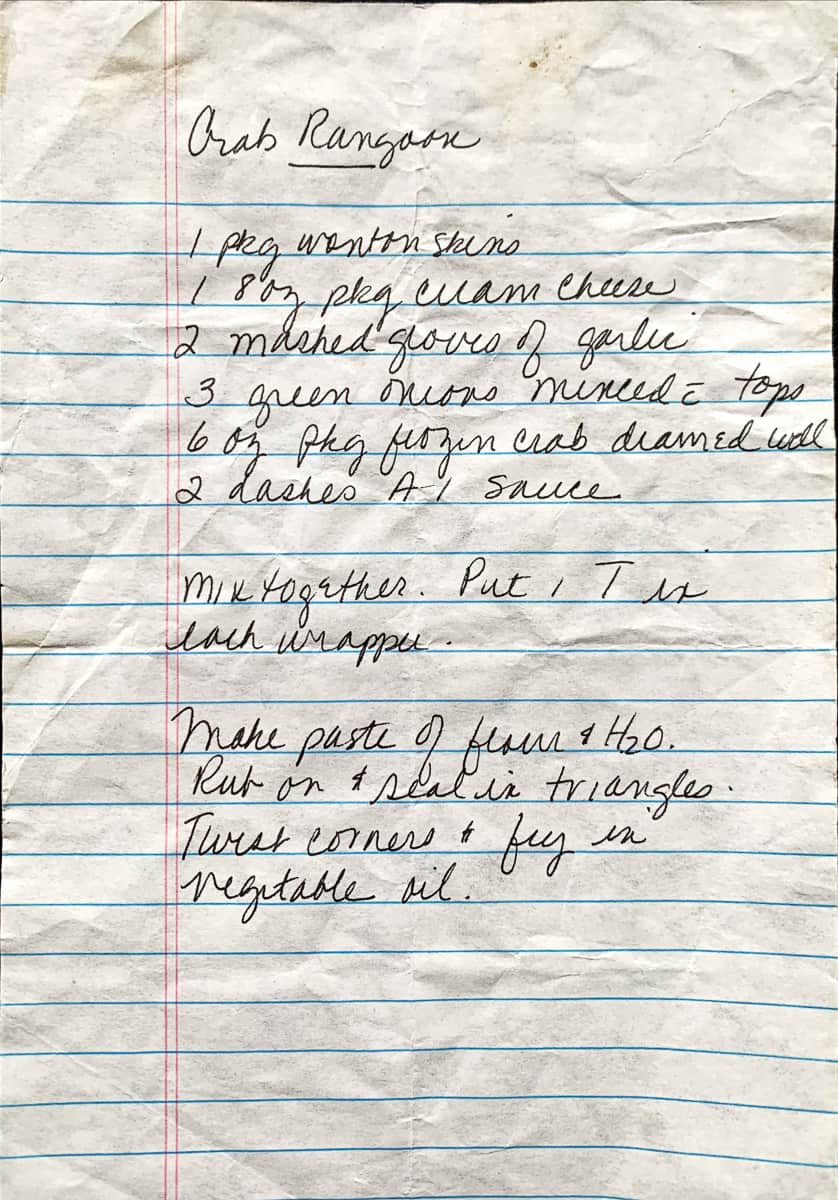 Ingredients for Crab Rangoon
won ton wrappers
crab meat
cream cheese
garlic
green onions (a small shallot can be substituted)
steak sauce or Worcestershire sauce
vegetable oil for frying
Tips for Making This Recipe
Use genuine crab meat rather than imitation crab meat. While the taste is similar, the nutritional value of real crab meat is much higher. I recommend using a canned, white crabmeat which can be found in the grocery store near the canned tuna fish.
Soften the cream cheese to room temperature to make it easier to mix with the other ingredients.
Thaw the won ton wrappers in the refrigerator overnight before using them. Be careful not to confuse them with dumpling wrappers, which are a different size, shape and consistency.
To fill the won ton wrapper, put a small amount of the crab meat mixture in the center, then dip your finger into water and run your wet finger around all 4 edges. Then bring two opposite corners together and pinch, then the remaining two opposite corners together and pinch until it is closed. Be careful not to overfill the wrappers or the filling will spill out during cooking.
Preheat oil in an electric skillet, wok or deep fry pan to 350-360 degrees Fahrenheit. Use enough oil to cover the won tons as they cook. The amount of oil will vary with the size of the pan you're using, but plan on 1-½ to 2 quarts.
Cook in batches of 4 until golden brown, about 2 minutes. Using a slotted spoon, remove to a paper towel-lined serving bowl. Serve hot.
Frequently Asked Questions
What is imitation crab made of?
Created in Japan in the 1970's as an affordable option to expensive crab meat, imitation crab is a paste made of minced white fish (usually pollack) along with fillers including sugar, starch, sodium, egg whites, plus artificial colors, flavors and preservatives. Therefore, contrary to popular belief imitation crab is not a vegetarian item. Genuine crab has far more vitamins, minerals, and protein than imitation crab, and the ingredients in my can of Crown Prince fancy white lump crabmeat was crab and water with some sodium and citric acid to maintain the PH balance
What are won ton wrappers?
Won ton wrappers are small squares of dough made from flour, eggs and water. They hold a variety of fillings and can be deep fried or boiled in a soup. They are different from dumpling wrappers, which are round and have a different consistency because they are made without using egg in the dough. Both can be found in the freezer section of most grocery stores and Asian markets.
Can crab rangoon be reheated?
Yes! To keep them as crispy as possible, preheat oven to 375 degrees (190ºC). Place in a foil covered pan and heat for 8 minutes, then remove foil and heat for 2 more minutes. Serve immediately.
How long can crab rangoon be kept for reheating?
Store in an airtight container in the refrigerator for up to 2 days. To freeze, first place them in a single layer on a cookie sheet lined with parchment paper. Set them in the freezer just until frozen, then transfer to a freezer bag for long term storage.
If you're looking for more Polynesian appetizers, try our Easy Teriyaki Meatballs Appetizer and our Baked Coconut Shrimp with Apricot Dipping Sauce.
If you have a vintage recipe you'd like share with us for possible publication, please scan it and email it to [email protected]. We'd love to hear from you!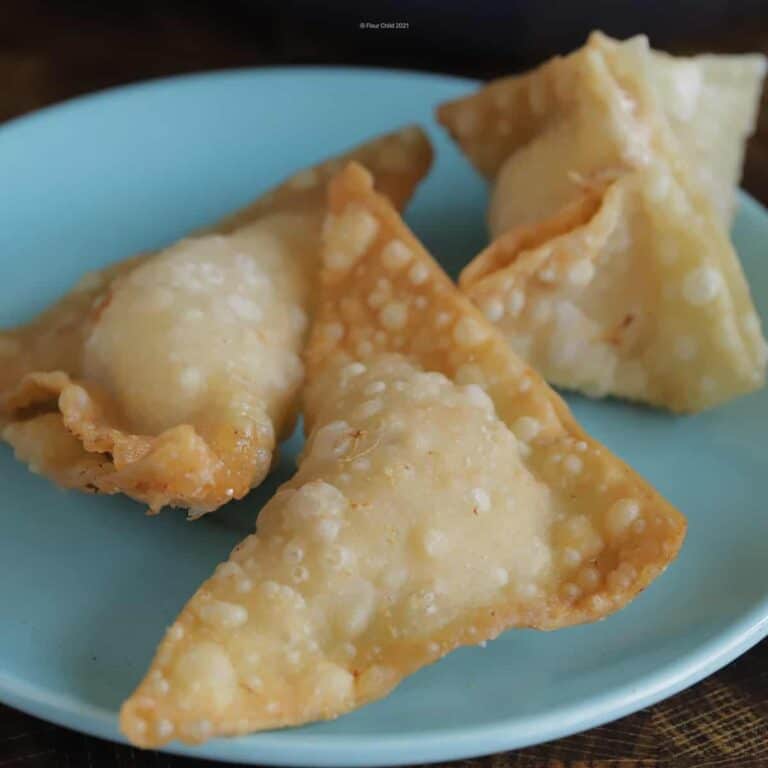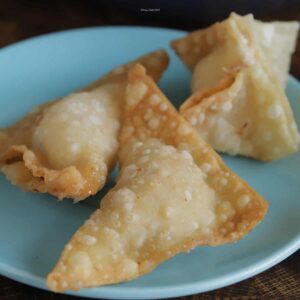 Crab Rangoon Appetizer Recipe
Crab rangoon's rich garlic and scallion infused cream cheese & crabmeat filling in a deep fried won ton wrapper is a tasty Polynesian appetizer!
Ingredients
6

oz

can fancy white crabmeat

drained

8

oz

cream cheese

softened to room temperature

3

green onions

minced

2

cloves

minced garlic

¼

teaspoon

Worcestershire sauce or steak sauce

2

quarts

vegetable oil
Instructions
In a large bowl, mix cream cheese, crabmeat, garlic, green onions and Worcestershire sauce. 

Place 4 individual won ton wrappers on the counter. Dip your finger in water and run it around all 4 edges of each wrapper.

Place a small dollop (about 1 tablespoon) of cream cheese mixture in the center of each. 

Bring two opposite corners of the won ton wrapper together and pinch, then bring the other two together and pinch, until the won ton wrapper is tightly closed.

Place in oil making sure the won ton is fully covered, and fry approximately 2 minutes until golden brown. Remove with slotted spoon and place in a serving bowl lined with a paper towel. Repeat until all won tons are fried, and serve immediately.
Notes
You can substitute a small shallot for the green onions
You can use a steak sauce (such as A-1) in place of the Worcestershire sauce
Nutrition
Calories:
52
kcal
Carbohydrates:
1
g
Protein:
2
g
Fat:
4
g
Saturated Fat:
2
g
Polyunsaturated Fat:
1
g
Monounsaturated Fat:
1
g
Trans Fat:
1
g
Cholesterol:
23
mg
Sodium:
79
mg
Potassium:
49
mg
Fiber:
1
g
Sugar:
1
g
Vitamin A:
189
IU
Vitamin C:
1
mg
Calcium:
23
mg
Iron:
1
mg
.