The Blue Hawaii is a tropical mid century favorite due to its sweet and tart flavor and ocean blue color.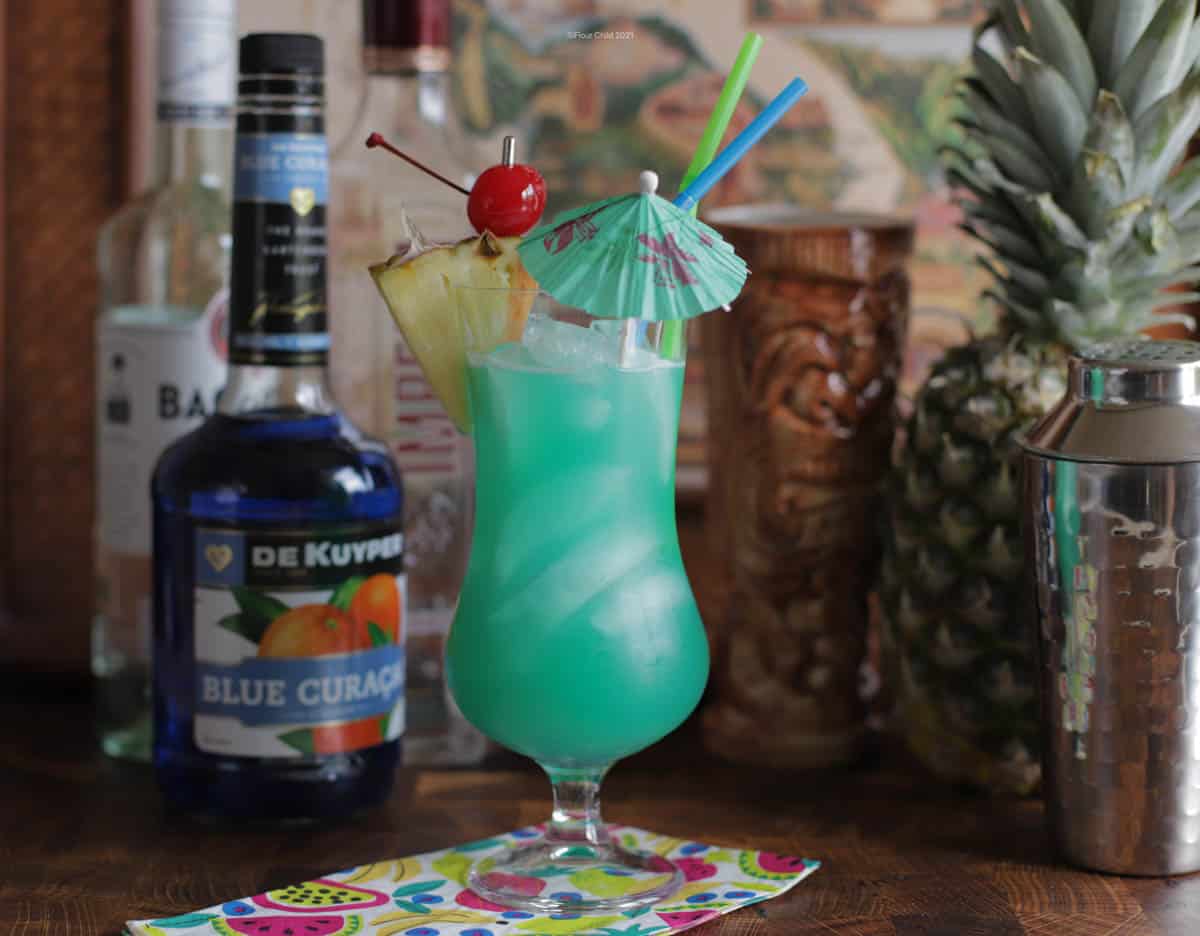 Any Color as Long as its Blue...
Many cocktails have a murky past and it is not certain who invented them or where they came from. The Blue Hawaii is different because we know exactly where and how it got its start.
In 1957 an enterprising salesman for the Dutch distiller Bols, asked Honolulu's Hawaiian Village Hotel head bartender, Harry Yee, to invent a cocktail using their Blue Curaçao liqueur. Harry experimented for a while with various ingredients and eventually landed on this recipe, which incorporates different base spirits, fruit juices and the famous liqueur which gives it its color.
The Blue Hawaii is Fit for The King
Harry also gave the drink it's name, Blue Hawaii. Many people thought this was because of the Elvis Presley movie with the same name. But unfortunately, that is just another Island myth. Harry named it after a song from a much earlier Bing Crosby movie, but the same song was featured in both movies. So indirectly, Harry named Elvis' 1961 Technicolor tropical smash movie, Blue Hawaii.
I'm not sure if it was the cocktails or the movies, but Hawaii soon became an exotic tourist destination, and in 1959 Hawaii became the 50th state in the union.
The Booming Tiki Trend
Harry went on to create many more tropical cocktails which caught on in Hawaii and soon spread to the mainland. The Tiki craze was based on a faux tropical culture and was soon featured in movies, songs and culture. Don the Beachcomber and Trader Vic's bars and restaurants became very popular destinations for their Tiki drinks and cartoon-like take on Polynesian life.
Ingredients for a Blue Hawaii
Like many tropical drinks, this cocktail may seem complicated but its really quite simple with only a few ingredients:
Vodka
White rum
Blue Curaçao -- this is a delicious orange-flavored liqueur made from fruit peels from the Caribbean
Pineapple juice
Sweet n Sour (this one is super easy--just use my simple syrup recipe and squeeze in fresh lime juice until it's a little tangy)
Maraschino cherries and pineapple slices for garnish
The hurricane glass is nearly as important as the drink itself. If you like Tiki drinks or tropical cocktails, you may want to invest in a set. Be careful though, these are large glasses and you'll find yourself mixing up a larger batch of drinks just to fill it!
And of course you need to top it off with fresh fruit and a paper umbrella to instantly transport you to the tropics.
Tips for Success
Even though this is a simple drink to mix, here's a few things to keep in mind:
Whip up a small batch of simple syrup with fresh-squeezed lime juice rather than buying Sweet n Sour mix. Homemade syrup gives the drink a very balanced taste and is not sickly sweet like the bottled syrups.
You can just shake this drink up; no blender is required. This keeps things easy,
Frequently Asked Questions
What is a popular drink in Hawaii?
There are several drinks that come to mind and certainly they can be Tiki related or not. While traveling there myself, I enjoyed the Blue Hawaii, Blue Hawaiian and of course the Mai Tai.
Is Blue Curaçao vodka?
Blue curaçao is a Caribbean liqueur made from dried peels of the Laraha citrus fruit and is merely colored blue. The blue curaçao liqueur is said to have been created by the Dutch Bols distillery.
Similar Cocktails:
Classic Mai Tai Cocktail Recipe
Do you have a favorite Tiki drink? Which do you prefer, the Blue Hawaii, or maybe a Blue Hawaiian?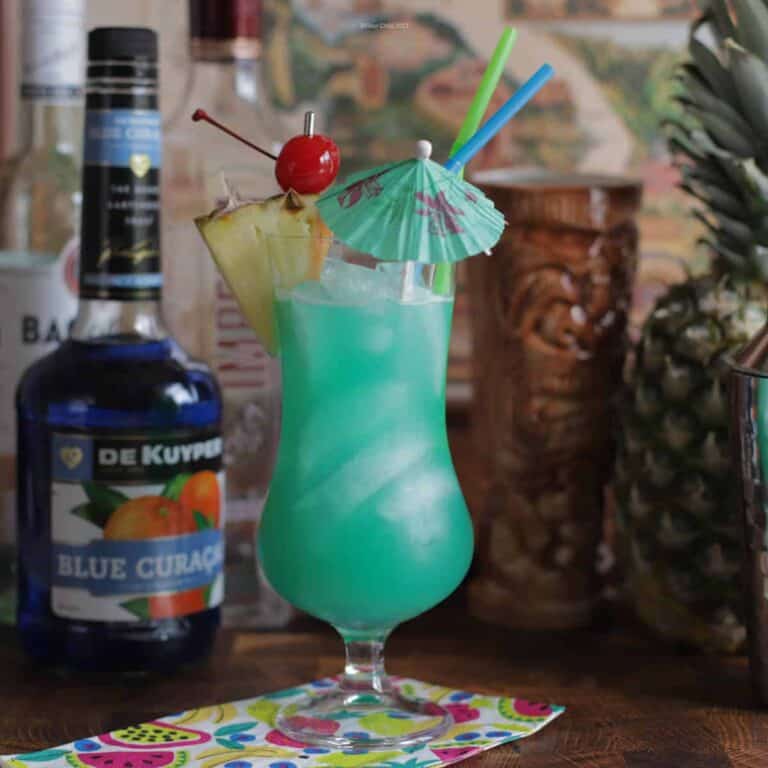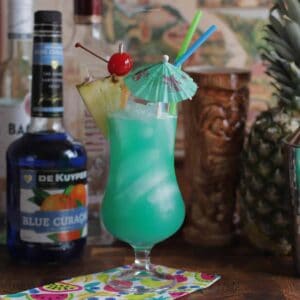 Simple Blue Hawaii Tiki Cocktail
This tropical tiki drink is beloved for its great sweet and sour taste and arresting blue color.
Ingredients
1

Ounce

Vodka

1

Ounce

White Rum

¾

Ounce

Blue Curaçao

3

Ounces

Pineapple juice

1

Ounce

Sweet-n-Sour simple syrup

Pineapple wedge and maraschino cherries for garnish
Instructions
Place one cup of fresh ice in a cocktail shaker

Add in wet ingredients and shake for at least 30 seconds

Pour drink and ice into a hurricane glass

Add pineapple wedge and cherries as garnish
Notes
Feel free to put your cocktail through a blender if you'd prefer a frozen version.
A dash of spray whipped cream makes it more decadent!
Nutrition
Calories:
318
kcal
Carbohydrates:
39
g
Protein:
1
g
Fat:
1
g
Saturated Fat:
1
g
Polyunsaturated Fat:
1
g
Monounsaturated Fat:
1
g
Sodium:
20
mg
Potassium:
136
mg
Fiber:
1
g
Sugar:
36
g
Vitamin A:
4
IU
Vitamin C:
9
mg
Calcium:
15
mg
Iron:
1
mg