A homemade pupu platter with crab rangoon, teriyaki meatballs, and fresh cut pineapple chunks will make your tiki party, luau, or summer a bash a delicious success!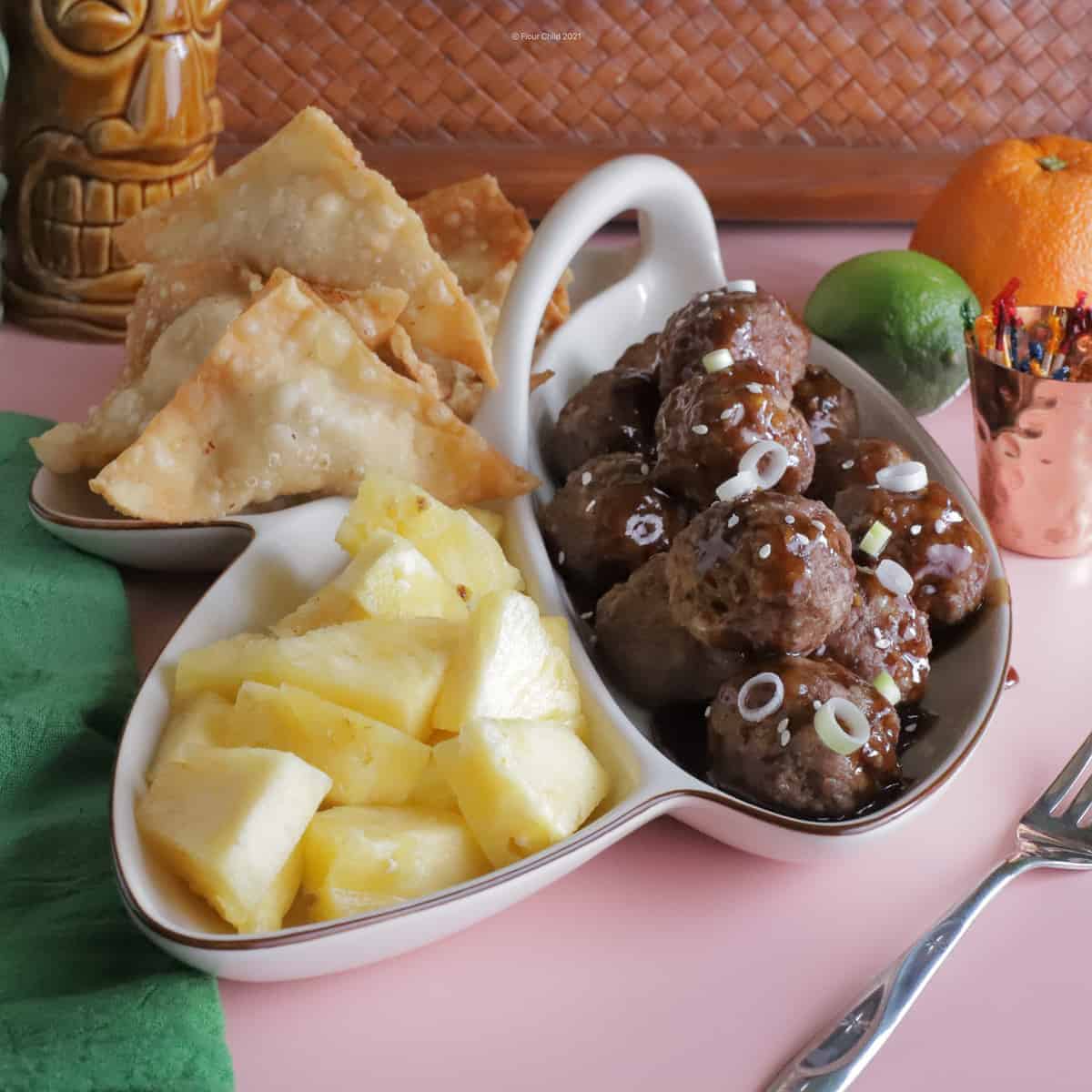 What is a Pupu Platter?
A pupu platter is an assortment of Polynesian appetizers. In Hawaiian, "pupu" translates to "hors d'oeuvre," so it's a dish you would serve either before dinner, or as small bites at a cocktail party.
Pupu platters were first served in the 1930's at Don the Beachcomber's Polynesian restaurant in San Francisco. They soon caught on at Trader Vic's and many Asian restaurants as well. In the 1960's and 70's it was a popular party tray, and is still a favorite appetizer on menus in tropical destinations.
What Goes on a Pupu Platter?
There are no hard and fast rules on what should be served, but following are items you will often find on a pupu platter:
Tempura shrimp
Tempura vegetables
Teriyaki beef skewers
Pineapple chunks
Spare ribs
Spring rolls
Chicken satay
Preparing Your Platter for Serving
We have three easy to prepare recipes for you to choose from for your pupu platter: coconut shrimp, teriyaki meatballs and crab rangoon. We suggest serving two hot appetizers along with some fresh pineapple chunks for an appetizer tray that will be the talk of the party!
How To Make a Pupu Platter
1. Make the meatballs first
Easy Teriyaki Meatballs can be made in advance. Prepare the raw meatballs and place them in a covered container in the refrigerator for up to 2 days before cooking. Once they are baked, they can be mixed with teriyaki sauce and kept warm in a crockpot on the lowest setting. When ready to serve, simply transfer them to your serving tray and keep extras in the crockpot to refill the serving plate when it gets low.
2. Cut up fresh pineapple
There is no comparison between canned pineapple and fresh pineapple. For a memorable appetizer, you will want to serve fresh pineapple chunks on your pupu platter. Though you can buy pre-cut pineapple in your grocery store's produce section, you will pay a lot more for it. Cutting a pineapple may seem daunting if you've never done it before, but it only takes a few minutes and it's really quite easy. Head over to this post and video from Williams Sonoma on the easiest and fastest way to cut fresh pineapple bites.
3. Make the coconut shrimp or crab rangoon
If you're making the baked coconut shrimp, prepare the baking sheets of uncooked shrimp 2-3 hours before guests arrive, then gently cover with plastic wrap and place in the refrigerator. About 30 minutes before guests arrive, preheat the oven to 400 degrees. When ready, place cookie sheets in the oven to bake for 15-20 minutes. While baking, mix up the dipping sauce. Transfer to a serving platter when you remove shrimp from the oven.
If you're making the crab rangoon, mix up the cream cheese mixture about 30 minutes before guests arrive. Fill and pinch the wanton wrappers, and preheat the oil. Just before guests arrive drop the first batch in the oil for 2-3 minutes, then remove to the serving platter.
Planning and prepping in advance makes this impressive appetizer tray so easy to prepare!
Tiki Cocktails To Go With The Hawaiian Small Bites
Now that you've got your food menu set, whip up some fabulous tiki cocktails to go with it. Here are some of our favorites:
The winning combination of tropical appetizers and cocktails is sure to put your party guests in the aloha spirit!
If you have a vintage recipe you'd like share with us for possible publication, please scan it and email it to [email protected]. We'd love to hear from you!