Savory homemade meatballs contain a hint of ginger, and with a sweet and tangy teriyaki sauce drizzled on top have an authentic, island-style flavor!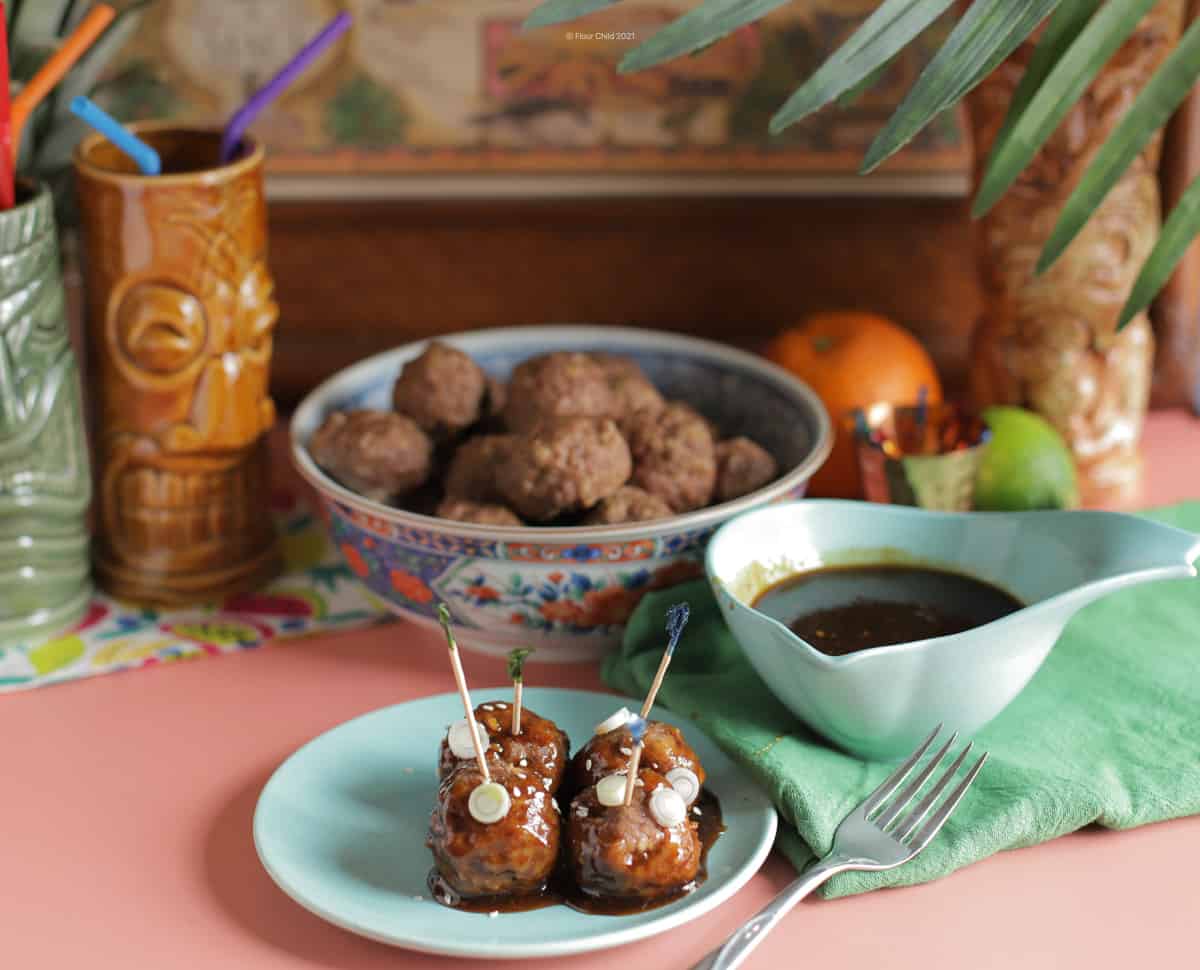 Whether you're throwing a tiki-themed party or just craving a Polynesian appetizer, this teriyaki meatball recipe will hit the spot. Served with a tropical cocktail like the piña colada, hurricane, or mai tai, this is truly an island treat!
Start With Easy Homemade Baked Meatballs
There are many teriyaki meatball recipes that call for frozen meatballs and a homemade teriyaki sauce. But when Polynesian food and drinks became a mid-century rage in the 1950's, people were making them from scratch, not buying them in bags. I admit I have used frozen meatballs in a pinch, and they're quite bland. Plus, many frozen meatballs have Italian spices in them, and you don't want an Italian meatball for this Asian-fusion dish.
These easy homemade baked meatballs are a breeze to make and the flavor can't be beat. They contain fresh ginger, garlic, and dijon mustard. When paired with the slightly sweet teriyaki sauce, you get an authentic tropical taste.
Serving Suggestions
This recipe makes 48 meatballs, a nice, party-sized platter. Figure on guests eating 3-4 meatballs per person. You could also serve them as a main course over a bed of rice -- in that case, figure 6-8 meatballs per person. If you don't eat them all, you can refrigerate or freeze the leftovers.
Flavorful Teriyaki Sauce for Meatballs
This oh-so-easy sauce comes together in just a few minutes. It has a pleasant, sweet flavor with a tangy aftertaste. The sweetness of the brown sugar combined with the saltiness of the soy sauce mix well with the similar flavors of the hoisin sauce. Adding in the fresh garlic and ginger give the flavor a complexity and depth that you won't get out of a jarred dipping sauce.
Making the teriyaki sauce literally takes minutes. Simply add the six ingredients to a small saucepan and let the mixture simmer just long enough to warm it, about 3 minutes. Adding a garnish of chopped green onions and sesame seeds adds additional flavor and texture to this mid century tiki appetizer.
Ingredients for Meatballs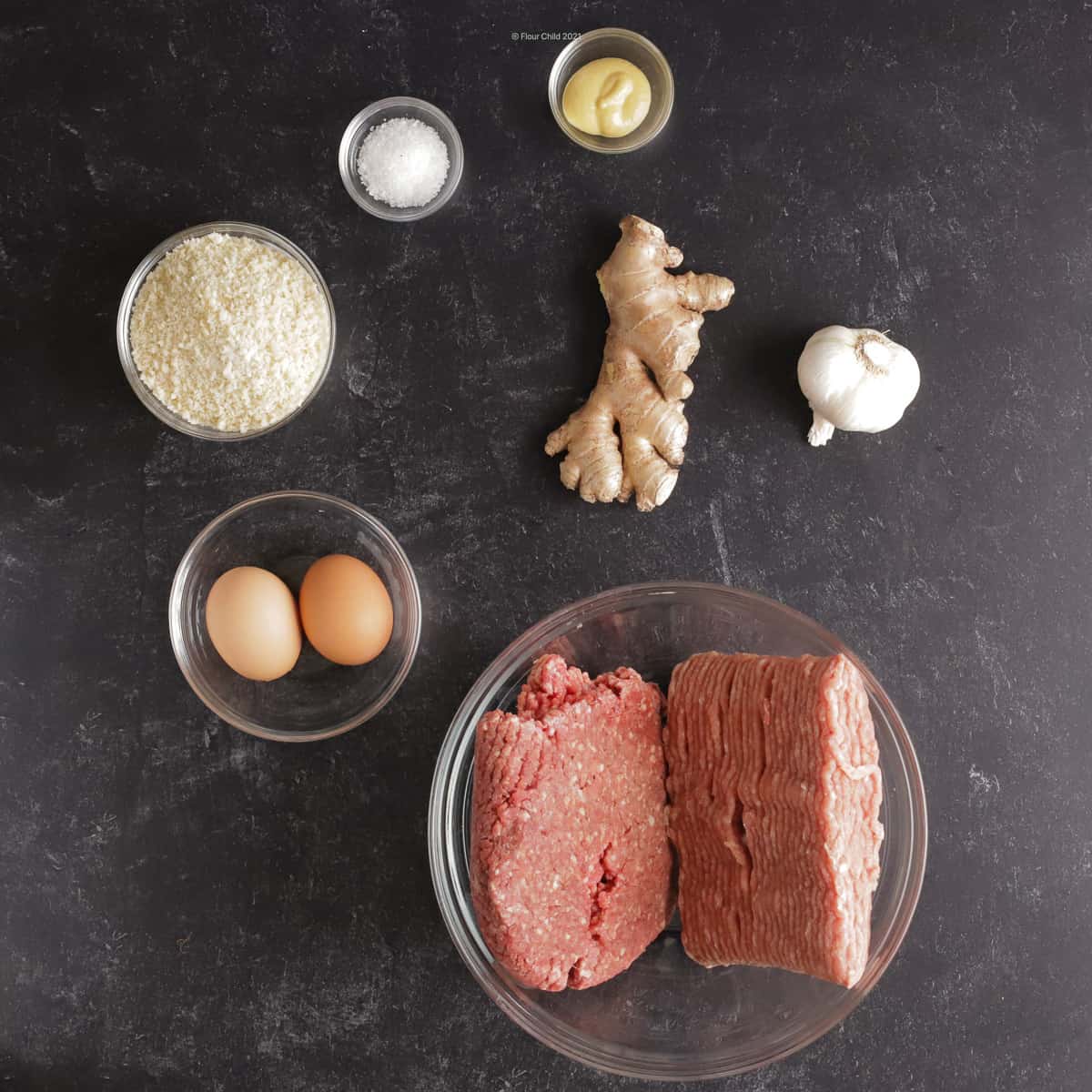 The Secrets To Good Tasting Meatballs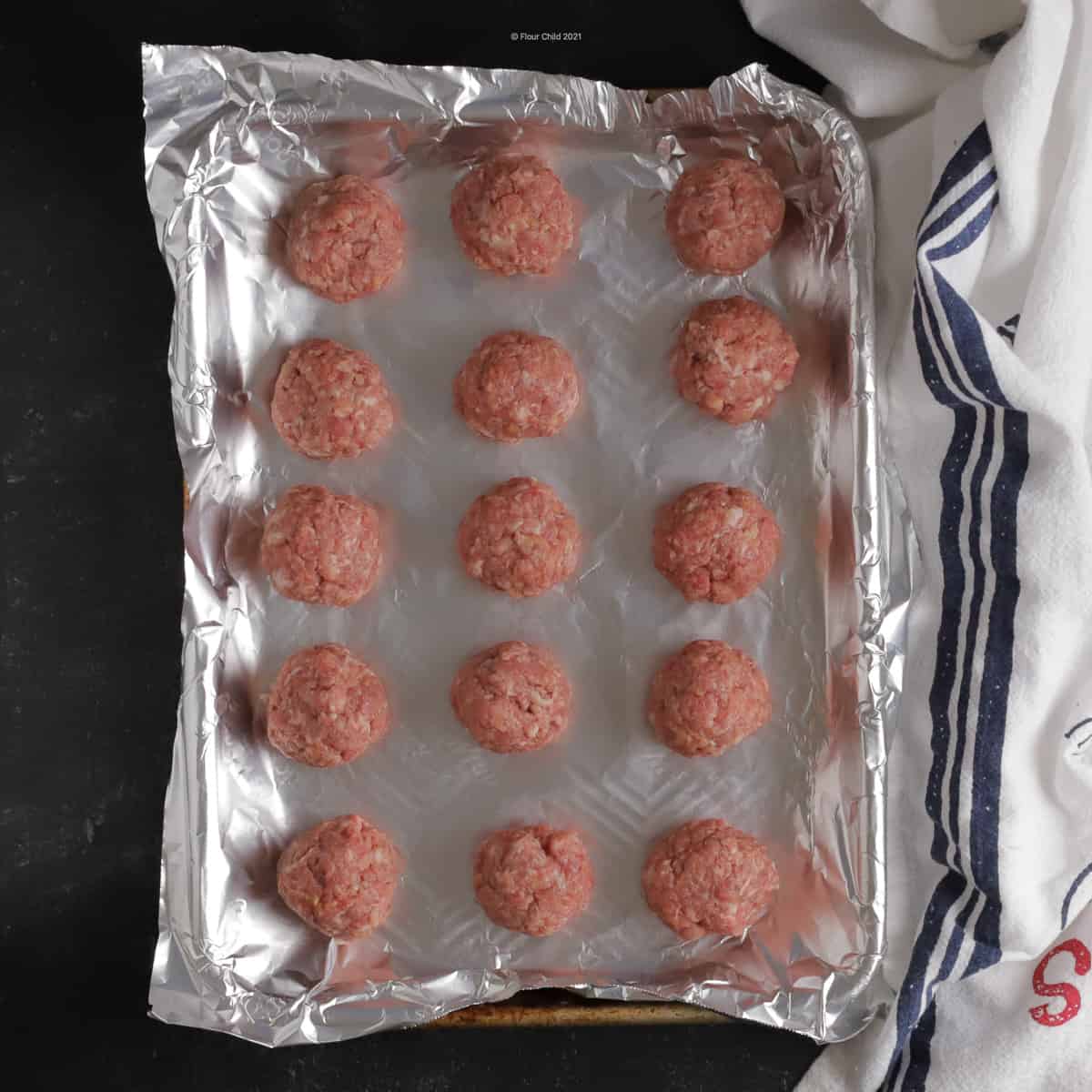 Make the meatballs uniform in size so they cook evenly. If the size varies widely, some might not be fully cooked at the end of the cooking time. I use a cookie scoop to make the meatballs the same size.
Don't over mix the meat. Over mixing causes ground meat to become tough. The best method for mixing is to use your fingers to work all the ingredients together, and to stop mixing as soon as they are combined.
Use meat that has some fat. Using meat that is very lean will result in a meatball that is a bit dryer and less flavorful. Fat gives the meat flavor, and since this is an appetizer no one will be consuming that much.
Frequently Asked Questions
What type of ground meat should I use for the best tasting teriyaki meatballs?
For the most flavorful meatballs, use one pound of ground beef that is 80/20 lean, and one pound of plain ground pork (not Italian sausage).
How do I know when the meatballs are done baking?
The best way to tell if meatballs are done is to use a meat thermometer to check the internal temperature. After 18 minutes, insert the thermometer into the center of a few of meatballs. Once they reach an internal temperature of 155 degrees, they can be removed and allowed to rest, during which time their internal temperature will continue to rise to the proper level of doneness. For more information on cooking perfect meatballs, refer to these five quick tips from Cooksmarts.
Can I make meatballs using ground turkey?
Yes, simply substitute 2 pounds of ground turkey for the beef/pork mixture. Bake at 400 degrees until internal temperature reaches 165 degrees, approximately 20-22 minutes.
What is hoisin sauce?
It is a dark colored, vegetable-based Cantonese paste used in cooking Asian foods such as stir fry dishes and dipping sauces. The main ingredient is fermented soybean paste along with other spices. It has a slightly sweet and salty taste. Hoisin sauce is a vegan item containing no animal products. It can be found in grocery stores near where soy sauce is sold.
Having a tiki party? Also try our Baked Coconut Shrimp with Apricot Dipping Sauce.
If you have a vintage recipe you'd like share with us for possible publication, please scan it and email it to [email protected]. We'd love to hear from you!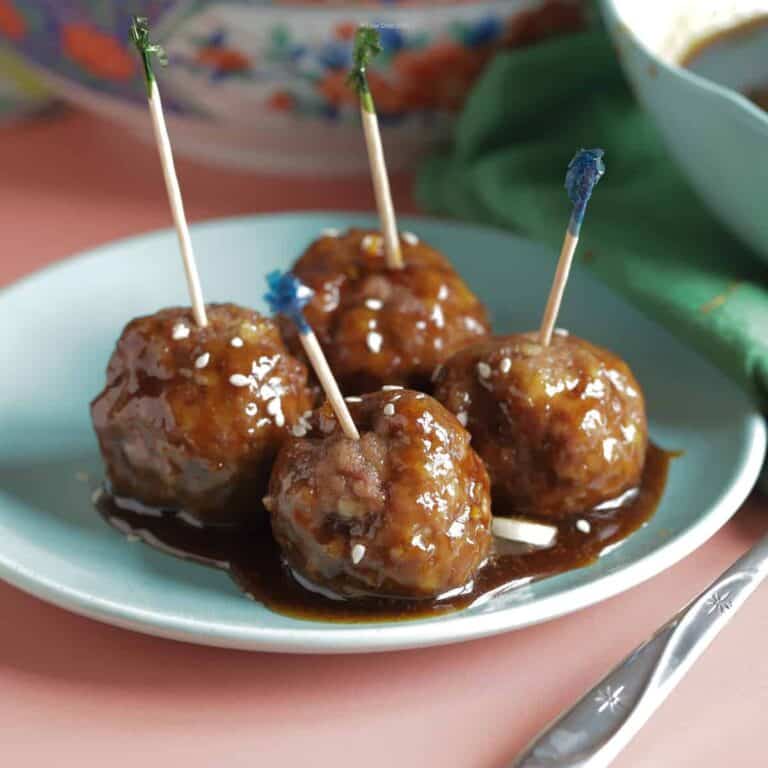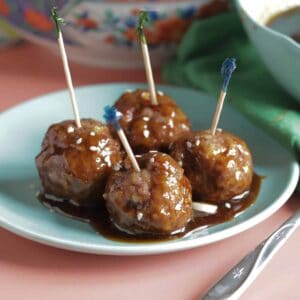 Easy Teriyaki Meatballs Appetizer
Savory homemade meatballs contain a hint of ginger, and with a sweet and tangy teriyaki sauce drizzled on top have an authentic, island-style flavor
!
Ingredients
Meatballs
1

pound

ground beef

1

pound

ground pork

2

large

eggs

1

cup

panko bread crumbs

2

teaspoons

fresh ginger

grated

4

cloves

minced garlic

1

teaspoon

dijon mustard
Teriyaki Sauce
¼

cup

light brown sugar

2

tablespoons

hoisin sauce

1

tablespoon

soy sauce

½

tablespoon

sesame oil

1

garlic clove

½

teaspoon

fresh ginger

grated
Toppings
chopped green onions

sesame seeds
Instructions
Meatballs

Preheat oven to 400 degrees.

Add all meatball ingredients to a large bowl, then mix with your hands or a spatula just until combined.  Roll into approximately 48 balls using roughly 1-½ tablespoons of meat mixture for each. Place on a large cookie sheet line with non-stick foil.

Bake at 400 degrees for 18-20 minutes or until internal temperature reaches 155 degrees. Allow meatballs to rest 5 minutes before serving. Temperature will continue to rise as they rest.

Teriyaki Sauce

In a small saucepan, mix all the teriyaki sauce ingredients together and heat over a low heat, stirring constantly. Simmer for 3 minutes, remove from heat and drizzle over the meatballs. 

Garnish with sliced green onions and/or sesame seeds, if desired. 
Notes
You can make and store unbaked meatballs in the freezer in an airtight container for 3-4 months. 
You can store baked meatballs in the freezer in an airtight container for 2-3 months.
You can store baked meatballs in the refrigerator for 3-4 days.
Nutrition
Serving:
1
meatball
Calories:
65
kcal
Carbohydrates:
2
g
Protein:
4
g
Fat:
4
g
Saturated Fat:
2
g
Polyunsaturated Fat:
1
g
Monounsaturated Fat:
2
g
Trans Fat:
1
g
Cholesterol:
21
mg
Sodium:
57
mg
Potassium:
63
mg
Fiber:
1
g
Sugar:
1
g
Vitamin A:
12
IU
Vitamin C:
1
mg
Calcium:
8
mg
Iron:
1
mg