The classic Mojito cocktail is a refreshing citrus and mint drink that will cool you off on a hot summer day.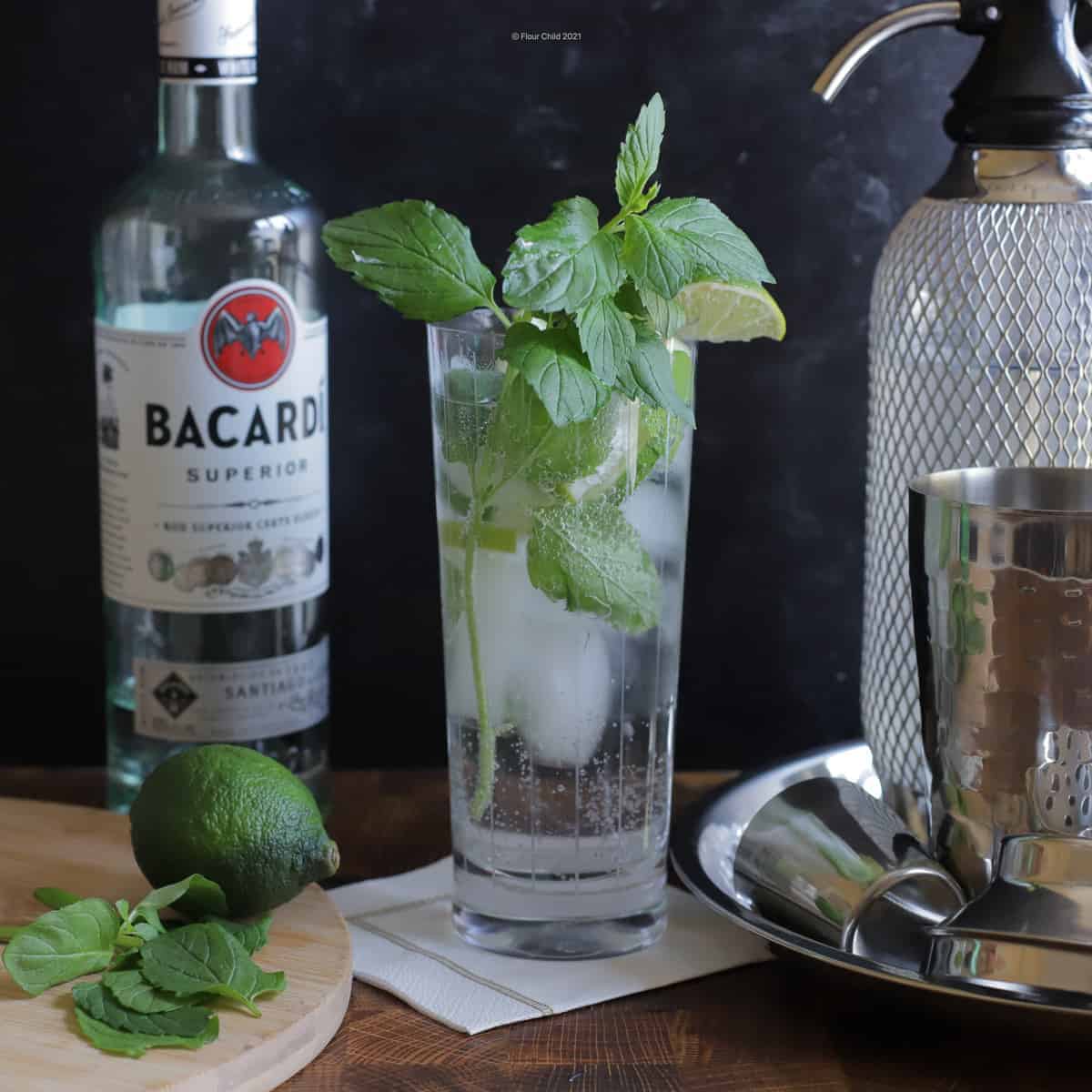 Sipping a Tall Mojito Cocktail is an Easy Way to Beat the Heat
The best Mojito recipe originated at a famous hotel bar in Havana, Cuba where they certainly know how to cool off. And while the mint Mojito drink is certainly one of Cuba's most famous creations, other great cocktails originated there, including the Cuba Libre and the Daquiri.
The island of Cuba is known for its hot, humid, tropical weather. James Bond can seen sipping a Mojito beachside in the movie Die Another Day. After all, what better way to escape the heat than a cocktail made from local ingredients such as sugar cane, rum, and lime?
Mojito Recipe Ingredients
If you've ever wondered what's in a Mojito cocktail, it contains pretty simple island ingredients:
White rum
Mint leaves
Fresh limes
Club soda
Many Mojito recipes use short cuts, such as sweetening with powdered sugar or using lime juice from a jar. Believe me, it's worth taking the time to mix this cocktail by hand and using the best Mojito recipe--a classic one such as this, with fresh ingredients.
I prefer to use this easy-to-make simple syrup to mix with rather than the fine, powdered sugar some recipes call for. It helps keep the mint leaves intact while muddling, and it doesn't leave a sugary mess in the bottom of the glass.
Tools Needed to Make a Mojito
Aside from some common tools such as:
Cocktail Shaker
Bar knife
Cocktail jigger
You'll also want to use a muddler to gently mash the mint leaves to release their oils I prefer a simple wooden muddler like this one.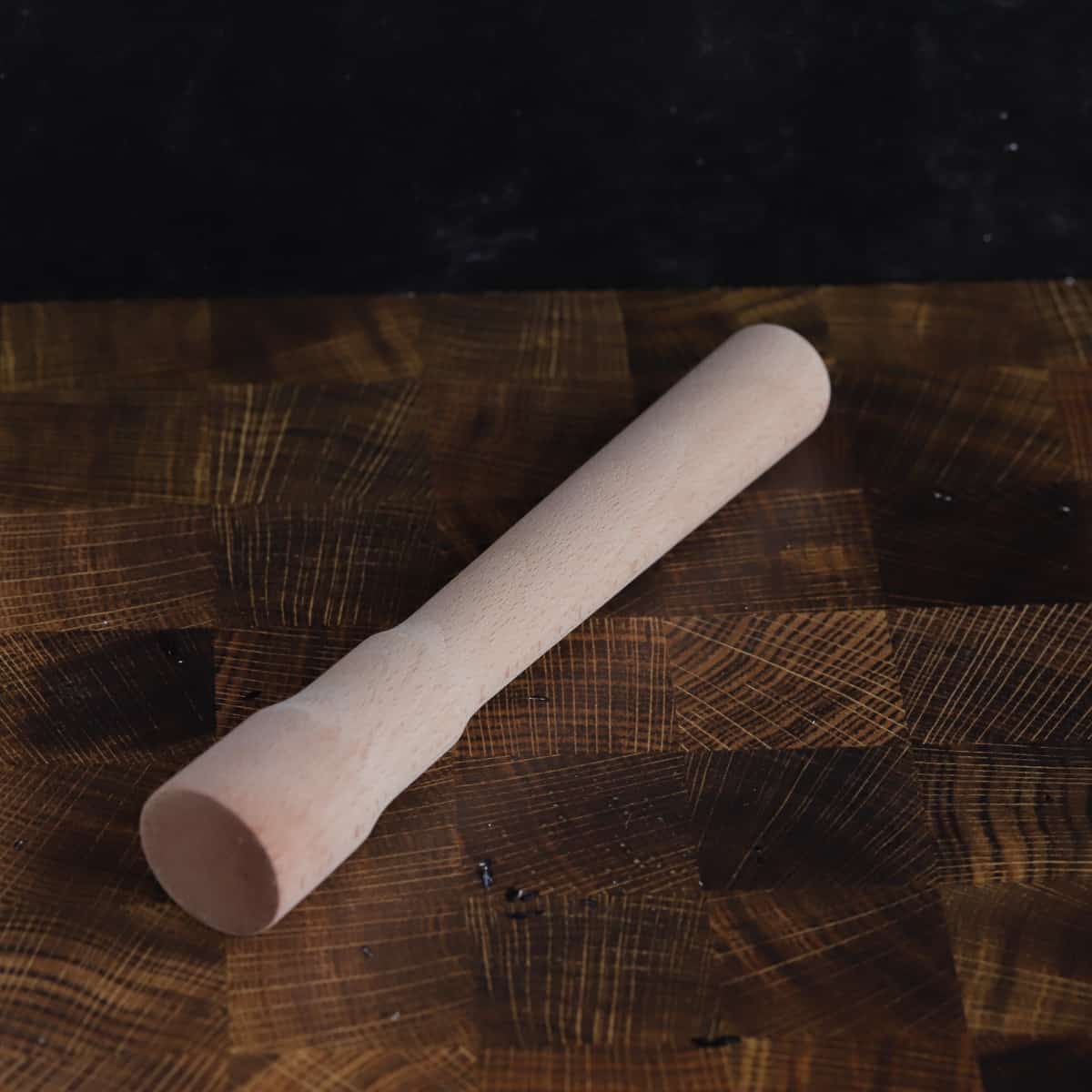 They are easy to use and clean and are very affordable and can be used to make several cocktails such as an Old Fashioned or Mint Julep.
Tips for Success for an Easy Mojito Cocktail
How to make a mint Mojito with fresh ingredients? It's pretty simple, really.
Use a cocktail muddler to help mash the mint leaves to release the oils from the plant.
Don't use a Mojito mix. They contain many chemicals and plenty of sugar, and you don't get the fresh, authentic taste.
Muddling should be done gently. No need to destroy the leaves and have specs of green floating in the drink, making it hard to swallow -- go easy.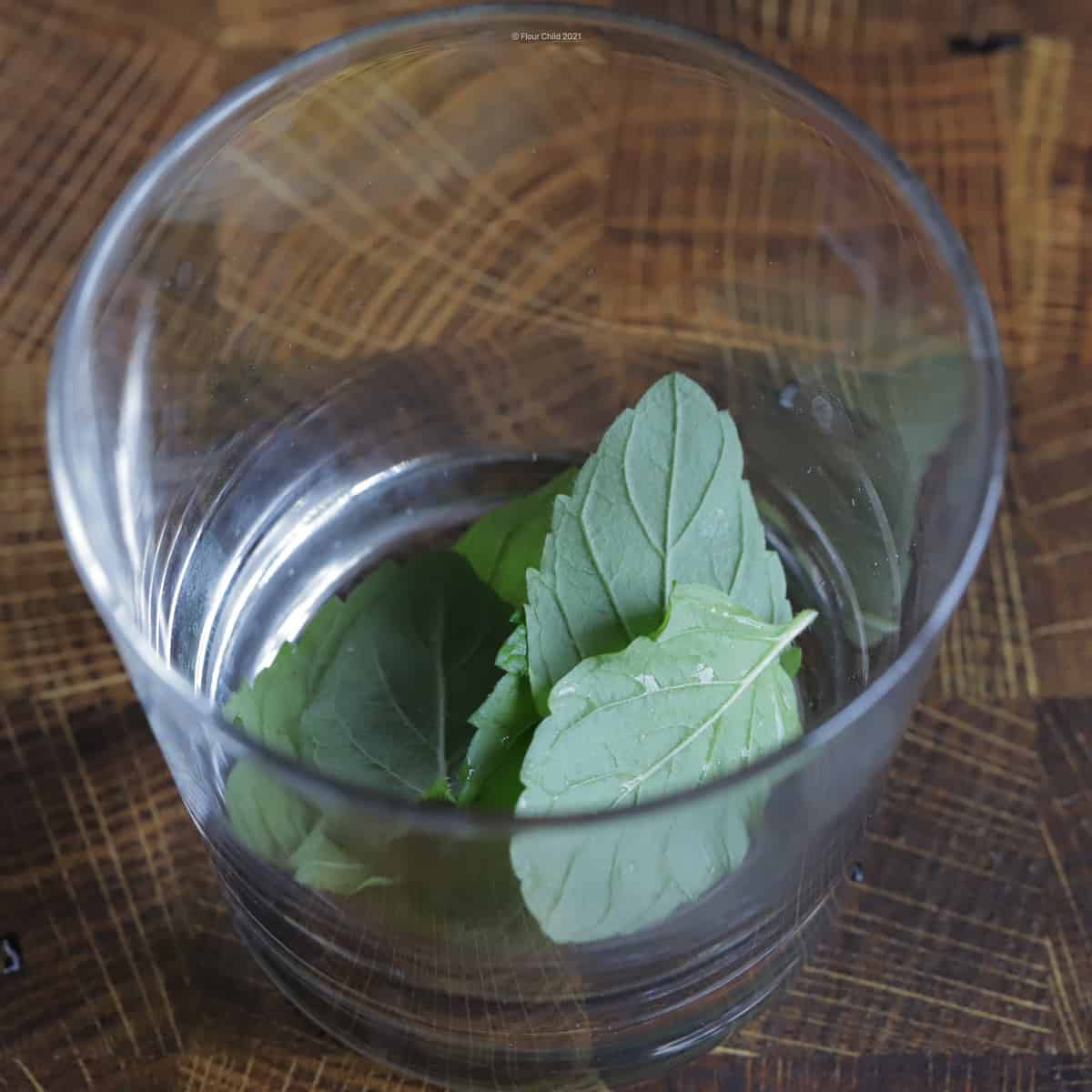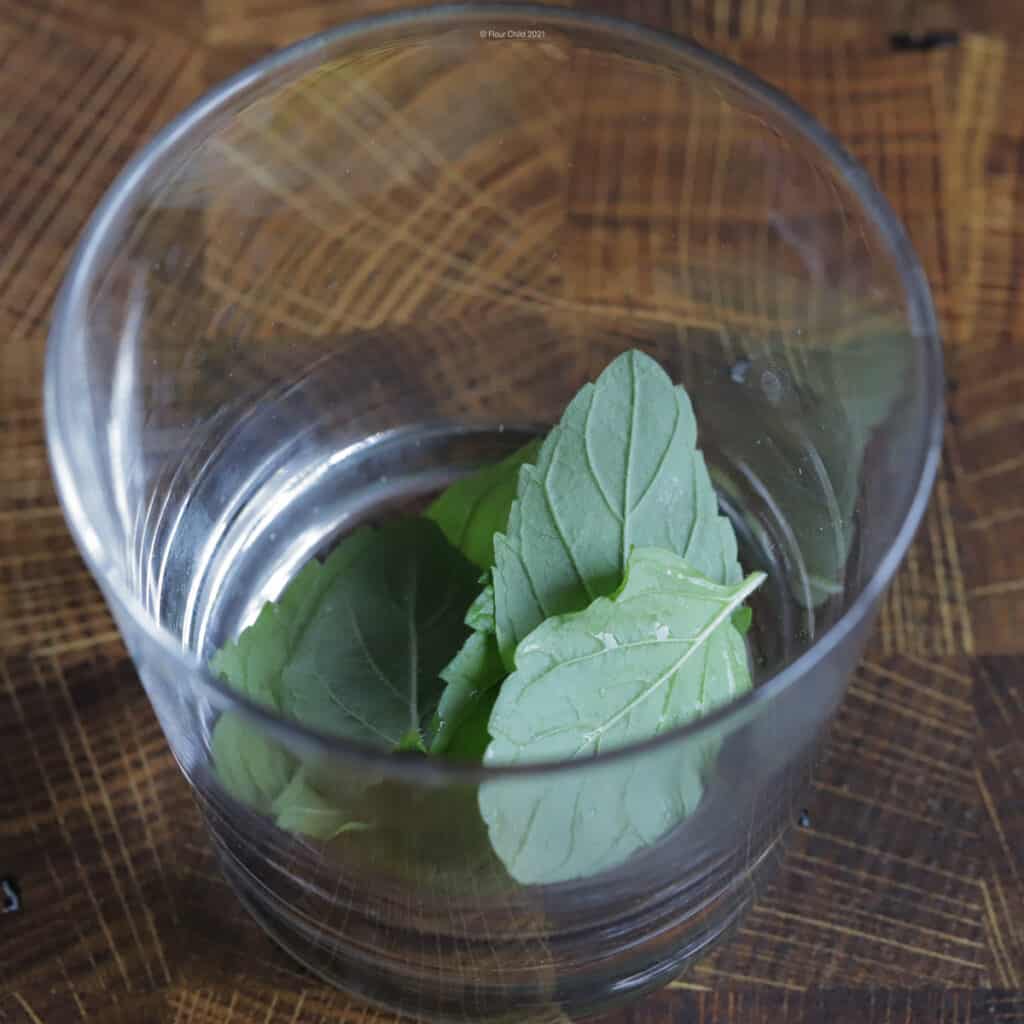 Frequently Asked Questions
How do you muddle mint without a muddler?
If you don't have a muddler in your home bar, simply use a wooden spoon to mash the mint leaves. Remember, the objective is not to shred them; you just want to mash them to release the mint oils.
What is a virgin Mojito?
A virgin Mojito does not contain alcohol. Follow the recipe below, and simply leave out the rum.
What's the difference between a Mojito and a Margarita?
These drinks are quite different. The Mojito uses white rum as the base spirit whereas the Margarita uses tequila. The Mojito originated in Cuba and the Margarita may have originated in Mexico, depending on which legend you believe.
What's your favorite drink to cool off with during the hot summer months? In addition to the mojito, other mint-flavored drinks I like include the Grasshopper, Mint Julep and the Stinger.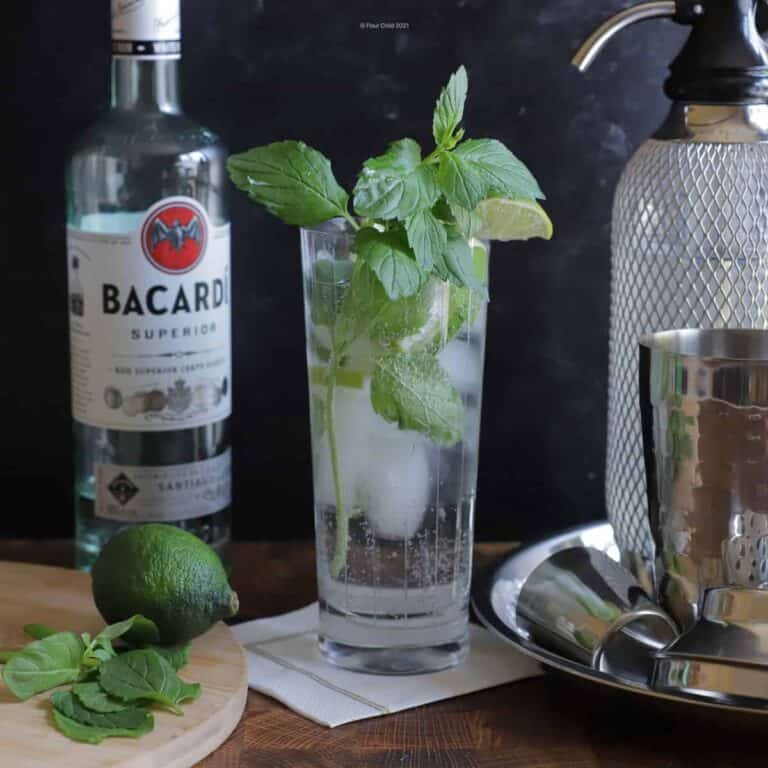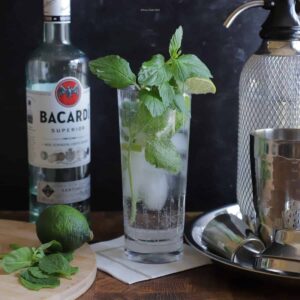 Classic Mojito Cocktail Recipe with Simple Syrup
The classic Mojito cocktail is a refreshing citrus and mint drink that will cool you off on a hot summer day
Ingredients
2

ounces

white rum

¾

ounce

simple syrup

¾

ounce

fresh-squeezed lime juice

6-8

mint leaves

6

ounces

club soda
Instructions
Pour the simple syrup into a cocktail shaker

Add the mint leaves, and gently muddle the leaves until you really smell the oils

Add the fresh lime juice and rum and shake for a few seconds

Pour into a glass of ice and add some slices of lime

Fill the remainder of the glass with club soda and stir

Garnish with a lime wedge and some sprigs of mint 
Notes
I like to rub some of the mint leaves around the rim of the glass to release the oils and give the drink a pop of mint flavor and aroma
Looking to cut back sugar? Try a sugar substitute like Stevia instead of the simple syrup
Feel free to leave out the rum and make it a virgin mojito
Nutrition
Calories:
198
kcal
Carbohydrates:
18
g
Protein:
1
g
Fat:
1
g
Saturated Fat:
1
g
Polyunsaturated Fat:
1
g
Sodium:
51
mg
Potassium:
77
mg
Fiber:
1
g
Sugar:
16
g
Vitamin A:
266
IU
Vitamin C:
8
mg
Calcium:
29
mg
Iron:
1
mg