The fresh, minty flavor of the Stinger classic cocktail makes it appropriate both as a before-dinner cocktail or after dinner digestif. There are only two ingredients in the following recipe, making It one of the easier cocktail recipes to make.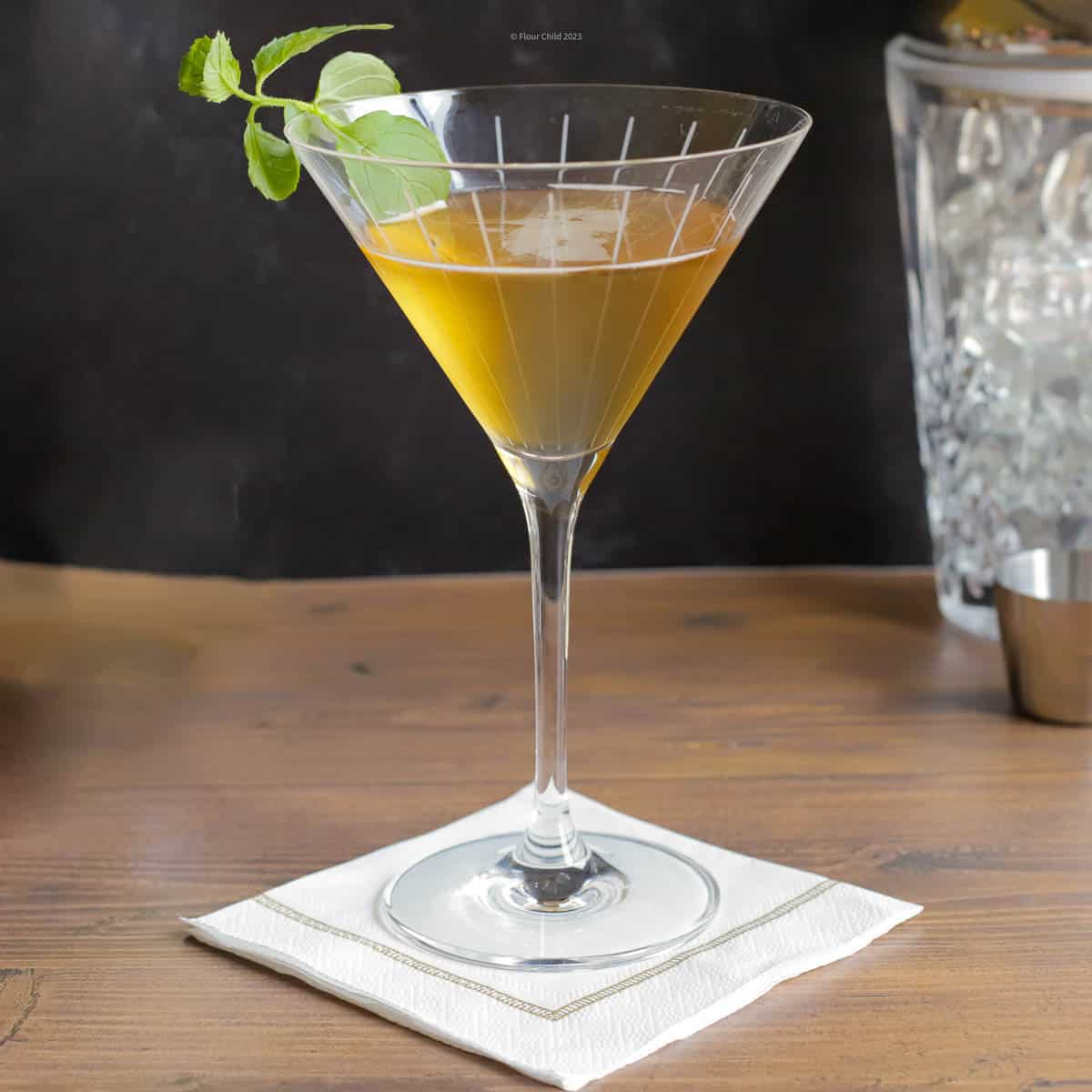 The History of the Minty Stinger Cocktail
This classic cocktail has a long history. This iconic after-dinner drink has graced the finest of cocktail glasses and delighted the upper class of New York City and beyond since the late 19th century. It's said that the Stinger was a favorite of Reginald Vanderbilt, a member of high society in the early 1900s. The first time I tried it, I was pleasantly surprised at how refreshing it is. It may soon become your favorite drink, too. I first saw a recipe for it the always-helpful Jaques Straub's manual, "Drinks."

This cocktail became very popular during prohibition in the United States in the 1920's, since the strong mint liqueur helped hide some really bad tasting, illicitly produced spirits.
The Stinger was a staple of many classic bar manuals, and It's mentioned in the "Fine Art of Mixing Drinks" by David A. Embury as well as celebrated in David Wondrich's "Imbibe." This classic drink even makes an appearance in Tom Bullock's "The Ideal Bartender".
It continued to be a popular drink into the mid century period where people like Cary Grant, Jayne Mansfield, and even the iconic Frank Sinatra and Bing Crosby indulged in this minty delight during the classic cocktail hour.
Ingredients you'll need for a Classic Stinger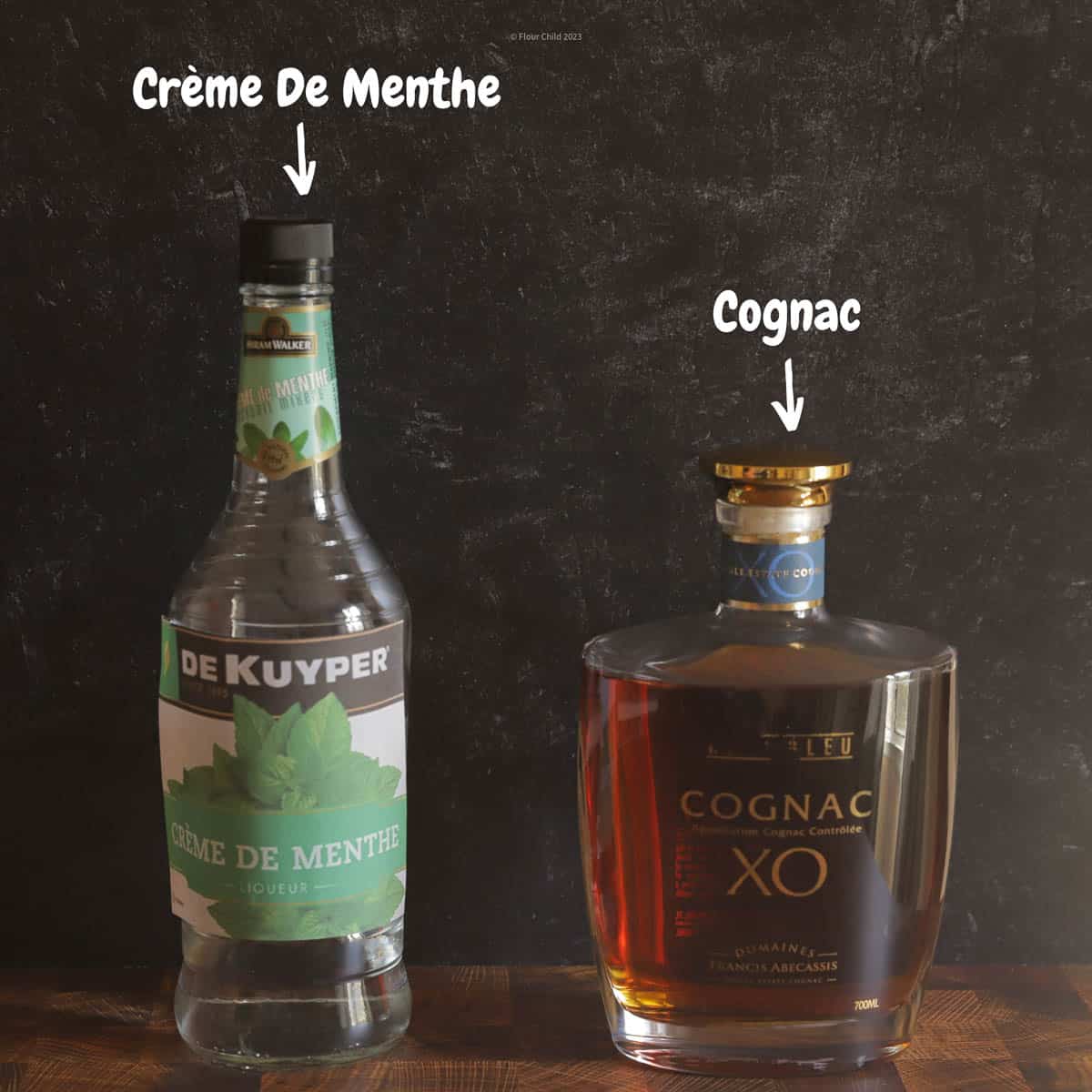 This minty fresh drink is referred as a duo cocktail, meaning it contains only two ingredients:
Cognac
White Creme de Menthe (you can use the Green Creme de Menthe if you prefer a splash of color)
Many early mixed drinks recipes used Cognac and Brandy interchangeably. Some say Brandy is a type of Cognac or that Cognac is a type of Brandy. Either one will do just fine, as it is essentially the same spirit. Brandy is not produced in the Cognac region of France, but is otherwise the same thing. Kind of like champagne versus sparkling wine.
Bar Tools Needed
You don't need any special bar tools to mix this cocktail, so there are no excuses not to whip one up. Use the following basics:
Cocktail shaker
Bar spoon
Jigger
Strainer
How to Make this Easy Stinger Recipe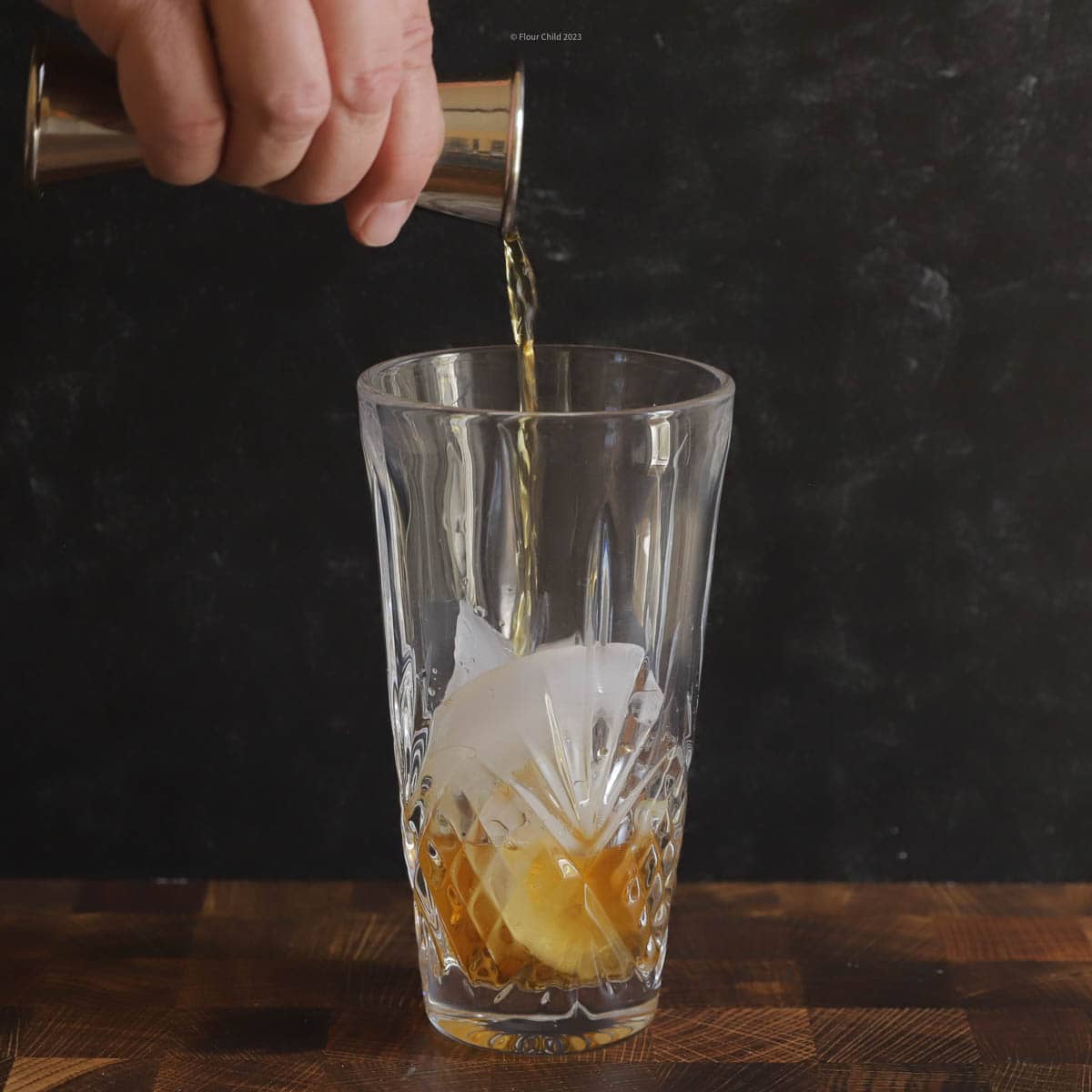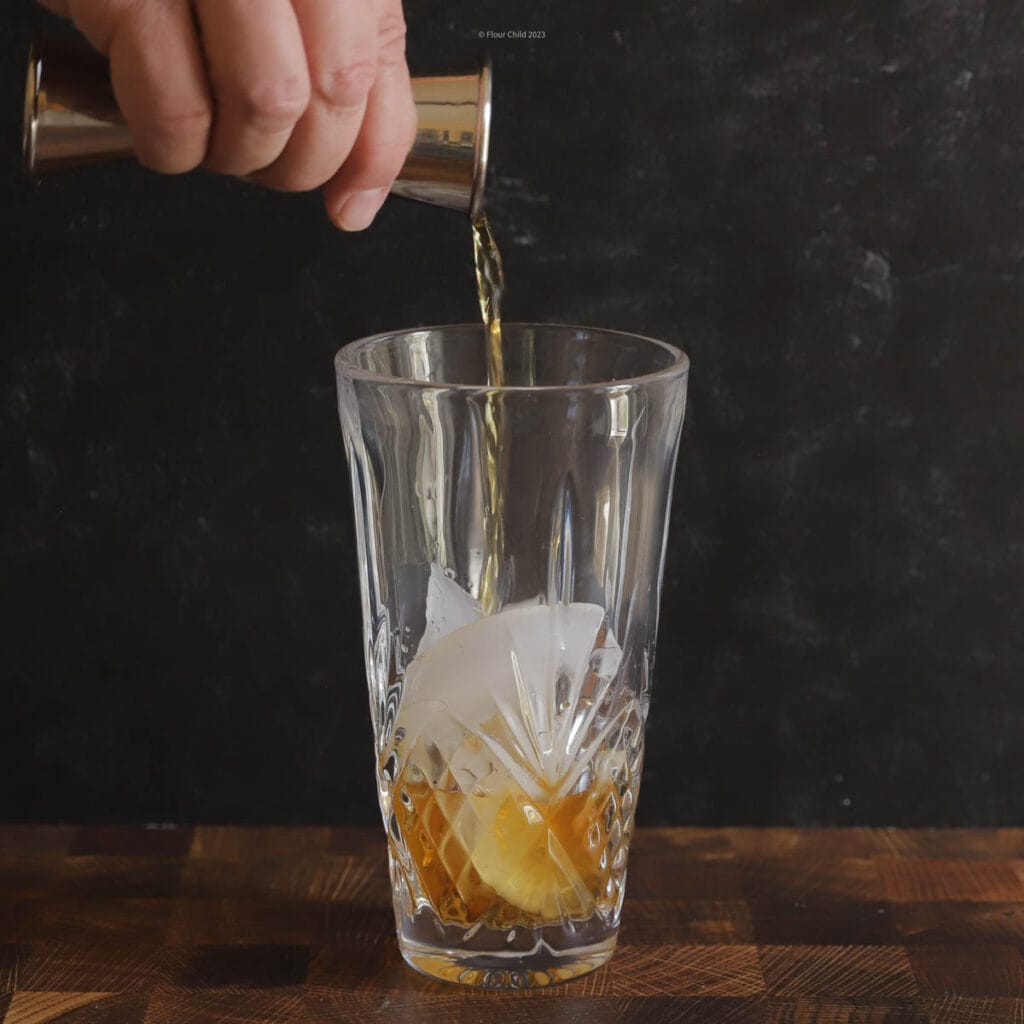 With only two ingredients, this cocktail is very easy to make. Just follow these simple directions:
Place a handful of fresh ice cubes into a cocktail shaker.
Pour a jigger of Cognac into the shaker followed by a jigger of Creme de Menthe.
Shake for 20-30 seconds and strain into a chilled cocktail glass.
Garnish with a fresh mint sprig or a mint leaf for a pop of color and an extra burst of mint flavor.
You can also serve this drink in a rocks glass filled with crushed ice for something different. Some bartenders prefer to use a mixing glass and stir the cocktail so it remains clear of ice chips. Either method works well to mix and chill the drink.
Tips for Success
Since there are only two ingredients in a Stinger, it is hard to make a wrong turn. However, keep these things in mind:
Don't mix this drink with an inferior Cognac because it will have a very harsh, alcohol-forward taste. The same goes for the Creme de Menthe. I've always had good luck with De Kuyper mixers since they offer good quality at a good price, and are readily available at your local grocery store or liquor store.
You can use a dash of simple syrup if you prefer to make the drink less powerful and more sweet.
For an extra smooth cocktail sure to please most taste buds, cut back the amount of Cognac you use and mix the drink with equal parts of Cognac and Creme de Menthe.
Frequently Asked Questions
Can you make a Stinger without Cognac?
Yes, you can substitute Brandy if you don't have any Cognac handy. Or, if you are very adventurous, substitute tequila for a south of the border twist to this classic, referred to as a Tequila Stinger.
What are some other Stinger Variations?
If you add a dash of red pepper to the recipe you'll have a Green Hornet. Or you can substitute vodka to make a Vodka Stinger, and you get a whole new flavor profile.
Its minty, refreshing profile is perfect for capping off an elegant meal or unwinding during cocktail hour. So, raise your glass and toast to the enduring appeal of the Stinger cocktail, a high society drink that has stood the test of time and continues to grace the finest of cocktail glasses. Soon, it will be one of your favorite drinks. If you like minty drinks, don't forget about the Grasshopper which is perfect as a dessert or after dinner cocktail. As always, you can't beat the Old Fashioned as the first or last cocktail of the evening.
Before you go, did you try this cocktail? Why not leave a comment in the comments section along with a rating? I always appreciate hearing from you and getting your feedback.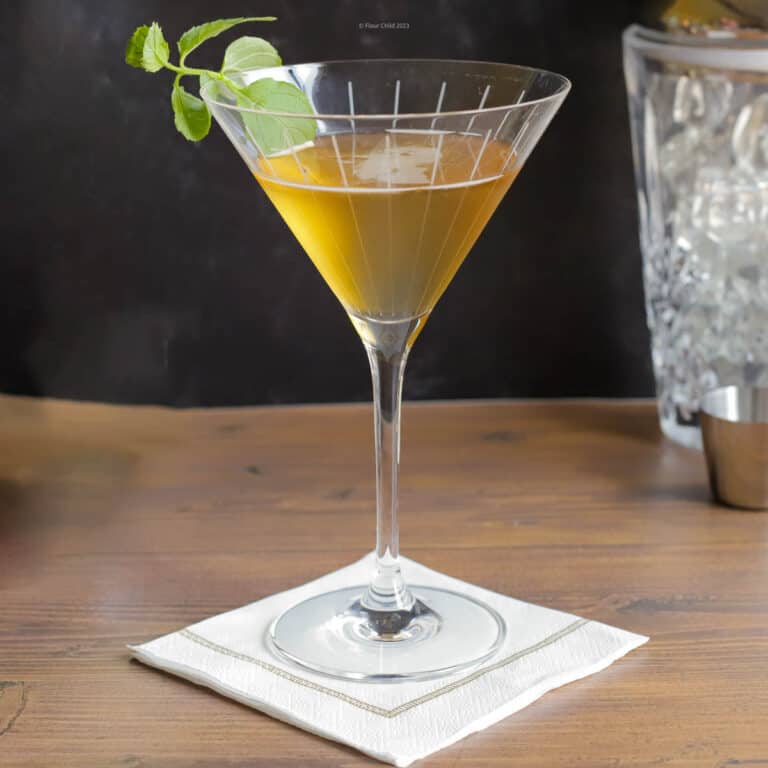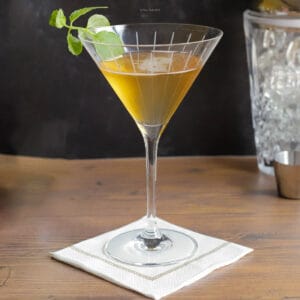 The Refreshing Stinger Cocktail
A cool, refreshing mid century cocktail that is good before or after dinner.
Ingredients
2

ounces

Cognac or Brandy

1

ounce

white Creme de Menthe
Instructions
Put two generous scoops of ice in a cocktail shaker

Pour Cognac and Creme de Menthe over ice

Shake for 20 seconds and strain into cocktail glass
Notes
You can also serve this cocktail in a rocks glass with crushed ice.
Some people prefer to use a cocktail mixing glass and stir the ingredients rather than shaking them.
Nutrition
Calories:
236
kcal
Carbohydrates:
12
g
Fat:
1
g
Polyunsaturated Fat:
1
g
Sodium:
2
mg
Potassium:
1
mg
Sugar:
12
g
Iron:
1
mg