This Daiquiri cocktail has been a refreshing favorite for generations for good reason. It is a tart and thirst-quenching drink with a taste of the tropics.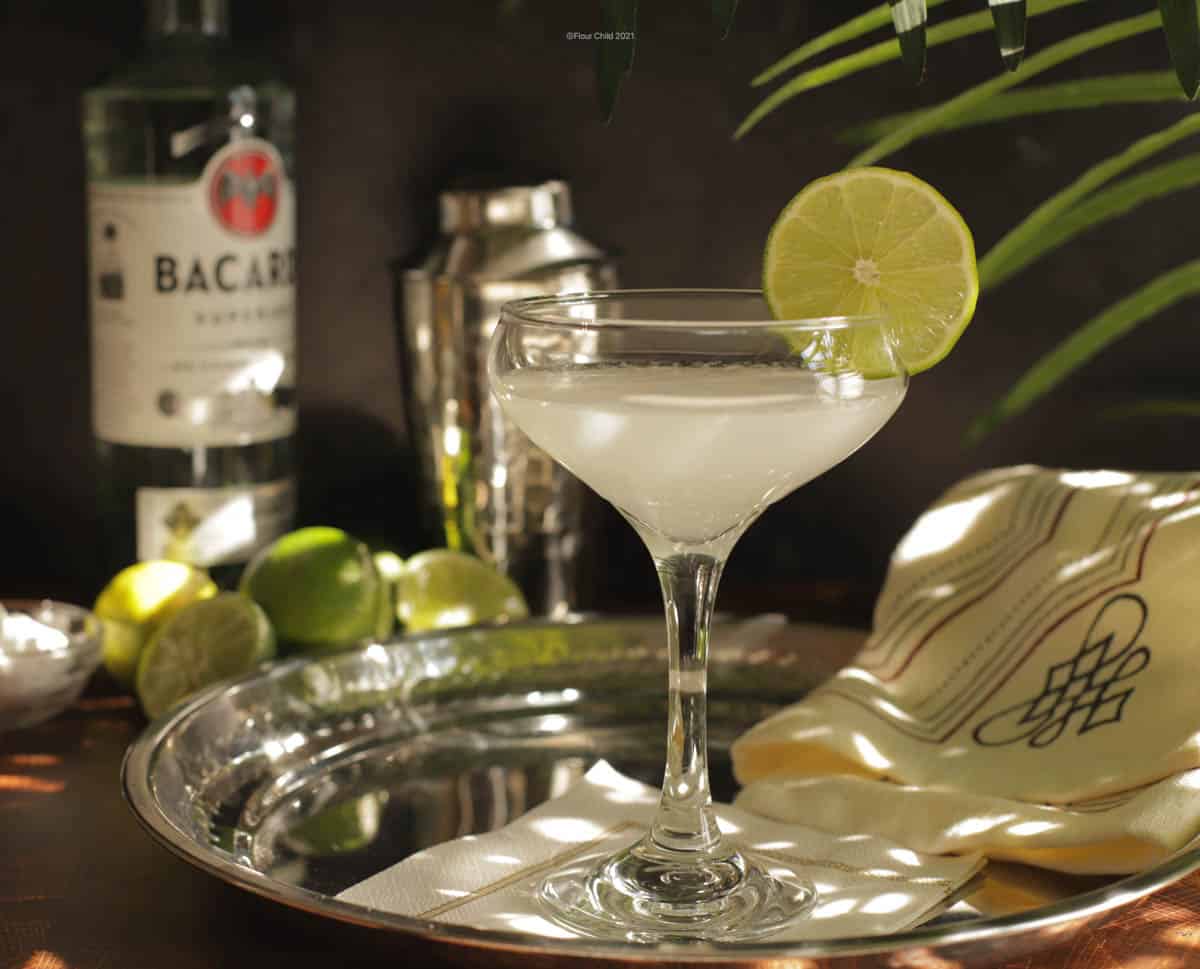 Where is Daiquiri?
That's right, Daiquiri is not only a fun cocktail, but also a remote beach town located 14 miles east of Santiago de Cuba. It is there that an American mining engineer is said to have invented this drink in the late 1800's. The Daiquiri kept the name of its hometown as it slowly made its way north to America, and took off in popularity during World War II. Rum was cheap and easily available from Latin America, while other spirits such as whiskey and vodka were often rationed. It was the drink of choice of both Ernest Hemingway and John F. Kennedy, and soared in popularity in the 50's and 60's as the trend toward exotic tropical drinks exploded.
One of my favorite scenes in the movie Godfather 2 was when brothers Michael and Fredo Corleone are in Havana, Cuba shortly before the revolution. You can feel the tension between the two brothers as they sit outside the Hotel National and order drinks. Michael, always in control, asks for a club soda. But nutty Fredo orders a Daiquiri, and a banana Daiquiri at that! It's a personal moment between two interesting characters using cocktails as a metaphor to describe each brother.
Mid Century Impact on the Daiquiri
The optimism and exuberance of mid century America touched nearly everything in our daily lives, and cocktails are no exception. Suddenly, the average American home contained appliances like ice makers and blenders. This allowed people to create blended cocktails right in their own home rather than having to go to a bar or restaurant.
The Daiquiri was a prime candidate to take advantage of that convenience because it is best served ice cold. It's also good straight from the blender. Before we had reliable, affordable international shipping, the average person didn't have easy access to fruits like limes, bananas and even strawberries. Thanks to President Eisenhower, new interstate highways allowed the new national supermarket chains to stock up on produce that could easily be trucked in. Now that they had so many options, Americans experimented and drank like never before.
Ingredients for a Classic Daiquiri Cocktail
This cocktail consists of the 'holy trinity' of classic cocktails: spirit, fruit juice and sugar. The trick to a good Daiquiri is to find the right balance between the three so that one doesn't overpower the others. Here's specifically what you'll need to whip one up:
White rum
Fresh-squeezed lime juice
Powdered sugar
Depending on the cocktail I'm mixing, I usually use a gold rum. Gold rum has been aged in a charred oak barrel and is smooth tasting. But for this drink I really like the sweetness that a white rum offers.
If you like this drink blended, you can have fun by adding other fruits such as bananas and strawberries. The base of the cocktail stays the same.
Tips for Success
To make a classic Daiquiri cocktail keep these things in mind:
Use a quality rum that blends nicely with the other ingredients and doesn't overpower the drink. I've heard people say that since they're mixing it with sugar it doesn't matter. I think it does matter -- a white rum will have a certain sweetness that can help take some of the tartness out of the lime juice.
Use freshly squeezed lime juice. You will need to experiment a little to ensure you get the right balance between too tart and too sweet, but you'll never want to go back to the bottled lime juice again. I recommend going easy on it and using between a ¼ and a ½ ounce. Start with a little and add more, tasting as you go, until you find a balance you like.
What is your favorite flavor of Daiquiri? What kind of rum do you prefer?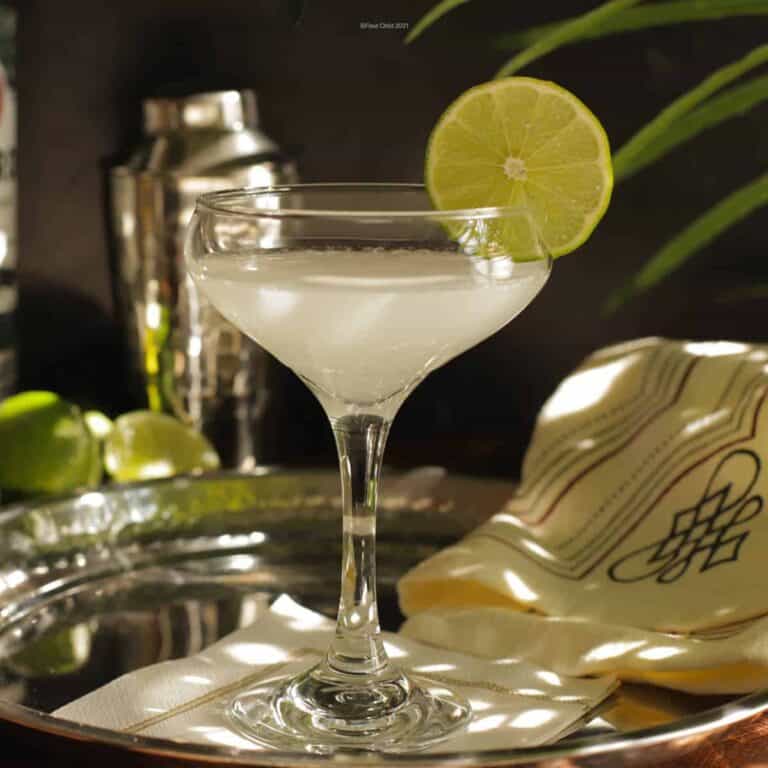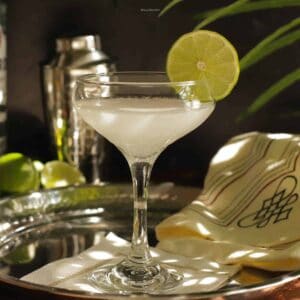 The Daiquiri Cocktail is a Sweet Taste of the Tropics
The classic Daiquiri cocktail is a tropical treat.
Ingredients
2

ounces

white rum

½

ounce

fresh squeezed lime juice

1

bar spoon

powdered sugar

Lime round for garnish
Instructions
Add one scoop of ice, preferably crushed, to a cocktail shaker

Pour in ingredients and add the rounded bar spoon of powdered sugar

Shake for about 30 seconds 

Strain into a coupe glass and add the lime round for garnish
Notes
Many people like to enjoy this cocktail as a blended drink. Instead of pouring into a cocktail shaker, just add the same ingredients to a blender, cover and let it go until blended smooth.
If you prefer your Daiquiri blended, feel free to experiment with sweet fruits such as a banana or some strawberries. Keep the base recipe above and just add a few pieces of your chosen fruit to the blender.
Nutrition
Calories:
142
kcal
Carbohydrates:
3
g
Protein:
1
g
Fat:
1
g
Sodium:
1
mg
Potassium:
18
mg
Fiber:
1
g
Sugar:
2
g
Vitamin A:
7
IU
Vitamin C:
4
mg
Calcium:
2
mg
Iron:
1
mg