The Champagne Mimosa is a favorite drink to liven up any occasion, and has become the go-to drink for bunches everywhere.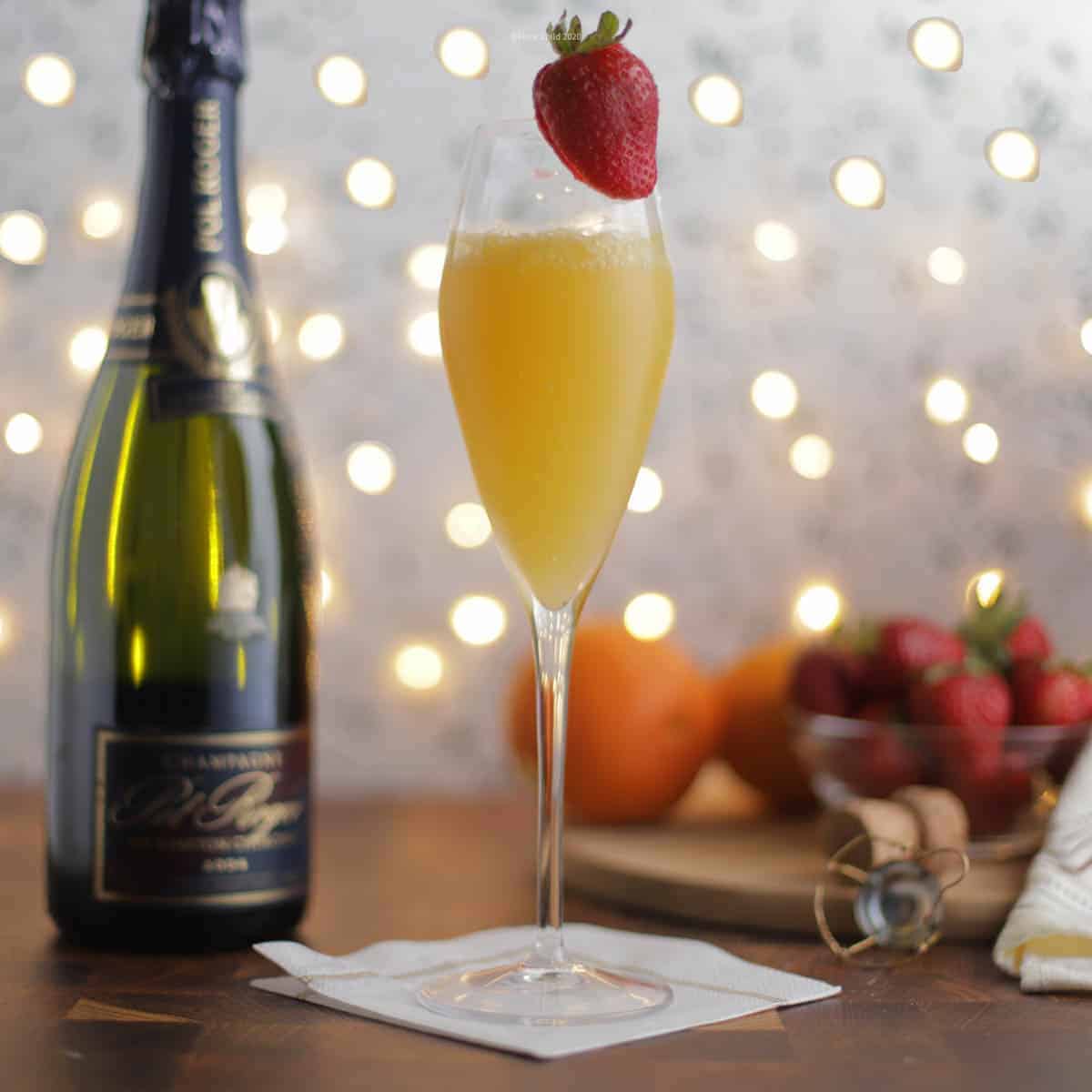 Nancy and I enjoy having a mimosa brunch every now and then. We'll cook up a big Sunday breakfast of eggs benedict, squeeze some fresh oranges, and uncork a bottle of dry champagne. The only problem is that they go down so easily that we're usually asleep on the couch for the rest of the afternoon!
It took the British Royal Family to make the Champagne Mimosa so Popular
The Mimosa is a refreshing drink that mixes delicious orange juice with the bubbly fun of Champagne. It was probably invented as a way to encourage daytime drinking by incorporating fruit juice.
The Mimosa was most likely created in England in the 1920's by a bartender at one of London's tony clubs. Or perhaps it was Paris? Like most cocktails, it's a little murky on who mixed it first and when. Most agree that it is probably a variation of a Buck's Fizz, which was created in London in the 1920's. The Buck's Fizz uses Champagne and orange juice, but in different quantities than a Mimosa.
Frank Meier at the Ritz Hotel in Paris is credited for coming up with the name Mimosa in 1925. His version uses similar quantities of Champagne and juice. Oh, and it's also named after the lovely yellow flowering plant, the Mimosa. So like many things, it probably comes down to 'marketing'.
Legend has it that it took the British Royal Family to popularize the drink in the 1960's. They were quoted as saying they loved their "Champagne oranges to sip on," and that likely influenced others to do the same.
It took a while to make the leap from Royal table to brunch stations everywhere, but by the late 1970's it was a staple of quality brunch celebrations. The Hyatt Regency O'Hare in Chicago used to have the most exotic bottomless Champagne brunch buffet I've ever seen, and growing up it was my family's tradition to have Mother's Day brunch there every year.
Ingredients for a Refreshing Champagne Mimosa
This drink is pretty simple, with only two ingredients needed to drink like a Royal:
Dry Champagne or sparkling wine
Fresh squeezed orange juice
Tips for Success
There are not any secrets for making great Mimosa, but keep these things in mind to take yours to the next level.
I prefer to use a dry or yeasty champagne to counter the sweet orange juice. Korbel Extra Dry will do just fine.
Of course you can use orange juice from a carton, but drinks always taste better with freshly squeezed juice.
Do you use orange juice or another fruit juice for yours?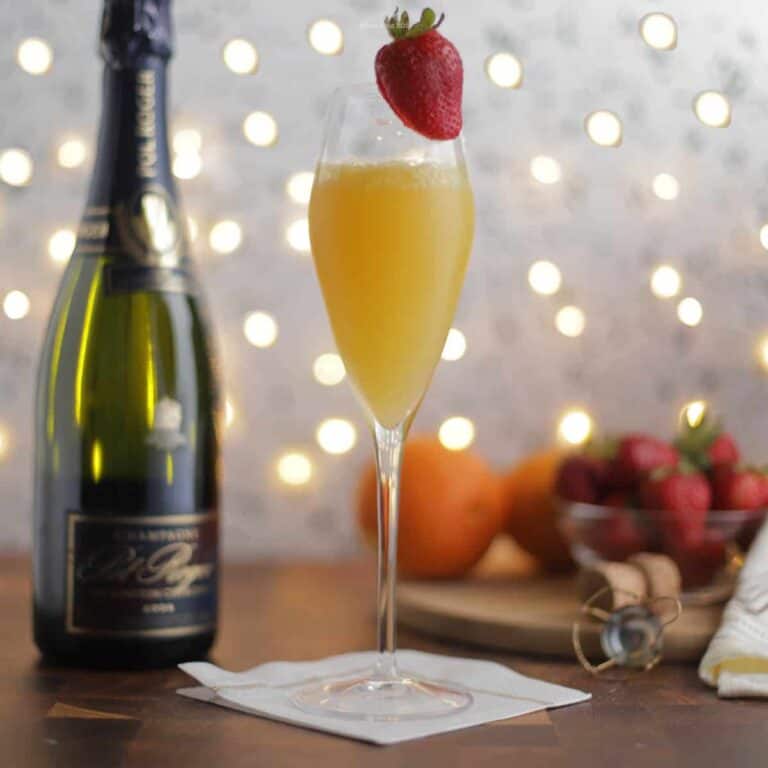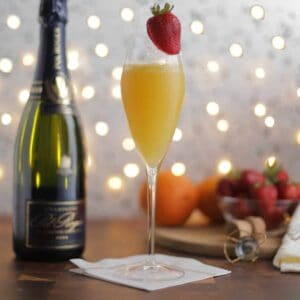 The Champagne Mimosa Cocktail is Brunch Royalty
The light and lively Mimosa is a brunch staple.
Ingredients
Dry Champagne or sparking wine

Orange juice
Instructions
Pour about an ounce of orange juice into a champagne flute glass

Add about an ounce of champagne to the glass 

 Garnish with fruit of your choice
Notes
There really are no precise measurements for this one. Feel free to 'eyeball' the amounts you pour based on the champagne-to-juice ratio you like in your mimosa. 
Use a dry champagne to prevent the drink from being too sweet.
Nutrition
Calories:
27
kcal
Carbohydrates:
3
g
Protein:
1
g
Fat:
1
g
Saturated Fat:
1
g
Polyunsaturated Fat:
1
g
Monounsaturated Fat:
1
g
Sodium:
2
mg
Potassium:
82
mg
Fiber:
1
g
Sugar:
3
g
Vitamin A:
57
IU
Vitamin C:
14
mg
Calcium:
6
mg
Iron:
1
mg