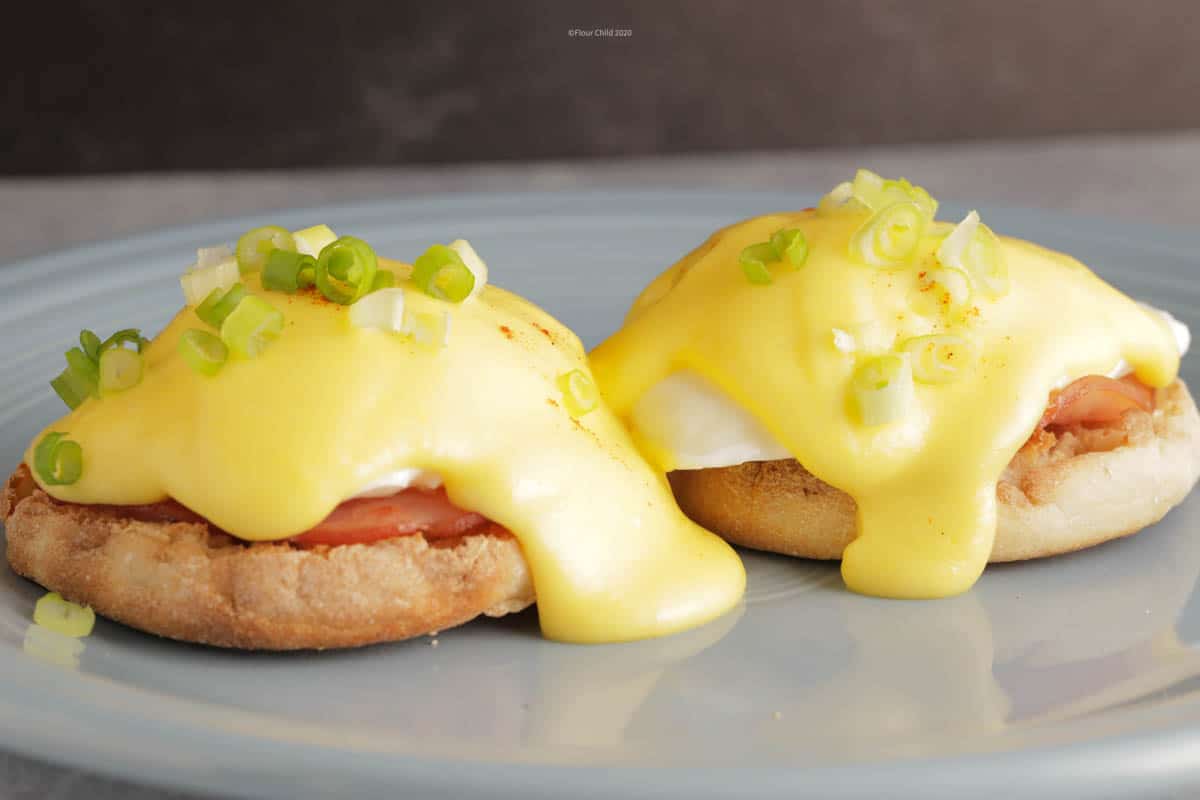 We have a friend who calls traditional Eggs Benedict the King of Brunch. She's not wrong either. As with many classic dishes, there are many who try to lay claim to creating it. It seems to have emerged in the middle 1800's in New York City at around the same time as that other New York classic, the Manhattan cocktail. I like that one of the origin legends has a stockbroker ordering it at the Waldorf Hotel to cure a hangover. Maybe too many Manhattans? The version of the recipe we know today keeps evolving and now includes adding all sorts of ingredients that the 1800's chefs could never have imagined, such as avocado and chorizo sausage.
This classic egg recipe is not difficult to master but it does take coordination and timing to have your components finish cooking around the same time so you can assemble them into a hearty, but oh so elegant way to start the day.
What you'll need
Eggs Benedict is pretty simple, but the tricky part is in the timing. With these simple ingredients, you'll be able to create this classic:
Eggs
Vinegar (optional)
Canadian Bacon
English muffins
Kitchen tools you may want to ensure success:
A slotted spoon makes it much easier to lift your poached eggs without breaking them
A pan large enough to poach more than one or two eggs at a time
Tips for success for traditional Eggs Benedict
It's all about the timing. Ensuring that your main parts of the recipe come off at the same time so you can build it while it's hot is key. It's not that hard, just remember:
Break each egg into a separate little dish and then use that to slide the egg into the simmering water.
I use a 10 inch pan for the poaching which is large enough to ensure my four poached eggs don't mingle together. Picture placing them at the 2 o'clock, 4 o'clock, 8 o'clock and 10 o'clock positions in the pan that should give them enough room.
My order of cooking is as follows: Cook Hollandaise sauce first and cover to keep warm. Heat the 10" pan water to simmer--not boiling. Once that is simmering, start Canadian bacon browning. Then pour in each egg to the proper position. Start toasting the muffins. About 3-5 minutes later, scoop out the eggs and let drain. Take off the bacon and pat away grease. Muffins should be popping up right about now.
Assembly is easy: place a muffin half on a plate, add a Canadian bacon slice, place poached egg on bacon and then spoon over Hollandaise sauce. I like to sprinkle a little paprika for garnish along with chives for color.
I'm confident that if you follow those tips above, you'll be amazing friends and family with this recipe every time out.
Feel free to experiment after you've mastered these traditional Eggs Benedict and add or substitute other ingredients such salmon instead of Canadian bacon; or add spinach for a healthier alternative to meat.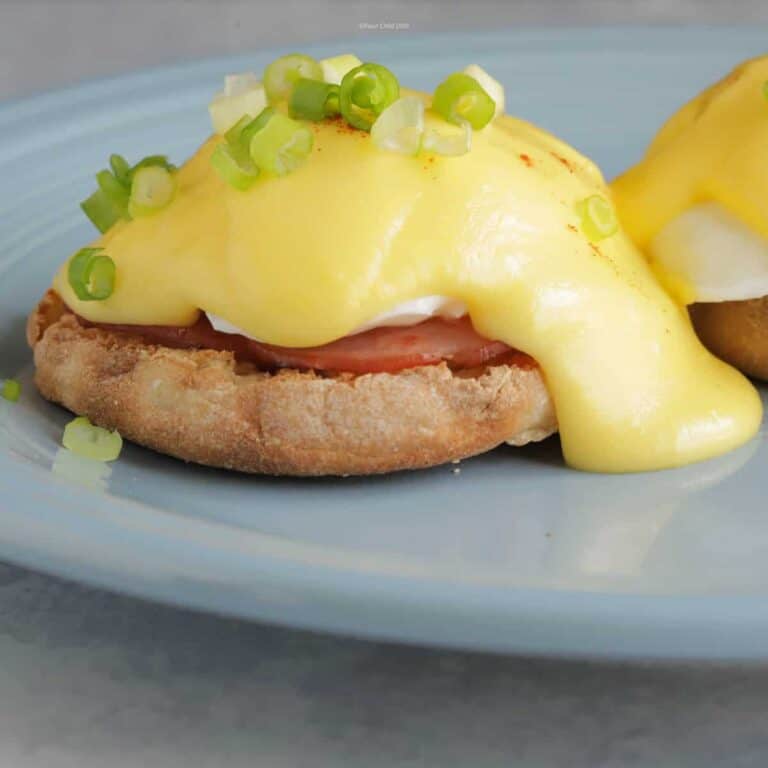 Traditional Eggs Benedict, an American classic.
This elegant breakfast or brunch sensation requires coordination and plenty of whisking to ensure success but is not hard to master.
Ingredients
4

Fresh eggs

4

Slices

of Canadian Bacon

you may need to add more bacon if yours cooks down too much

2

English muffins sliced open

Hollandaise sauce as desired
Instructions
Bring water to simmer in a 10" pan for egg poaching. Add vinegar--if desired.

Pour in each egg individually and cook for 3-5 minutes depending on doneness.

Place slices of Canadian bacon in small pan on medium heat and brown for 3-5 minutes turning occasionally.

After cooking, remove poached eggs from pan using a slotted spoon and place in paper towel for draining.

Remove Canadian bacon and pat dry of grease.

Slice open English muffins and toast until golden brown.

Place each English muffin half cut side up on a plate.

Add slice of Canadian bacon to each muffin.

Place poached egg on each bacon slice.

Spoon over Hollandaise sauce to taste.

Add dash of paprika and chives for garnish.
Notes
Always use fresh eggs to poach. Older eggs do not firm up and can create a wispy runny egg.
Some folks say that adding the vinegar is not necessary and influences the taste of the eggs. I don't use it and the eggs turn out just fine.
Nutrition
Calories:
175
kcal
Carbohydrates:
14
g
Protein:
14
g
Fat:
7
g
Saturated Fat:
2
g
Polyunsaturated Fat:
1
g
Monounsaturated Fat:
3
g
Trans Fat:
1
g
Cholesterol:
178
mg
Sodium:
452
mg
Potassium:
196
mg
Fiber:
1
g
Sugar:
1
g
Vitamin A:
238
IU
Vitamin C:
1
mg
Calcium:
42
mg
Iron:
1
mg