Hollandaise sauce is buttery and creamy with a hint of lemon, and goes well with a variety of your favorite foods!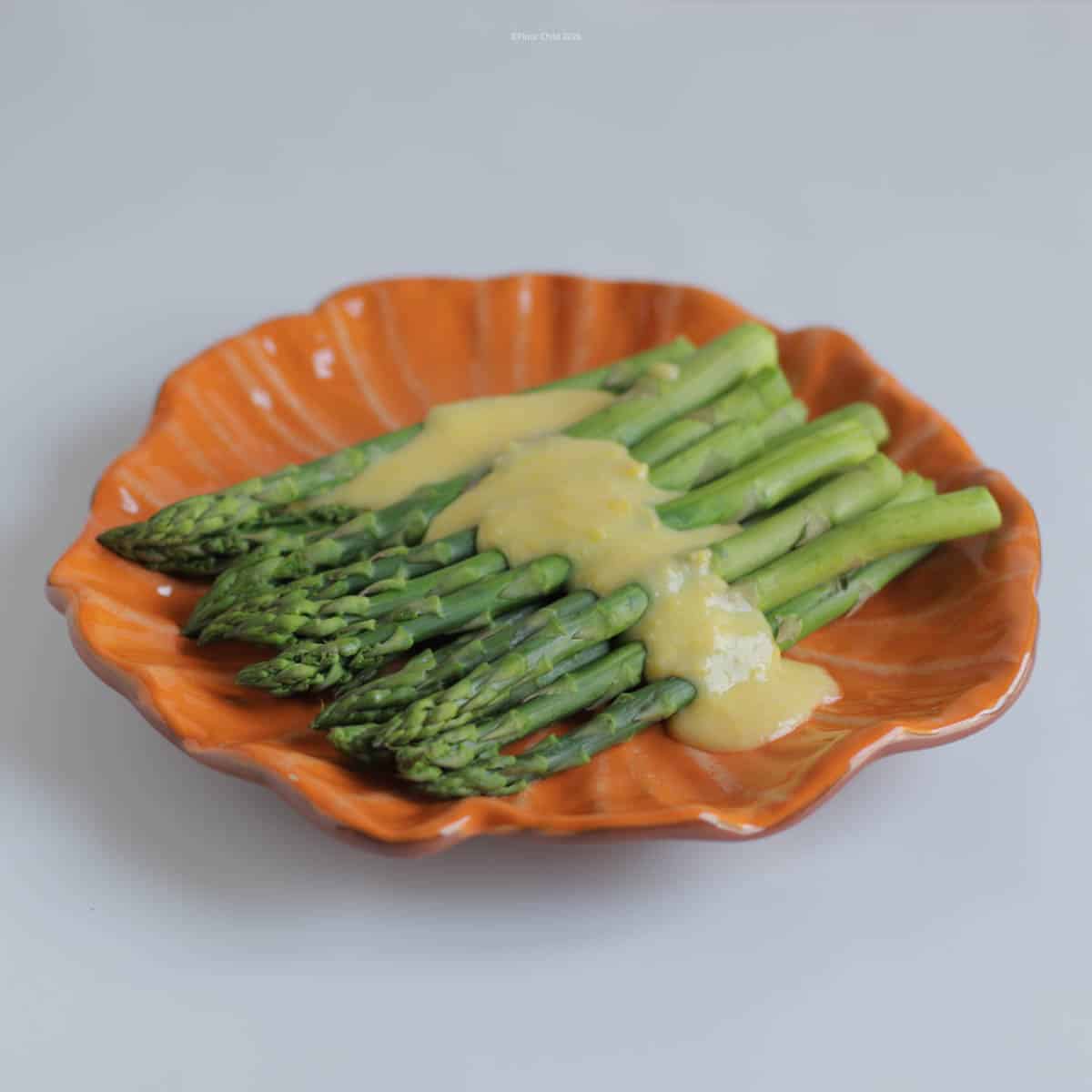 One of the earliest mentions of this rich and creamy sauce is from a cookbook in the mid-1600's. Despite the name, this buttery topping most likely started out as Sauce Isigny, named after a small village in Normandy, France known for its prized dairy products. Sometime later the name was changed, referencing a source of butter from Holland. No matter where it came from, it is rich and creamy and complements many dishes including eggs, meats, and vegetables. We love it over this roasted asparagus!
I remember first making hollandaise sauce in college to spoon over Eggs Benedict, and I have been making it ever since. Many people are intimidated by making it from scratch and opt for a packaged version instead. But it's easy to make and the taste is fresh and delicious, so give it a try! This is a fast and simple traditional recipe that makes use of a double boiler and a whisk.
What you'll need
Just a few basic ingredients:
Unsalted butter
Fresh eggs
Fresh squeezed lemon juice
Salt
Pepper
Paprika
Cooking tools and pans:
Use a double boiler to heat sauce over simmering water.
Use a stainless steel mixing bowl if you have one. There is a chemical in plastic bowls that reacts with the eggs can make them hard to mix.
Follow these tips for rich and creamy Hollandaise sauce every time
Since this is not a complex recipe, you will be able to adjust some ingredients to your taste without worrying about ruining it. Here are a few basics to keep in mind:
Heat ingredients slowly while whisking constantly.
Keep the heat low and simmer the water, don't boil it.
Use fresh squeezed lemon rather than juice from a bottle.
Use unsalted butter. If you only have salted butter, skip the rest of the salt in the recipe.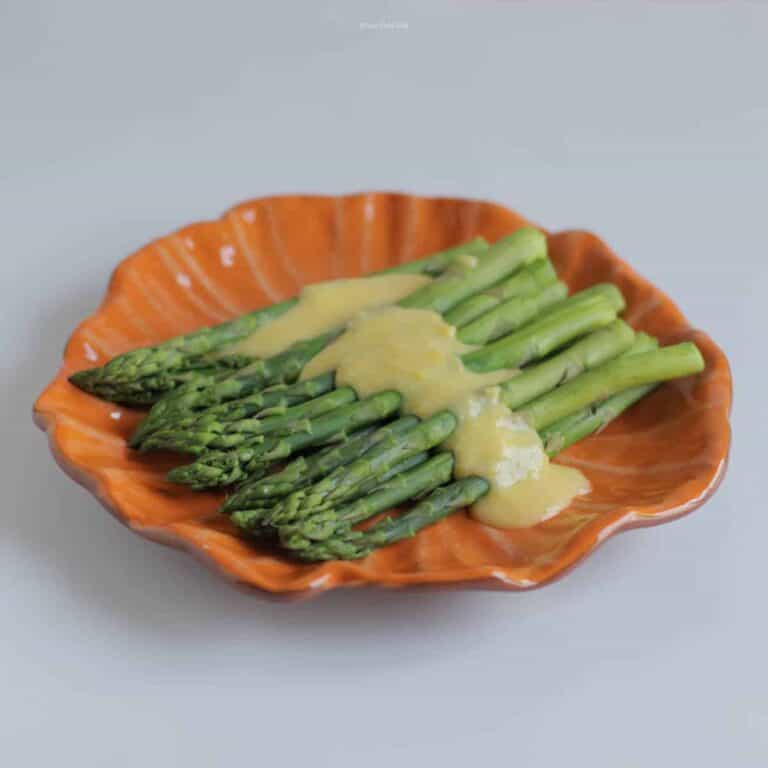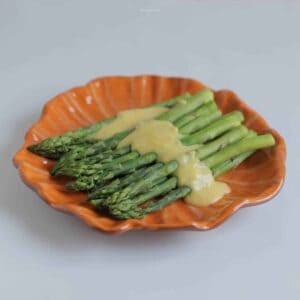 Rich and Creamy Hollandaise Sauce
Hollandaise sauce is a smooth buttery sauce that complements many different types of food, and was a staple in mid century cooking. It is easy to make and keeps well in the refrigerator for several days.
Ingredients
4

fresh egg yolks

1

tablespoon

freshly squeezed lemon juice

8

tablespoons

unsalted butter

½

teaspoon

Kosher salt

½

teaspoon

pepper

paprika
Instructions
Put the butter into a small pan and place over a low heat. Be careful to melt the butter without browning it.

Pour the separated egg yolks and the lemon juice into a stainless steel bowl and whisk until well blended.

Pour the egg mixture into the double boiler filled with water over a low heat, whisking constantly.

Slowly pour the warm butter into the eggs. Whisk until the sauce becomes thick.

Remove from heat and stir in salt.

Pour over food. Garnish with paprika if desired.
Notes
This can be stored in an airtight container in the refrigerator for up to 7 days.
Nutrition
Calories:
260
kcal
Carbohydrates:
1
g
Protein:
3
g
Fat:
27
g
Saturated Fat:
16
g
Polyunsaturated Fat:
2
g
Monounsaturated Fat:
8
g
Trans Fat:
1
g
Cholesterol:
255
mg
Sodium:
302
mg
Potassium:
34
mg
Fiber:
0.1
g
Sugar:
0.2
g
Vitamin A:
961
IU
Vitamin C:
1
mg
Calcium:
31
mg
Iron:
1
mg