When you need a fast and easy side dish that's sure to please, fresh roasted asparagus should be your go-to choice!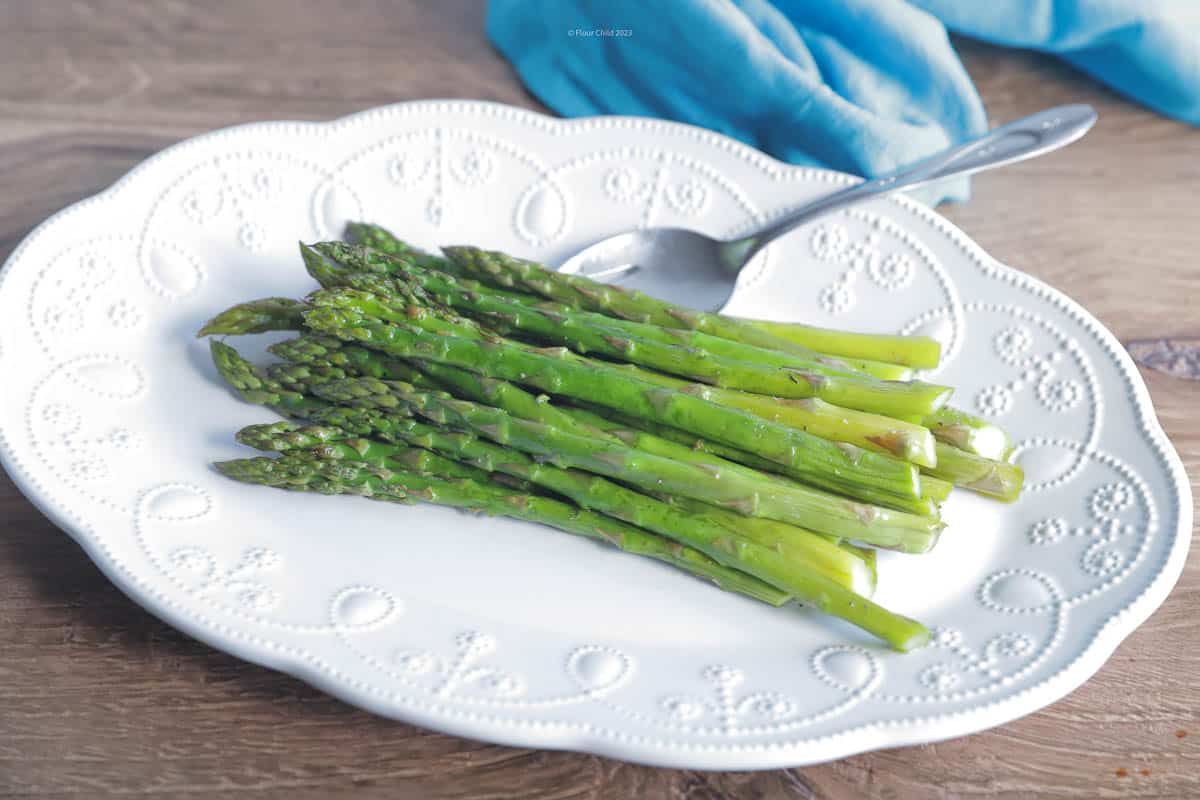 Asparagus was a staple on the mid century dinner table. In the 1970's, there was a field across the street from our house in suburban Chicago where asparagus grew wild. Moms would send their kids over there after school to pick some for dinner. I wish I knew of a place to pick wild asparagus now, because it can be a little pricy!
Benefits of Asparagus
Fresh asparagus is easy to prepare, delicious, and has many health benefits to boot. In addition to being free of fat and cholesterol, the US Dept. of Agriculture says it contains:
Antioxidant vitamins A, C & E, to fight free radicals that can lead to cancer
Fiber, which aids in digestion
Potassium, which can help lower blood pressure
Protein - 13 grams in a serving, benefitting bones and muscles
Low in calories - only 27 in a plain 1 cup serving (approximately 8 spears) - great for dieting
These are just a few of the many health benefits that come from eating asparagus!
How to Prepare Fresh Roasted Asparagus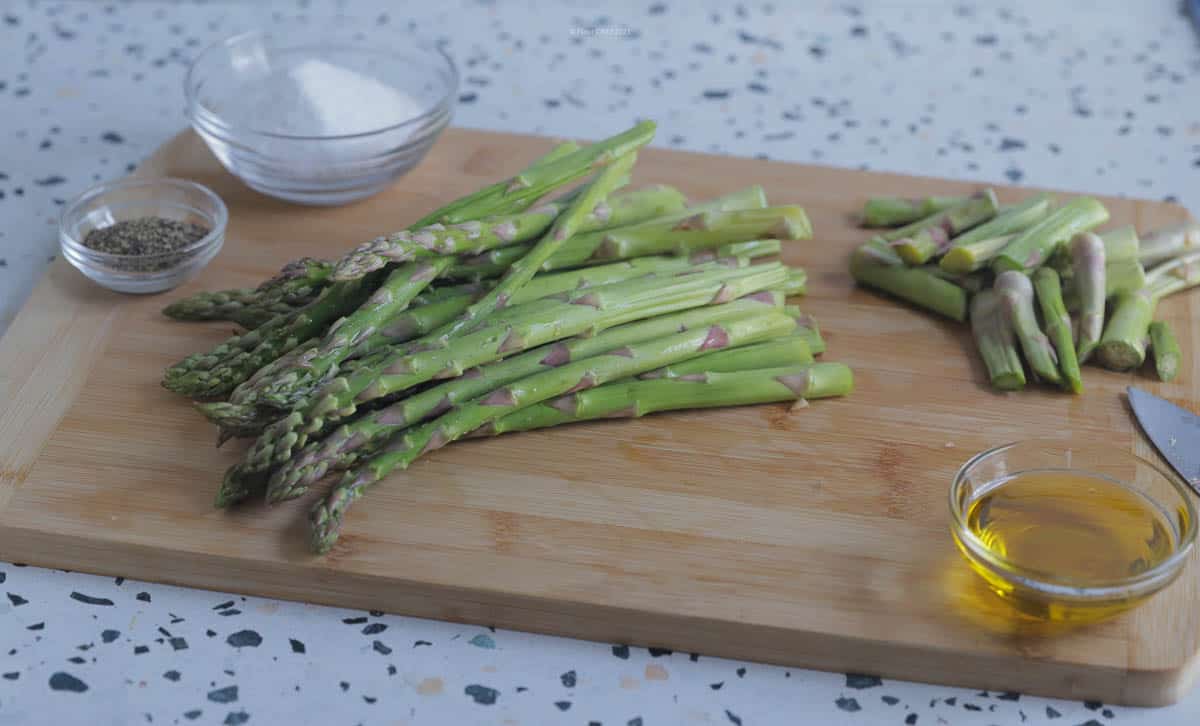 Start by rinsing your asparagus stalks in cold water, then placing them on a cutting board. With a sharp, knife, cut off the tough bottom tips; typically about 1-½ inches.
Place your asparagus in a shallow roasting pan and drizzle with olive oil, being sure to get it coated on all sides.
Sprinkle with salt and pepper, then roast at 450 degrees for 8-10 minutes until asparagus is lightly browned and tender-crisp.
Transfer to a serving platter and viola, you're done!
Recipe Variations
Serving asparagus with just a touch of salt and pepper is perfectly delicious. However, if you'd like to dress it up a little, you can try one of these variations:
Drizzle a rich & creamy hollandaise sauce over the top or serve it on the side. This is a nice accompaniment, particularly for a holiday meal.
Sprinkle some freshly grated parmesan cheese on top before roasting for an additional pop of flavor.
Squeeze some fresh lemon juice on top, then add some lemon slices to the serving plate for an elegant touch.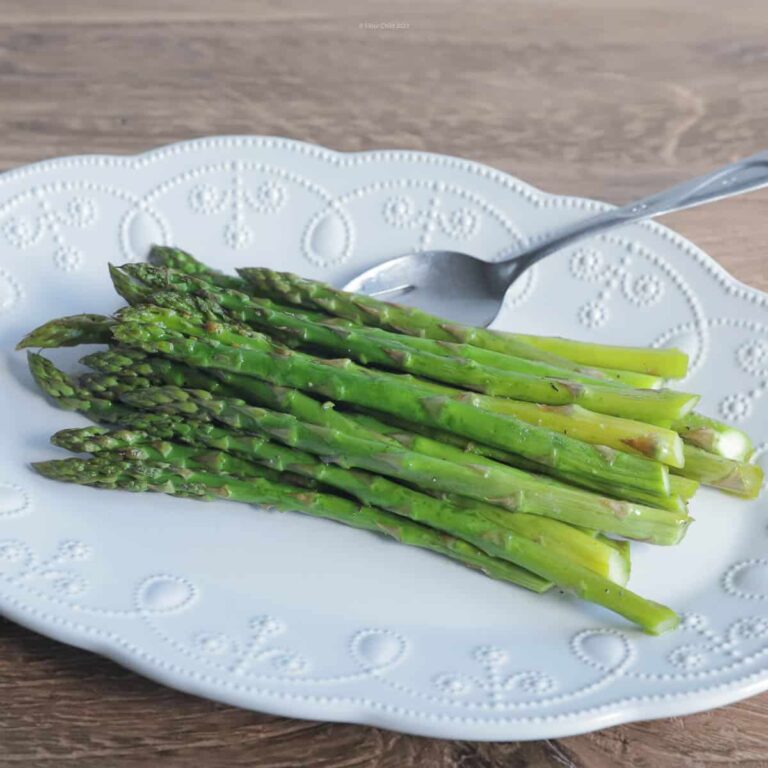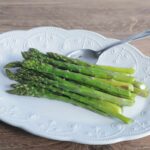 Print
Fresh Roasted Asparagus
This delicious veggie is quick and easy to prepare and makes an elegant side dish
Materials
1

lb

asparagus

medium thickness

2

tablespoon

olive oil

extra virgin

.5

teaspoon

kosher salt

.25

teaspoon

black pepper
Instructions
Preheat the oven to 450 degrees

Rinse asparagus spears in cold water. Place on cutting board and cut off the tough bottom ends; about 1-½ inches.

Place asparagus in a single layer in a shallow roasting pan and coat all sides with olive oil.

Sprinkle with salt and pepper

Place in 450 degree oven and roast for 8-10 minutes, turning halfway through. Remove when lightly browned and tender-crisp.
Notes
This side dish can be served plain, or topped with freshly grated parmesan cheese, freshly squeezed lemon juice, or a creamy hollandaise sauce.
Nutrition
Calories:
85
kcal
|
Carbohydrates:
4
g
|
Protein:
3
g
|
Fat:
7
g
|
Saturated Fat:
1
g
|
Polyunsaturated Fat:
1
g
|
Monounsaturated Fat:
5
g
|
Sodium:
293
mg
|
Potassium:
231
mg
|
Fiber:
2
g
|
Sugar:
2
g
|
Vitamin A:
858
IU
|
Vitamin C:
6
mg
|
Calcium:
28
mg
|
Iron:
2
mg