This sweet and savory spiral sliced ham with pineapple is the perfect main dish for special occasions and holidays, like Easter and Christmas.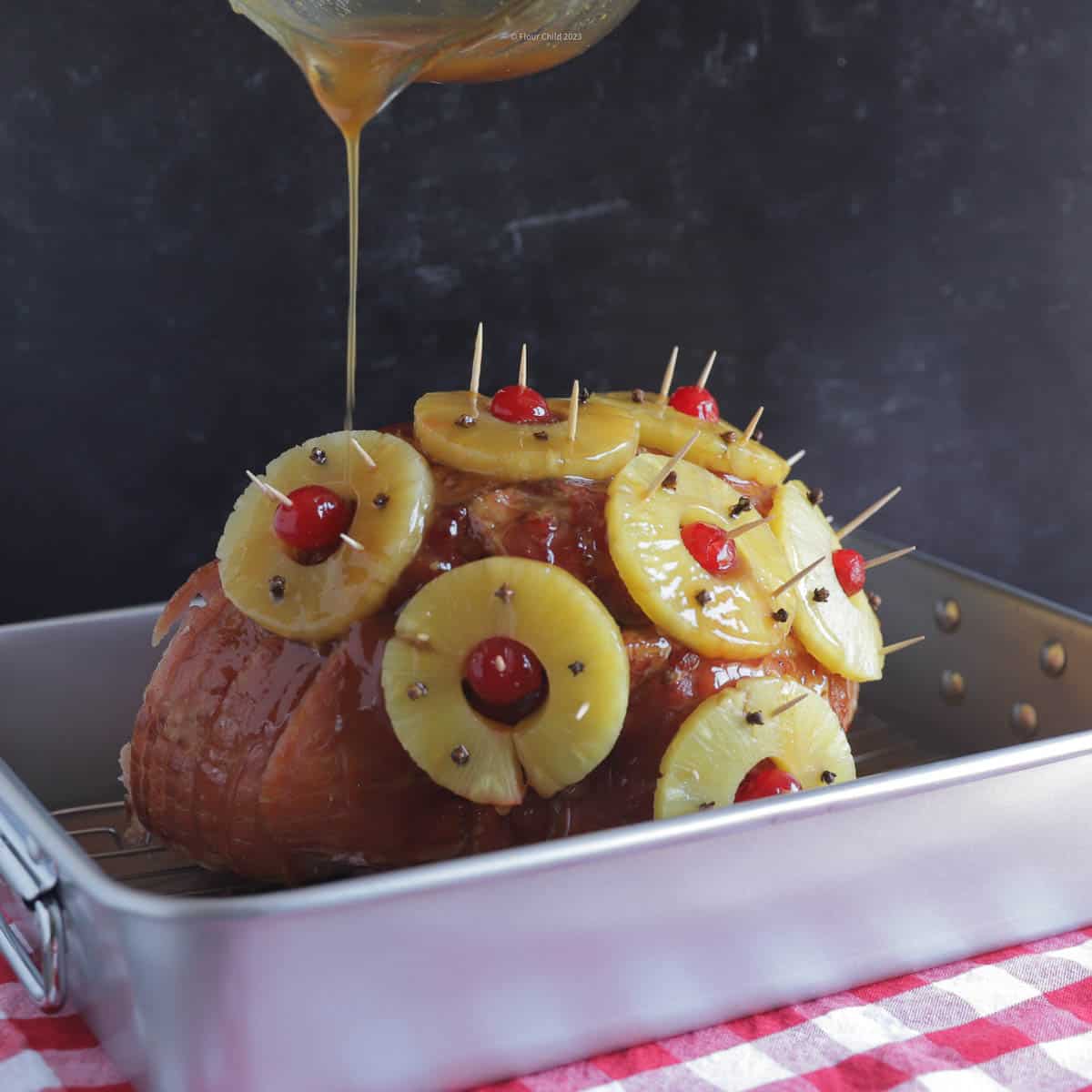 The Mid Century Classic Easter Ham
Is anything prettier (or more delicious) than a spiral sliced ham decorated with pineapples, cherries, and cloves? What a gorgeous presentation for a special holiday meal!
You may not think of spiral sliced hams as a mid century item, but the spiral slicer was invented in the 1920's by Harry Hoenselaar, who went on to found the Honey Baked Ham Co. in 1958. Spiral sliced hams can be found in your local grocery store, and nothing is easier to serve than a pre-sliced ham!
How to Select a Spiral Sliced Ham
I prefer a bone-in ham because I think they have better flavor than a boneless ham. Plus, making split pea and ham soup using the leftover soup bone is an absolute must!
When selecting your bone-in ham, you should allow approximately ½ pound per person. I always buy a bigger ham than I'll need to allow for leftovers and for soup. Spiral sliced half hams generally run 7-10 pounds.
When choosing your ham, read the package and choose one that says just "ham." Avoid ones that say "ham with natural juices," ham and water," or "ham and water product." Those latter items have water weight added (why pay for that?), and the dilute the flavor of the ham.
Decorate Your Ham with Pineapple and Cherries
This is truly retro-looking and oh-so-easy. Simply remove the slices from a 20 oz. can of pineapple. (I prefer pineapple in its own juice rather than in syrup, but you can use either.) Using a couple of toothpicks for each, pin the pineapple slices all over the ham. Place a maraschino cherry affixed with a toothpick in the center of each. If desired, push a few whole cloves into each pineapple. It's as simple as that!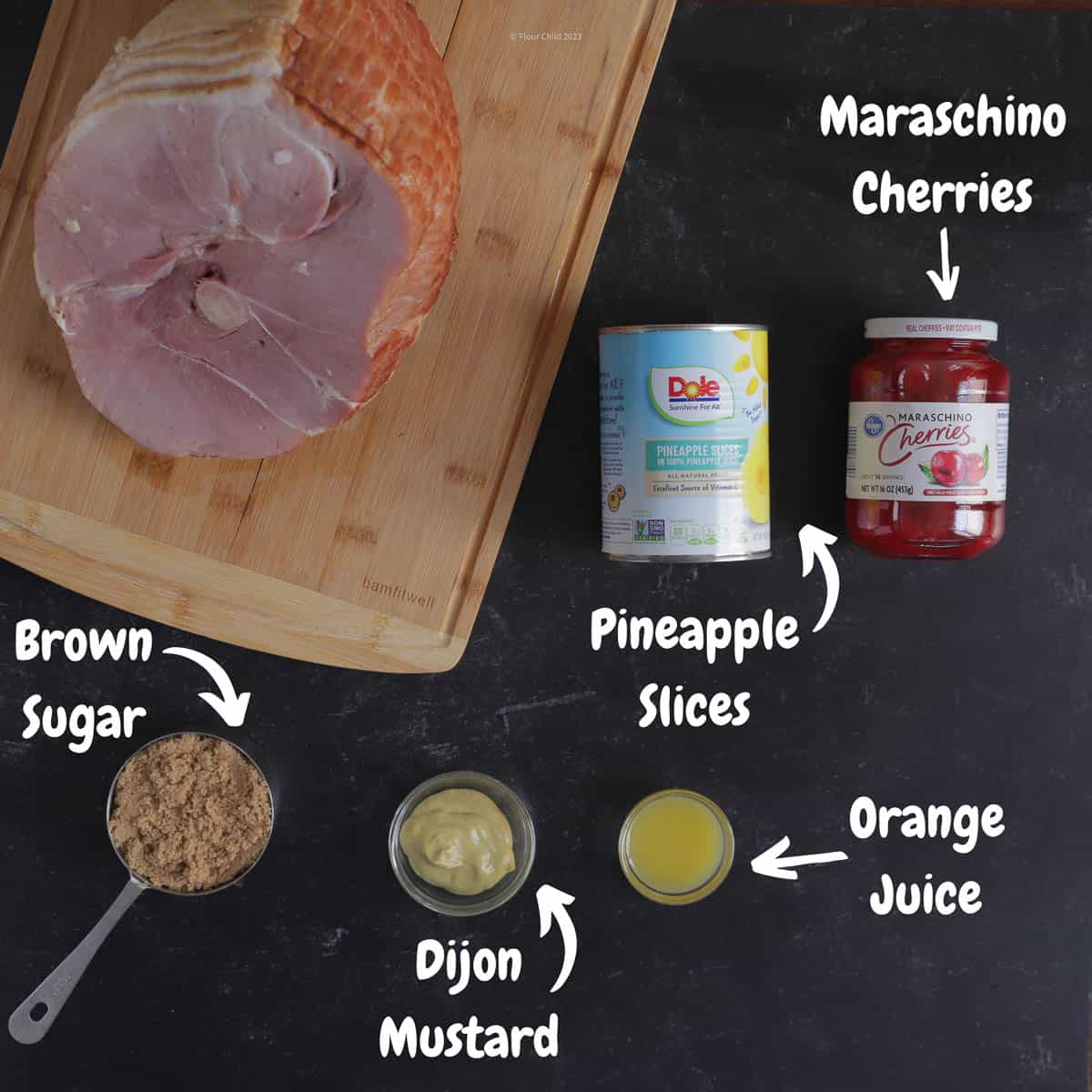 How to Make the Pineapple Glaze
Most spiral sliced hams now come with a plastic packet of ready-to-use glaze. In mid century people were not using plastic-packaged glaze, and I suggest you don't, either! It's so fast and easy to whip up a delicious glaze, so why not make it homemade?
Here's what you'll need to make a delicious pineapple brown sugar glaze for your ham:
Pineapple slices (reserve the juice)
Maraschino cherries
Brown sugar
Dijon Mustard
Orange Juice
Corn starch
Optional:
Ground Cinnamon
Ground cloves
Just 10 Minutes to Prepare the Glaze
To prepare the glaze, simply add all ingredients to a medium saucepan and stir until warmed. This will make a thin and tasty glaze. If you prefer a thicker glaze, mix 1 tablespoon of cornstarch with 1 tablespoon of cold water. When fully dissolved, add to saucepan and stir constantly over medium heat until thickened.
The pineapples and glaze should be added to the ham a half an hour before it is finished cooking. Reserve some glaze for a second coat after it is removed from the oven. Now you have a delicious and gorgeous mid century-style ham for your celebration table!
These side dishes go great with ham: cheesy potato casserole, fresh roasted asparagus and Southern sweet creamed corn.
Have a comment or a vintage recipe you'd like to share? We'd love to hear from you! Please rate, comment, or send me an email at [email protected]!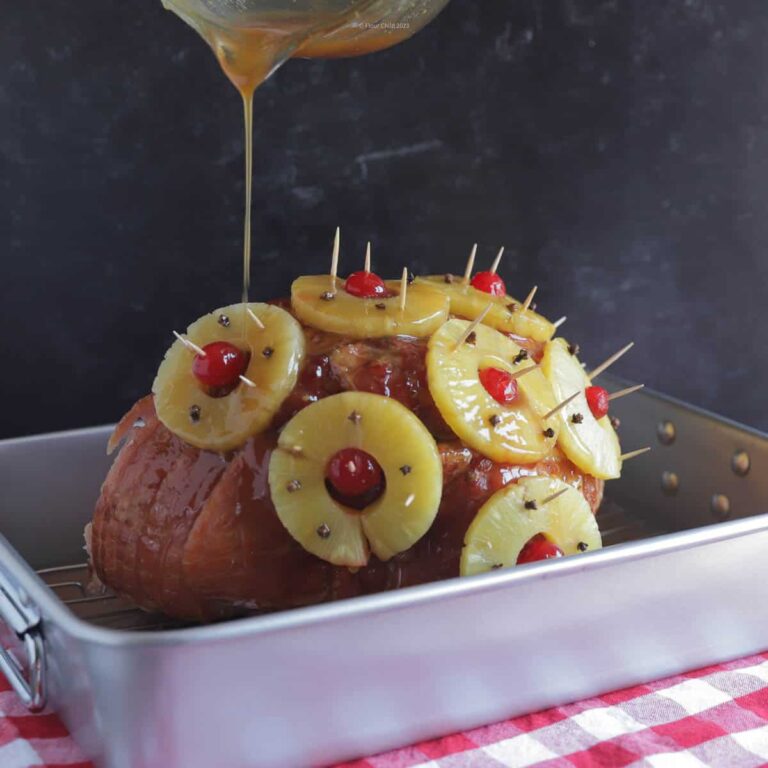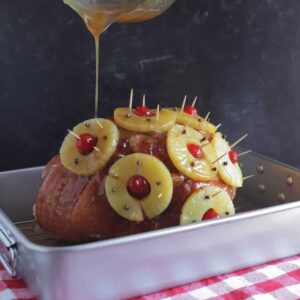 Spiral Sliced Ham with Pineapple
The sweet and savory flavors of this mid century main dish make it as tasty as it is beautiful!
Ingredients
1

10 lb

Ham

bone-in, spiral sliced

20 oz

Can pineapple slices

10 oz

Jar maraschino cherries

Whole cloves

optional

1

cup

Light brown sugar

2

tbs

Dijon mustard

1

tbs

Orange juice

½

teaspoon

Ground cinnamon

optional

⅛

teaspoon

Ground cloves

optional
Instructions
Place the ham in a roasting pan and tightly tent with aluminum foil. Follow directions on package to heat. Remove from oven 30 minutes before heating is complete.

Remove the pineapple slices from the can, reserving the juice for the glaze. Affix the pineapple slices with a cherry in the center of each all over the ham using toothpicks. Push 3 or 4 whole cloves into each pineapple slice if desired. When finished, pour glaze over the ham and into the spiral cuts, reserving enough for a second glazing at serving time.

Carefully re-tent the ham with the aluminum foil and return to the oven for the remaining 30 minutes of cook time.

When ham is finished cooking, remove from oven and follow package directions for resting before serving. Just before serving, remove the pineapples and cherries and set on the serving platter with the ham. Pour remaining glaze over the ham and serve.
Nutrition
Calories:
43
kcal
Carbohydrates:
11
g
Protein:
0.1
g
Fat:
0.1
g
Saturated Fat:
0.01
g
Polyunsaturated Fat:
0.02
g
Monounsaturated Fat:
0.04
g
Cholesterol:
0.03
mg
Sodium:
20
mg
Potassium:
19
mg
Fiber:
0.1
g
Sugar:
11
g
Vitamin A:
3
IU
Vitamin C:
0.4
mg
Calcium:
11
mg
Iron:
0.1
mg