This Southern sweet creamed corn is buttery, creamy, sweet, and crunchy. It's an irresistible fast and easy side dish that everybody loves!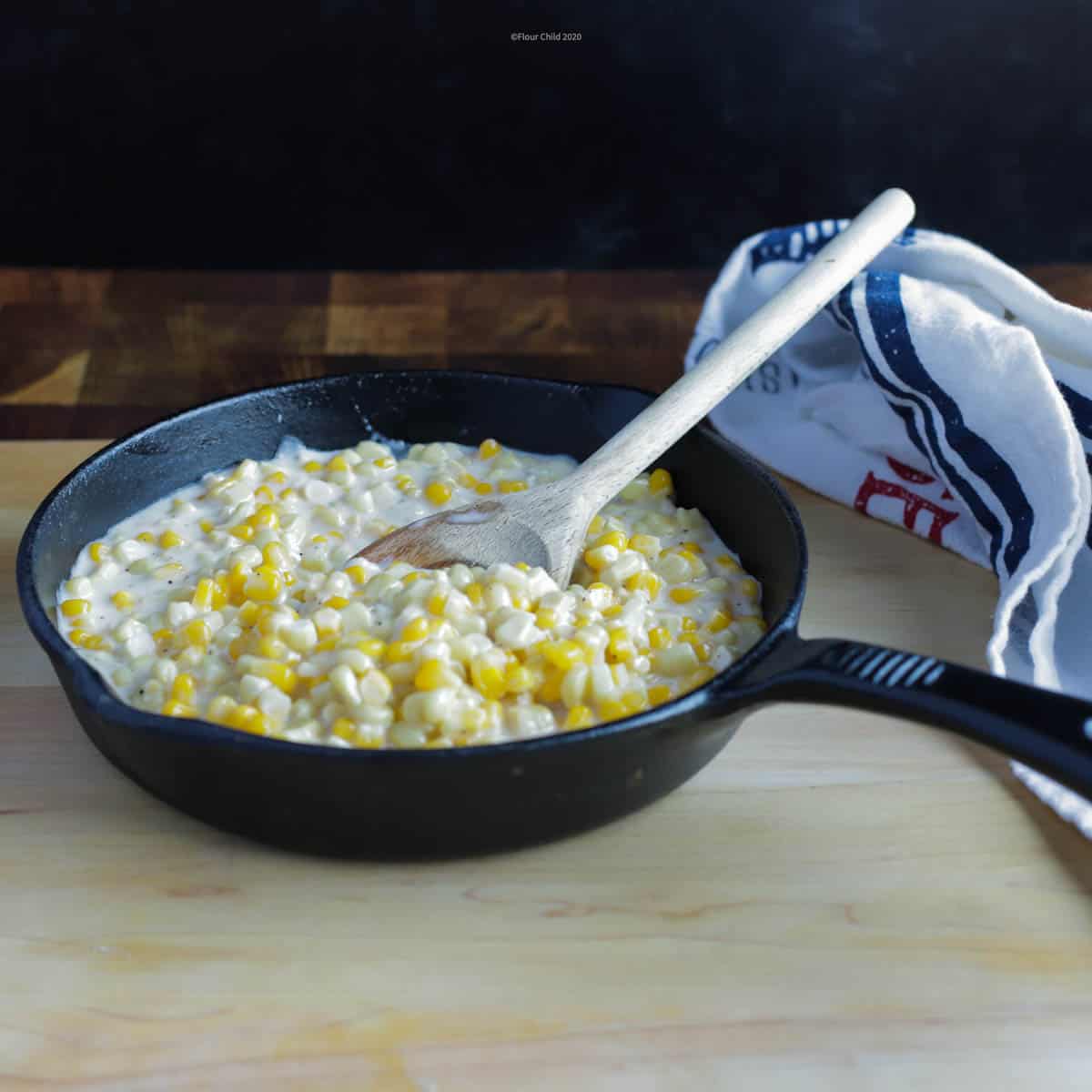 I love corn. Most people do -- it's sweet, it's crunchy, it's packed with flavor -- it's the candy of vegetables! And this Southern sweet creamed corn will have you scraping your plate clean.
Growing up I never cared for creamed corn because I only had it from a can. After Kevin and I got married, we attended a family gathering where one of his aunts made creamed corn from scratch. All I can say is WOW! Tasting the from-scratch recipe completely changed my mind about creamed corn. His family would bag and freeze fresh corn for the winter months when you couldn't buy it at the farm stand, and then make it throughout the winter.
All corn is not created equal
I grew up in Illinois where cornfields are abundant. The farmers used to say their goal was "knee high by July" for the height of their crops. You didn't see many farm stands, however, and growing up we always purchased our corn on the cob from the grocery store. It wasn't until I went away to college that I understood why.
I attended college in rural Illinois, lived in a dorm and took meals in the dining hall. The dorm had a stove we could use if we so desired. As a freshman I missed home cooking, so one weekend my friend and I decided to try to cook on the stove. I got the bright idea to walk to one of the cornfields and grab a couple of ears of corn to have with dinner. We boiled a pot of water and started cooking our fresh picked ears of corn which usually takes about 5 minutes. Well we boiled, and boiled, and boiled, but an hour later our corn was still as hard as a rock. I took a bite and nearly broke my teeth! We ended up throwing it out, and ruined our dinner waiting for the corn to cook.
The next day we told one of the farm boys from the area about our corn failure and he burst out laughing. "You've heard the term corn-fed beef? Corn grown in Illinois is feed-corn for cattle and other animals, and is not fit for human consumption!" Did we ever feel dumb. Served us right for snatching ears of corn from the side of the road.
What kind of corn?
I wish I could say I do the work to remove corn from the stalk, but I don't because I honesty can't tell the difference between fresh and frozen corn in this dish. I have tried it with canned corn and it turns out okay, but I don't think it's quite as tasty. You can use any corn you like, but I use a mixture of yellow and white corn because I like the color variation in the dish.
I know it's good, because my neighbor's 96 year-old Aunt Helen loves it. Born in 1923, she was the epitome of the mid-century stay-at-home wife. She says this dish is a good-old fashioned mid-century gem. Using frozen corn makes it come together fast. In just a few minutes it's ready to serve!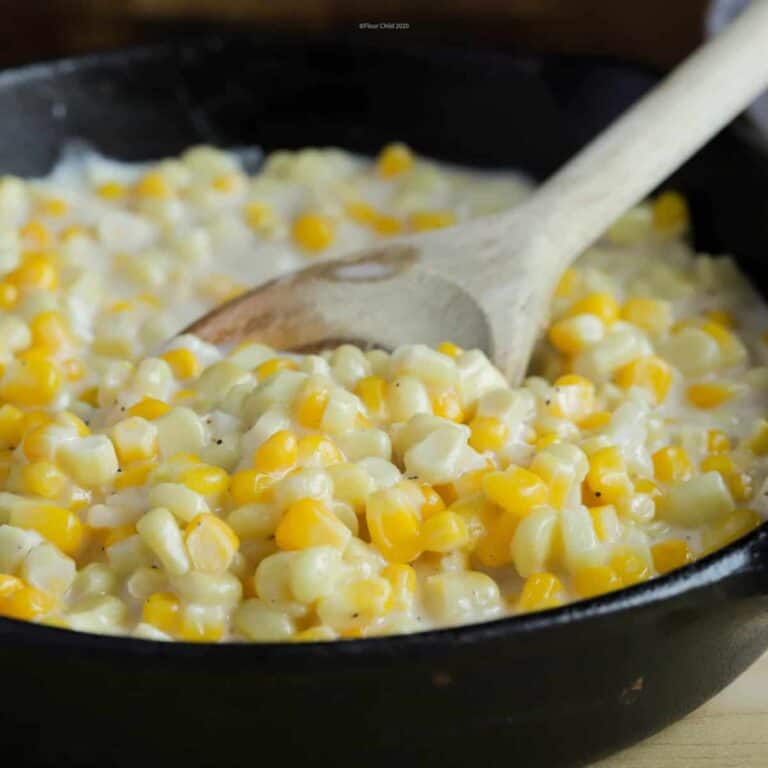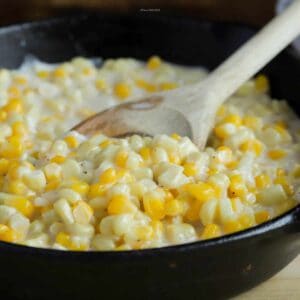 Southern Sweet Creamed Corn
This Southern sweet creamed corn is buttery, creamy, sweet, and crunchy. It's an irresistible fast and easy side dish that everybody loves!
Ingredients
16

oz

frozen yellow corn

16

oz

frozen white corn

1 ½

cups

heavy cream

1 ¼

teaspoons

salt

½

teaspoon

black pepper

2

tablespoons

granulated sugar

3

tablespoons

butter

¾

cup

whole milk

3

tablespoons

all purpose flour

⅓

cup

freshly grated parmesan cheese
Instructions
Combine the corn, cream, salt, pepper, sugar and butter in a skillet over medium heat.  Bring to a simmer, stirring constantly.

Whisk the flour and milk together until free from lumps, then add to the skillet with the corn mixture. Cook, stirring until it is thickened and the corn is cooked through (about 4 minutes.)

Remove from heat and stir in the Parmesan cheese until melted. It's ready to serve!
Notes
This dish makes great leftovers, so we usually eat it two days in a row. Just add a little milk to it for  reheating it because it thickens up in the refrigerator.
This corn freezes well to save for meals on busy nights. If this is too much corn for your family, simply cut the recipe in half. One serving is 4 oz., so cutting it in half will give you 4 servings. 
Nutrition
Calories:
355
kcal
Carbohydrates:
32
g
Protein:
7
g
Fat:
24
g
Saturated Fat:
14
g
Polyunsaturated Fat:
2
g
Monounsaturated Fat:
7
g
Trans Fat:
1
g
Cholesterol:
78
mg
Sodium:
493
mg
Potassium:
322
mg
Fiber:
3
g
Sugar:
9
g
Vitamin A:
1159
IU
Vitamin C:
7
mg
Calcium:
107
mg
Iron:
1
mg