Kentucky cornbread stuffing -- butter, sage, onion, celery, and from-scratch cornbread make up this tasty Southern side dish. Old fashioned, down home country taste!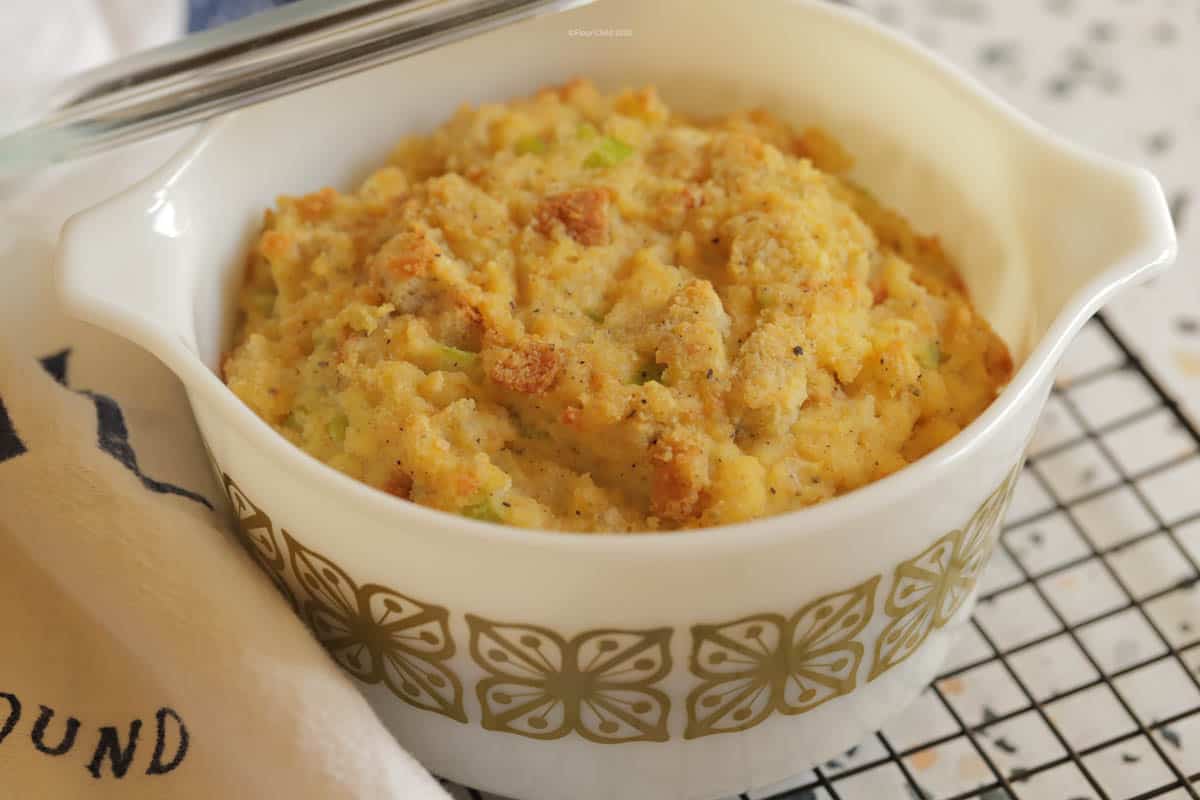 No one knows for sure exactly what was served at the first Thanksgiving, but given the date and the territory, wild game birds and rice were likely on the menu. The first written record of stuffing a Thanksgiving turkey appeared in 1836, although it could have been going on long before that.
Southern Dressing - Tasty Seasoned Cornbread
Different regions include different items in their bread stuffing, including sausage, fruit, nuts, and oysters, among other things. In the South, a seasoned cornbread stuffing is the long-held traditional holiday side dish. Coming from a family of Appalachian Kentucky natives, it was Kevin's favorite. After we got married, he suggested I learn to make his mom's recipe.
"Will you teach me to make your cornbread stuffing?" I asked. "We call it dressing," she said, obviously annoyed that her new Northern daughter-in-law did not have the regional terminology correct. Oops! Not scoring points with my new mother-in-law!
It was always a challenge learning to cook from Kevin's family. They didn't own cookbooks. They never used recipes. Cooking was a tradition passed down from generation to generation simply by working together in the kitchen. As charming as that was, it was awfully frustrating for me when I wanted to recreate a dish. I ended up spending years learning some of their recipes through repeat visits cooking with family members who thought I was much too worried about measuring and timing things! This is one of those recipes.
How to Cook Cornbread Stuffing
In mid century, the cavity of the turkey was stuffed, infusing the flavors and juices of the bird into the breading mixture. While some people still stuff the turkey, concerns over contracting salmonella and e.coli bacterias have turned many away from this tradition. Turkey needs to reach an internal temperature of 165 degrees to be safe; that means the stuffing does, too. In order for the stuffing to reach 165 degrees, the external temperature of the turkey has to reach about 180 degrees -- which means dry turkey.
I have had both salmonella and e.coli poisoning (not from stuffing.) One time I ended up in the hospital, and the other time I should have, but stubbornly refused to go because it would have meant spending Christmas there. As a result, I am ultra cautious and I opt for not stuffing the turkey. Instead, I bake the stuffing in a greased casserole dish, then pour over a few tablespoons of drippings that have run off the turkey after it has cooked. These are the same drippings I use to make turkey gravy, as well.
Another option is to make stuffing patties. Kevin always asks for a tray of these in addition to a casserole of stuffing. I simply take the stuffing when it's ready to be cooked, form them into small patties and place them on a greased 9 x 13 baking sheet. I bake them at 350 degrees for 20-25 minutes or until their color turns golden.
Getting Ready to Cook Cornbread Stuffing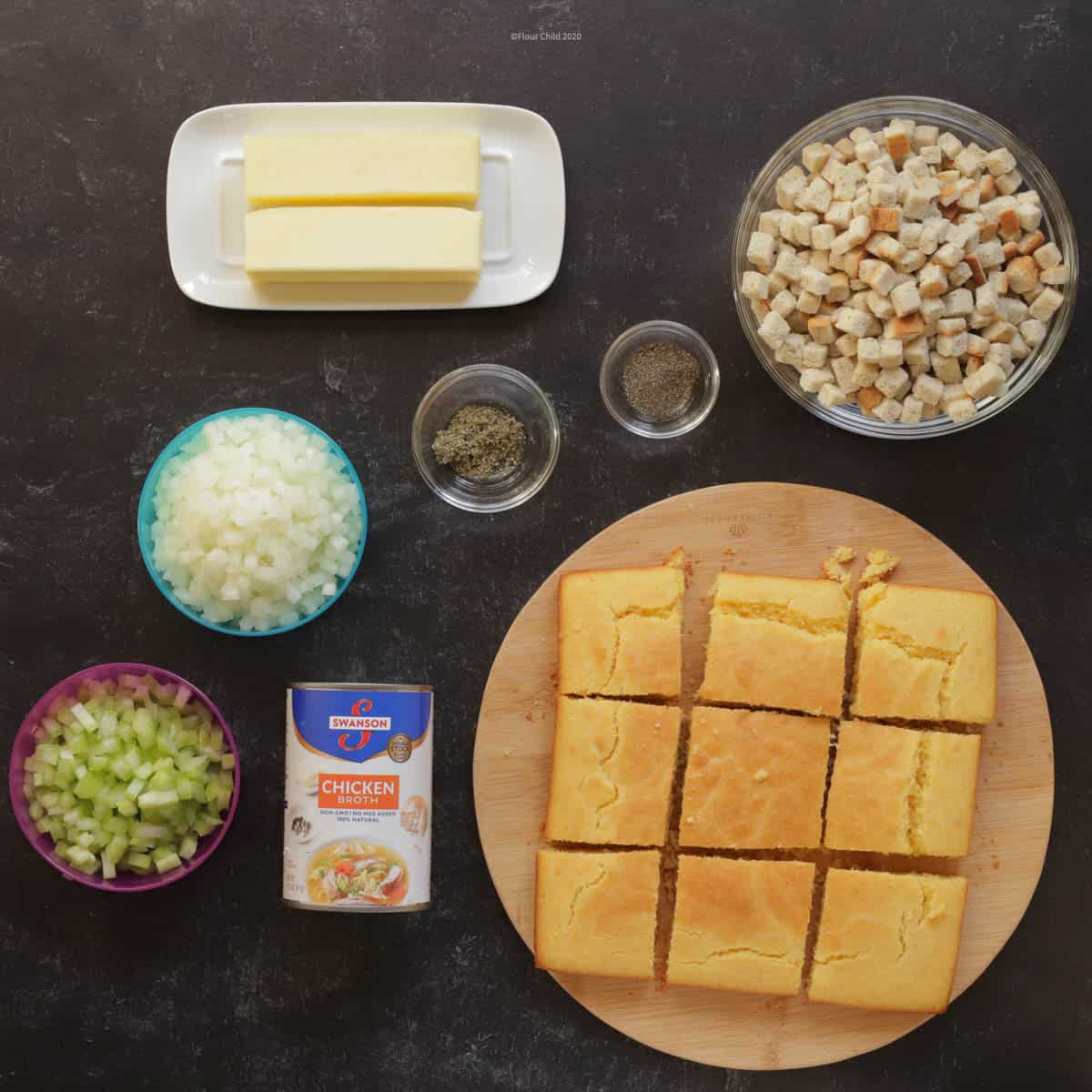 To make Kentucky cornbread stuffing, you'll need:
butter
yellow onions
celery
seasoned stuffing cubes
rubbed sage
pepper
chicken broth
Make the cornbread
You need to begin this recipe by making a pan of super fast and easy homemade cornbread without sugar -- follow the steps in our Southern cornbread recipe here.
Once the cornbread is baked and cooled, here's what comes next:
Step-by-Step Cooking Instructions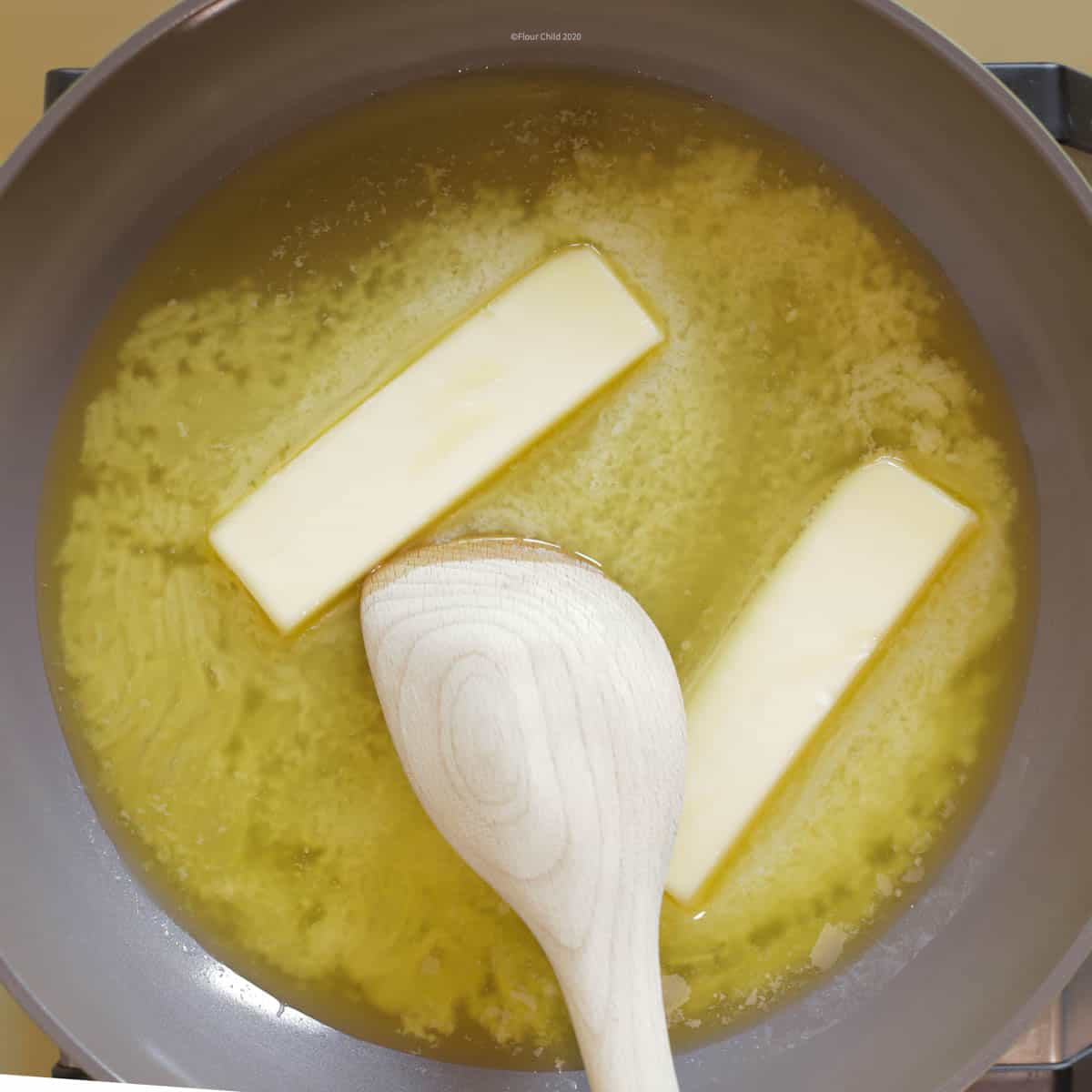 Tip For Success
Use salted butter for cooking
Use regular chicken broth rather than reduced-sodium for best flavor
Dice onions and celery into petite pieces. I use a chopper to make it fast and easy.
Every bite of this delicious, moist seasoned cornbread stuffing compliments the turkey, without overpowering it with all kinds of strong flavors. It's easy to see why this has become a popular Southern favorite!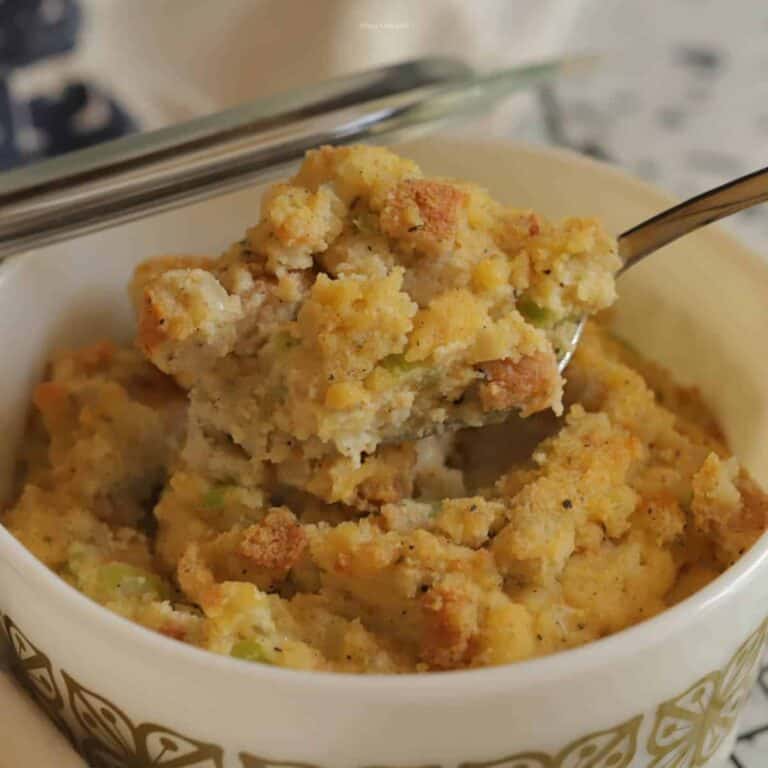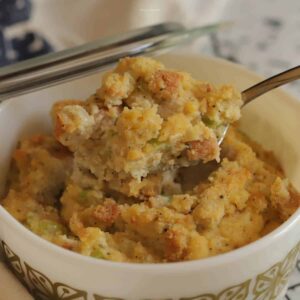 Kentucky Cornbread Stuffing - A Southern Thanksgiving Dish
Kentucky cornbread stuffing -- butter, sage, onion, celery, and from-scratch cornbread make up this tasty Southern side dish. Old fashioned, down home country taste!
Ingredients
½

pound

butter

2

medium

yellow onions

diced

3

stalks

celery

diced

1

pan

cornbread (8x8)

prepared without sugar

6

ounces

seasoned stuffing cubes

½

teaspoon

rubbed sage

¼

teaspoon

pepper

14.5

ounces

chicken broth

14.5

ounces

water

fill your can of broth with water
Instructions
In a large skillet, melt butter. When butter is melted, add diced onion and celery. Simmer in butter until softened, about 5 minutes. 

In a large bowl, break cornbread up into crumbs. Add stuffing cubes, sage and pepper.

Using a wooden spoon or spatula, mix the celery and onion mixture into the bowl of stuffing.

Mix the can of chicken broth with 1 can of water, then add to the stuffing mix. Using your hands or a wooden spoon/spatula, mix the ingredients until fully combined and moist.

Place in a greased casserole dish and bake at 350 degrees for 30 minutes or until golden.

Pour a couple of tablespoons of turkey drippings over the stuffing before serving, if desired. 
Notes
You can make the stuffing a day ahead and store it covered in the refrigerator until you're ready to bake. Allow an extra 10 minutes for baking if it's cold.
Nutrition
Calories:
427
kcal
Carbohydrates:
40
g
Protein:
5
g
Fat:
28
g
Saturated Fat:
16
g
Polyunsaturated Fat:
2
g
Monounsaturated Fat:
8
g
Trans Fat:
1
g
Cholesterol:
62
mg
Sodium:
951
mg
Potassium:
214
mg
Fiber:
3
g
Sugar:
9
g
Vitamin A:
813
IU
Vitamin C:
6
mg
Calcium:
62
mg
Iron:
2
mg