There's nothing like Southern Style Cornbread served hot from the oven! This sweet, crumbly bread with a pat of butter compliments everything from fried chicken to chili to taco casserole. Yum!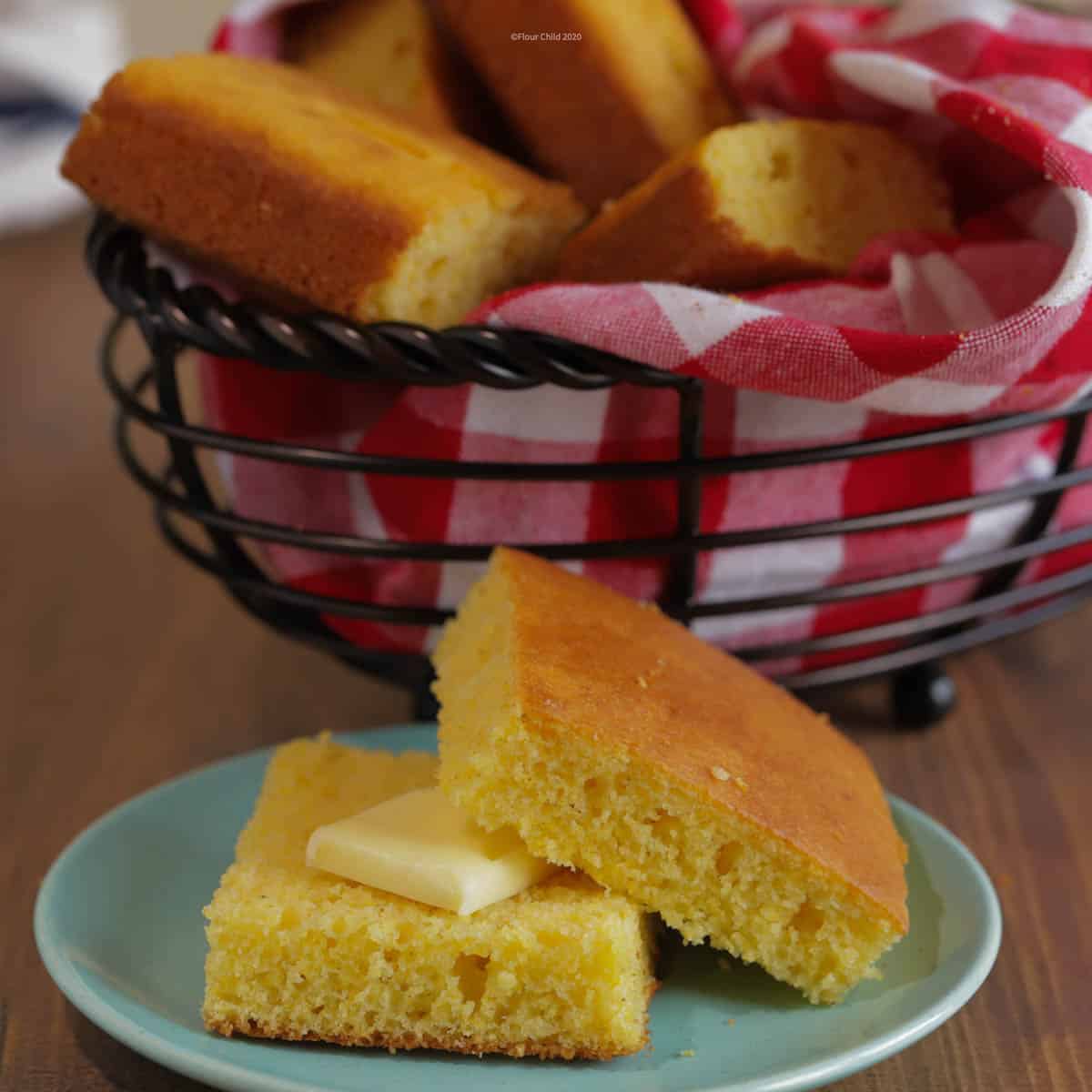 Maybe I lived under a rock, but I had never tasted cornbread until I was in college. Kevin took me home to meet his parents, and his native Kentuckian mother made a chicken dinner with homemade southern style cornbread on the side. I thought I had gone to heaven!
In all fairness, I was raised in Chicago where it wasn't a common food, and this was long before Cracker Barrel restaurants could be found in the North. I was fascinated with the grainy texture of the bread and the delicious taste of butter melding in with the distinct flavor of corn.
Couldn't Be Easier To Make
Because Kevin and I love cornbread, I often serve it when we have guests over for dinner. I'm always surprised at the number of people who are startled that I made it from scratch. Most of my friends have never made homemade cornbread, and there's a high level of perceived difficulty. But this dish mixes up in 5 minutes and bakes in only 20 minutes! In one bowl you simply mix 5 dry ingredients, in another you mix 3 wet ingredients, stir them together then pour in a greased baking pan and bake. It doesn't get much easier than that!
When she learned to make this in the 1950's, Kevin's mom didn't use a recipe or measure ingredients. Also, she always made her cornbread in a cast iron skillet. I often do too, but I didn't have one handy when I made this batch. If you would like to use a cast iron skillet, simply substitute an 8" round skillet for an 8 x 8 pan. Make sure the pan is well coated with vegetable oil before pouring the cornbread batter inside.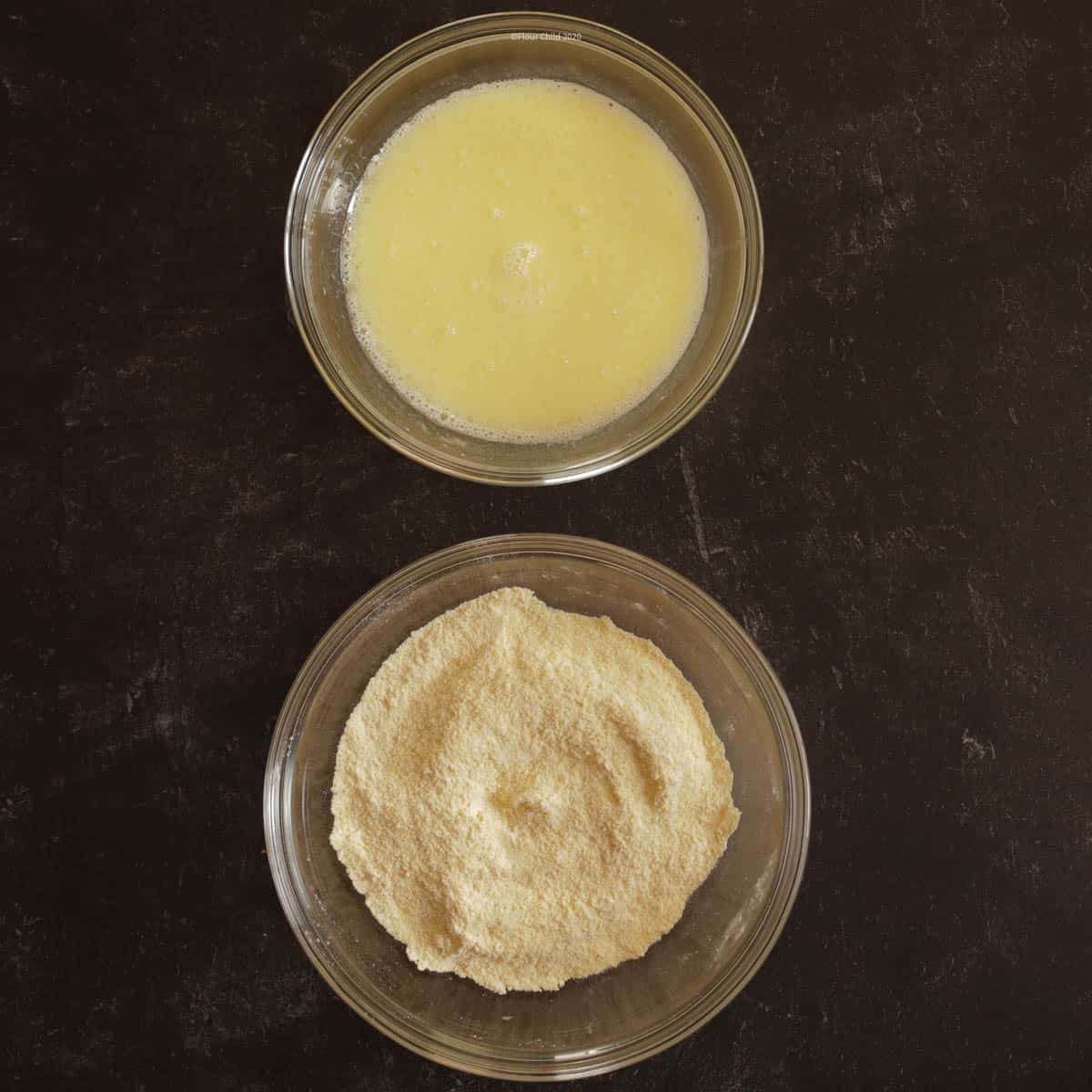 What is Corn meal?
Corn meal is a yellow or white corn that has been dried and ground. It has a fairly course texture and a distinct corn flavor. It can be found in the baking aisle of your grocery store, near the flour. Make sure to pay attention to what you are buying -- corn meal should not be confused with corn flour or corn starch, which are different products. Corn flour is ground to a much finer powder texture than cornmeal, and its corn flavor is not as strong. Cornstarch is a flavorless powder made from the endosperm of the corn and is most often used as a thickener; it has 3 times the the thickening power of flour.
Sugar or No Sugar?
I love sweet cornbread and I always make it to serve with spicy dishes like chili and taco casserole. But cornbread was not originally made with sugar, and to this day you will often find that Southern cooks do not sweeten their cornbread. Northerners tend to like it sweetened. True to our regions, Kevin's mom did not put sugar in her cornbread, but I do! Give it a try both ways and let me know your preference!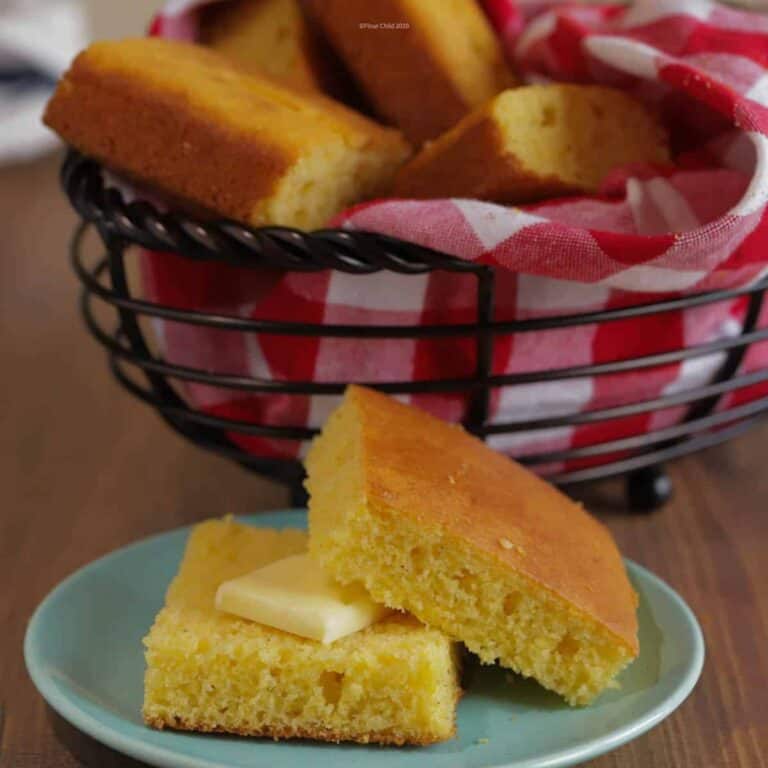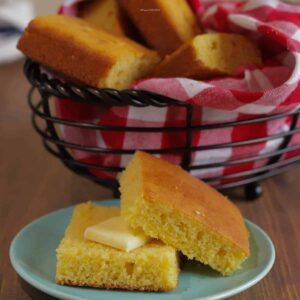 Southern Style Cornbread
There's nothing like Southern Style Cornbread served hot from the oven! This sweet, crumbly bread tastes incredible and is ready in 25 minutes!
Ingredients
1

cup

yellow corn meal

1

cup

all purpose flour

¼

cup

sugar

optional

1

tablespoon

baking powder

1

teaspoon

salt

1

cup

milk

⅓

cup

vegetable oil

1

large

egg
Instructions
Preheat oven to 400 degrees. Generously grease an 8 x 8 baking pan.

In a large bowl, mix together corn meal, flour, sugar (if using), baking powder and salt.

In a small bowl, mix together milk, oil and egg. 

Pour milk mixture into dry ingredients, stirring only until fully combined. Do not overmix. 

Transfer to greased 8 x 8 pan. Bake at 400 degrees 20 minutes or until wooden toothpick inserted in center comes out clean.
Notes
You can substitute a well-oiled 8" round cast iron skillet for the 8 x 8 baking pan
You can also substitute a greased muffin pan to make individual corn muffins
Nutrition
Calories:
355
kcal
Carbohydrates:
46
g
Protein:
7
g
Fat:
16
g
Saturated Fat:
3
g
Polyunsaturated Fat:
8
g
Monounsaturated Fat:
4
g
Trans Fat:
1
g
Cholesterol:
35
mg
Sodium:
630
mg
Potassium:
173
mg
Fiber:
3
g
Sugar:
11
g
Vitamin A:
111
IU
Calcium:
173
mg
Iron:
2
mg