Super Bowl Chili has chunky meats in a flavorful tomato sauce with just the right amount of spice that makes this the perfect hearty game day meal!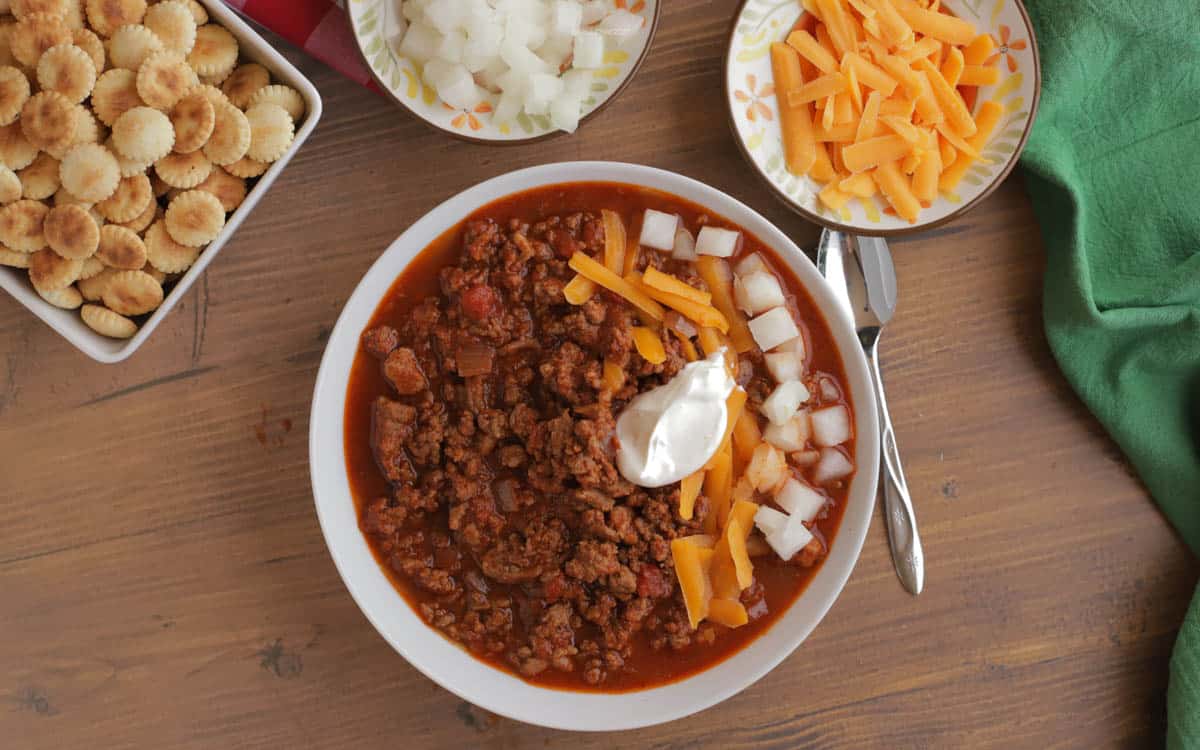 The very first Super Bowl was played on January 15, 1967, and a tradition was born for celebrating this winter event with lots of delicious foods and snacks! Chili consistently ranks as one of the most popular foods on game day.
Chili - The State Dish of Texas
The State of Texas lays claim to the origin of chili, although both Mexico and New Mexico dispute that claim. Chili was President Lyndon Johnson's favorite food, and the first thing he'd ask for when he visited his home state. In 1977 Texans declared chili, or "bowl of red" as they call it, the official state dish of Texas.
It's So Easy To Make
This chili is so easy to make - it only takes one pot and some time to let all the flavors simmer together. I've been making this particular chili recipe for years; I like it because it's easy to adapt ingredients to different preferences for heat/spiciness. Kevin does not tolerate spicy very well, so I make him a milder version. I think this recipe has just the right balance of pepper, but it is easily made more spicy or more mild with just a few tweaks.
A Word About Peppers
I make my chili with one jalapeño pepper. If you like very spicy chili you can use an habanero pepper instead, which has much more heat than a jalapeño.
Peppers get their heat from capsaicin, which is retained in the placenta of the fruit. The placenta runs down the inside of the center of the pepper and holds the seeds. The more of that you leave in, the hotter your dish will be. The seeds actually have no heat except for any that has rubbed off on them from the placenta. To learn more about the anatomy of a pepper, check out this informative page at PepperScale.
Capsaicin originated to deter animals from eating the fruit before it matured. Humans were determined to overcome this deterrent, and over time many of us have acquired a taste for the hot and spicy would-be obstruction.
I have learned my lesson and I only handle peppers when I'm wearing rubber gloves and eye glasses. Just one touch to a sensitive area such as your eyes or a cut on your hand can launch you into serious pain or even cause a trip to the emergency room. I urge extreme caution when handling peppers, particularly if you are inexperienced.
Steps For Making Super Bowl Chili
Step 1: Browning the Meat and Adding Spices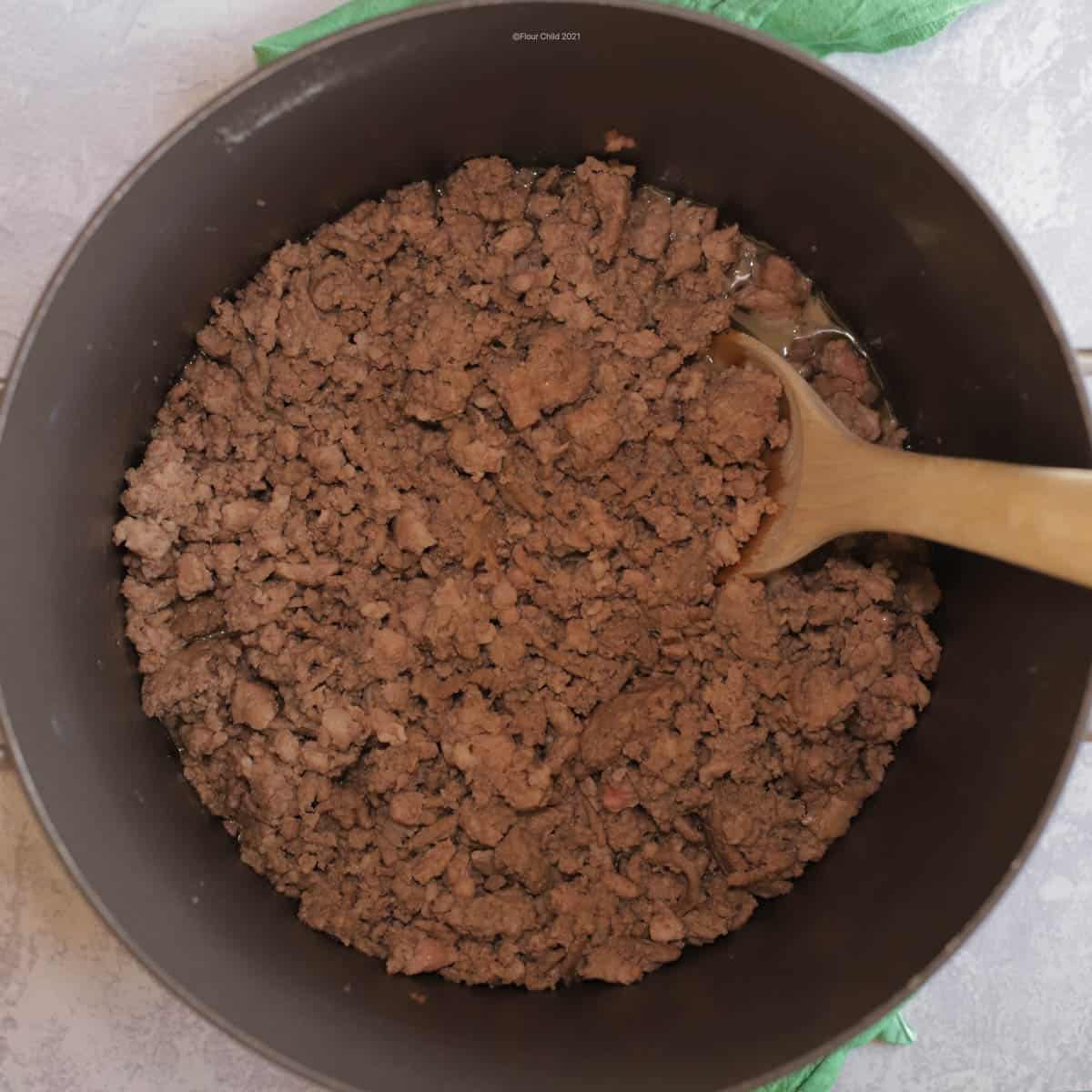 Step 2: Preparing the jalapeño pepper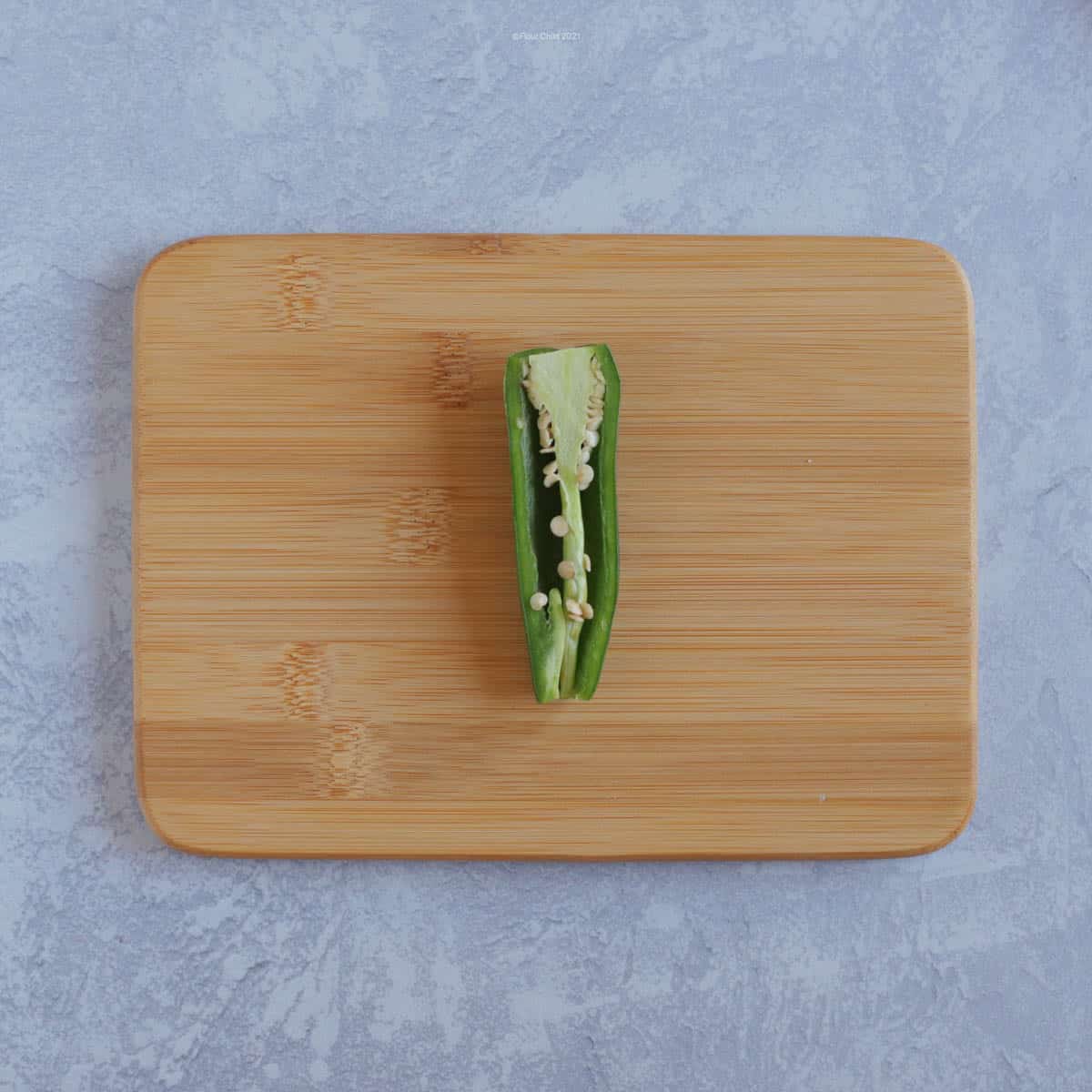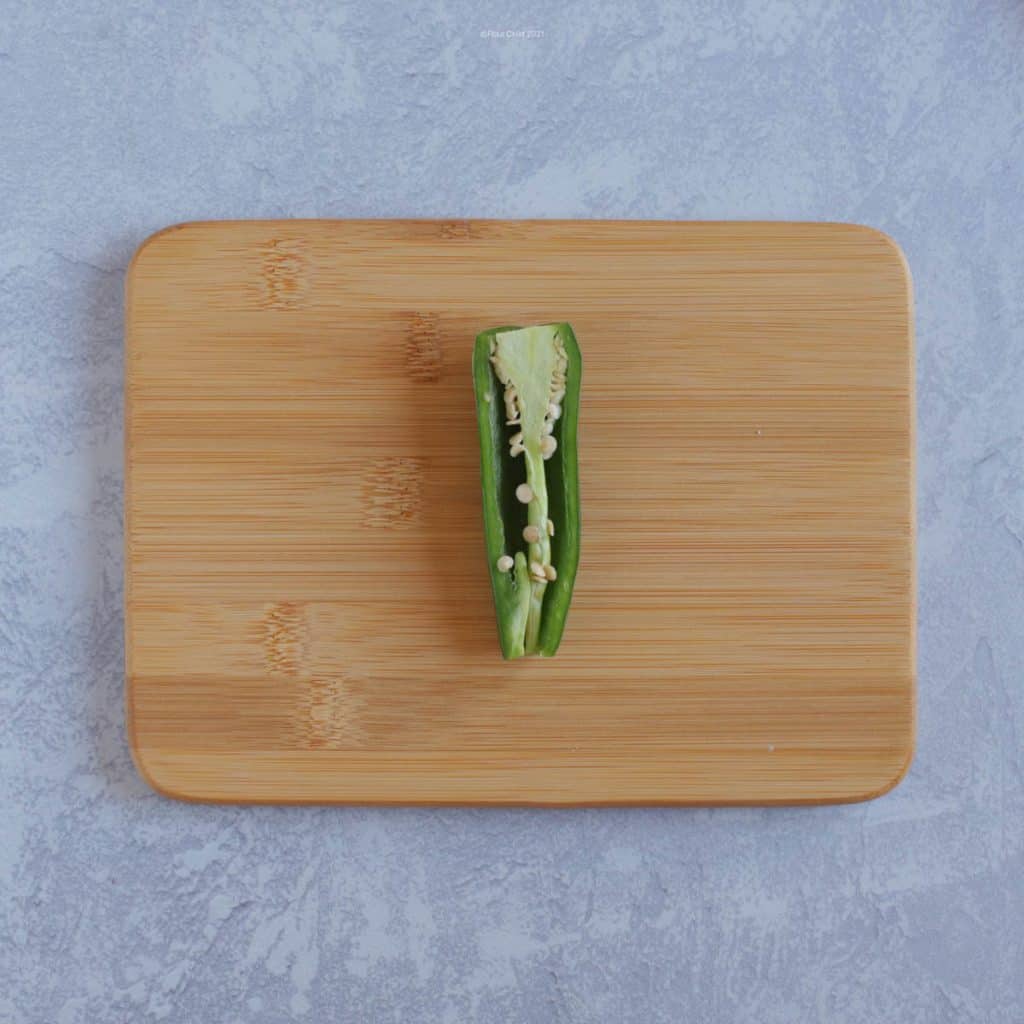 Step 3: The second seasoning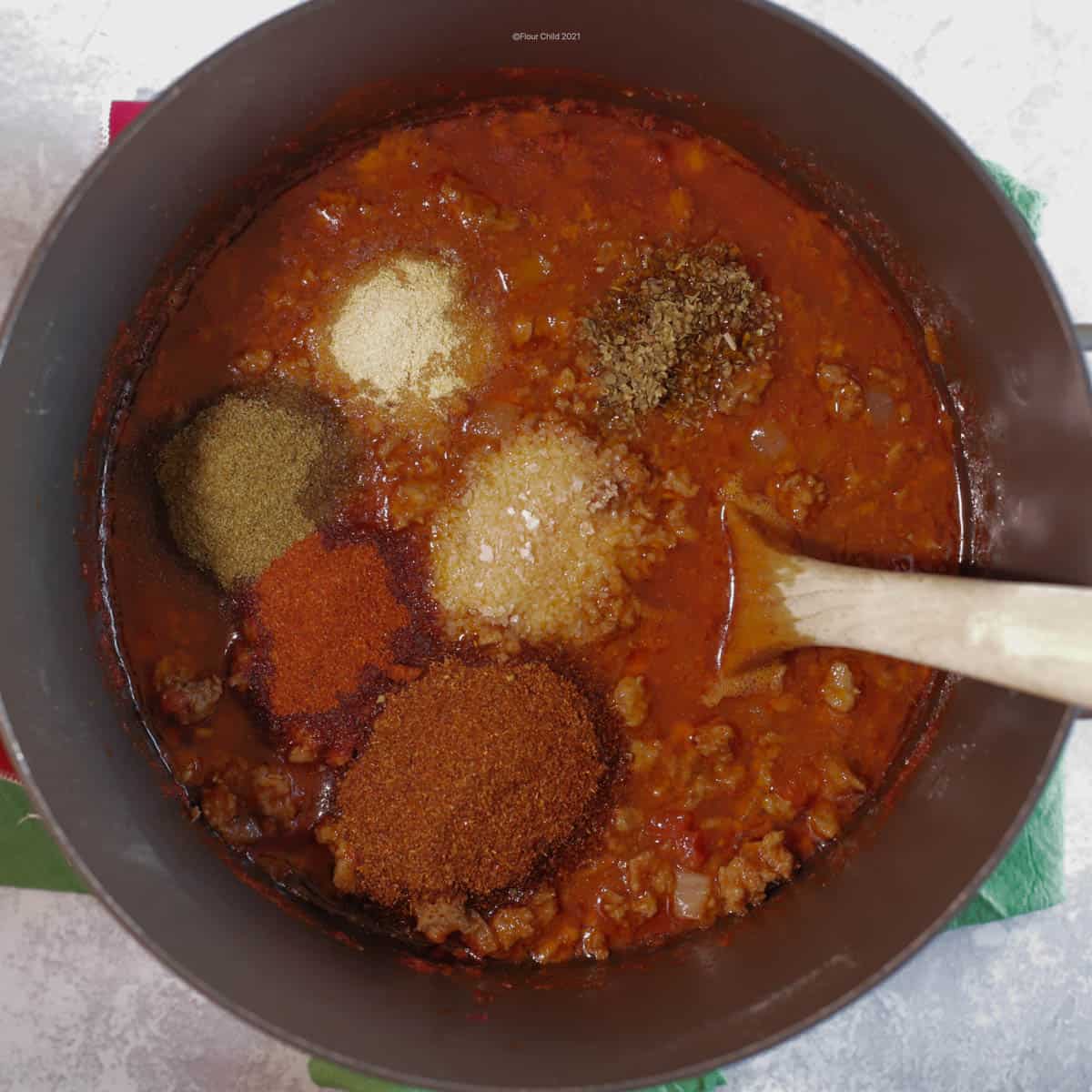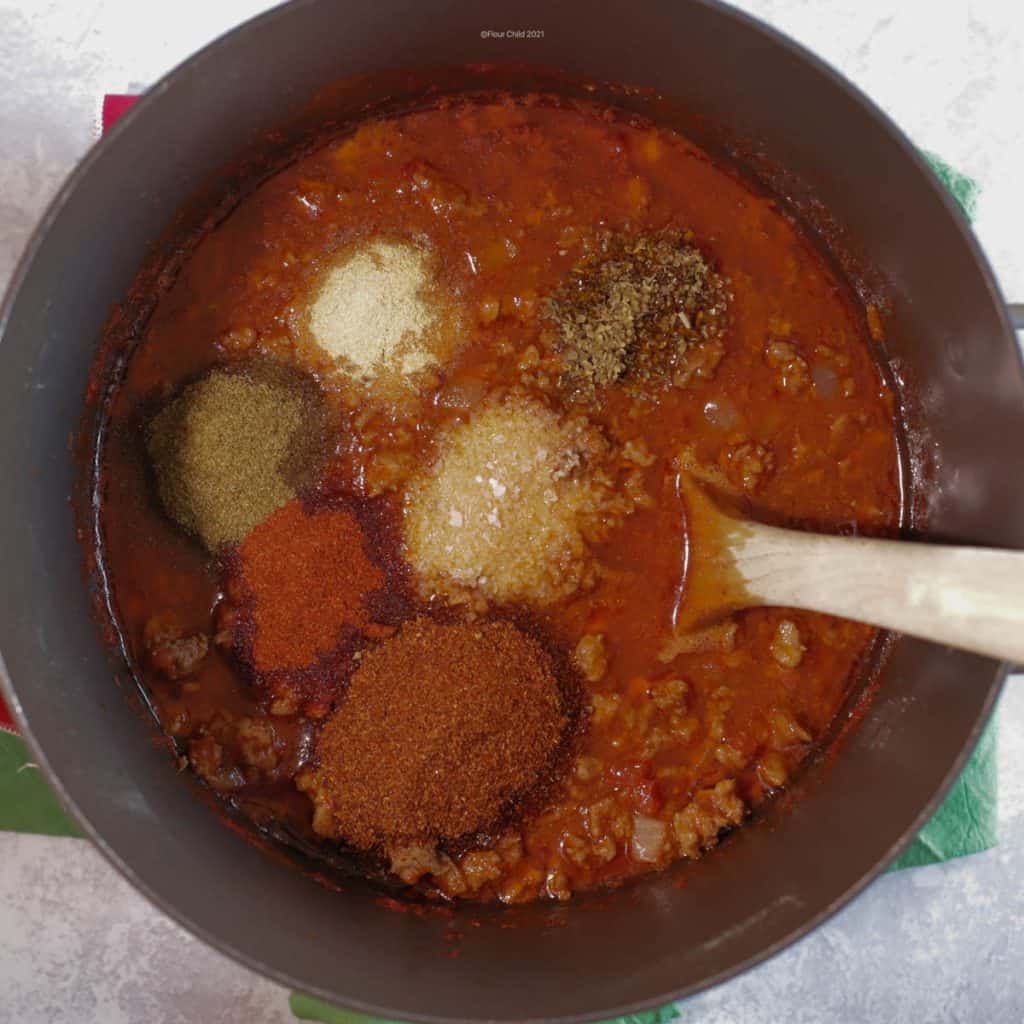 I recommend frequently tasting the chili as you add the spices so you get it to your exact liking. Just remember that if you are serving it with dairy based toppings such as cheese and sour cream, that will impact the flavor and cut down a bit on the heat. The protein in milk and milk products, casein, breaks down the capsaicin from the pepper and helps wash away the burning sensation.
I highly recommend whipping up a quick pan of homemade cornbread while the chili is cooking. It is wonderful on the side or crumbled up in the bowl!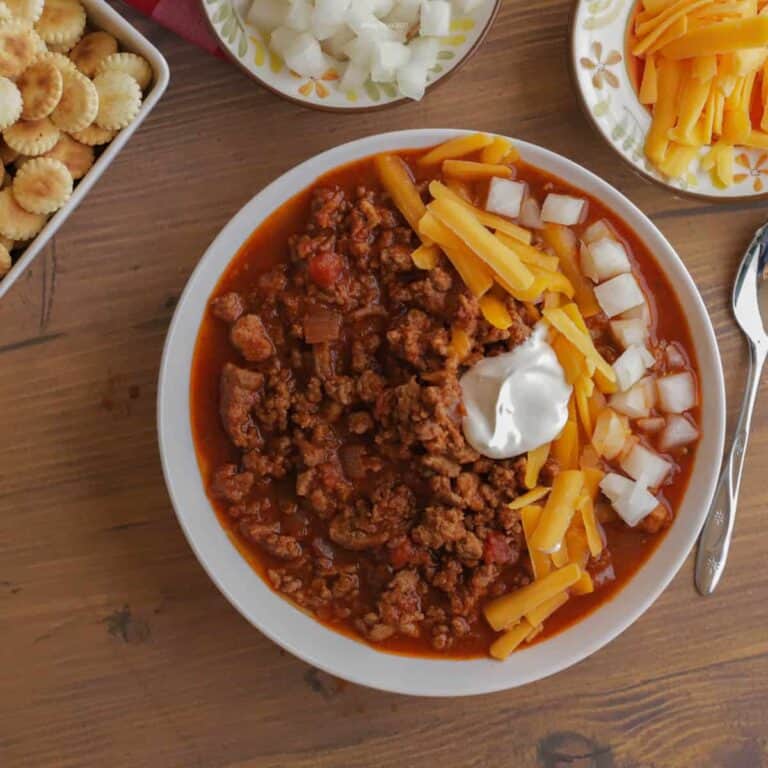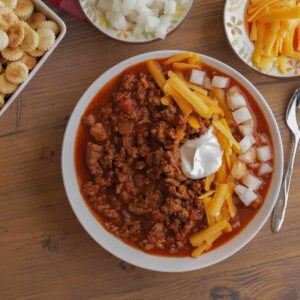 Super Bowl Chili
Super Bowl Chili has chunky meats in a flavorful tomato sauce with just the right amount of spice that makes this the perfect hearty game day meal!
Ingredients
1

tablespoon

vegetable oil

2

lbs

coarse ground beef

1

lb

coarse ground pork

1

tablespoon

onion powder

1

tablespoon

garlic powder

½

teaspoon

salt

14.5

oz

beef broth

6

oz.

tomato paste

8

oz.

tomato sauce

14.5

oz.

diced tomatoes

1

medium

yellow onion

chopped

2

tablespoons

chili powder

1

cup

water

1

jalapeño chili pepper

minced with seeds removed

3

tablespoons

chili powder

1

tablespoon

ground cumin

1

tablespoon

paprika

1

tablespoon

kosher salt

1

teaspoon

garlic powder

1

teaspoon

dried oregano

cayenne pepper to taste

optional

1

can

red kidney or chili beans

optional
Toppings
oyster crackers

shredded sharp cheddar cheese

chopped sweet onion

sour cream
Instructions
Heat oil in a large pot or dutch oven. Add meat, onion powder, garlic powder and salt. Brown well.

Add beef broth, tomato paste, tomato sauce, chunky tomatoes, chopped onion, chili powder and water. Bring to a boil, then reduce heat, cover and simmer for 1 hour.

Add the jalapeño pepper, chili powder, cumin, paprika, salt, garlic powder, oregano, and cayenne pepper (if using.) Cook over low heat, uncovered for 30 more minutes.

Before serving, add kidney beans if desired, and mix in until hot. 

Serve with toppings.
Nutrition
Calories:
520
kcal
Carbohydrates:
14
g
Protein:
33
g
Fat:
38
g
Saturated Fat:
14
g
Polyunsaturated Fat:
3
g
Monounsaturated Fat:
16
g
Trans Fat:
1
g
Cholesterol:
121
mg
Sodium:
1725
mg
Potassium:
1066
mg
Fiber:
4
g
Sugar:
6
g
Vitamin A:
2059
IU
Vitamin C:
17
mg
Calcium:
92
mg
Iron:
6
mg