These crunchy homemade corn tortilla chips served hot with a side of guacamole or salsa are so easy and delicious, you'll never buy another bag again!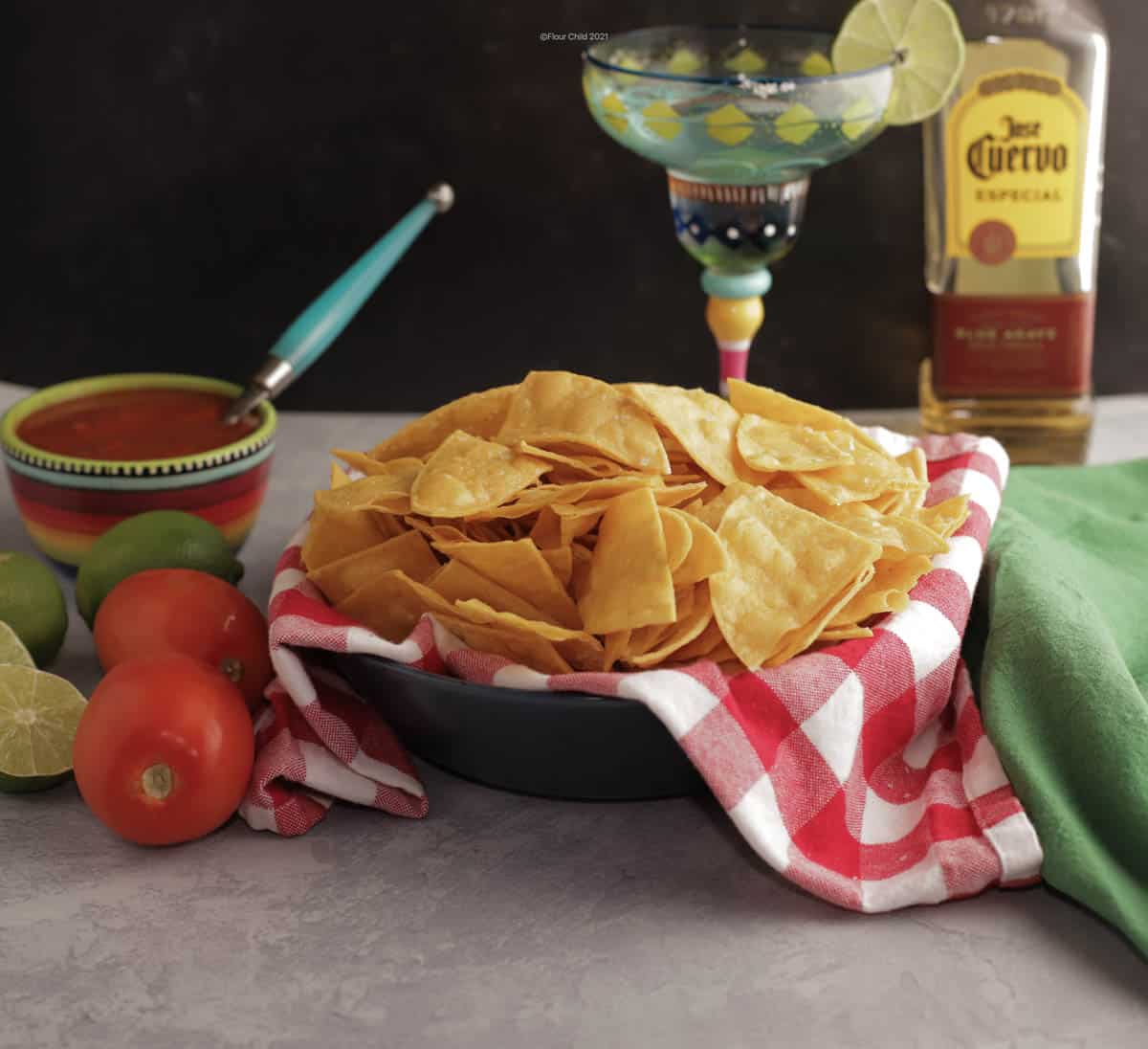 Wait - There's No Tortilla Fairy?
It never occurred to me to make my own tortilla chips. I had no idea how they were made. I guess I just assumed the tortilla fairy waved her wand and they magically appeared in puffy bags at the grocery store.
Last year my girlfriend Jenny, who was born in Mexico, was at my house and we were having a party and cooking up a Mexican feast. Suddenly she turned to me and asked "Hey - do you want some tortilla chips?" I ran to my pantry to see if I had a bag and she said "No, no no! I'll make them!" We had way more corn tortillas than we needed for dinner, so she took a stack, cut them into strips, and dropped them into a frying pan of hot oil. Five minutes later we were eating the hottest, best tortilla chips I've ever had. She had grown up making these with her mom, but it was magic to me! Jenny was the tortilla fairy!
Making Your Own Chips Saves Money (A Lot!)
If the thought of hot delicious chips isn't enough to tempt you to try making them, maybe the cost savings will. As of this writing, a 13 oz. bag of Tostitos corn chips at my local Ralph's (owned by Kroger) grocery store is $4.29. A 25 oz. package of yellow corn tortillas is only $1.89. You can make nearly twice the amount of chips for a fraction of the price, making the homemade version a much more budget friendly choice.
Frying vs. Baking Tortilla Chips
Frying tortilla chips in vegetable oil takes only about 5 minutes. Baking the chips is a healthier alternative to frying, but will take just a few minutes longer. Simply coat the tortillas in olive oil and bake them on a cookie sheet for 12-15 minutes or until golden and crisp.
To make them even healthier, choose organic corn tortillas which are made with non-gmo ingredients, and no artificial preservatives.
How To Fry Tortilla Chips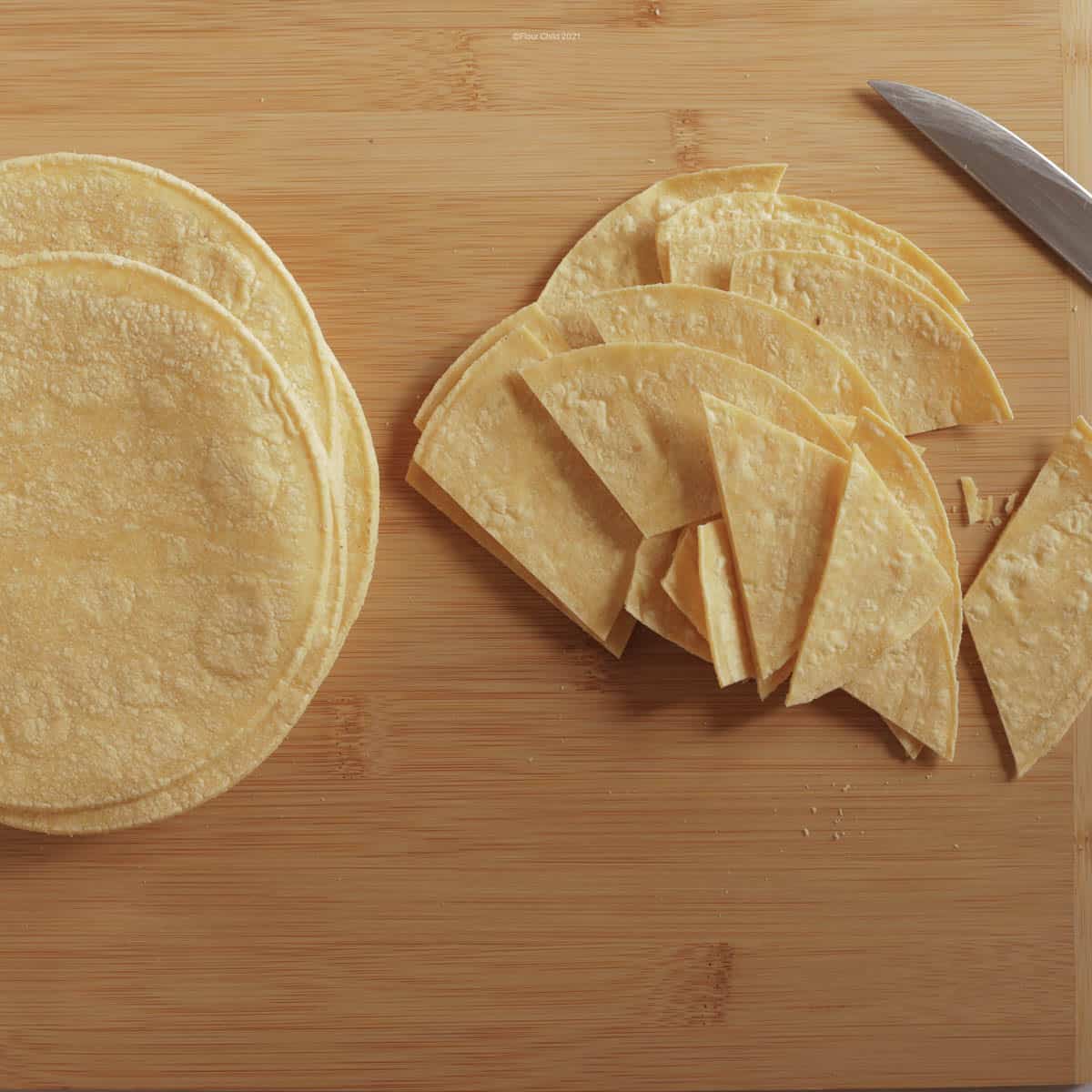 Do not overlap chips in frying pan; try to keep them separated. Overlapping will result in some areas not being fully cooked.
Remove chips from hot oil using a slotted spoon, and drain on a paper towel for 5 minutes before placing in serving bowl.
Salt and/or season immediately after removing from oil or the seasoning won't stick to the chips.
Use a coarse sea salt or kosher salt on the chips. Fine salt can easily result in overly salty chips.
Store in an airtight container or tightly sealed plastic bag.
How to Bake Tortilla Chips
Spray olive oil over both sides of the corn tortillas, or spread it on using a silicon pastry brush.
Cut tortillas to desired chip size.
Place on greased cookie sheet and bake at 375 degrees for 12-15 minutes or until golden in color. Remove from oven and salt/season immediately.
Cool in bowl or basket lined with paper towel for 5 minutes.
Now you have fresh, hot chips, cut in your favorite size and shape, salted and seasoned to your liking. Serve them as an appetizer with a tangy margarita before a delicious taco casserole dinner. Cheers, friends!
Print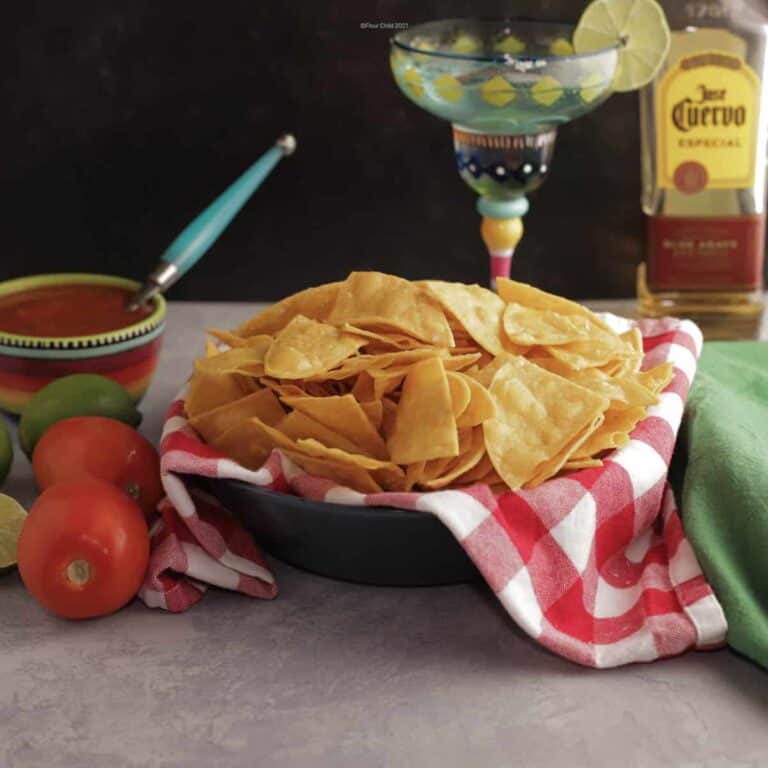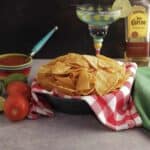 Make Homemade Baked or Fried Tortilla Chips in Minutes
Author:

Nancy Blackstone

Prep Time:

10 Minutes

Cook Time:

5-15 Minutes

Total Time:

15-25 Minutes

Yield:

Approx. 60 chips

Category:

Appetizers

Method:

Stovetop or Oven

Cuisine:

Mexican
---
Fried Tortilla Chips
10 six-inch corn tortillas
Vegetable oil, enough to fill to 1-inch deep in a large frying pan
Baked Tortilla Chips
10 six-inch corn tortillas
Olive oil cooking spray, or liquid olive oil 
---
Instructions
Fried Tortilla Chips
Pour olive oil into a large frying pan until it is one inch deep. Heat oil until hot. Test by putting a wooden spoon into the oil -- if small bubbles form around the spoon, it is ready. If it bubbles hard around the spoon, it is too hot and you'll need to reduce the heat.
Cut the tortillas into the desired size and shape of chips.
Carefully drop the chips into the hot oil, being careful not to burn yourself. Try not to allow the chips to overlap while cooking as it will cause spots to cook unevenly. You will probably need to cook several batches depending on the size of your frying pan.
Simmer in oil for 5 minutes, until chips are golden and crisp. Remove with a slotted spoon and place on a paper towel.
Immediately salt with a coarse salt. If you are using additional seasonings, add them now, too.
Allow to drain on paper towel for 5 minutes before serving.
Baked Tortilla Chips
Preheat oven to 375 degrees. Lightly grease a large cookie sheet with olive oil.
Spray both sides of tortillas lightly with olive oil cooking spray or  brush both sides of the tortillas with olive oil using a pastry brush.
Bake at 375 degrees for 12-15 minutes or until golden and crispy. Remove from cookie sheet and allow to cool 5 minutes before serving. Chips will get more crisp as they cool. You may need to make in several batches.
---
Notes
You can use white corn, yellow corn, or organic corn tortillas 
For baked tortillas, you can substitute vegetable oil for olive oil if you prefer
Store chips in an airtight container for up to 5 days. Reheat stored chips in the microwave for 30 seconds for that hot out-of-the-oven taste
Keywords: Appetizer, Mexican appetizer