When you need to feed a hungry group, this crunchy, creamy, cheesy potato casserole is crowd-pleasing comfort food at its best!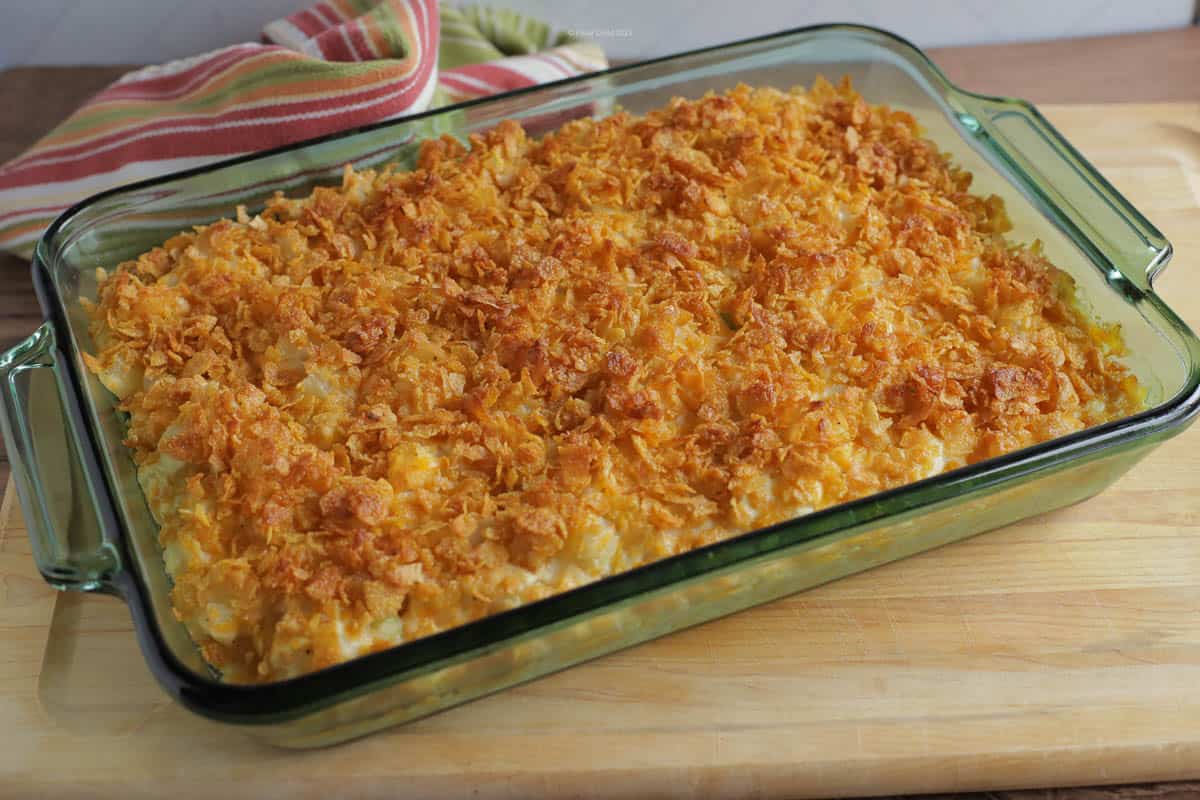 When you think of potatoes, mashed or baked often come to mind. But sometimes you need to feed a group or take a side dish to a potluck, and you want to make a crowd pleaser that's easy and unique. Cheesy Potato Casserole with fresh potatoes is just what you're looking for!
Fresh vs. Frozen Potatoes
There are many potato casseroles that call for frozen hashed browns. I understand being crunched for time, so I have included that as an alternative in the notes section of the recipe card. However, if you have time to dice a few fresh potatoes, you'll notch up the delicious potato flavor considerably!
How to Cube Potatoes Quickly
This recipe calls for 3 pounds of russet potatoes, roughly 4 or 5, depending on the size. If you think dicing will take too much time, try the handy dicing tool that I use. It's called the Vidalia Chop Wizard and it's available at most kitchen supply stores, Target or Walmart for around $20, or it can be ordered online. I've even seen it in my grocery store. It comes with a small and a large dicing blade. I use this tool nearly every day for dicing onions, carrots, celery, etc. It's a huge time saver when I need to chop vegetables for soups. For this recipe I use the large dicing blade for the potatoes. They are all uniform in size, which makes it easy to cook them to the correct doneness (because some pieces aren't larger than others, as they can be when you hand-dice.)
A Word About the Cheese in Cheesy Potato Casserole
This recipe calls for 6 ounces of shredded cheddar. You can absolutely use packaged shredded cheese and it will turn out fine. However, I strongly recommend grating your own cheese. Using a box grater, it literally takes 1-2 minutes, and the taste is so fresh! Plus, it doesn't have the waxy coating that all bagged cheeses have to keep them from sticking together. I use sharp cheddar in this recipe because I like the strong flavor it gives the casserole, but if you prefer a milder flavor, you can substitute medium or mild cheddar cheese.
Cheesy Potato Casserole Ingredients
Here's what you'll need to make the body of the potato casserole, and then the topping.
Potato Casserole:
Cubed Potatoes
Green Onions
Sour Cream
Cream of Chicken Soup
Shredded Cheddar
Butter
Salt
Pepper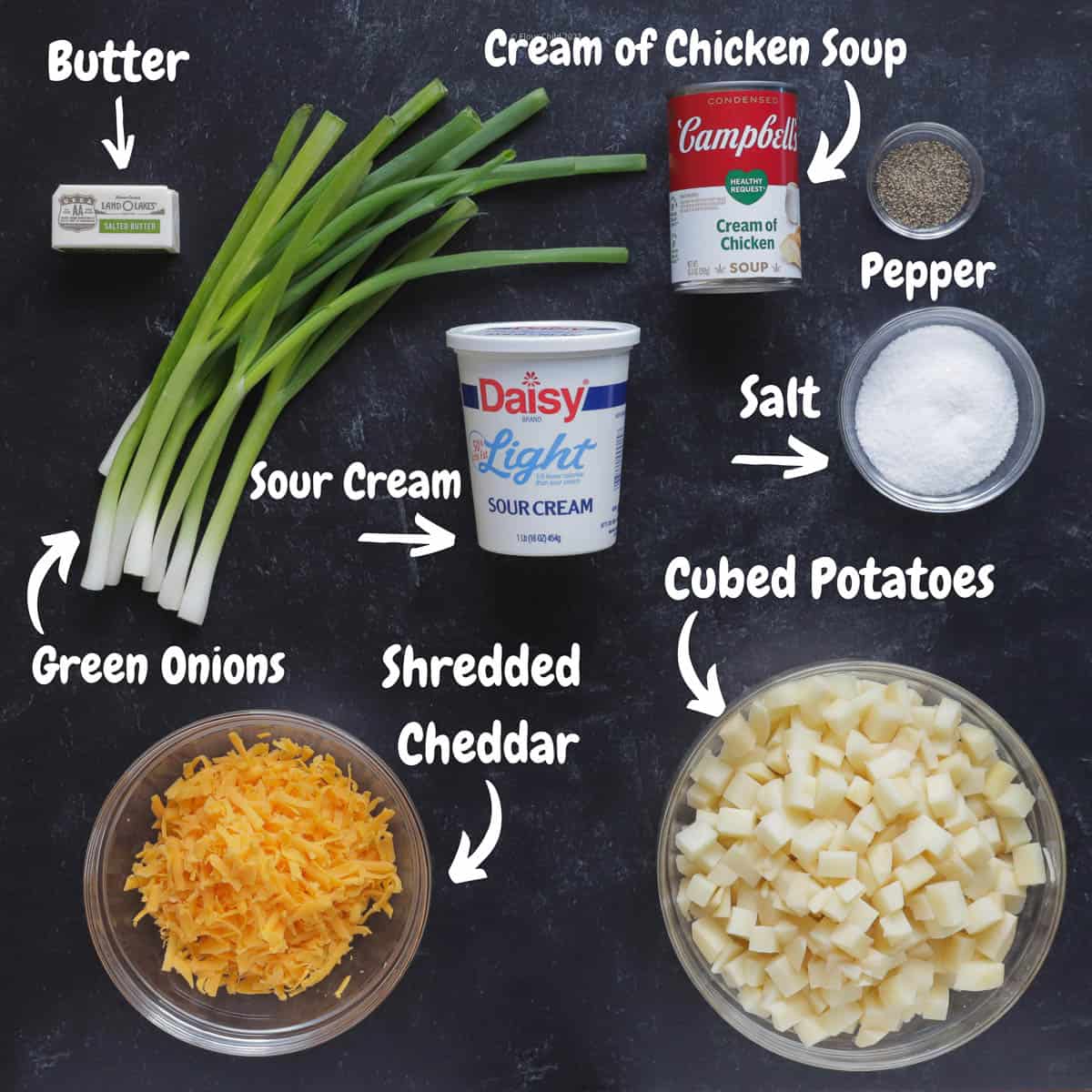 Topping:
Crushed Cornflakes
Butter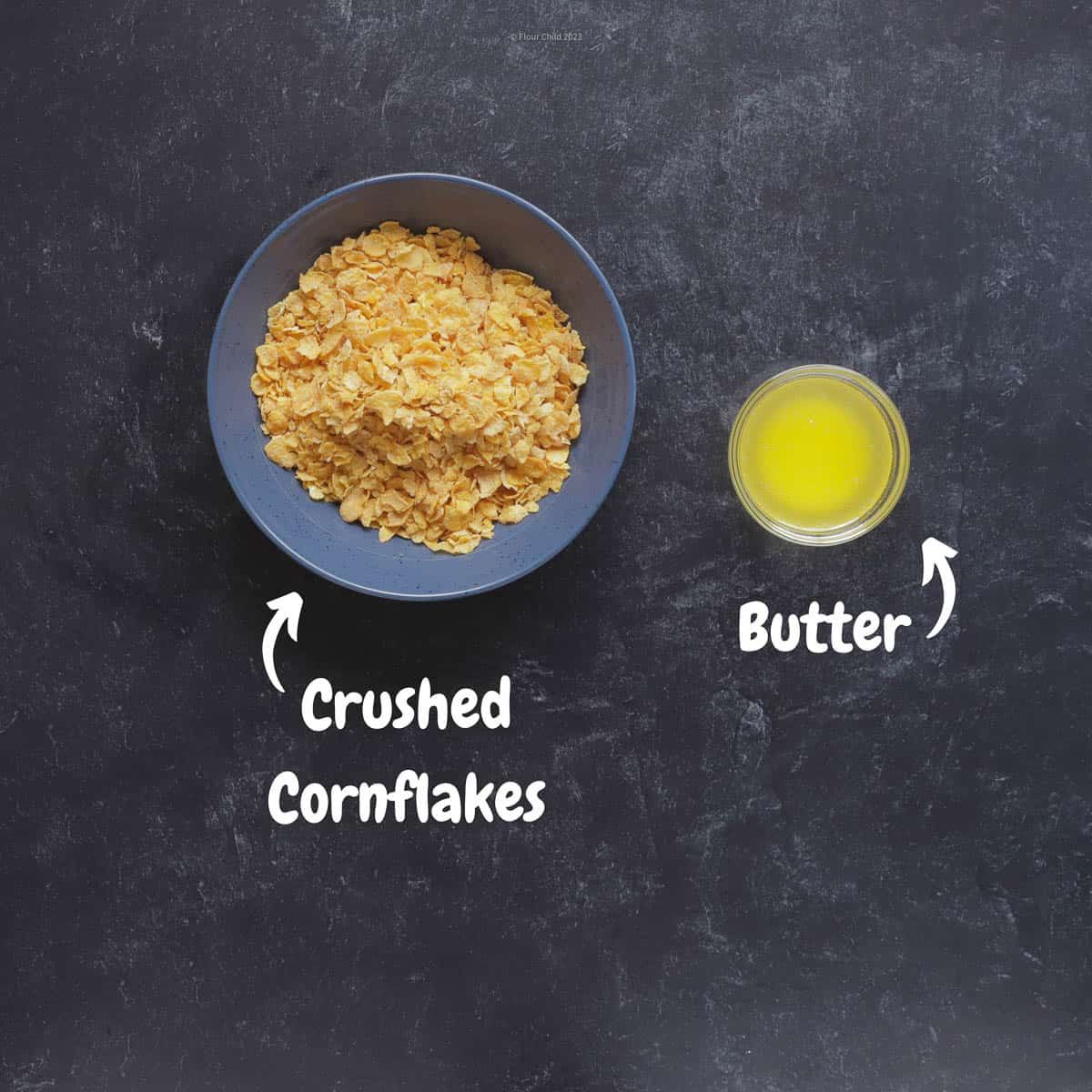 Helpful Hints
To cook the potatoes to the correct doneness, bring the water to a boil first, then add potatoes, making sure they are uniform in size. Cook until they are done but not mushy; they will cook and soften further when you bake them.
When cutting green onions you should cut the bulb, and up through the light green part of the stalk.
To prepare the cornflakes for the topping, put them in a bowl and use the back of a spoon to lightly crush them. They should be a bit smaller than they are when they come out of the box, but still flaky, not pulverized in a food processor.
This dish goes great with ham or as a side in virtually any meal or potluck. It can be made a day before serving. Simply cover tightly with plastic wrap and heat before serving!
Have a comment or a vintage recipe you'd like to share? We'd love to hear from you! Please rate, comment, or send me an email at [email protected]!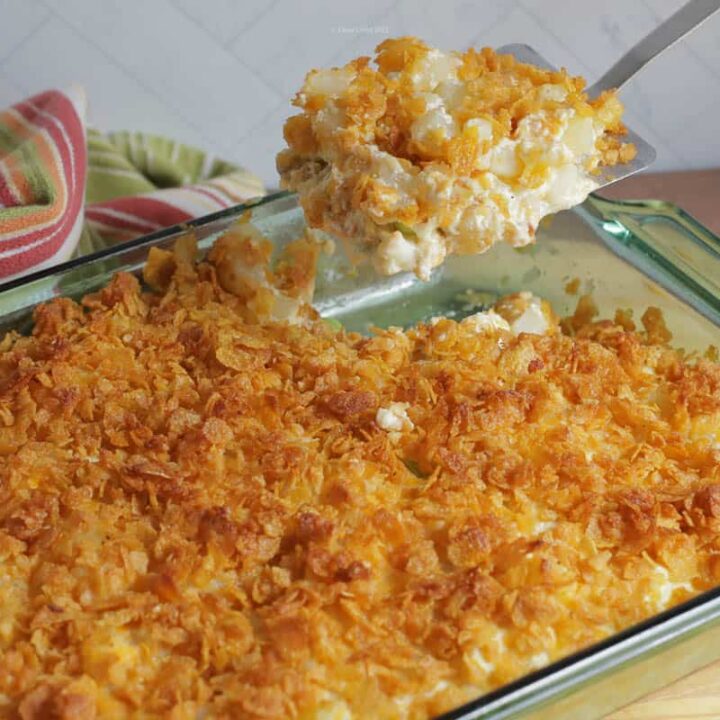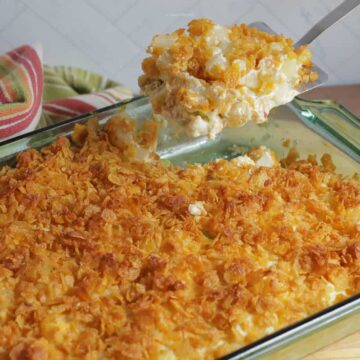 Cheesy Potato Casserole with Fresh Potatoes
Ingredients
3

lbs

russet potatoes

peeled and cubed

1

can

cream of chicken soup

10.5 oz

¼

cup

butter

melted

16

oz

sour cream

6

oz

cheddar cheese

sharp; freshly shredded

½

cup

green onions

1-2 bunches

2

teaspoon

kosher salt

½

tsp

black pepper
Topping
3

cups

crushed corn flakes

¼

cup

butter

melted
Instructions
Preheat oven to 375 degrees F. Grease a 9 x 13 baking dish with butter and set aside.

Peel and cube potatoes. Place in boiling water with 1 tsp. salt. Bring to a boil and cook until edible but firm; potatoes should be able to keep their cubed shape. (Approximately 20 minutes from the time you set them into a boiling pot.) Drain.

Empty cream of chicken soup into a bowl. Melt butter and thoroughly mix with soup.

In another bowl, add sour cream, shredded cheddar, green onions, salt and pepper. Add the soup mixture, and mix well.

Add potatoes to the bowl of creamy sauce and gently fold in just until potatoes are coated, being careful not to break the cubes apart. Gently transfer mixture to the greased 9 x 13 baking dish.

Crush the corn flakes; melt the butter and mix with the corn flakes until coated. Sprinkle over potato mixture in baking dish.

Bake at 375 degrees F for 45 minutes, or until potatoes bubble and corn flakes are a deep golden color. If they are getting too dark before the potatoes are done cooking, set a piece of foil over the top to prevent burning.
Notes
Variations:
You can use a 26 oz. bag of hash browns in place of the cubed potatoes.
½ cup of yellow or sweet onion can be used in place of green onions.
Low fat sour cream can be used in place of sour cream.
Cream of mushroom or cream of celery soup can be substituted for cream of chicken to make it vegetarian.
½ lb. chopped, crisp cooked bacon can be added just prior to adding the potatoes.
Mild or medium cheddar can be substituted for sharp cheddar for a milder flavor.
Store leftovers in an airtight container for up to 5 days.
Nutrition
Calories:
550
kcal
Carbohydrates:
89
g
Protein:
14
g
Fat:
17
g
Saturated Fat:
9
g
Polyunsaturated Fat:
1
g
Monounsaturated Fat:
4
g
Trans Fat:
0.004
g
Cholesterol:
46
mg
Sodium:
1330
mg
Potassium:
787
mg
Fiber:
4
g
Sugar:
9
g
Vitamin A:
1831
IU
Vitamin C:
24
mg
Calcium:
196
mg
Iron:
22
mg