Split pea and ham soup with potatoes, celery and carrots is a meal in a bowl that will warm your soul in the fall and winter months.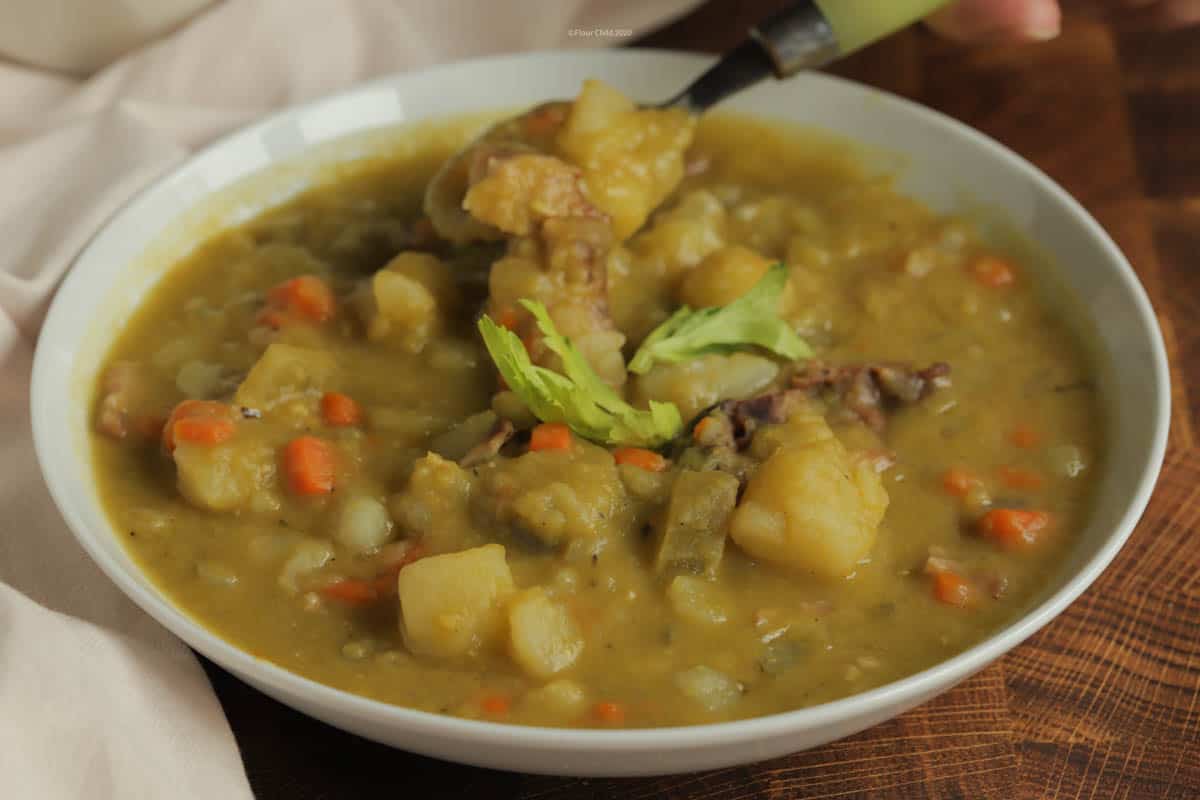 I used to love it when my mom made a big ham for a holiday dinner, because I knew it meant we would be getting split pea soup the next day. The ham bone adds a wonderful smokey flavor to the soup, and the chopped ham and vegetables make it a filling cold weather meal. But I have to admit, I made the above bowl of soup on a day that hit 113 degrees in Los Angeles -- soup in air conditioning works, too!
Split Pea Soup Has Been Around Since 500 BC
Split pea soup was popularized in the Navy. Like its cousin navy bean soup, it's a nutritious and low cost meal that's easy to prepare in large quantities. But split pea soup was sold in Athens, Greece as early as 500 BC, when Greeks and Romans began cultivating peas.
A One Pot Meal With Lots of Garden Veggies
If you have a garden full of veggies, you can shop in your backyard for most of the ingredients! Here's what you'll need:
ham shank or salt pork
chicken broth
split peas
carrots
russet potatoes
yellow onions
celery
bay leaf
dried thyme
minced garlic
kosher salt
pepper
I love that you can simply toss everything into a pot and have a meal 90 minutes later. Just make sure to stir periodically, because the split peas tend to sink to the bottom and can stick. And I'm sure you don't like to scrub pots any more than I do!
Where to Buy a Ham Shank
If you're not making this soup from leftover ham, you can purchase a large ham bone, ham shank or salt pork at the grocery store. I picked mine up for about $6 at our local Honey Baked Ham store, which sells just the soup bones. It still had plenty of ham on it to chop off and serve with the soup, and it had outstanding flavor.
Make it Vegetarian/Vegan
If you prefer a vegetarian version of this meal, leave out the ham and substitute vegetable broth in place of chicken. If you want to strengthen the flavor, leave out the water and use 8 cups of vegetable broth.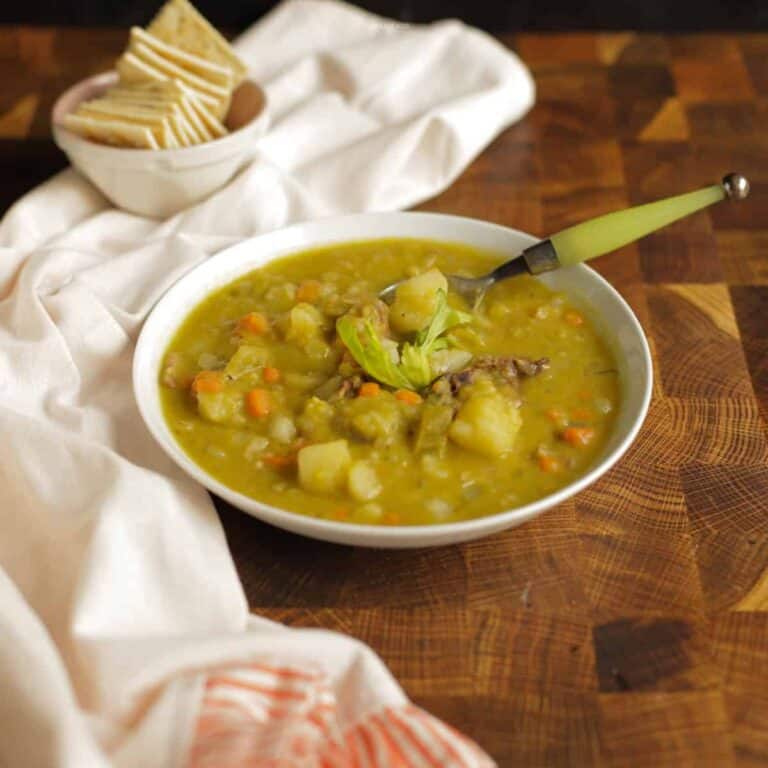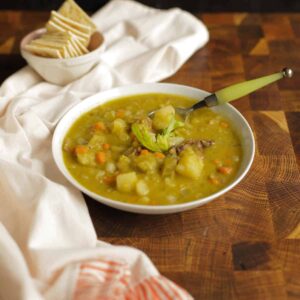 Split Pea and Ham Soup is an Old Fashioned Meal in a Bowl
Split pea and ham soup is a tasty and highly nutritious old fashioned meal in a bowl. Packed with meat, vegetables and seasonings, it will satisfy even the heartiest of appetites.
Ingredients
4

cups

low sodium chicken broth

4

cups

water

1

large ham bone

2

cups

split peas

2

large

carrots

diced

1

medium

yellow onions

diced

2

large

celery sticks

sliced

2

medium

russet potatoes

cubed

1

bay leaf

1

teaspoon

dried thyme

1

teaspoon

kosher salt

2

cloves

minced garlic

¼

teaspoon

black pepper
Instructions
Cut off excess meat from ham bone, chop and reserve for serving.

Add chicken broth, water and ham bone to a large soup pot, then add all remaining ingredients.

Bring to a boil, then turn down heat and simmer, stirring occasionally until vegetables are tender, approximately 1-½ hours.

Put some reserved chopped ham in the soup bowls and pour soup over top for serving.
Notes
The cooked, chopped ham is reserved until serving because cooking it in the soup will cause it to dry out.
Be sure to stir the soup periodically so that the ingredients don't stick to the bottom of the pot.
You can substitute beef broth or vegetable broth in place of chicken broth. Or if you prefer, you can use 8 cups of water and leave out the broth.
You can make a vegetarian/vegan version of this split pea soup by eliminating the ham bone and cooking the soup with vegetable broth.
This soup will keep in the refrigerator for up to 3 days, or in an airtight container in the freezer for up to 2 months.
Nutrition
Calories:
244
kcal
Carbohydrates:
44
g
Protein:
16
g
Fat:
1
g
Saturated Fat:
1
g
Polyunsaturated Fat:
1
g
Monounsaturated Fat:
1
g
Sodium:
356
mg
Potassium:
892
mg
Fiber:
14
g
Sugar:
6
g
Vitamin A:
3092
IU
Vitamin C:
6
mg
Calcium:
56
mg
Iron:
3
mg