This American Navy Bean soup dates back to the 1800's and was a mid century staple because of its simplicity and good taste.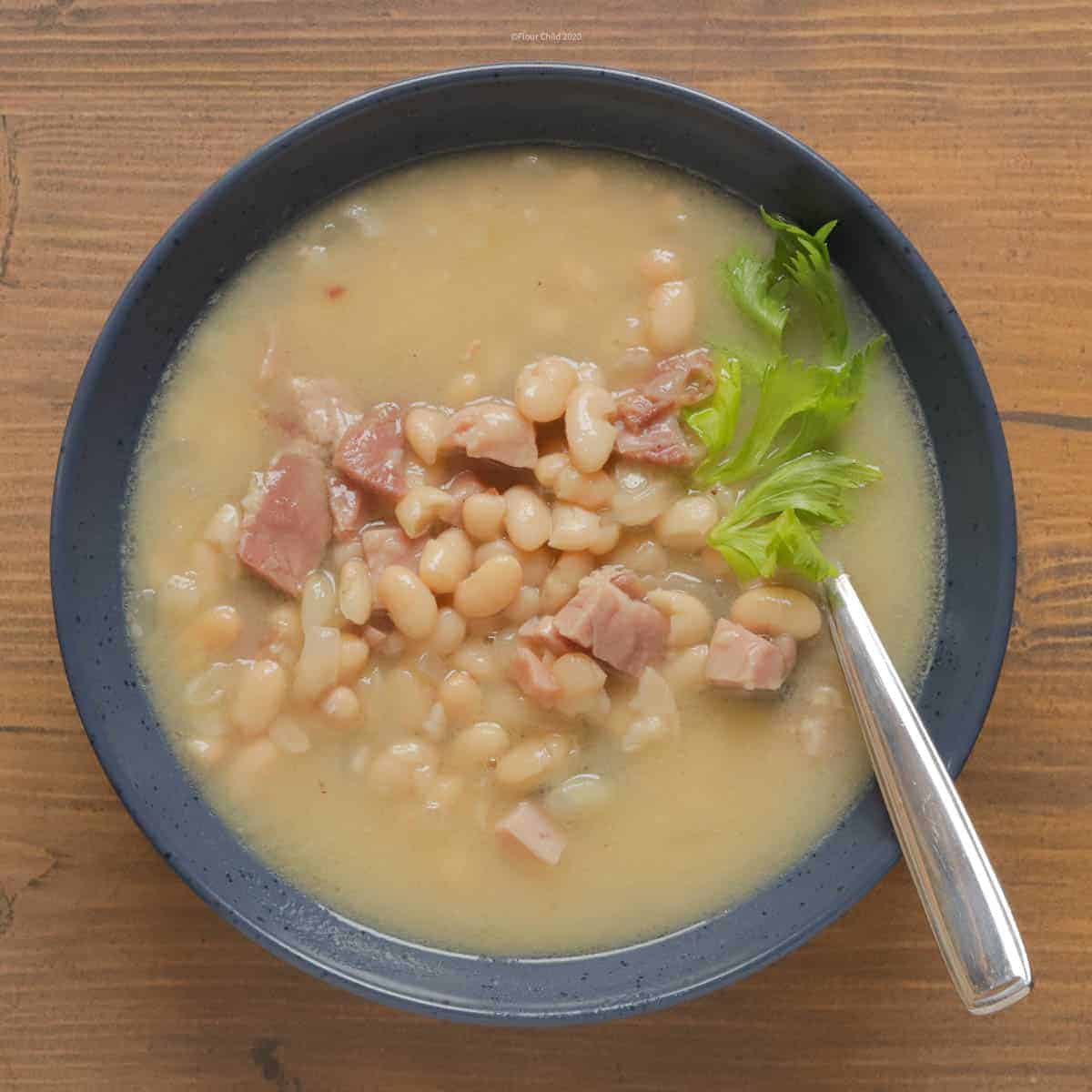 Set Sail for Good Taste
Navy bean soup gets its name from its origins as a staple on US warships. Due to its low cost and high nutritional value, it was an inexpensive way to feed hungry sailors and soldiers. It first appeared in a Naval cookbook in the early 1900's but had been around for much longer than that. The common, small white bean used in this soup is native to the Americas. There are many names and versions that encompass the family of ham and bean soups. The US Senate restaurant's famous "Senate Soup" is a very close cousin to Navy Bean soup.
This soup could be made with just a few things usually kept on hand. Most cooks had a canister of dried beans on the counter at all times. It was also a good way to use leftovers from ham dinners which were also a frequent item on the menu.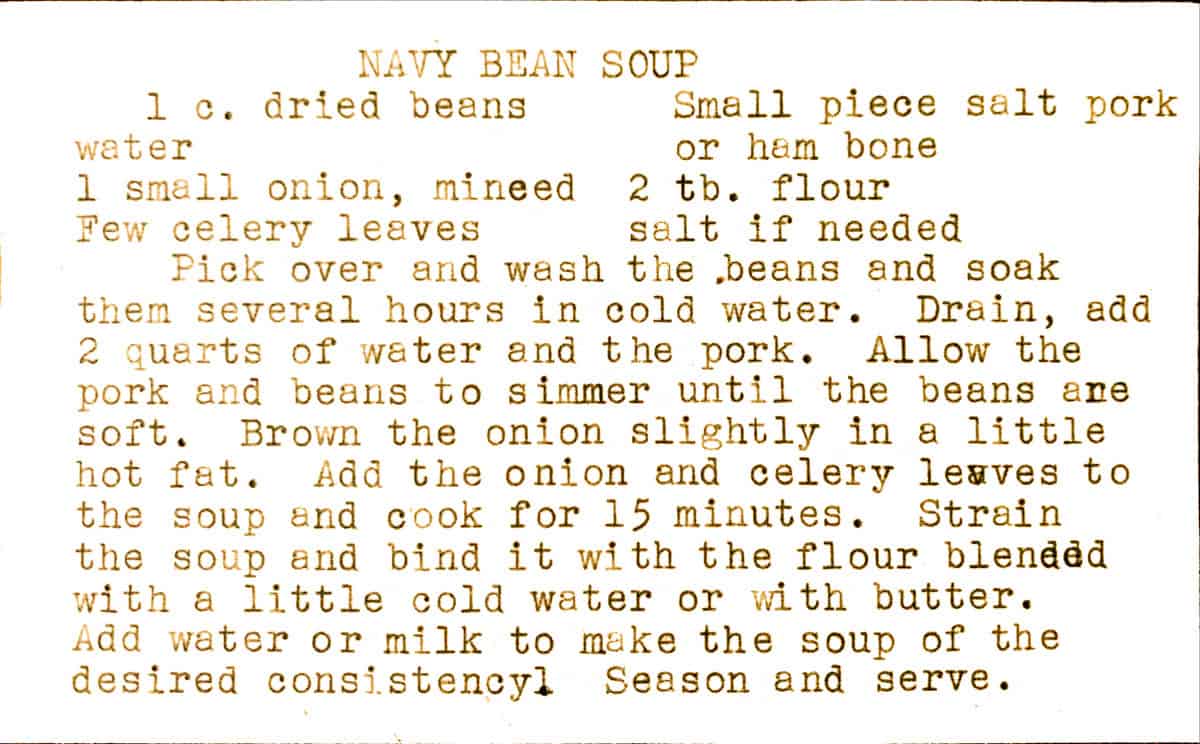 How to Cook With a Ham Hock
The 1950's recipe card above calls for a piece of salt pork in the recipe, but cooking the soup with the bone of a ham hock will give it a richer flavor. If you're making a holiday ham, keep the bone with some meat on it and use it to make soup. If not, you can buy a ham hock from your local grocery store or meat market. I bought this one for a few dollars from our local Honey Baked Ham store. It came with plenty of meat on the bone. I trimmed most of it off, leaving some for flavor. The trimmed ham was chopped and kept in the refrigerator and added to the soup upon serving. Cooking all of the ham with the soup leaves it too dried out, so reserving some cooked ham to add just before serving is best.
Just a Few Ingredients are all that's Required for this Soup
The simplicity is what made this soup such a standout for mid century cooks. With only a few main ingredients cooks could have a hearty cold-weather meal ready to go.
This version of the soup is the simplest one. At first glance it may seem like it doesn't have enough ingredients to give it flavor, but rest assured this was some of the tastiest soup I've ever eaten. Of course you can always add to it, but the flavor is delicious as is.
White Navy dried beans
Salt Pork or ham bone
Onion
Flour
Celery leaves
Salt if desired
Tips for Successful Navy Bean Soup
While there are not many steps to making this soup, with these pointers you'll be able to cook it up right every time.
If you choose to use a ham bone rather than salt pork, check with your local meat market or a Honey Baked Ham store in your neighborhood for a nice, meaty hock.
Go through your beans while rinsing them prior to cooking and pick out the ones that look bad or black.
Soaking the beans for 4 hours or overnight in cold water will make them softer for faster cooking.
The soup gets more flavorful with time. Cook it first thing in the morning to serve in the evening, or cook it the day before. It will keep in an airtight container in the refrigerator for 3-5 days.
On chilly autumn days, this soup is a perfect warm up. Let us know if you try it and what you include in your version of it.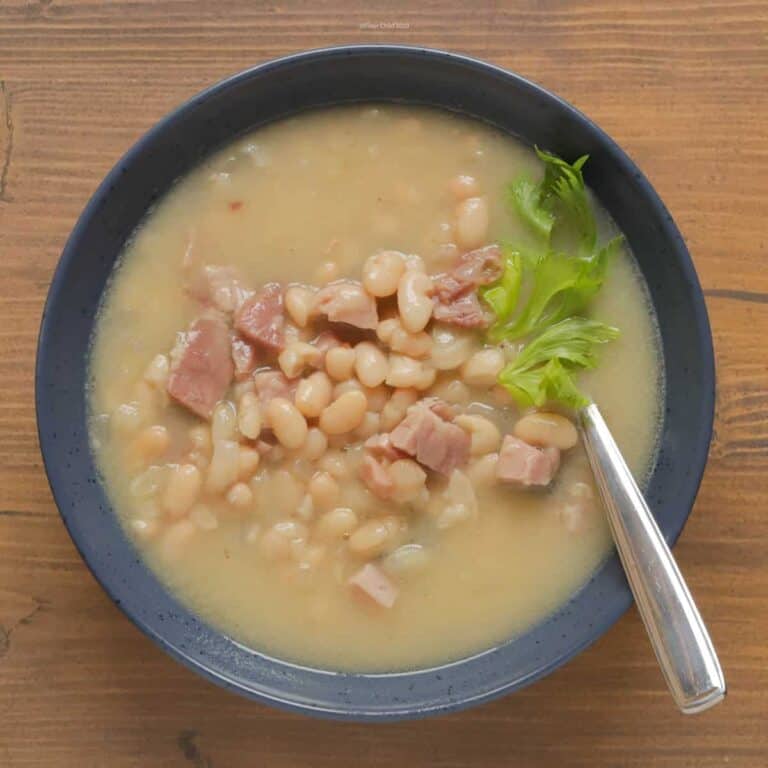 Navy Bean Soup is a Traditional Favorite
This hearty American classic soup eats like a meal and was a favorite of mid century cooks. It is simple to make and keeps well overnight for leftovers.
Ingredients
1

cup

dried white beans

8

cups

water

1

small piece of salt port or ham bone

1

small

yellow onion

minced

1

tablespoons

butter

2

tablespoons

flour

¼

cup

celery leaves

salt to taste
Instructions
Rinse the beans in a colander and pick out any that look bad. Soak in cold water for 4 hours or longer. 

Drain the beans, put them in a large pot. Add the 8 cups of water and the salt pork or ham hock to the pot. Simmer on low heat until ham beans are soft (about 1-½ hours)

Brown the minced onion in butter, then add it to the soup with the celery leaves and cook for an additional 15 minutes

Mix the flour in a little cold water until fully dissolved, then stir it in to soup.

If desired, add a little water or milk to the pot until soup is desired consistency. Add salt to taste, if necessary. Serve immediately or place in an airtight container in the refrigerator and reheat to serve.
Notes
Modern twist:  You can give the flavor of this very traditional recipe a pop by adding 1-2 cloves of garlic and a sprig of thyme.
To make it a more substantial meal, add a half cup of chopped or shredded carrots and 1-2 chopped russet potatoes and serve with chopped ham.
Soak the beans for 4 hours or overnight in cold water to reduce the prep time.
Make several hours or a day before serving to allow flavors to soak in. 
Kept in an airtight container in the refrigerator, the soup will keep for 3-5 days.
Nutrition
Calories:
216
kcal
Carbohydrates:
35
g
Protein:
13
g
Fat:
3
g
Saturated Fat:
2
g
Polyunsaturated Fat:
1
g
Monounsaturated Fat:
1
g
Trans Fat:
1
g
Cholesterol:
8
mg
Sodium:
69
mg
Potassium:
975
mg
Fiber:
8
g
Sugar:
2
g
Vitamin A:
154
IU
Vitamin C:
2
mg
Calcium:
147
mg
Iron:
6
mg