This dish has all the flavor of lasagna without all the work! Sweet Italian sausage, gooey mozzarella cheese, stewed tomatoes and aromatic spices give this hearty lasagna soup an irresistible flavor that will please the whole family.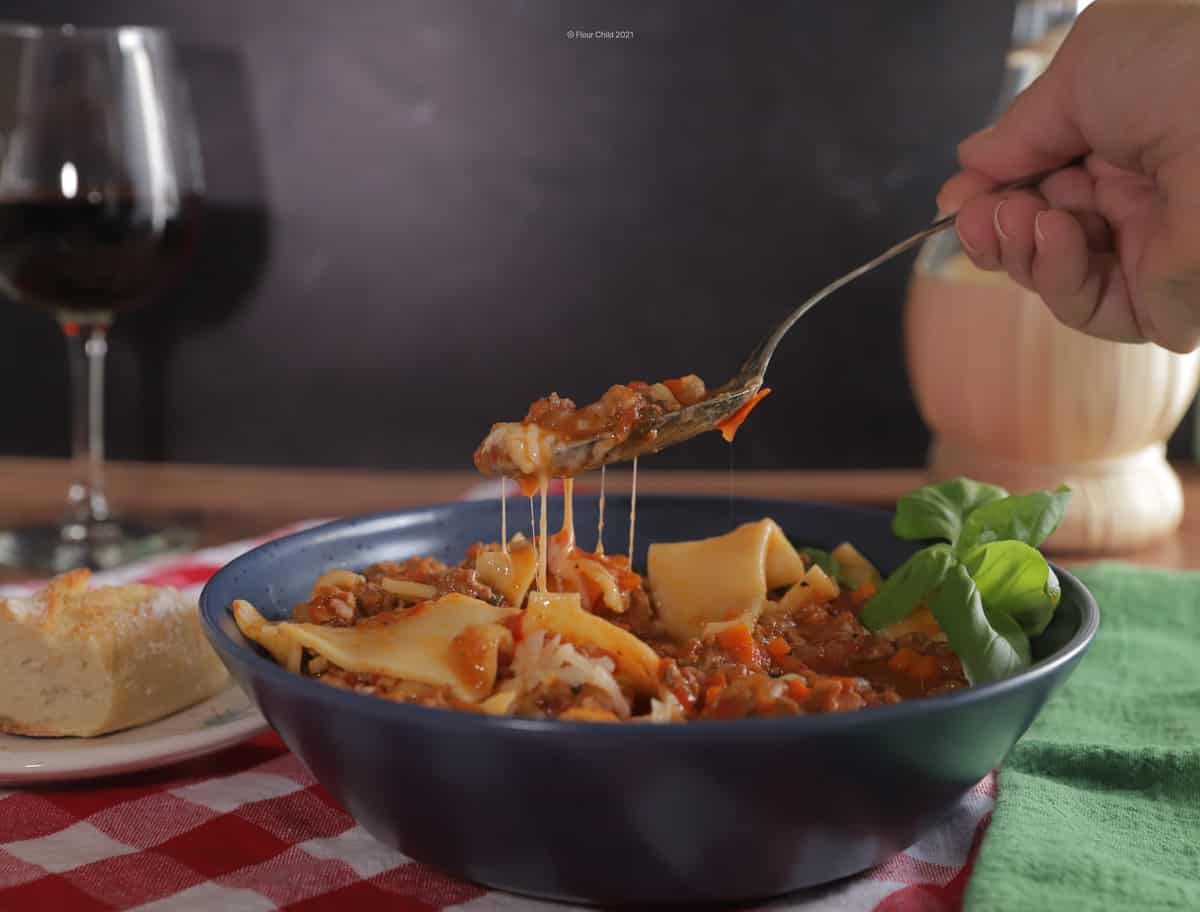 Every time I see a photo of this soup I want to rush into the kitchen and make it. That's because it tastes as incredible as it looks!
Our Old World Authentic Italian Lasagna has been a favorite family recipe for generations, and though it's worth the effort, it is time consuming and labor intensive to make. In the 1970's, home cooks looked for ways to make healthy and delicious dinners faster, often turning traditional plated meals into soups and stews. This is one of those -- a quick lasagna recipe!
Why You Should Make This Recipe
There are several reasons you're going to want to make this one-pot lasagna soup recipe:
It's a hearty one-pot meal made with simple ingredients
Can be cooked on the stovetop or in a crockpot
Easy to fix and forget
Keeps in the refrigerator and makes delicious leftovers
Freezes easily and can be quickly heated for fast weeknight meals
Its family-pleasing flavor is loved by both kids and adults
An easy and delicious dish to serve when having company
Makes a great potluck meal when transported in a crockpot
Lasagna Soup Ingredients
This dish is made in three separate, easy steps, each consisting of their own ingredients. What is lasagna soup made of? The same ingredients you use to make lasagna!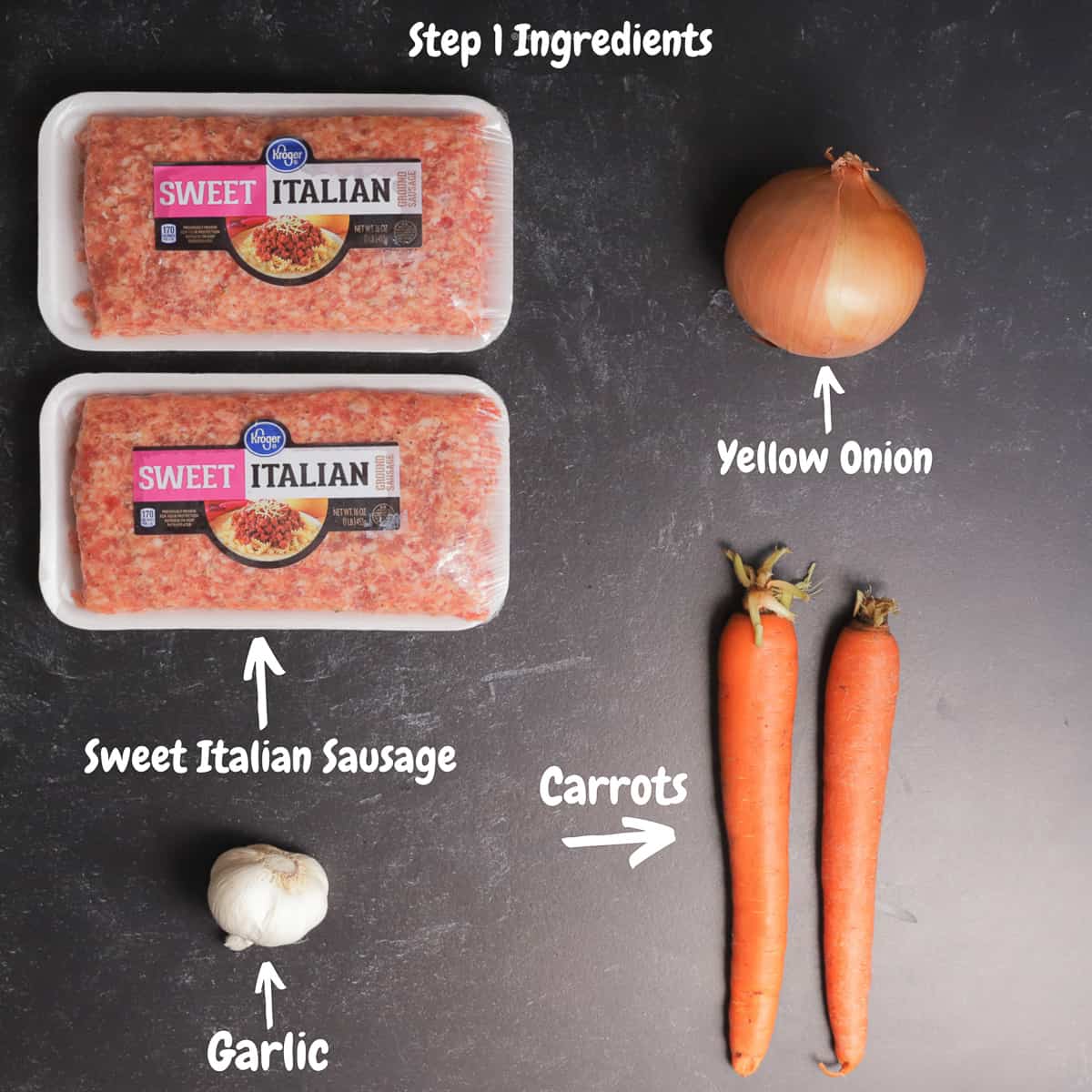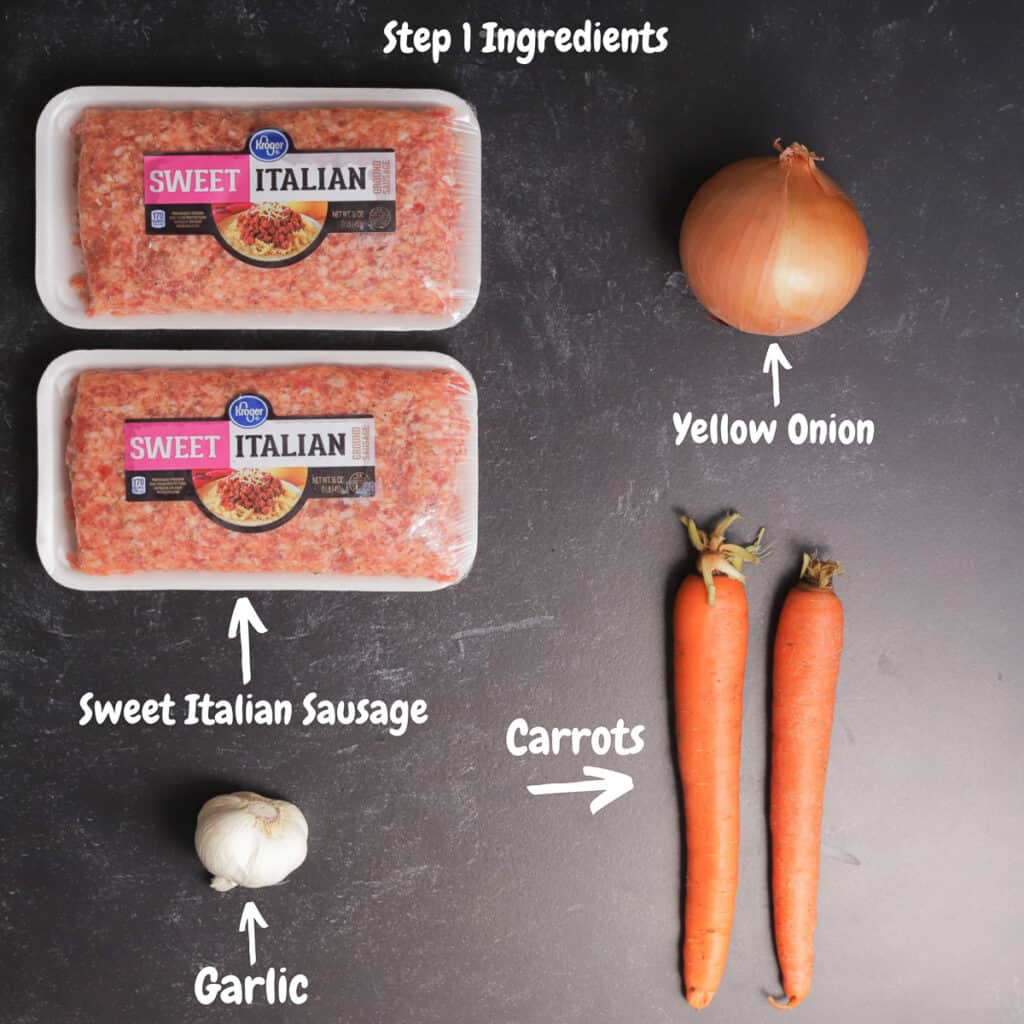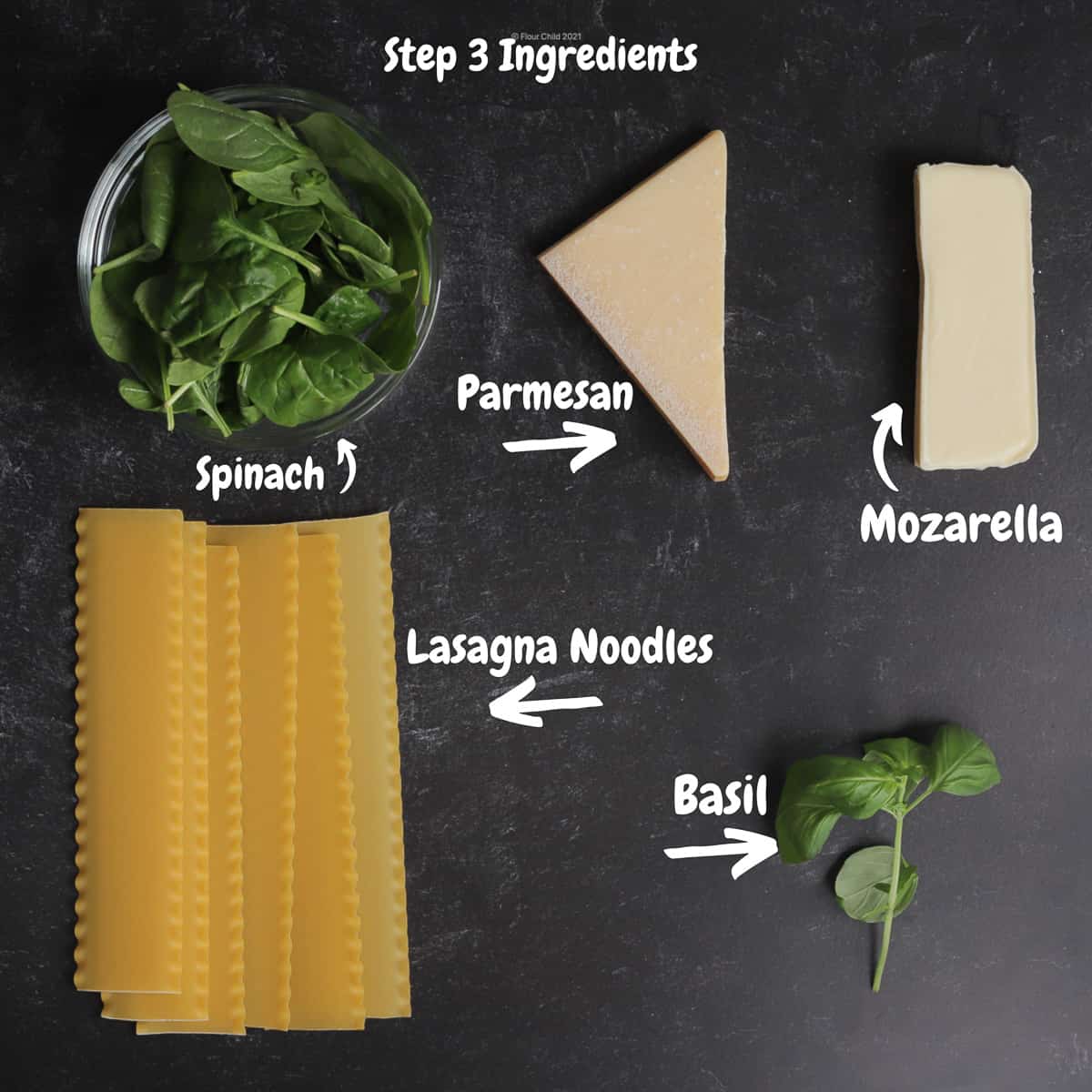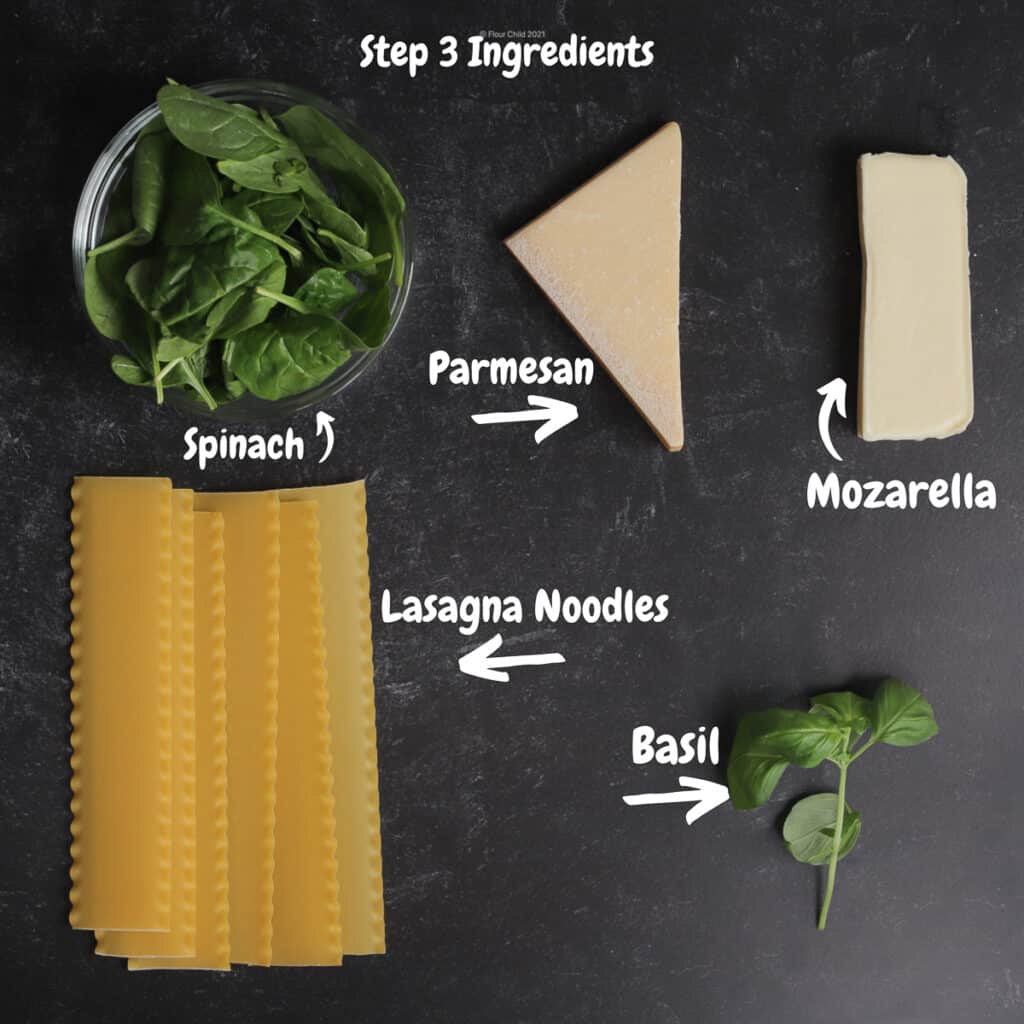 Ingredient Notes and Substitutions
I prefer using organic ingredients whenever possible, to limit the amount of chemicals we're consuming. The items in this recipe should be readily available in your local grocery store in both organic and non-organic versions.
Step 1 Notes
Sweet Italian Sausage - I highly recommend using sweet Italian sausage for this recipe, as the sweetness provides an irresistible flavor among the tart tomatoes. However, lasagna soup can also be made with mild or hot Italian sausage, and even ground beef. Each variation has it's own distinct flavor profile.
Yellow Onion -- A yellow onion is going to add the most flavor to this soup. While you won't harm the soup using another variety of onion such as sweet or red, it really needs the strong flavor that a yellow onion provides during cooking.
Step 2 Notes
Chicken Broth -- The Italian sausage provides a salty base to the soup, so stick with low sodium chicken broth for this recipe.
Step 3 Notes
Lasagna Noodles -- These absorb a lot of liquid, so after sitting in the broth for a while the soup tends to turn into more of a stew consistency. It can always be thinned out by adding a little additional low sodium chicken broth or water until it reaches your desired consistency.
Chopped Fresh Spinach -- I recommend removing the fibrous stems before chopping the spinach, as they get tough during cooking. Here's a great 30-second video showing you how to do it. If you use baby spinach, you may not need to remove the stems (see video.)
Mozzarella Cheese -- Stay away from the fresh, moist balls of mozzarella in the deli department as they don't have the right consistency for this recipe. I strongly recommend buying a small brick of low moisture, part-skim mozzarella which you'll find in the refrigerated cheese section of your grocery store. It will give you that irresistible gooey, stringy cheese that makes this the best lasagna soup recipe there is! Pre-shredded, bagged mozzarella has a waxy coating on it that causes it to clump in soup, so stick with cubing your own.
Shredded Parmesan -- I strongly recommend buying a wedge of Parmesan, Parmesan-reggiano or Romano cheese and shredding it fresh. You can use a shredded or grated packaged Parmesan cheese for the topping, but they have a waxy coating added to prevent them from clumping in the bag or container. Using a box grater literally takes seconds to produce plenty of fresh Parmesan with no additives.
Recommended Cooking Equipment
The following items will be needed for your recipe:
Large non-stick skillet for browning sausage and cooking vegetables
6 quart pot (or crockpot, if you are using the crockpot cooking method)
Sharp knife and cutting board for chopping spinach, fresh basil and cubing mozzarella
Food processor or immersion blender for breaking up the stewed tomatoes
Optional but helpful: vegetable dicer for dicing onion and carrots
Box grater for grating Parmesan cheese
How to Cook Lasagna Soup
If you're looking for an easy lasagna soup recipe, look no further! Simply follow the 3 steps below:
Step 1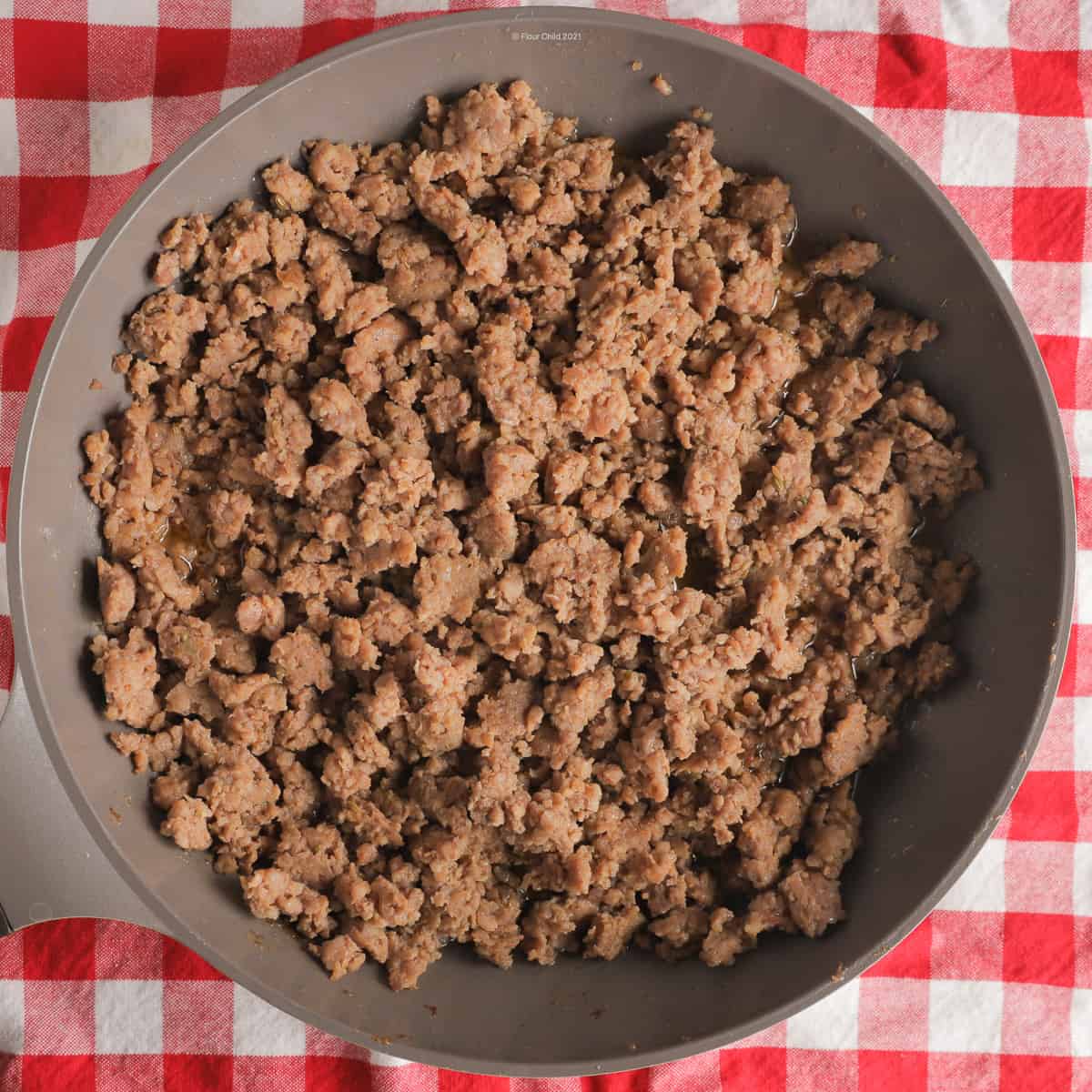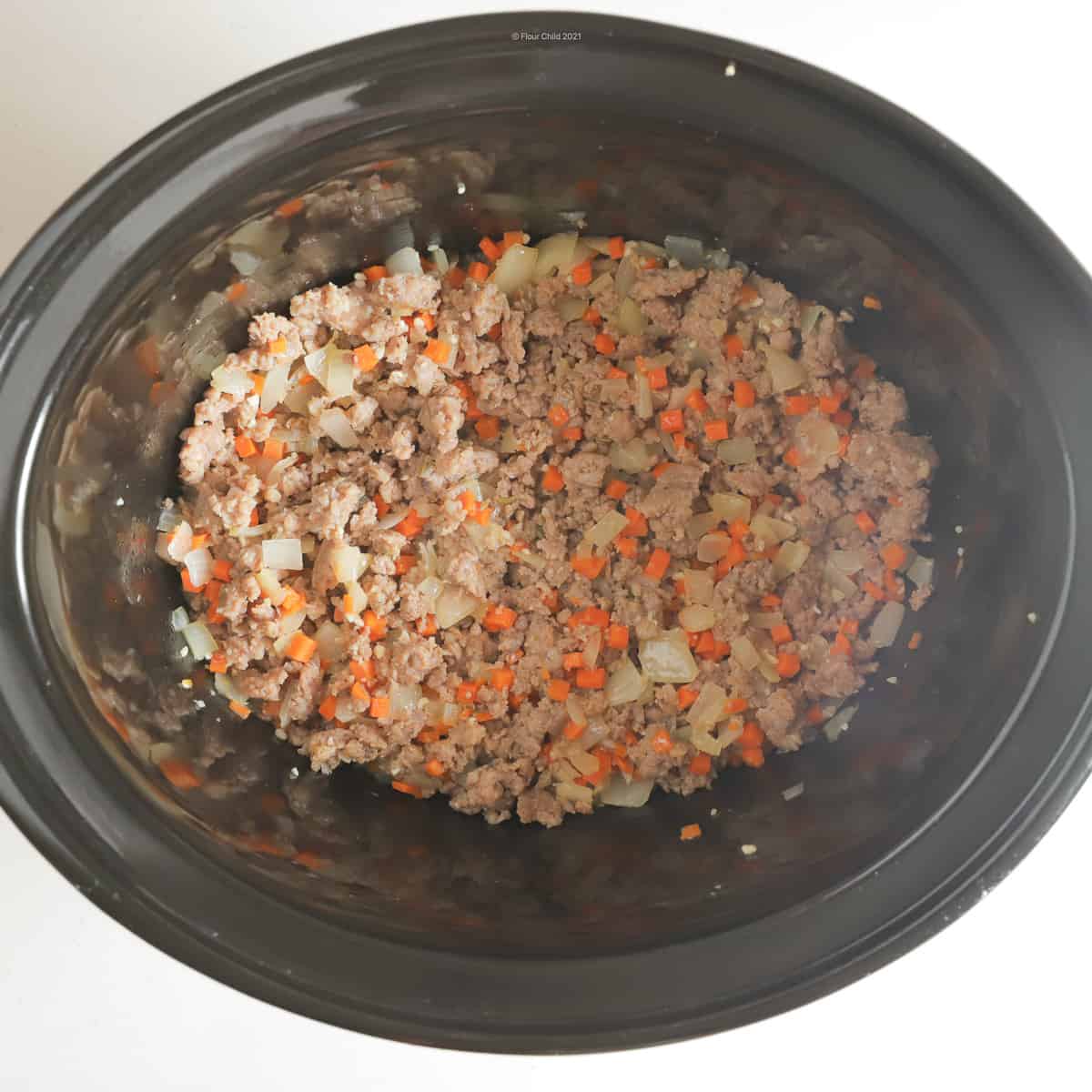 Step 2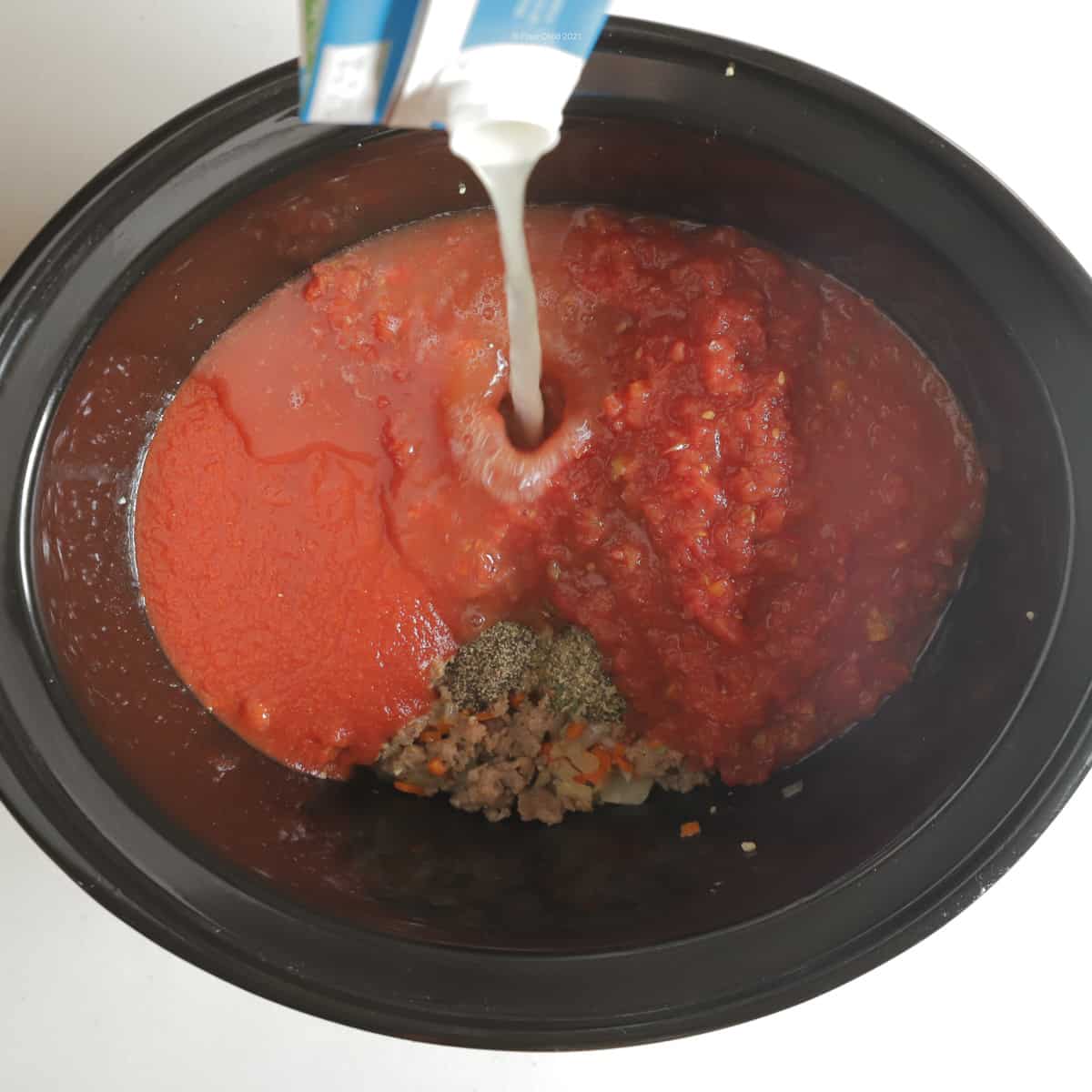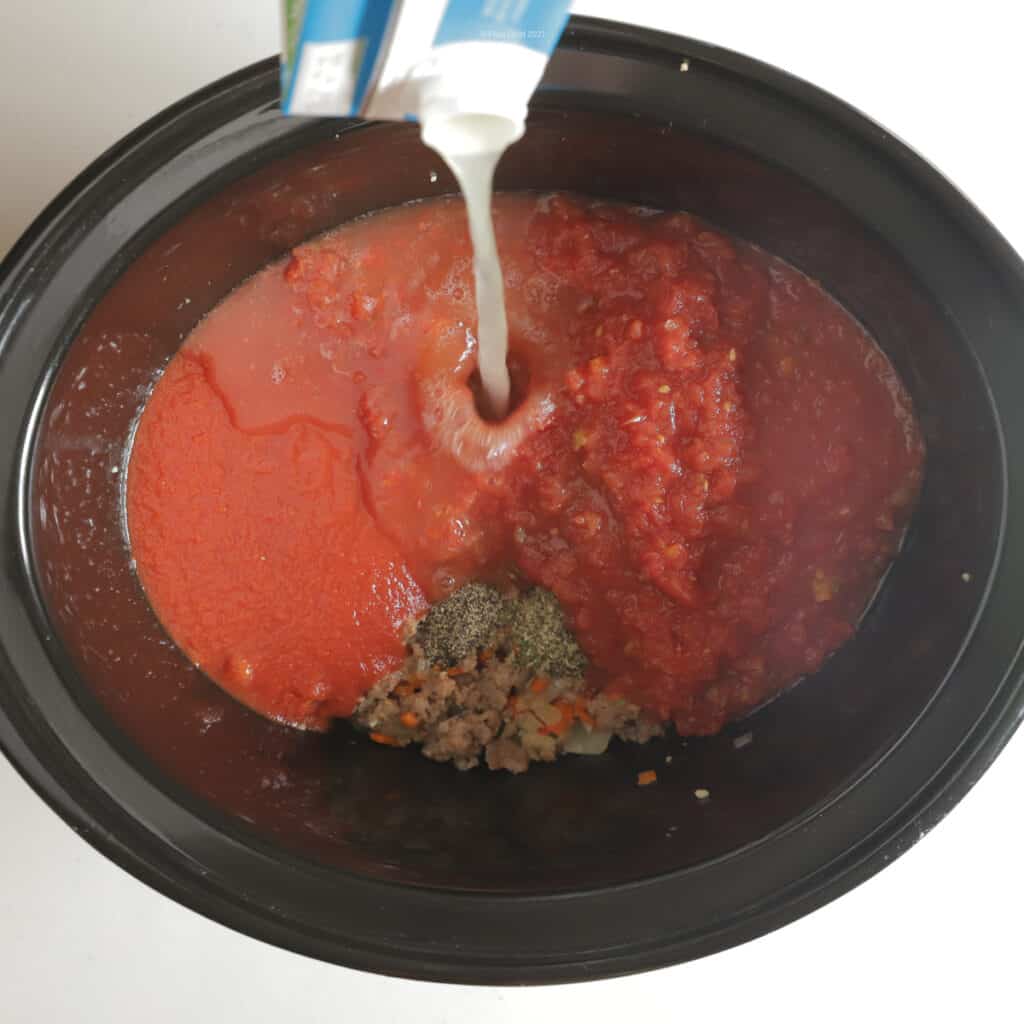 Step 3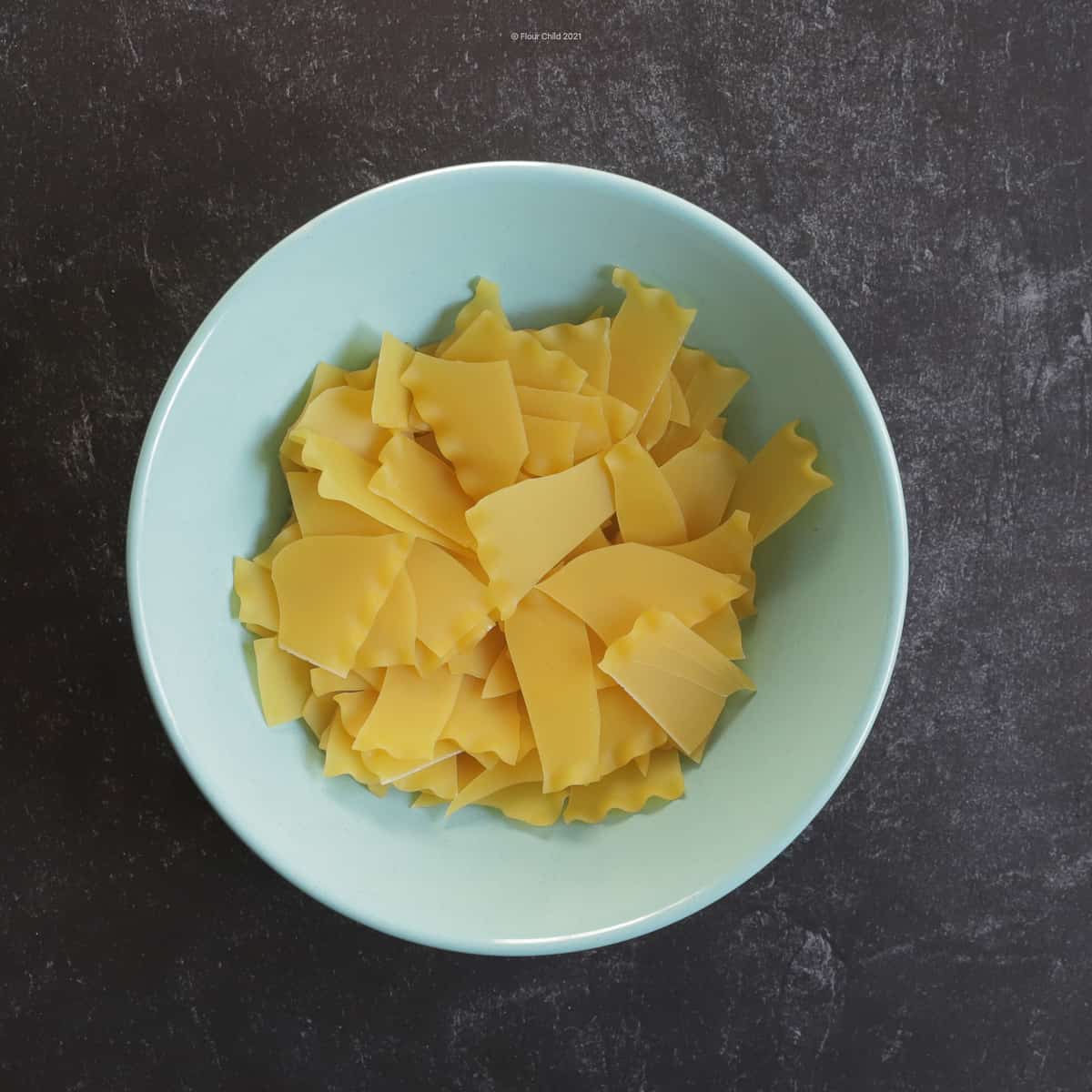 Serving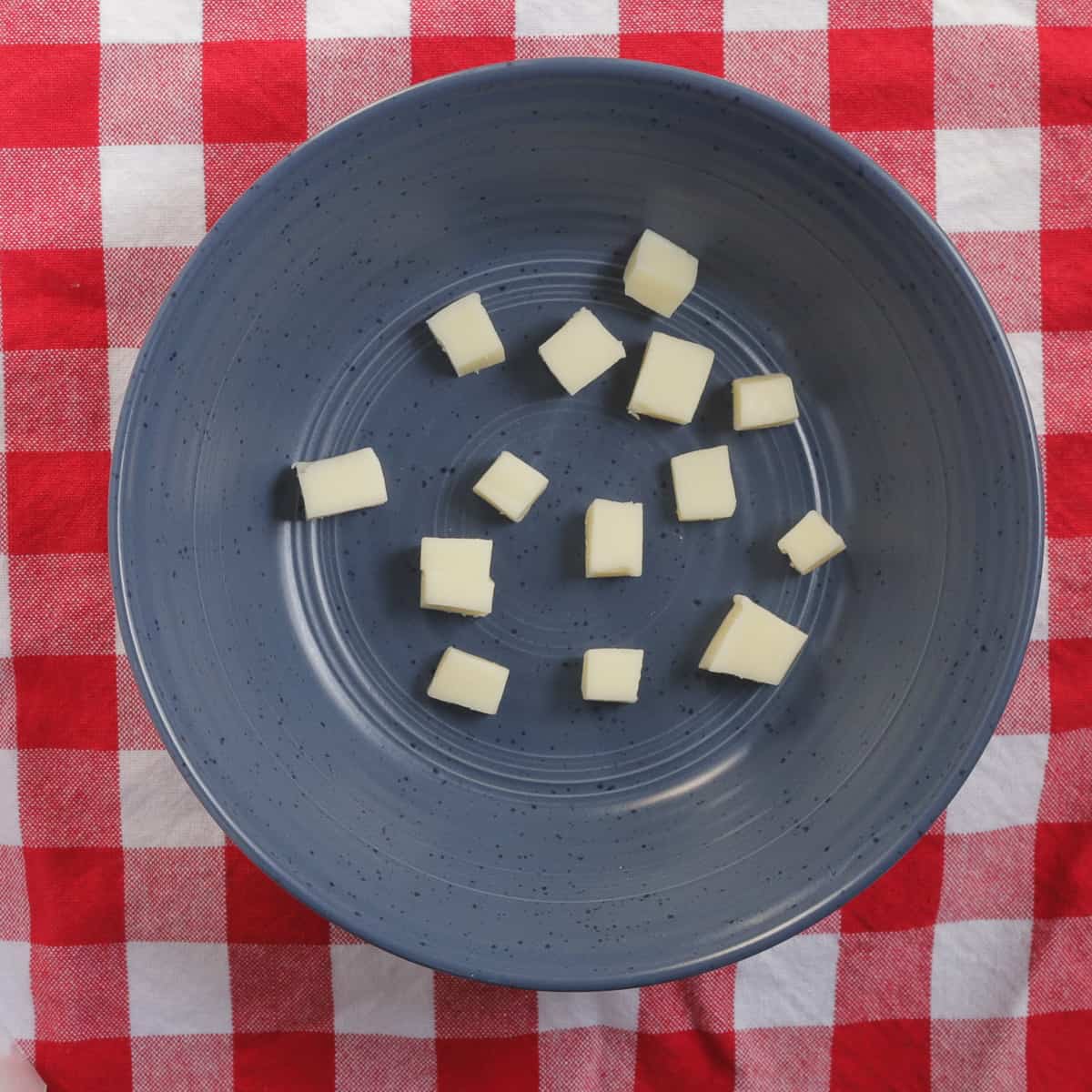 Cooking & Serving Tips
Cook the sausage in a skillet just until the pink disappears. It will continue to cook and tenderize as it simmers in the pot, so browning it more than that is not necessary.
Use a vegetable dicer to quickly dice your onion and carrots. I dice the onions a bit larger than the carrots as the onions break down during cooking.
You may want to cook the noodles separately if you think you're going to have leftovers. When noodles sit in the pot overnight and get reheated, they can turn mushy. If you prefer al dente noodles, cook them in a separate pot before serving. You can ladle out a cup or two of soup to boil them in so they absorb the flavor, then return it to the pot.
Cook the noodles for a minimum of 20 minutes or at least twice as long as the lasagna package directions call for, so they're not tough when you eat them. Remember, when making pan lasagna the noodles are first boiled, then cooked longer in the oven to soften!
Do not add the cheeses to the cooking pot, keep them separate and serve them in the serving bowls. Otherwise the soup will get too thick and gooey, and it will not reheat well.
Thin the soup with chicken broth or water if the consistency is thicker than you like, particularly after refrigerating.
Crockpot Lasagna Soup Instructions
It's easy to make lasagna soup in a slow cooker. Simply follow the instructions in steps 1 and 2, adding the ingredients to a crockpot. Cover the crockpot and cook on low 4-5 hours. Add noodles and spinach 20 minutes before serving. That's all there is to it -- easy crockpot lasagna soup!
Storage Instructions
Refrigerator: Store in an airtight covered container in the refrigerator for up to 4 days. Reheat on stovetop for serving.
Freezer: Store without cheeses added in an airtight freezer container for up to 3 months. You can store individual servings in tightly sealed freezer bags for quick busy weeknight meals. If you're going to make this dish ahead for freezing, I recommend not adding the noodles and spinach, and cooking them separately when you are ready to eat. Otherwise your noodles may be much softer than you like.
Frequently Asked Questions
Can you make a vegetarian lasagna soup with this recipe?
Yes! Simply leave out the meat and add more veggies. You might want to try including mushrooms and zucchini with what's already in there.

Can you make a vegan lasagna soup with this recipe?
Sure! Leave out the meat, and substitute shredded vegan mozzarella for the mozzarella cubes, and shredded vegan Parmesan for the Parmesan. These items are available in the refrigerated vegan sections of most grocery stores.
What other noodles can be used?
If you don't have lasagna noodles handy, mafalda, fusilli and rotini are good choices. A curly noodle makes the recipe look like lasagna!


Can you make this with gluten free noodles?

Absolutely! You can substitute a gluten free lasagna or any other noodle to turn it into a delicious gluten free lasagna soup! Be sure to follow the recommended cooking directions for the noodles you choose.
Can you use other cheeses in this dish?
Yes, this recipe is lasagna soup without ricotta cheese, but it can be added if you like. Mix a ½ cup grated Parmesan with 8 oz. of ricotta, and add a dollop to the top of your soup when serving.
Related Soups & Stews
If you have a vintage recipe you'd like to share with us for possible publication, please scan it and email it to [email protected]. We'd love to hear from you!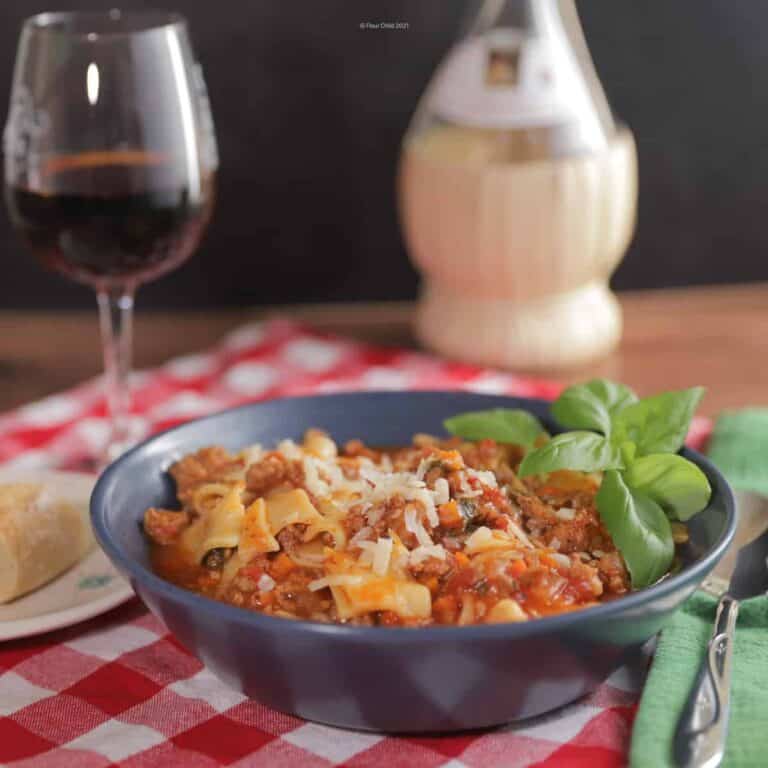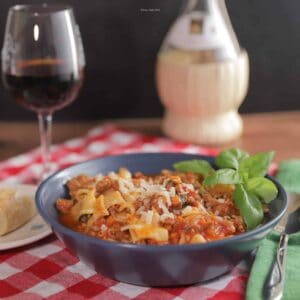 Easy Lasagna Soup
This dish has all the flavor of lasagna without all the work! Sweet Italian sausage, gooey mozzarella cheese, stewed tomatoes and aromatic spices give this hearty lasagna soup an irresistible flavor that will please the whole family.
Ingredients
2

pounds

ground sweet Italian sausage

1

yellow onion, diced into large cubes

2

carrots, peeled then sliced or diced into small pieces

4

cloves

minced fresh garlic, or 2 tsp. minced garlic in jar

32

ounces

low sodium chicken broth

1

teaspoon

dried Italian seasoning

½

teaspoon

black pepper

2

cans

(14.5 oz. ea.) stewed tomatoes

1

can

(15 oz.) tomato sauce

6

lasagna noodles, broken into 1-inch pieces

2

cups

fresh spinach, chopped

1

cup

cubed, low-moisture/part-skim mozzarella cheese

½

cup

shredded parmesan cheese

chopped fresh basil for topping and/or garnish
Instructions
Brown Italian sausage in a large non-stick skillet over medium heat, breaking it up into small pieces with a wooden spoon or spatula as it cooks. When meat is no longer pink, use a slotted spoon to transfer it to a 6 quart pot, reserving the cooking juices in the skillet.

Add the diced onion and carrots to the same skillet and cook until softened, 4-5 minutes. Add garlic, cook one minute longer. Add the onion, carrots and garlic with the cooking juices into the pot with the meat.

Pour in the chicken broth and tomato sauce; mix in the Italian seasoning and pepper.

Using a food processor or immersion blender, pulse the stewed tomatoes 3-4 times until broken into bite-sized chunks. Add to the meat mixture.

Bring ingredients in pot to a boil, turn down to low and cover. Simmer, stirring periodically, for 40 minutes.

Stir in chopped spinach and lasagna noodles. Continue cooking for 20 minutes.

When ready to serve, place 8-10 pieces of cubed mozzarella in the bottom of a serving bowl. Ladle soup on mozzarella, sprinkle with shredded Parmesan cheese and chopped basil.

Serve with garlic bread or a hot loaf of bread and butter.
Notes
Crock Pot Instructions:
Follow steps 1-4 above, adding the ingredients to a 6 quart crock pot.
Set crock pot on low and cover; cook for 4-5 hours.
30 minutes before serving, toss in spinach and lasagna noodles.
Place 8-10 pieces of cubed mozzarella to a serving bowl. Ladle soup over mozzarella, top with freshly grated parmesan and sprinkle with chopped basil.
Serving suggestion: Serve with a side salad and garlic bread, or a hot loaf of bread and butter
Nutrition
Serving:
1
cup
Calories:
483
kcal
Carbohydrates:
26
g
Protein:
23
g
Fat:
32
g
Saturated Fat:
12
g
Polyunsaturated Fat:
4
g
Monounsaturated Fat:
14
g
Cholesterol:
81
mg
Sodium:
1389
mg
Potassium:
853
mg
Fiber:
3
g
Sugar:
8
g
Vitamin A:
3125
IU
Vitamin C:
17
mg
Calcium:
222
mg
Iron:
4
mg